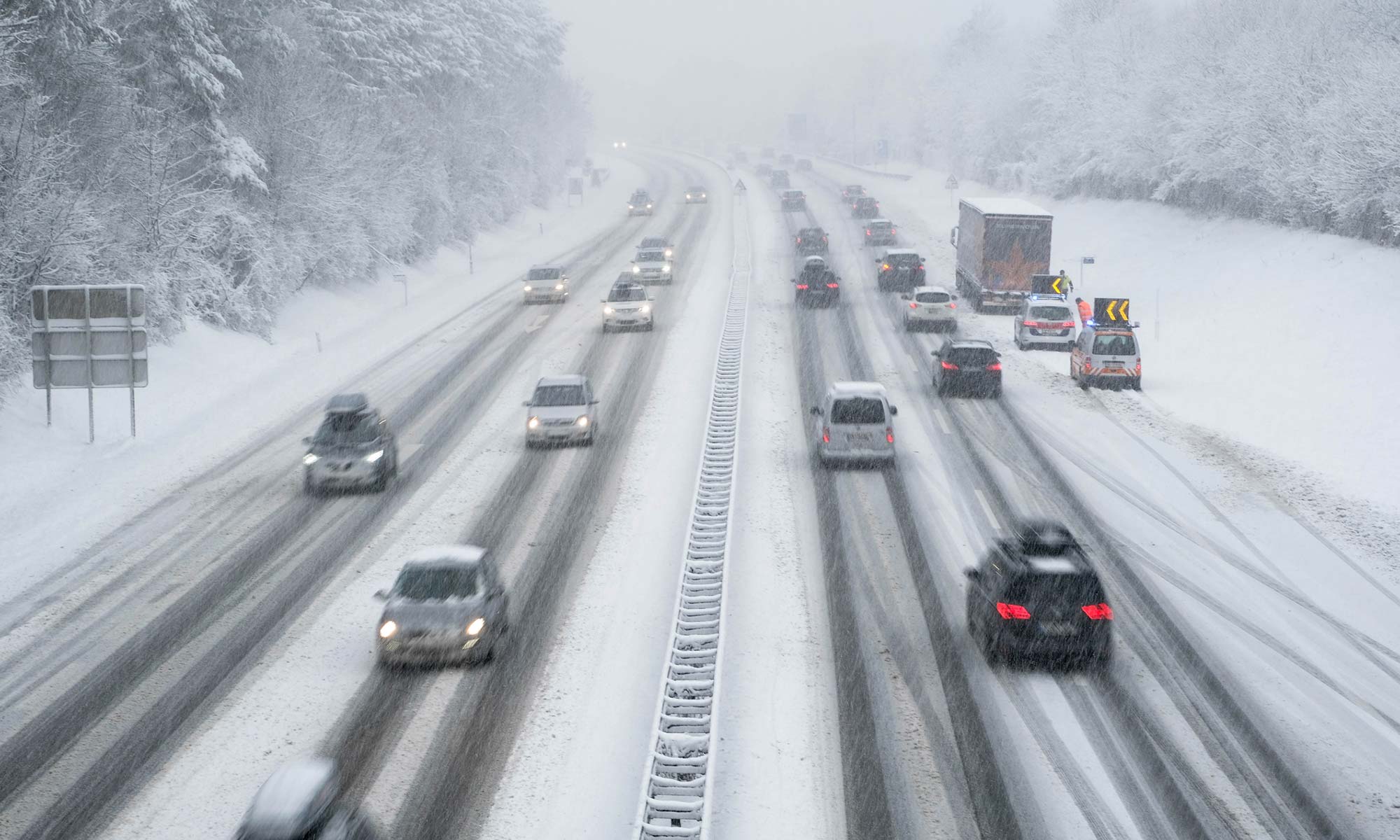 While the freezing temperatures of winter weather can often put a damper on many things throughout the season, the fun of driving doesn't have to end just because the weather turns cold. In fact, with the right vehicle, you can stay safe on the roads while taking advantage of all that winter has to offer, like driving up to the slopes for some skiing, visiting friends at a winter cabin or the quick trip to your local mall.
But, while many new cars and used cars from automakers like Toyota, Ford, Honda and Jeep can be great options when it comes to handling winter driving conditions, not every vehicle is created equal. From lacking the horsepower needed to power through the snow to not having the four-wheel drive (4WD) or all-wheel drive (AWD) capabilities needed to handle the weather or off-road driving, there are several vehicles that are best left in the garage until spring.
So, before learning more about what might make an unreliable winter vehicle, it's first important to understand the types of winter weather hazards you can face while on the road and how they can affect you and your vehicle when driving.
Common Winter Driving Hazards
While some vehicles are better suited for winter driving than others, any vehicle can be impacted by any typical winter driving hazards. And, as winter is a season of preparation, preparing for everything winter weather has to offer is just as crucial for your vehicle as it is for your home.
So, before hitting the road this or any winter, make sure you and you're vehicle are ready to handle any winter driving hazard, including:
Snow — Blinding snow can reduce visibility to a quarter-mile or less. Drive slowly and turn on your lights, but not your high beams, as these can reflect light back at you and hinder your visibility even more. Also, remember that snow can also affect tire traction, so drive cautiously even when roads appear clear of other vehicles.
Ice — Black ice is a common danger during winter, especially on bridges and sections of roads covered in the shade. Drive cautiously when temperatures are below freezing and be on the lookout for any road signs warning of potentially icy conditions.
Fog — While not often considered a winter hazard, fogs can appear on cold winter days and severely limit your visibility and those driving around you.
Winter Storms — When a sudden winter storm hits, roads can get very slippery and visibility drops.
Flooding — Heavy rain or melted snow can flood intersections, drains, and low-lying areas.
The Most Unreliable Winter Vehicles
As good as some cars may be on the road, this doesn't mean they are good on the road in winter. Here are some vehicles to avoid driving when the ground is covered in snow and ice:
Audi Q7
This SUV has one of the worst traction ratings in its class, and you can expect difficulty getting around in snowy conditions. Along with that, this car suffers from poor acceleration, and its high center of gravity makes it more likely to slide. The AWD on this car also isn't capable enough to handle the vehicle's weight, leaving it prone to spinning out eleven with the mode activated.
BMW 1, 3, 5, & 7 Series
While BMW is known for producing some iconic vehicles, they aren't necessarily known for their reliability ratings — and that includes how they handle snowy conditions. One of the main reasons is how low to the ground they are. They sink into the snow and ice, hampering their acceleration. Some BMW models only have four inches of clearance, making it difficult to power through the snow.
Also, many new model year BMWs are rear-wheel drive (RWD) which is never ideal for snowy weather. However, some BMW models, especially SUVs, can utilize an AWD drive system, which can help if you find yourself driving in snowy weather. Just make sure to invest in some snow tires as well.
2007 Dodge Nitro
The 2007 Dodge Nitro is another unreliable vehicle for winter driving, thanks partly to several braking and steering issues and some safety recalls. One of the biggest is a recall involving its anti-lock braking system (ABS) failing, increasing the risk of a crash occurring without warning. Along with this severe issue, the Nitro also tended to roll over on sharp turns, which wouldn't help you out when driving on icy roads.
Porsche 911
Most people may not be surprised that the Porsche 911 is on this list. While known as one of the most iconic vehicles in the world, the Porsche 911 is not well-suited to driving in snow due to its high-performance rear tires, unique engine placement (in the back of the vehicle) and low center of gravity. On the other hand, some people will put winter snow tires on specific rims on their 911 and do quite well. It's also possible to acquire a 911 with an all-wheel drive, though those living in snowy climates in particular still might want to avoid the 911.
Jaguar F-Type
This high-end car has issues when it comes to braking on slick surfaces — even with $12,000 carbon-ceramic brakes. And while the slick driving traction mode is helpful, how helpful will usually depend on if you have a good set of snow tires. However, many Jaguar F-Type owners have commented on the vehicle's increase in handling when driving on snow, ice, or other wintery conditions when using snow tires.
Chevrolet Corvette
As you can guess, any car with low ground clearance isn't going to work well when there's snow on the roads. Add the fact that it's rear-wheel drive and prone to sliding, not to mention having poor braking capabilities in winter conditions, and you've got yourself one of the least reliable cars during the winter.
Protect Your Vehicle Year-Round with Endurance
Regardless if you have one of the best cars for winter driving or one of the worst, it's important to protect yourself and it from the cost of unexpected breakdowns or repairs. With an Endurance auto protection plan, you can rest easy knowing your vehicle's most vital components are covered from costly repair bills — any time of the year.
And, unlike other extended auto warranty or vehicle service contract providers, you can also save when it comes to your vehicle's essential maintenance needs with Advantage. This comprehensive protection package can help give you coverage for your vehicle while also providing up to $3,500 in regular maintenance coverage, including up to 3 oil and filter changes, tire rotations, and alignment checks. You can also find even more coverage and savings with several other special, one-time services such as a battery replacement, cooling system maintenance and a front or rear wiper blade set replacement.
If you do happen to own a vehicle on this list, don't worry. You can also help protect your Porsche 911, Jaguar F-Type and other select luxury vehicles from automakers like Mercedes-Benz, BMW, Audi, Land Rover and more with Supreme for Highline Vehicles. As the newest offering from Endurance, this auto protection plan can help protect luxury vehicles under eight years old and have less than 80,000 miles from the cost of unexpected and costly breakdowns and repairs. However, a $500 deductible is required, and some exclusions may apply.
Endurance customers will also automatically receive 24/7 roadside assistance, trip-interruption coverage and substitute transport as standard when purchasing any Endurance protection plan. You will also automatically be eligible for a full year of Endurance Elite Benefits, including up to two replaced or repaired tires, key fob replacements, collision discounts, and pre. Simply purchase the right Endurance plan for your and your vehicle, pay a small $29 activation fee and enjoy your year's worth of additional perks and savings.
For more information about Advantage, Supreme for Highline or any other Endurance plan, give us a call directly at 800-253-8203 or request a free quote today. You'll also be able to find even more articles on a variety of automotive topics, including expert auto tips, DIY maintenance guides, vehicle buying guides and more, by visiting our Learning Center.
More like this
Make/Model

As the world gradually transitions to renewable energy sources, the adoption of e-vehicles is on the rise, and Tesla has been leading the charge. Their range of electric cars is..

Read More

Make/Model

Originally formed from the remnants of the Henry Ford company, Cadillac is arguably the most quintessential American car brand in existence. Founded over 100 years ago, they were the first..

Read More

Make/Model

Buying a new car or a used car can be a tricky process. The choice of vehicles is almost endless, and while it can be tempting to go for the..

Read More