The Fine Print Uncovered: Lesser-Known Details and Clauses in Mechanical Breakdown Insurance Policies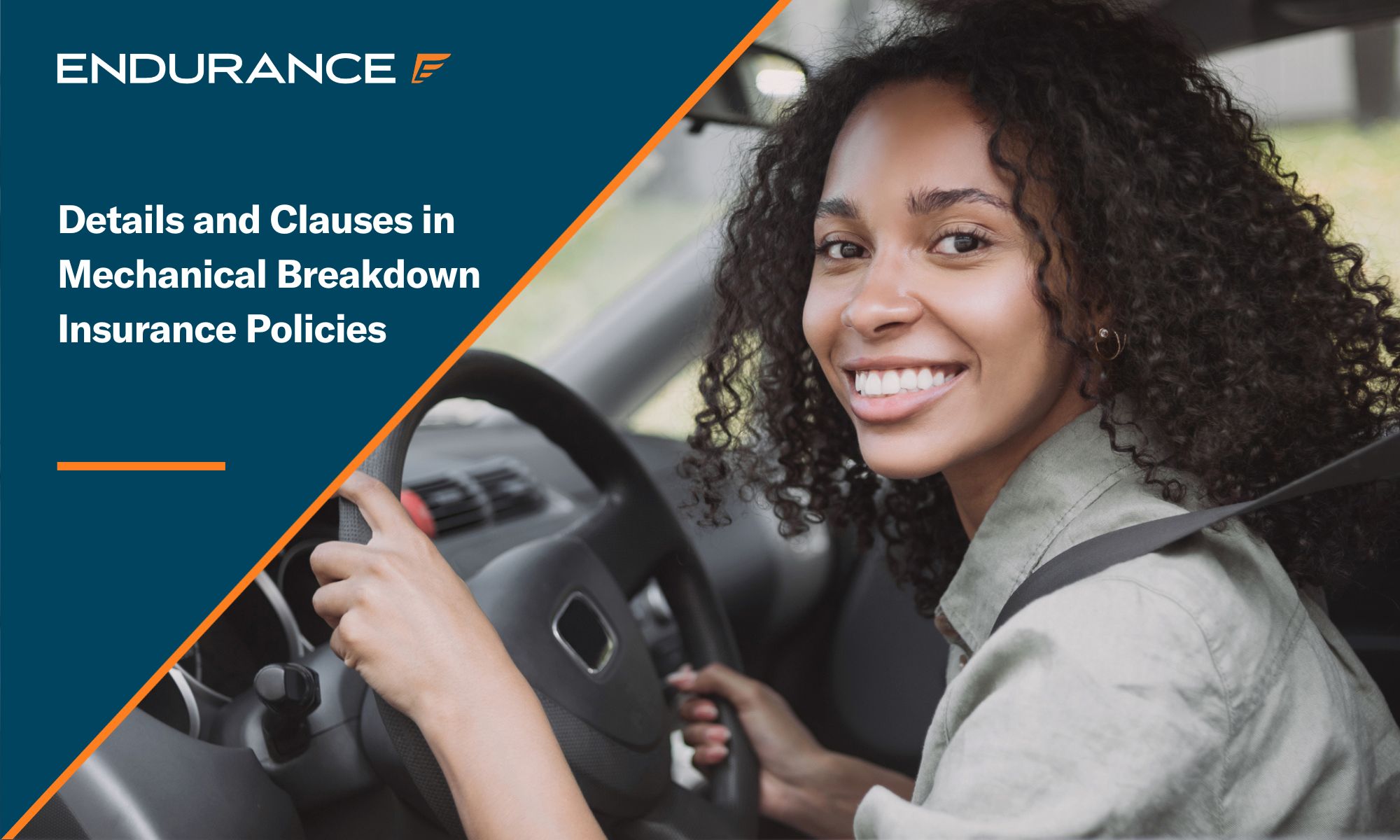 In California, mechanical breakdown insurance (MBI), sometimes referred to as an extended warranty or vehicle service contract, is a type of coverage that pays for certain vehicle repairs after the factory warranty expires. While it may seem like standard car insurance, MBI protects against mechanical issues instead of an accident or liability situation.
Those with a car that doesn't have a factory warranty (or with a soon-to-expire warranty) can get peace of mind from MBI protection. But, like with other types of insurance, the details and conditions of MBI plans can be challenging to understand.
Keep reading as we unravel the mysteries of mechanical breakdown insurance policies.
Understanding the Basics of Mechanical Breakdown Insurance (MBI)
It's vital to know that in California, you can only purchase a mechanical breakdown insurance policy. The state uniquely regulates that such aftermarket coverage be administered as an insurance product. This means that any company selling MBI in California must be registered with the state as an insurance company (and pass rigorous requirements). This difference is what separates MBI coverage from an extended warranty.
MBI protects against the failure of key mechanical systems like the powertrain (the engine, transmission, and drive axle). And depending on where you buy coverage, some companies cover additional systems. For instance, Endurance has options that protect the electric system, air conditioning, steering, and suspension, to name a few.
Lesser-Known Details in Mechanical Breakdown Insurance Policies
An MBI policy document is complex for a reason; it defines a provider's responsibilities and details what a policyholder is entitled to. Some terms and conditions may not be familiar to the layperson, so let's explain these details.
Pre-existing Conditions and Waiting Periods
MBI policies typically do not cover pre-existing conditions, problems that existed before the insurance coverage was purchased. Sometimes an issue doesn't have to be noticeable to be considered pre-existing. For instance, a head gasket can be problematic before the symptoms are visible.
New policyholders should know that MBI coverage usually mandates a waiting period before a vehicle is protected. Often this is 30 days and 1,000 miles, and repairs during this period aren't covered.
Deductibles and Co-pays
A deductible is the amount you have to pay toward a covered repair before the insurance company starts paying. The idea behind a deductible is that the more risk a policyholder assumes, the lower the premiums. So, your cost for coverage is less with a $100 deductible than a $50 deductible. MBI companies offer different deductible options. For instance, Endurance MBI policies have a choice of a $0, $50, $100, or $200 deductible.
Certain services or repairs may require a supplement payment by the policyholder, a co-pay.
Exclusions and Limitations
Arguably, the most essential element of mechanical breakdown insurance is what's covered and what's not. This is defined in a policy's "Exclusions" section, which spells out specific components exempt from coverage. A modern automobile has thousands of parts, so an exclusion section can be quite detailed.
There are also limitations to mechanical breakdown insurance. For example, coverage may not be applicable if there's an accident or a non-factory modification. Failure to observe routine maintenance schedules and make other necessary repairs (like replacing tires and brake pads) can jeopardize coverage.
Coverage for Wear and Tear
Wear and tear refers to the gradual deterioration of a used car's components due to regular use. It's a normal element of car ownership. Because wear and tear are expected, it's not a covered loss by mechanical breakdown insurance.
Let's look at the suspension as an example (assuming the MBI policy covers this system). A suspension will become less effective over time due to wear and tear and wouldn't be covered under an MBI policy. However, if a strut fails due to a defect in the part, then coverage kicks in.
Repair Shop Restrictions: Authorized vs. Non-authorized Repair Shops
Most MBI policies require policyholders to use an authorized repair facility. The policy document will list the requirements for what determines a repair shop to be authorized, but at a minimum, this usually means the enterprise is licensed to work on cars.
Other stipulations can include that the work is guaranteed for a minimum period and that the mechanic is certified by an industry body like ASE. Failure to use an authorized repair shop will result in the insurance company denying the claim.
Key Clauses That Impact Coverage
Beyond understanding the less-known details of an MBI policy, key provisions affect coverage. Failure to observe these conditions may cause claims to be denied.
Transferability of the Policy
Many MBI policies will allow coverage to transfer to a subsequent vehicle owner, which can be a benefit if you're selling or trading in the used car. The policy will explain how a transfer should occur, and a small upfront administrative fee may be charged. It's important to follow the transfer requirements to ensure coverage remains active for the new owner.
Reimbursement vs. Direct Payment
An MBI policy will define how covered repairs are paid for. Depending on the terms, the insurance company may pay the authorized repair shop directly or reimburse the policyholder. In some cases, like for emergency repairs, the policy stipulates that reimbursement is required. There may also be timeframes for submitting receipts that must be followed to receive a reimbursement payment.
Cancellation and Refund Policies
There are several reasons why an MBI policy may be canceled. A policyholder may cancel coverage, the vehicle may be totaled, or the insurance company may cancel the coverage due to non-payment, fraud, or another issue.
The policy document will explain the conditions for canceling coverage and the applicable refund conditions. Typically, there's a period (30 to 60 days) to cancel a new MBI policy and receive a full refund. Otherwise, refunds are issued based on the premiums paid and the remaining coverage period. A small administrative fee may be charged.
Coverage Extensions and Renewals
An MBI policy may have the option to extend protection beyond the initial term. If applicable, this can mean getting continuous coverage and not dealing with the waiting period for a new policy. However, age or mileage may make a vehicle ineligible for coverage extension.
Lapse in Coverage and Reinstatement
Failure to pay the premium for an MBI policy may create a coverage lapse, leaving a vehicle unprotected. In this situation, the insurance company will contact the policyholder and advise what's required to reinstate coverage. Failure to act will lead to the policy being canceled.
Tips for Maximizing Benefits from MBI
The key to having a mechanical breakdown insurance policy is knowing how to get the most for your money. And this comes from being familiar with the coverage terms.
This doesn't mean memorizing the policy document, but at least reading the details to understand what is and isn't covered. The policy will also spell out things you should know, like definitions, length of coverage, and other terms.
It's a good idea to review the policy before signing a contract, just in case something isn't acceptable. At the same time, this is your opportunity to ask questions to clarify any confusion. Of course, any reputable insurance provider will provide this information after you've bought a policy, but ideally, any uncertainty should be cleared up before coverage begins.
Maximizing mechanical breakdown coverage also includes being aware of any timeframes. Not only will the policy last for a predefined length of time (typically several years), but there are other time-based requirements, such as submitting receipts for reimbursement claims. In other cases, optional coverage may provide trip interruption protection or rental car support, but only for a specific number of days.
FAQs: Mechanical Breakdown Insurance
What is included in mechanical breakdown insurance?
Mechanical breakdown insurance (MBI) protects against component failure in most major vehicle systems (like the powertrain). Depending on the policy, MBI may also cover other areas, like the electrical system, air conditioning, and suspension.
What is not covered under mechanical breakdown?
MBI doesn't cover car accidents, damage, or liability like a traditional auto insurance policy from Geico or Allstate. Additional exclusions (such as specific parts) are explained in the policy document.
Is mechanical breakdown insurance the same as an extended warranty?
While MBI and an extended car warranty are similar (they both protect against unexpected car repairs), there are differences. MBI is a licensed insurance product in California (administered through the California Department of Insurance). So it comes with additional consumer protections and may be worth it. An extended warranty is not available in California.
Why do people purchase mechanical breakdown insurance?
MBI offers peace of mind against breakdowns and unexpected repair costs. For many car owners, the certainty of an MBI premium is preferred over the risk of an expensive trip to the mechanic.
What is the difference between mechanical breakdown insurance and a manufacturer's warranty?
The manufacturer's warranty comes with new cars (or used vehicles still with factory warranty coverage). It's administered through the automaker and a dealer. An MBI policy is purchased through a third-party company (like Endurance) after the original warranty expires. MBI repairs can be handled through any authorized repair shop (including dealerships).
Endurance MBI: Drive with Confidence
Many benefits of an Endurance extended warranty are now available to California car owners through mechanical breakdown insurance – including towing, rental car, and trip interruption reimbursement. From San Diego to Sacramento, it's the best way to be protected against surprise repair bills.
Policy owners can take advantage of flexible payment options and a simple claims process. If a breakdown occurs, comprehensive coverage is just a phone call away. Or download the Endurance mobile app for even quicker service. Repairs are easy, too. Just choose any ASE Certified mechanic for covered repairs.
Learn all the advantages of an Endurance MBI policy. Call (800) 253-8023 to speak with a representative or request a FREE quote. And check out the Endurance blog for helpful articles about car care, DIY repairs, vehicle reviews, and more.
More like this
Extended Warranty

Buying a used vehicle or new car has a lot of benefits that can make your life easier and reliably get you where you need to go. When you purchase..

Read More

Mechanical Breakdown Insurance

California considers itself a leading state for consumer protection laws. Among the measures it's adopted over time are regulations that cover automotive extended warranties. Let's explore what this means for..

Read More