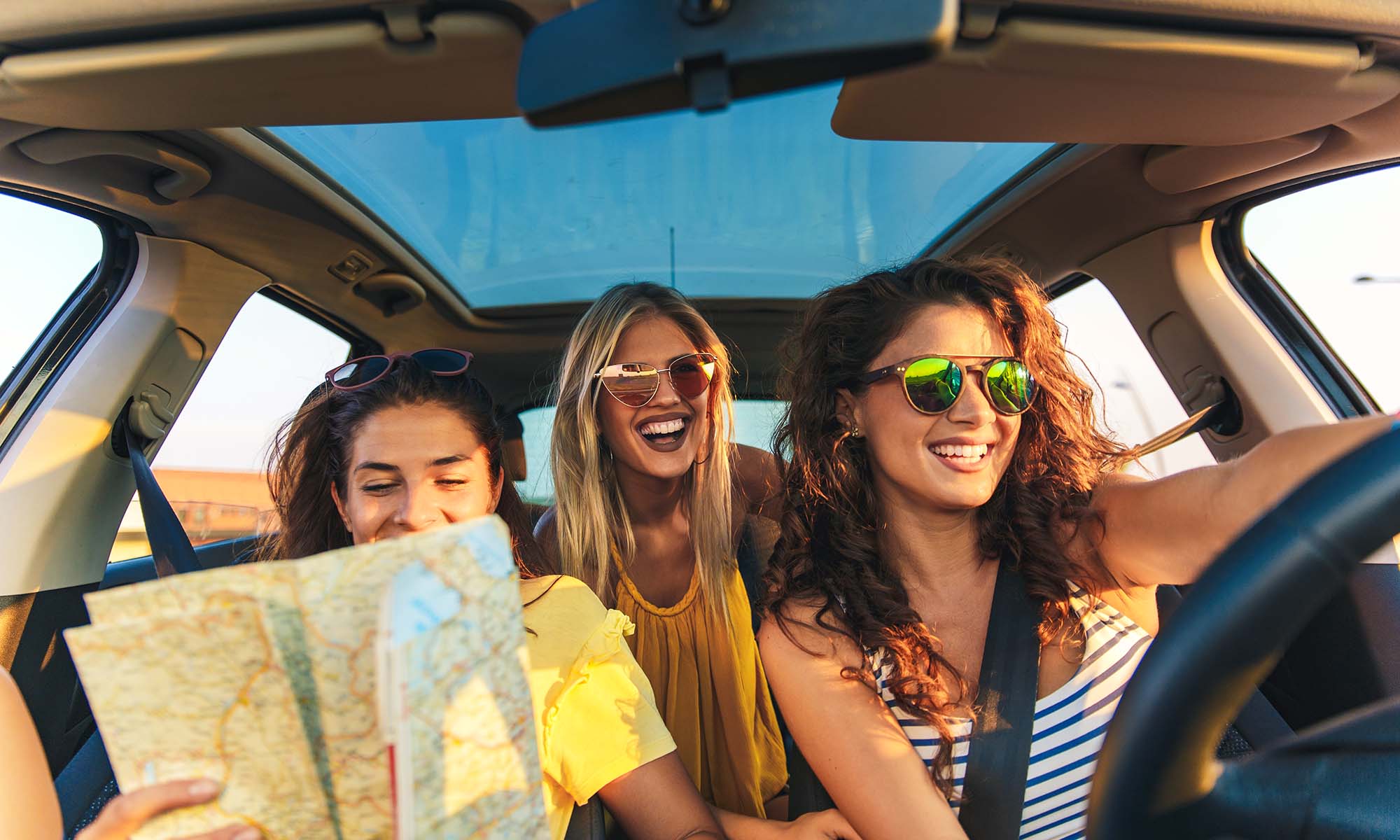 As we inch ever close to the middle of summer, more and more people will be making plans and hopping in their cars to enjoy a good old-fashioned road trip. And whether it's exploring New York City, exploring your favorite campsite or taking in the wonders of places like Niagara Falls, the Grand Canyon or other national parks, any road trip can be the perfect road trip, especially when you're with friends.
But while any road trip can be memorable, it's crucial to prepare your vehicle before leaving. And if you're traveling with friends, it's also vital to plan ahead and follow the rules of the road to ensure your journey is a safe one, no matter where you're heading.  
Summer Maintenance Tips Before Hitting the Road
Preventative maintenance is one of the top methods for stopping costly repairs in their tracks. By handling certain maintenance items before you even get on the road, you can help preserve the parts under your hood and ensure they are in peak working order. After all, it's hard to enjoy any road trip if you're stuck dealing with an unexpected breakdown or repair, especially one that you could have potentially avoided in the first place. 
So to help you prepare your vehicle, here are just a few tasks to consider taking a look at:
Inspect all fluids under the hood to ensure they are at their proper level

Double-check your

tire pressure

(PSI) and look for any serious wear and tear

Test your brakes after the wet weather from winter and spring

Check and replace your

air filters

Ensure your

air conditioning system

is working and ready to go

Test

your battery

to ensure it works properly
After taking care of the above maintenance items and any more you need to based on your car's maintenance schedule, you should be ready to start planning your road trip. However, while taking the proper steps to prepare your vehicle can help you avoid unexpected issues, it can't prevent everything. Instead, it's essential to have the right coverage to get peace of mind when it comes to your next road trip. And if you have an older, used vehicle, you may not have any factory warranty coverage to help you. Thankfully, when you have an Endurance auto protection plan, you can rest easy no matter your vehicle or where you are across the country on your road trip. 
With Endurance, you'll get comprehensive breakdown protection for your vehicle's most vital components, whether your vehicle is brand new or 20 years old. And with a plan like Advantage, you'll even be able to combine your coverage with savings of up to $3,500 towards your vehicle's maintenance needs, including oil and filter changes, alignment checks, tire pressure checks and more. Plus, you'll automatically get the bonus of 24/7 roadside assistance and towing, trip interruption coverage, and rental car reimbursements for free, regardless of your plan. But that's not all, because as an Endurance customer, you can take your vehicle into any certified repair shop, ASE Certified mechanic or even your dealership for repairs. So whether you're at home or states away, you can be certain Endurance will take care of your car.
Planning a Safe Road Trip with Friends
Being certain that your vehicle is ready to hit the road is only half the battle. There are several action items you should take care of both before and during your road trip to allow for a safe and fun journey, including:
1. Plan Your Journey Ahead of Time
It's always better to know your route and the areas you will pass through before getting into the car, whether with friends or on any long car ride on your own. This includes noting where you can find gas stations, rest stops, hotel rooms and other necessities. Not only will this help you plan breaks and to enjoy some of the fun things you can do in the areas you're traveling, but it will also know precisely where you can find gas, food, and lodging should you need it unexpectedly instead of feeling like you're stuck in the middle of nowhere.
2. Always Have a Backup
You could spend days planning your trip, but when it comes down to it, even the most coordinated road trip can have something go wrong out on the road, so having a plan B and even a plan C are helpful strategies. When planning your initial route, look at the surrounding roads and build a backup route in the case of a wrong turn, unexpected weather or other conditions that may make you need to change course. And like your initial plan, mark any lodging, gas stations and places to eat on the map if traffic or some issue makes it impossible to reach your destination in the planned time. Having contingencies such as these can reduce stress on the road if something doesn't go as expected.
3. Allow Someone Besides the Driver to Handle Directions
Nobody expects a driver to be able to memorize the exact route for a trip ahead of time. That's why there's a reason most modern vehicles include GPS as a part of their infotainment systems. So once you and your friends plan out the journey and where your stops will occur, assign someone else in the vehicle to be the navigational point of contact for the trip. By taking this stress off the driver, you can ensure your driver completely focuses on the road. If a wrong turn is made, the driver can retain their focus while one of the passengers works on getting your group back on track.
4. Split Up the Driving Among Different Friends
For those friend groups planning long road trips where the destination is multiple hours away, splitting up the driving is a great way for everybody in the vehicle to stay refreshed. After all, a rested driver is a safer driver, so planning shifts for the journey is just as important (if not more) than having a great road trip playlist, podcast or audiobook to help pass the time. Designate the order so that the sleeping person is the next on deck to drive. You can even rotate between drivers and the one handling directions to ensure everyone has their fair sure of duties. It's also always a good idea to make sure the driver is never the only person awake on the road trip, and if you can, look to ensure that the other person isn't stuck in the back seat. Having another person in the passenger's seat can not only help keep the driver more engaged and alert, but it also adds an extra set of eyes to watch out for any potential potholes, stalled vehicles, road signs and anything else. 
5. Add an Emergency Kit to Your Vehicle
In the event of an accident, the last thing you want is to be stranded without resources. Putting together an emergency kit before your trip is a great way to avoid this potential problem. When making your kit, consider packing basics like a first-aid kit, non-perishable food, water, road flares, jackets, a spare charger, jumper cables, flashlights, and any other items that would be helpful in the event of an accident. Even something as seemingly pointless as a paper map can come in handy should you ever lose the signal with services like Google maps or if your car's GPS is on the fritz. Plus, preparing a kit won't just help you on a cross-country trip because even no matter where you are or where you're going, an emergency kit in the back of your vehicle can help you be prepared for any scenario.
6. Split Some of the Costs
Finally, road trips can be expensive if you cover the costs all by yourself. Check in with your friends before hitting the open road to determine how gas, road trip snacks, and other costs that you can split up between everyone involved. Nobody wants to get into an argument over money while on the road, so it's best to have these conversations before the trip begins. 
Protect Your Vehicle This Season with Endurance
Whether down the block or across the country, taking a road trip with friends can lead to memorable moments. But when it comes to unexpected breakdowns and costly repair bills, even the most well-planned trip can be cut short, so having the peace of mind of an Endurance auto protection plan can help you, and your friends get back on the road fast. You'll even be able to rest easy knowing that you can go to any certified repair shop for repairs along with 24/7 roadside assistance, towing, trip interruption coverage, and rental car reimbursements to help keep your trip rolling. 
With the Advantage auto protection plan, you can even combine your coverage with savings of up to $3,500 towards your vehicle's vital maintenance needs, including tire rotations, engine diagnostic exams, PSI checks, and more. Plus, as an Endurance customer, you'll also automatically be eligible for an entire year's worth of Endurance Elite Benefits, including tire replacements/repairs, collision discounts and more. Just choose the Endurance plan that fits your needs and budget, pay the activation fee and enjoy your full year of extra perks and savings.
To learn more about how Endurance can help you and your vehicle, call the award-winning Endurance customer service team at (800) 253-8203 or request a free quote today. And don't forget that you can find other road trip planning guides and other fun and informative articles on topics like extended warranty comparisons, vehicle buying guides, DIY maintenance tips and much more by visiting the Endurance blog.
More like this
Travel

With the cooler months creeping in, it's the perfect time to begin planning a fall road trip to enjoy the best of what the season brings. However, weather conditions during..

Read More

Travel

In the warmer weather of summer, many people plan off-road excursions and road trips with the entire family. The only thing that can ruin these outdoor adventures is an unexpected..

Read More

Travel

Thanksgiving is fast approaching, and if you're like many across the country, you're probably gearing up to head home (or somewhere) to spend quality time with loved ones and enjoy..

Read More