Protect your vehicle with custom coverage from Endurance.
Shop Now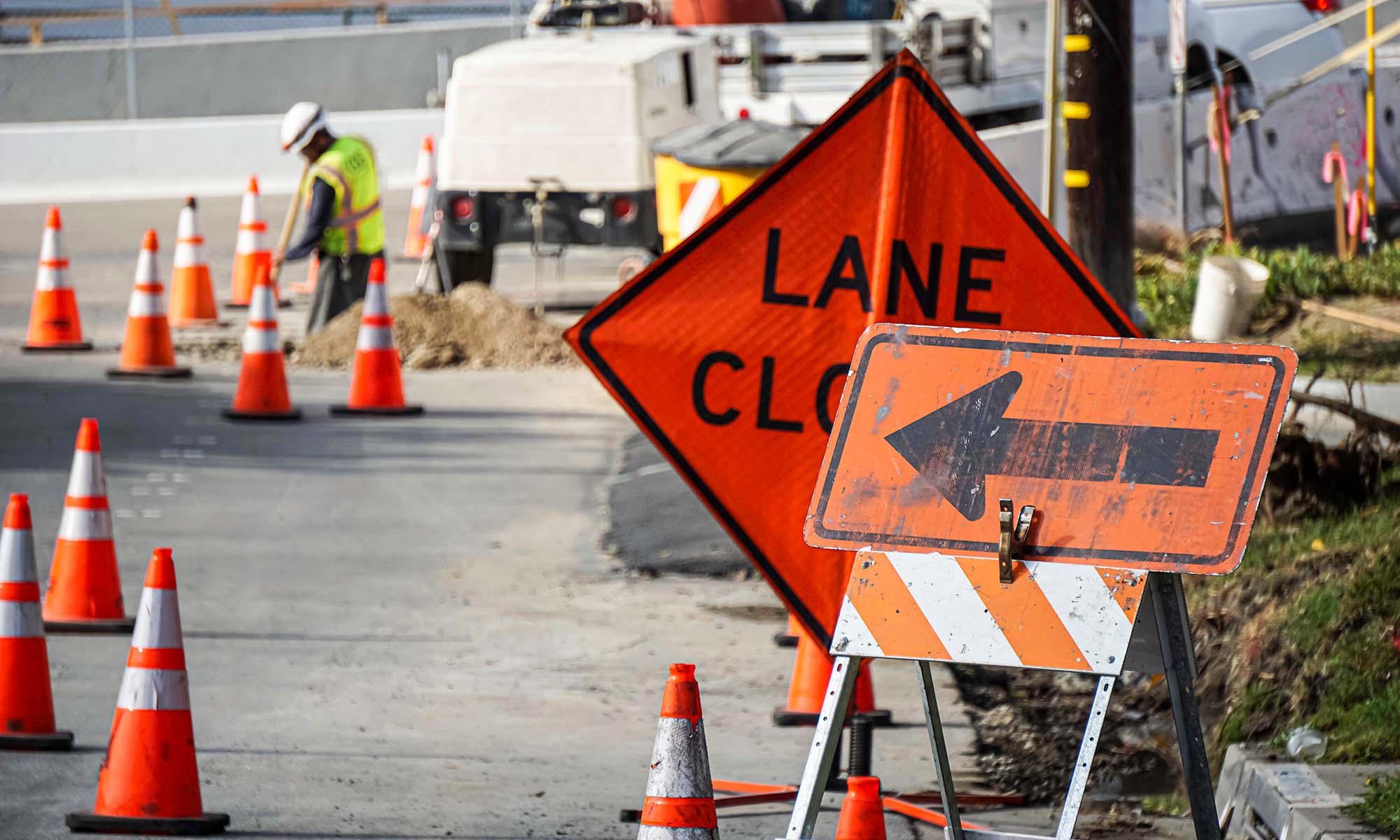 Whether you're heading off on a summer road trip or dealing with back-to-school driving, road construction is almost always inevitable. And while you may not give highway improvements much thought, being aware of these happenings is essential to safe and smart driving.
Along with adding extra time to your commute, road construction can not only cause damage to your vehicle but can also create unexpected driving hazards. So before your next journey through a construction zone, knowing more about how it can affect your vehicle and the safe driving tips you should be following can help you, your vehicle and construction crews stay safe.
How Can Construction Affect My Car?
Road construction can expose your car to a wide variety of issues. Understanding these can help protect your vehicle and limit unexpected repairs and costly breakdowns. 
Tire & Wheel Damage
Work zones can be havens for wheel-bending potholes and tire-slashing road debris. This includes unpaved surfaces that motorists may have no choice but to travel over. And while road construction workers generally try to provide safe and navigable roadways, sometimes the very nature of the project means damage-inducing conditions are unavoidable. 
And while replacing a tire isn't ideal (for example, a new Toyota Camry tire runs about $150), it's far better than having to shell out about $650 for a new aluminum wheel for the same car. All Endurance plans are eligible for one year of Elite Benefits, which include tire repair and replacement services (even due to road hazards). 
Stress on the Suspension
Just as road construction can destroy tires and wheels, the same conditions can ruin a car's suspension. Think about all the components that ensure a smooth ride. There are shock absorbers, struts, coil springs, rods/linkages, and joints/bearings. And even the power steering and frame are part of the system. In other words, there are a lot of components that can be affected by a pothole or other road menace. 
Harm to the Body and Paint
Road debris can become damaging projectiles as vehicles around you drive over the materials. Tires can pick up asphalt pieces, rocks, bolts, and other rubble and fling them at your car. The result is nicked paint and even dented body panels. And larger fragments can cause substantial and expensive repairs. Scrapes and dings can also happen to your rims when driving into an especially deep pothole as normal ground clearance goes away—it's another way potholes affect cars. While body damage won't change how your car performs, it impacts trade-in value. 
Windshield Damage
Flying debris is a leading cause of windshield damage, too. While this can happen at any time and on any road, it's more likely to occur around road construction. And while a small chip or crack may seem insignificant, it can become larger over time. This leads to safety issues, as it can impair your vision, and the vehicle may not pass inspection. Depending on the car and your insurance, windshield replacement can be expensive.
Dirty Filters
Road construction often creates a dusty environment. It's not a major worry for the occasional encounter, but regular driving through these settings means extra work for two particular filters in your car. The engine air filter is a magnet for dust and other environmental impurities (that's what it's designed to do). An over-saturated air filter makes it harder for the engine to work properly; poor fuel economy and sputtering performance are just a few of the results. 
And just as the engine needs to breathe clean air, so do occupants inside a car. The cabin air filter performs similar duties by limiting how much dust, pollen, and pollutants get inhaled by passengers. So, extra exposure to road construction can lead to a cabin air filter being unable to do its job.
While knowing how construction can impact your vehicle, it's also essential to know how it affects your car's breakdown coverage. For example, while a car's original factory warranty or any extended warranty or vehicle service contract can help with mechanical breakdowns from general wear and tear, they don't cover the body or mechanical damage caused by road hazards. But, with the right coverage from an insurance company, you can find protection in these situations.
Driving Tips for Construction Season
Driving through a construction zone also means being aware of unusual and possibly dangerous situations; it's the best way to avoid a car accident and the aftermath.
Watch for Frequently Changing Traffic Patterns & Conditions
A construction zone never stays the same for very long. So, don't assume a road pattern or detour around a construction site from Tuesday will be identical on Wednesday. In other words, take nothing for granted when driving through a work area.
Watch for Uneven Road Surfaces
Resurfacing is an everyday road work activity that involves removing some or all of the existing surface. During this time, you may need to drive on a rough road that requires a tighter grip on the steering wheel, keen observation of what's ahead, and a readiness to respond to unpredictable conditions. Changing lanes could also involve moving across two surfaces of different heights (for example, from an unpaved lane to a paved one). 
Be Aware of Reduced Visibility
Not only can construction dust impede a driver's view, but road signs and slow traffic can limit what's visible. It's best to assume a defensive driving attitude when encountering road construction. 
Observe Speed Limit Changes
Keeping within posted speed limits is always wise, but it's especially vital in construction zones. There are federal guidelines, and most states have specific regulations—these are safety measures designed to limit accidents, the leading cause of deaths in construction zones. Driving slower provides more reaction time to deal with stopped traffic ahead or unusual road conditions.
Be on the Alert for Construction Crews/Vehicles
Road construction happens at a rapid pace. And while construction crews try to be aware of their surroundings, sometimes roadside activity or a construction vehicle can enter an operational roadway without advanced notice. In other words, expect the unexpected. That's why being alert and driving slower are crucial.
Be Ready for the Road With Endurance
Following a few safe driving tips can help prepare for the road construction that seems inevitable during summer. And wise car owners also understand the value of being ready for unexpected breakdowns and surprise repair bills thanks to an Endurance auto protection plan. '
With Endurance, you can customize a plan to fit your needs and budget, including plans starting as low as just $79/month, including coverage for your vehicle's most vital components, like the engine and transmission. Or you can get near-factory coverage with the comprehensive Supreme plan or even coverage for select high-end luxury vehicles from automakers like Porsche, Audi, BMW, Jaguar and more. There is also a peace of mind option for high-mileage cars. 
Every Endurance plan also automatically comes with extra benefits, like 24/7 roadside assistance, trip-interruption protection, rental car services, flexible payment options, and a 30-day money-back guarantee. And when you need to repair work, just select the ASE Certified mechanic or repair facility of your choice. You can even find more coverage and savings with a year's worth of  Elite Benefits, including tire repair and replacement services, collision discount, key fob replacement, and more. Plus, filing a claim is as easy as making a call or using the exclusive Endurance Mobile app. And unlike many other vehicle protection plan companies, Endurance is a direct provider of most of our plans. We handle everything from start to finish; there's no middleman to get in the way and slow things down. 
Learn how Endurance can protect you against vehicle breakdowns by getting a free, no-obligation quote or call (800) 253-8203 for personalized help. An award-winning Endurance customer care specialist can answer all your questions and get you enrolled without delay. And be sure to check out the Endurance blog for expert-written articles on topics ranging from make/model comparisons, DIY maintenance tips, road trip planning guides and more.
More like this
Expert Auto Tips

As a driver, the last thing you need is for your car to break down on you while you are out on the road. However, cars are nothing more than..

Read More

Expert Auto Tips

Your car can be an excellent expression of who you are and what is important to you. This is especially true if you care about things like performance, speed, and..

Read More

Expert Auto Tips

If you're a car owner, chances are it didn't come cheap. And with the cost of vehicle ownership only rising, it only makes sense that you'd want to protect your..

Read More