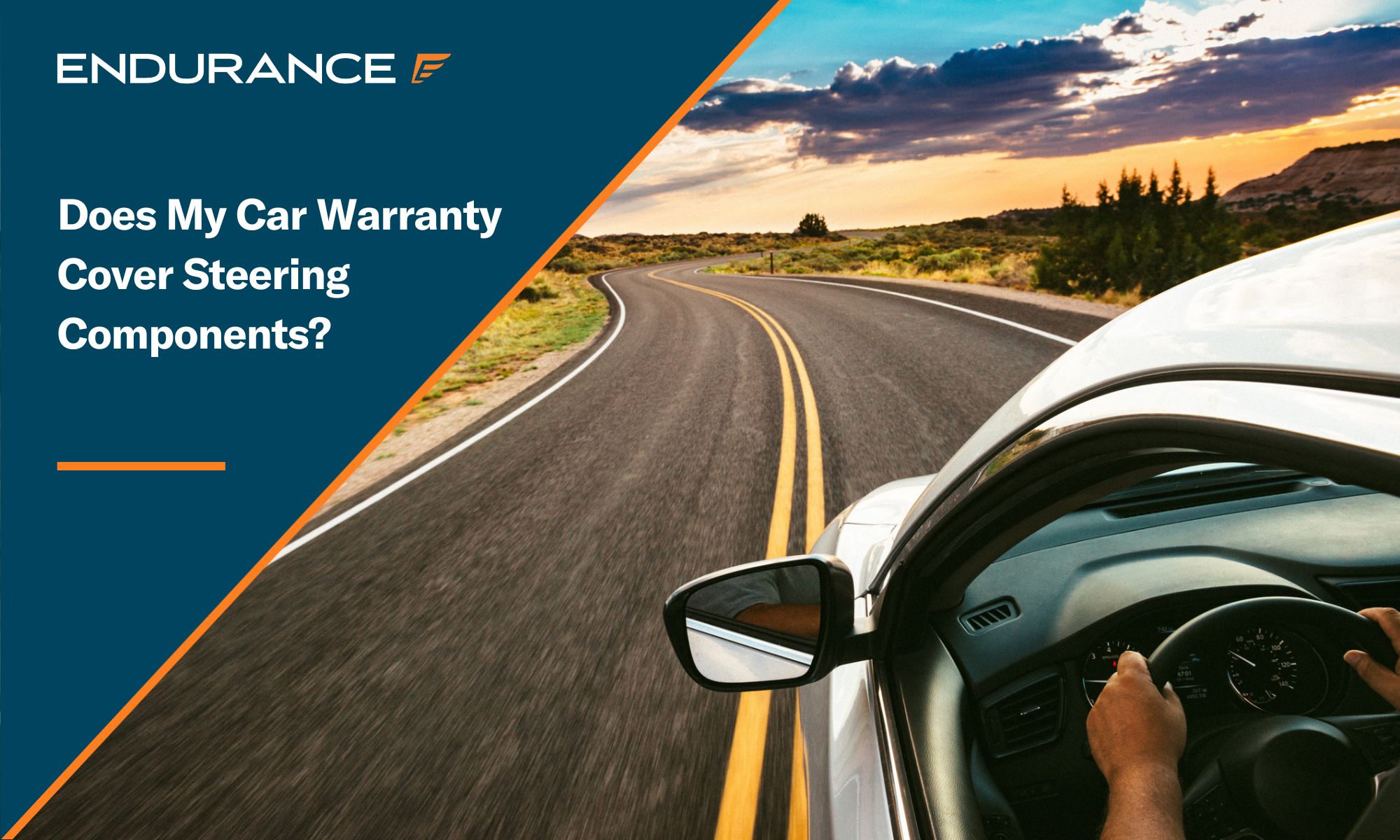 Driving down the road only to experience an issue with your vehicle's steering capabilities is a terrifying experience, regardless of if you are driving a new vehicle or an old vehicle. The only thing worse than a breakdown is realizing that you might have to pay an astronomically high repair cost to rectify that breakdown. Fortunately, a manufacturer's warranty or an extended warranty may possibly cover the breakdown, depending on what occurred.
Learn everything there is to know about what car warranties are and the coverage they offer.
Overview of Car Warranties and Extended Warranties (VSCs)
Before diving into the specifics regarding what coverage car warranties and extended car warranties offer, it's important to break down what exactly these warranties are. First and foremost, a standard car warranty that is issued by a manufacturer will include mechanical breakdown repairs. Any damage that comes to the vehicle from an accident or natural disaster will not be covered under any type of warranty, as this falls under the purview of insurance.
An extended car warranty, on the other hand, is offered by third-party issuers rather than the manufacturer of the vehicle. It also offers protection for mechanical breakdowns and typically comes in one or more types broken down based on coverage. The most common of these types are powertrain warranty (or powertrain coverage), bumper-to-bumper warranty, and basic limited warranty from the dealership. The names may change slightly, but the overall coverage of each will stay the same based on those archetypes.
The specific coverage and exclusion items on a car will change from vehicle to vehicle, primarily depending on the type of warranty that is in place. For example, bumper-to-bumper coverage will provide repair coverage for any component besides the bumpers of the vehicle, hence the name. Limited warranty, on the other hand, may only offer coverage for a small list of specific parts under the hood, which would be outlined in the warranty contract. Therefore, the best way to know what a factory warranty or extended vehicle warranty covers is to refer to the terms of your contract.
Understanding the Basics of Vehicle Steering
The steering components of a vehicle are a complex form of workmanship, and there are numerous parts that can fail. Some of those parts may be covered by warranty, whereas others may not. Understanding which are covered and which are not can help a person get their budget in order:
The Components Used When Steering
As mentioned, there are quite a few components involved in the steering process. Given just how many parts make up the entire steering system, it is one of the most complex systems in the entire vehicle. The way in which they work together will be broken down below, but the primary components used include:
The Steering Wheel
The Steering Column
The Steering Coupler
The Steering Gear
The Power Steering Hoses
The Power Steering Pump
How a Steering System Works
To those who have no knowledge of how a steering system works, reading about all the components above is essentially gibberish without knowing how they work. While the steering process may seem simple as a driver, it is actually quite complicated. A traditional power steering setup requires the use of the power steering pump first. When a driver goes to turn the steering wheel, hydraulic power is provided by the pump to assist with turning the wheel.
As the wheel turns, the steering coupler translates the movement of the steering wheel to the steering column. The steering gear then takes this movement and converts it to the steering movement that is translated to the wheels. Naturally, given all of the above, routine maintenance is important to ensure these parts work properly.
Are Steering Components Covered by Extended Warranty?
Considering the importance of the steering system in a vehicle, it's only natural to wonder whether or not it will be covered under a factory or extended warranty. Any single one of the aforementioned parts failing can result in a catastrophic system failure to the integrity of the steering system, which can result in a breakdown on the road. To that end, utilize the below information to determine whether your parts are covered:
General Warranty Coverage 101
Whether or not your new car warranty will cover power steering is completely up to the manufacturer and can vary from manufacturer to manufacturer. Generally, however, power steering is not covered by a factory warranty unless that warranty offers nearly no exclusions. There may be certain add-ons to the auto warranty plan issued that allow for coverage of the power steering, but these may not be available depending on your vehicle model.
Types of Car Warranties that Cover Steering Components
With a third-party warranty provider, there is a better chance that power steering components may be covered, but it is not a guarantee. The contracts offered by Endurance provide steering coverage, though a majority of extended warranty providers do not for standard packages.
In general, bumper-to-bumper contracts will provide coverage for steering as these fall under the umbrella of coverage, but some providers will list these parts as an exclusion. The warranty providers you are considering will likely offer a large number of different contracts to consider, so it's important to read the list of covered components to understand whether or not steering will be covered.
Key Considerations When Considering Warranty Coverage
When thinking about investing in a warranty package for your used car, whether it be aftermarket or an optional addition from the manufacturer, there are some considerations to keep in mind:
Think about your driving habits and the most "at risk" parts on your car based on those habits
Consider the cost of the package weighed against the possibility that you will need to file a claim eventually
Research complaints from your automaker to see which parts are notorious for breaking down, then use that data to guide you toward a warranty package
Take the reputation of various warranty companies into account to see who has the strongest reviews
Look at different coverage plans offered by providers to see how many options a person has
Choosing a warranty provider will be extremely challenging, considering how many different providers are in the market. However, above all else, consider choosing a provider that offers the most coverage based on your vehicle. For perspective, if you are a Hyundai owner, do adequate research into Hyundai vehicles to see which have historic problems so that you can line them up to an extended warranty package.
5 Best Practices for Filing a Warranty Claim
Going through the filing process for claims should be quick and simple, though too many warranty providers overcomplicate the process. If the claims process is not handled correctly, a person risks the incident not being covered under their warranty package, which can result in needing to pay thousands of dollars out-of-pocket. Fortunately, Endurance warranty makes the process easy for anyone to tackle, though keep the following best practice tips in mind:
1. Have the Details Ready and Available
While the entire claims process can be handled between the repair facility and the claims department, you may still need to explain what happened to someone in the claims department. In this situation, it's important to have all relevant data in your grasp so that you can answer any questions the claims department may have for you.
2. Only Take the Vehicle to Approved Repair Facilities
Almost all warranty providers will list a number of approved repair facilities for a person to take their vehicle to in order for it to be eligible for filing a claim. For those who have an ASE Certified technician shop near them, Endurance contracts will be accepted. In a worst-case scenario where you are not sure, simply call the warranty provider to see if coverage is offered for the repair shop being considered.
3. Have the Repair Facility Contact the Claims Department
Once your vehicle is actually in the repair shop, it's best practice to let them know that you intend to file a warranty claim. A person can then give them the name of their warranty coverage company and inform the repair center to contact their warranty provider with any information on the vehicle, such as a diagnosis.
4. Don't Ignore Authorization Requests
An important part of the claims process is ensuring you approve any and all repairs that the repair facility deems necessary. However, review all of the authorization requests in order to see what falls under the scope of your coverage. Then, inform the repair facility to send the authorization over to your warranty company so that they can officially approve the work.
5. Hang Onto All Documentation Forms
Finally, any documentation forms you are given should be held onto until the entire process is complete. While you likely won't need to reference any documents during the claims process, it's still important to have them in case someone asks. These forms can vary from an initial inspection document from the repair shop, an authorization form from the repair shop or the warranty provider, or anything else.
Use Endurance to Protect Your Vehicle
Nobody wants to experience a breakdown while driving on the road only to realize that they are now faced with a large out-of-pocket expense. Instead, consider investing in one of the vehicle service contracts offered by Endurance that can provide you with protection on the road.
Whether it's taking advantage of competitive component coverage designed for older vehicles with our Secure Plus plan or near bumper-to-bumper protection with our Superior plan, there is something for you. Additionally, all Endurance contracts come with Elite Benefits, for a small activation fee, that provides additional perks such as 24/7 roadside assistance or towing, reimbursements for up to two tires per year due to road hazards, and even up to $1,000 in total loss protection.
For California residents, Endurance also offers mechanical breakdown insurance (MBI) with standard benefits such as towing reimbursement, rental car reimbursement, and trip interruption coverage.
Take advantage of our services and experience our award-winning customer service firsthand. Contact our dedicated team at (800) 253-8203 in order to request a FREE quote. Alternatively, take advantage of our online store for an instant price preview so that you can shop with confidence.
More like this
Extended Warranty

When driving on roadways around the world, the thing most car owners fear is being involved in an accident. However, mechanical breakdowns are the thing that every average driver should..

Read More

Extended Warranty

Every car owner knows how important it is to keep their vehicle in the best possible condition at all times. This means making sure that you are getting the proper..

Read More

Extended Warranty

An extended car warranty can wear many labels, like an auto protection plan or vehicle service contract. But no matter what they're called, extended warranties are valuable for vehicle owners..

Read More