Drive with Confidence: How an ASE Certified Mechanic Ensures Reliable Auto Repairs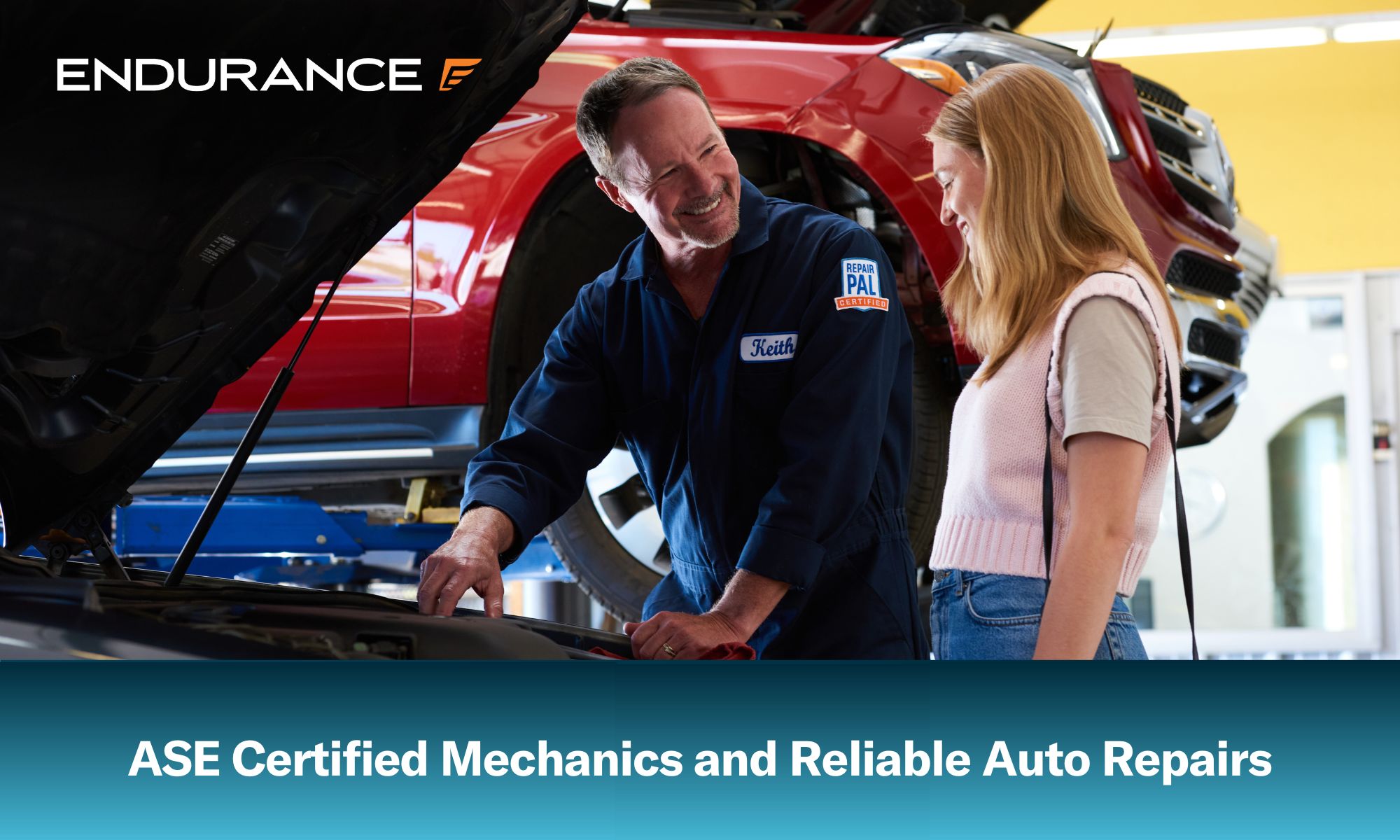 One of the biggest responsibilities of any car owner is making sure that your vehicle gets the best possible care. When the time comes to get routine maintenance or have a repair done, you want to be certain that the mechanic you go to is knowledgeable and up-to-date on the latest developments in the auto repair industry.
The National Institute for Automotive Service Excellence, or ASE, is an organization dedicated to training and certifying mechanics and ensuring they have the best education and resources. To become ASE Certified, a mechanic must complete two years of supervised industry training and one of their Automobile and Light Truck Certification exams. This, combined with the requirement to recertify every five years, means you can count on ASE Certified technicians to give you the best possible service and repairs.
One of the most difficult aspects of car ownership is choosing the right mechanic for service or repairs. There are a lot of options when it comes to picking a mechanic, and not all of them have the same level of experience or training. When you choose an ASE Certified mechanic, you can be certain that they have been given the best industry training and have kept up with developments in the field. By knowing how ASE certification works and why it is such a sought-after quality in mechanics, you can make the right choice for your vehicle the next time you have to take it in for repairs or maintenance.
Understanding ASE Certification
While you have most likely seen the ASE logo or heard the term before, it is important to understand what it means and how it relates to the level of service you can get for your vehicle. There are many paths to becoming an auto mechanic; some are more or less formal than others. While some mechanics simply apprentice under a more experienced tech, ASE Certified mechanics get a more formal education.
Any prospective ASE certification applicant must either complete two years of on-the-job training with an approved mechanic or complete a two-year degree in automotive repair and one year of on-the-job training. This gives the trainee the most complete instruction and guidance so they can provide clients with top-tier service.
After an ASE applicant finishes their training, they then have to pass a detailed and difficult exam in Automobile and Light Truck Certification. There are over 50 different versions of this exam, and only two out of three applicants pass it on their first try. After a mechanic has become ASE Certified, they must then recertify every five years. The recertification includes retaking the exam and getting updated on any developments in the automotive industry. In a constantly changing business, this is incredibly important and ensures that a mechanic is up-to-date on new technology and has been maintaining their skills throughout the years.
Let's delve into whether or not ASE certification matters to both professionals and consumers.
Benefits of ASE Certification for Mechanics
ASE certification is not only beneficial for clients, but it also has a lot of advantages for mechanics and automotive technicians. People who are interested in working in the auto repair industry have a passion for cars and want to provide the best possible service. Getting an ASE certification is the most comprehensive process for mechanics and will provide high-quality education and real-world training. This helps mechanics provide accurate diagnostics and suggest the best possible courses of action when making car repairs.
The continuing education that is required to keep an ASE certification is also incredibly advantageous for mechanics. The auto industry is very dynamic and is always in flux. This means that it is crucial that an auto technician stays on top of new developments in technology and design, and having to recertify every five years ensures that this is done. Knowing how to work with new tech is one of the things that will set any mechanic apart from the competition.
Why You Should Choose an ASE Certified Mechanic
When the time comes to take your vehicle in for repairs or maintenance, you most likely have a lot of choices in your area. Many car owners feel anxiety trying to narrow down their options, and making the wrong choice could result in a fairly bad experience or an incredibly high bill. When you look for ASE Certified mechanics specifically, though, you can be certain that you are only working with the very best people for the job. Not all mechanics are ASE Certified, and many of them wouldn't be able to pass the exam if they took it, which makes the certification well worth looking for when choosing a mechanic.
If you own an exotic car or high-end luxury vehicle, it is all the more important to look for ASE certifications when picking a mechanic to work on it. Certified auto repair professionals have experience with vehicles of all kinds and will have the expertise needed to diagnose issues properly and come up with solutions that keep them running for many years to come. Any kind of unique automobile needs a technician with the best education and training, and the ASE certification is a good indicator that they have the right knowledge.
Case Study: ASE Certified Mechanic Repair
Going to an ASE Certified technician for your vehicle's maintenance and repairs is a good way to get the best possible service and can help you build trust in your service provider. A Korean behavioral science case study that was published by the National Library of Medicine proved that high-quality service was more than enough to keep customers coming back to the same mechanic.
This study surveyed 319 customers who had recently gotten their vehicles serviced at a mechanic and found that both customer service and the quality of the work were of equal importance when it came to whether or not a customer would come back to that mechanic. 
When you work with an ASE Certified automotive professional, you are working with someone who has had both formal and on-the-job training that has been codified and standardized. This means that you can count on getting good customer service and high-quality repair for your vehicle. These two factors combined give you the best chance of driving happily away from the shop, no matter what kind of work you have gotten done.
How to Find an ASE Certified Mechanic
Finding an ASE Certified mechanic is relatively simple. You can go to the National Institute for Automotive Service Excellence's website and enter your zip code, which will show you a listing of up-to-date auto service centers with their certifications and in good standing with the organization. You can also look for the blue ASE logo on the website of any shop you are thinking of bringing your car to. A certified shop will be more than happy to advertise it and make it very easy for you to decide.
While a shop not being certified does not necessarily mean it is lower quality, it does mean that they don't prioritize their education and technology expertise. Because of this, any shop that does not have its blue ASE seal credentials prominently displayed is most likely not certified. If you don't have any other shops in your area or have limited options, be very careful about accepting estimates from these shops, and be sure to read as many reviews as possible before agreeing to any work from them.
Get Help Working With an ASE Certified Mechanic With Endurance
Working with an ASE Certified mechanic or auto repair shop is your best bet when trying to find quality service for your vehicle. If you want help paying for that high standard service, a vehicle service contract from Endurance can bring you peace of mind.
Endurance has plans for vehicles and budgets of all types, from basic powertrain coverage all the way up to protection for high-end luxury vehicles. Endurance also has plans available for vehicles that other providers won't cover, such as Canadian Gray Market vehicles, cars with a rebuilt or salvage title, and vehicles used for commercial purposes like rideshare or delivery.
Every Endurance customer also gets access to standard benefits like 24/7 roadside assistance, towing, lockout services, trip-interruption coverage, and rental car reimbursements. And, for a $29 activation fee, you can receive access to a year's worth of Endurance Elite Benefits, including extra perks and savings like key fob replacements, tire repairs or replacements, collision discounts, and total loss protection. So, you know you'll be in good hands.
Experience our award-winning customer service firsthand by calling our dedicated team at (800) 253-8203 to request a FREE quote. Alternatively, explore our online store for an instant price preview and shop with confidence.
You can also find more automobile-related resources on the Endurance blog, including articles on topics ranging from extended warranty coverage comparisons to vehicle buying guides, automotive FAQs, aftermarket warranties, mechanical breakdown insurance (MBI), DIY maintenance tips and tricks, and more.
More like this
Expert Auto Tips

Retired professional racecar driver Danica Patrick is a pioneer in the world of motorsports. Her breakthroughs include being the first woman to lead an Indianapolis 500 race (the 89th running..

Read More

Expert Auto Tips

Buying a new car can be incredibly exciting and can open up a whole new world of possibilities. There are so many vehicles on the market, and no matter what..

Read More

Expert Auto Tips

Changing your oil and keeping your tires at the correct PSI are two great ways to keep your car running smoothly and driving safely as the seasons change. Your vehicle's..

Read More