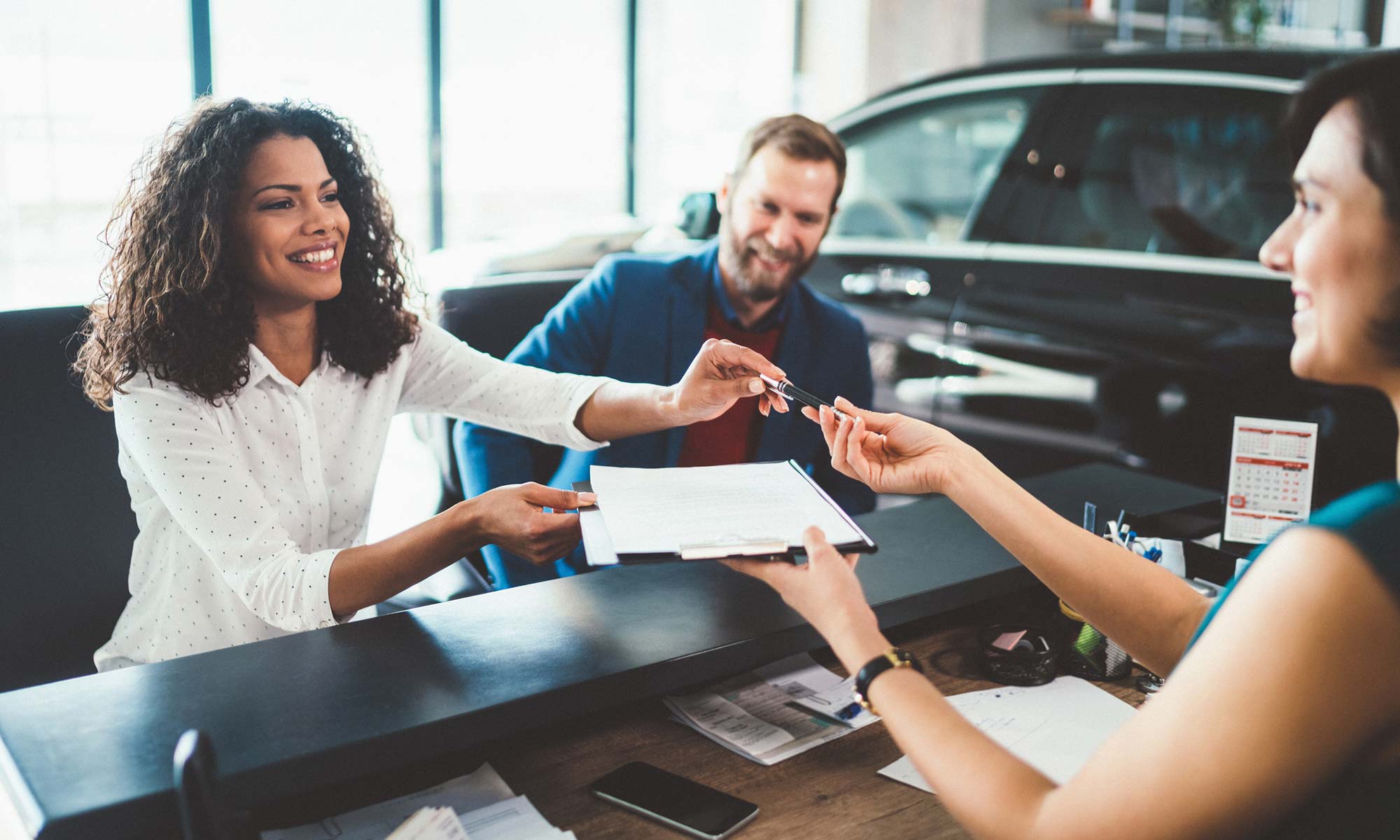 There's more to the summer than road trips, drive-in movies or lounging at the beach under the sun. It also often provides excellent deals when looking to buy a new car. But sometimes, buying isn't the right option for those seeking a vehicle. In this case, leasing a vehicle can be a good alternative and help you save in some situations. 
Before choosing to go down this road, however, it's important to understand what a lease is and the pros and cons of leasing a vehicle.
What is "Leasing" a Vehicle?
The main difference between leasing and buying a vehicle comes down to who owns it. When you buy a car, you take out a long-term loan that you begin to pay off before ultimately owning the vehicle. However, when you lease a vehicle, you are essentially making payments to the dealership or leasing company to have the right to drive the car. You'll also pay for its depreciation and any applicable interest rates during your lease period. Still, you won't own it at the end of the contract, though some leases will allow you to purchase the vehicle once the lease ends.
As for lease payments, it is similar to a standard car loan that you may take out during the car buying process. You will be responsible for an upfront payment followed by monthly payments after the fact. Monthly payments for a lease are typically cheaper than standard car loan payments, but again, you won't end up onwing the vehicle in the end. 
You can also typically opt for a closed or open-ended lease. A closed-ended lease is when the lease contract ends on a specific date that the car needs to be turned in on, whereas an open-ended lease provides you with a time window to return the car without penalty. This time window can range from a month to six months or more. Different variations of these lease agreements, such as allowing the total lease amount to be paid in one payment, special discounts, and more, can vary from dealer to dealer. Be wary, though, as most leases will also have a mileage limit. That means if you plan on regularly using your vehicle for long-distance trips, that excess mileage can cost you.
The Pros of Leasing a Vehicle
For some people, leasing a vehicle can be an excellent option if the pros make sense for your situation. Here are some common selling points for leasing a vehicle:
Lower monthly payments:

The down payment and monthly payments on leased vehicles are typically lower than that of standard car loans.

Freedom to upgrade cars often:

Some people enjoy the idea of leasing because they don't want to be tied to a single vehicle, so they use short-term leases to drive many different cars. Due to the nature of leases, too, you can often drive a vehicle that would otherwise be out of your price range when buying.

Potential option to buy out the car:

Depending on the lease agreement, you may have the option to purchase the car at the end of the term.

Lower repair costs:

When leasing a vehicle, dealerships may offer coverage for maintenance and other items.
While the perks of leasing a vehicle may seem enticing, it's important to look at some of the drawbacks of leasing as well.
The Cons of Leasing a Vehicle
While leasing a car certainly can be beneficial for some people, some cons might make it a deal-breaker for others:
Limitations on mileage:

Despite having a length of time for the lease, dealerships will often cap the number of miles you can add to the car before added fees are set in, which would be per mile.

You don't own the vehicle:

Perhaps the largest downside of leasing a vehicle is that you don't officially own the vehicle during the lease. And if you don't have the option to potentially purchase the vehicle once the lease ends, you'll have to find another vehicle to buy.

Excessive wear and tear may cost you:

Dealerships will often have specific wear-and-tear charges on the vehicle, which, when exceeded, will end up in added fees.

Early termination fee:

If you choose to end your lease early for any reason, you will most likely be charged a large fee.
Leasing a car has certain cons that might make the decision harder. However, that's why evaluating your situation can help determine which route is best for you. Dealerships will also often have specific wear-and-tear charges on the vehicle, which, when exceeded, will cost you added fees.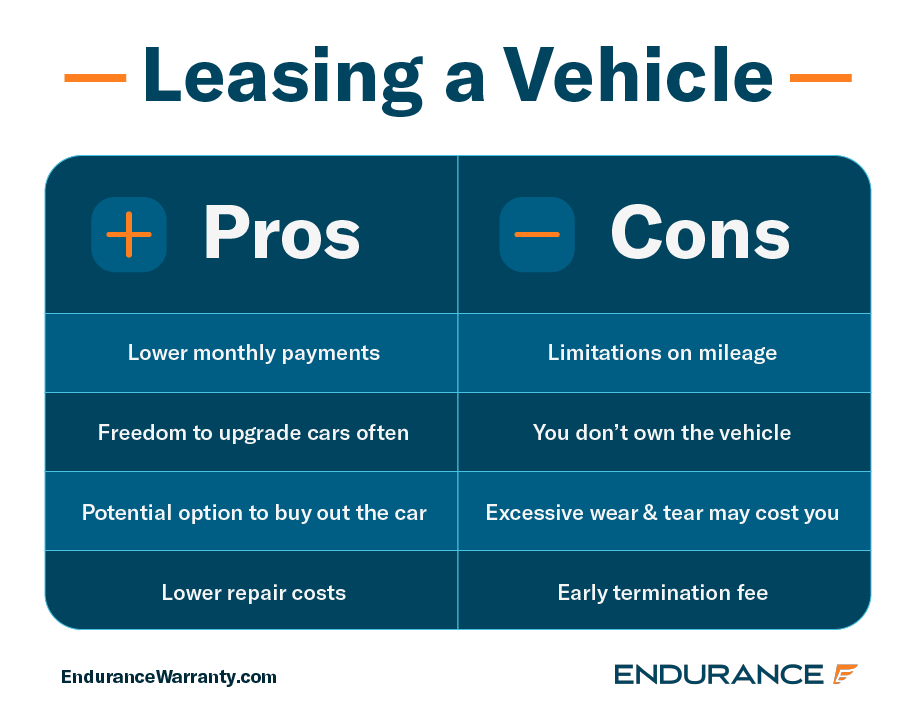 Should I Lease or Buy a Vehicle?
Overall, the decision to lease or buy a vehicle depends on key factors and what you hope to gain from the process. If money is too tight to purchase a vehicle or if your goal is to drive a vehicle that you normally wouldn't be able to afford, leasing the vehicle can save you money and accomplish your goal. You also don't need to worry about the resale value on the vehicle you are leasing since it is not your responsibility once the lease ends. In some cases, including scheduled maintenance and oil changes can help save you money on maintenance costs throughout your lease.
However, if you purchase a vehicle and own it outright, you won't need to make monthly payments on the vehicle itself unless the car breaks down and another is needed. Additionally, if you spend a large amount of time driving, buying may be a better option as the mileage restrictions for leasing can arrive too quickly. Therefore, choosing to lease or buy depends on your personal situation and driving habits.
Protect Your Vehicle with Endurance
There are many pros and cons for leasing a vehicle that might make it a better option than buying for you. Think about your driving habits and financial situation, along with balancing all factors, before making the decision to lease or purchase a vehicle. Regardless of whether you lease or buy, ensuring your vehicle is protected for maintenance and repair items is undoubtedly important, as any "new vehicle" will turn into a used car sooner than later. And without the help of an active factory warranty, you'd be responsible for any car repair bills that might come up. That's why having the peace of mind of an Endurance auto protection plan can help you keep your vehicle running for longer, long after its factory coverage expires.
And, regardless of the Endurance plan you choose, you'll automatically receive 24/7 roadside assistance and towing, trip interruption coverage and rental car reimbursements. You'll even be able to take your vehicle in for repairs at any ASE Certified mechanic or repair shop, meaning wherever you are across the country when you need repairs, Endurance will have you covered. But that's not all, as you'll also automatically be eligible to receive a full year's worth of Endurance Elite Benefits, including extra perks and savings like tire replacements or repairs, collision discounts and more.
Get started protecting your vehicle by requesting a free, no-obligation quote or by calling the award-winning Endurance customer care team at (800) 253-8203. And don't forget to check out the Endurance blog for other insightful and helpful articles on all things automotive.
More like this
Expert Auto Tips

When driving a car, you probably go about your routine without thinking twice. Turning the car on, switching the headlights on, and applying the brakes have all become second nature,..

Read More

Expert Auto Tips

Retired professional racecar driver Danica Patrick is a pioneer in the world of motorsports. Her breakthroughs include being the first woman to lead an Indianapolis 500 race (the 89th running..

Read More

Expert Auto Tips

Buying a new car can be incredibly exciting and can open up a whole new world of possibilities. There are so many vehicles on the market, and no matter what..

Read More