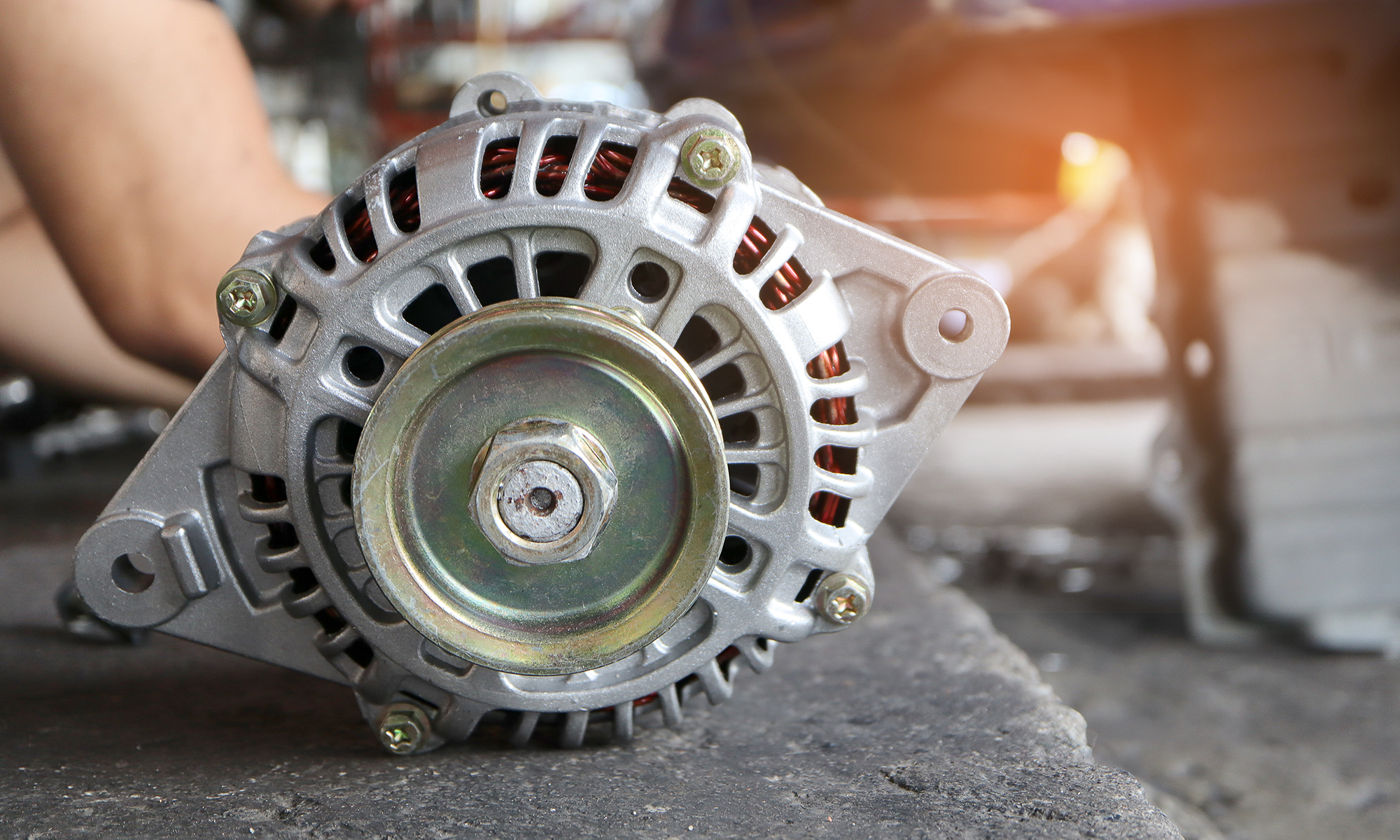 As a car owner, you may take your vehicle for granted when you get up every morning. After all, you just have to go outside and, with a simple push of a button or turn of a key, get anywhere you need in minutes. But for most, while you know how to start your car, many components you may not know about keep them running, like your alternator. 
As a vital part of any vehicle, knowing more about how your car's alternator works and whether or not your car's warranty covers it can help you stay one step ahead of unexpected and costly repairs.
What Is an Alternator?
An alternator is an electrical generator mounted on your car's engine to convert mechanical energy to electrical energy. This alternating current is generated by the alternator pulley being rotated by the serpentine belt, which is driven by the crankshaft pulley. 
As to locating your car's alternator, most are usually found on the front of the engine, in line with your engine accessories. This allows your alternator to create the correct amount of electricity to keep your car battery charged and the electrical system running when the car is running, based on the specific engine speed or RPMs. However, you can simply check your owner's manual to learn precisely where your car's alternator is.
What Are the Signs of a Bad Alternator?
The alternator on any car is considered a "wear & tear" item, meaning it will need to be replaced over time. Specifically, the rotor and brushes can become worn due to use and exposure to elements, so you will most likely need to replace an alternator on an older car as time goes on.
However, while all alternators need to be replaced at some time, some can start to show signs sooner than others based on how quickly it wears. This makes recognizing the signs of a bad alternator important to help you save time and money by narrowing down your vehicle's charging or starting issues. And without the proper knowledge, you can easily spend money replacing your battery or starter when your alternator was the actual problem.
Here are a few signs of a bad alternator you can look for:
Battery

Light Illuminates on Dashboard

Dim/Flickering Headlights (Or Other Electronics)

Strange Noises Coming from the

Alternator

Burning Smell Coming from the

Alternator

Electrical Accessories Have Slowed Down

Difficulty Starting

Car Stalls When Driving
Having your alternator replaced is a quick and easy job for most mechanics, though the part itself can be costly. For example, in a front-wheel drive vehicle, the alternator is mounted on either the engine's right side or the lower section, like a Honda Civic. With that, you can expect to pay between $560 and $903 for an alternator replacement, according to the experts at RepairPal. However, the bulk of this cost is the new alternator itself, as the labor costs will only cost you around $144 to $181.
On V8 engines or rear-wheel drive vehicles, the alternator is usually easier to get to as it is mounted on the front of the engine. Still, the costs can be similar, like for the Chevrolet Silverado 1500, where you can expect to pay between $110 and $139 for labor while the alternator will be between $485 and $638, totaling anywhere from $595 and $777.
Will My Warranty Cover My Car's Alternator?
If you've recently purchased a brand new car, you'll most likely have an active factory or manufacturer's warranty, which will typically include coverage for your alternator. However, this won't be a part of your factory coverage's powertrain warranty, as the alternator is a component of your car's electrical system. Instead, you will most likely find this coverage as a part of the "new vehicle" limited warranty that comes with the car. But, while both types are helpful, factory warranties do not last forever, so you will need to get additional coverage once your factory warranty expires to protect your alternator. 
For most automakers, you can look to purchase an "extended car warranty" to quite literally extend your coverage with them. However, you may only be able to purchase this extension when your original coverage is still active. If you wait too long or purchase a used vehicle past its factory warranty cutoff, you'll be left without that extra peace of mind. Luckily, purchasing a vehicle service contract from third-party providers like us at Endurance can be just what you need.
While not coming from your automaker, vehicle service contracts (or VSCs for short) can give you factory-warranty-like coverage that includes protection for your alternator while also often coming with extra perks. For example, like your car's factory warranty, a vehicle service contract from Endurance can protect your car's alternator. But, unlike your factory coverage, which may keep you from only getting repairs done at the dealership, you can go to any local certified auto repair shop ASE Certified mechanic. You'll even be able to find other perks when using a third-party provider. These can include 24/7 roadside assistance, towing, trip interruption coverage, and rental car reimbursements—all of which come for free with every Endurance plan.
How Endurance Can Keep You Covered
As a car owner, you don't always have to know every part of your vehicle. Still, the more you know, like what your car's alternator does and signs that it may need repairs, the more you can save on future vehicle repairs by identifying potential problems. You can also give yourself even more peace of mind when it comes to not paying hundreds or thousands on repair bills with an Endurance auto protection plan.
Whether you have basic powertrain coverage starting at just $79/month or comprehensive coverage for almost every part of your vehicle, an Endurance auto protection plan will help protect your vehicle's most vital components, like the engine and transmission. You'll even get extra perks like 24/7 roadside assistance and towing, rental car coverage and more. And unlike most factory warranties, with an Endurance plan, you can take your vehicle to any certified auto repair shop or your dealership for repairs, meaning wherever you are, if you experience a breakdown, Endurance can help. 
And as a bonus, as an Endurance customer, you will also have access to the Endurance Mobile app to find everything from your policy information to roadside assistance right in the palm of your hand. You'll even be able to unlock a full year's worth of Elite Benefits, including up to two tire repairs/replacements, key fob replacements, and much more. Just purchase the Endurance protection plan that fits your needs and budget, pay a small, $29 activation fee and enjoy your year's worth of extra perks and savings.
Request a free, no-obligation quote or give a member of our award-winning customer care team a call directly at (800) 253-8203 to learn more about how Endurance can help you. And don't forget that you can find more answers to your automotive FAQs, expert auto tips, vehicle comparisons, buying guides, and more by visiting the Endurance blog.
More like this
Terminology

Learning more about how to care for your vehicle is key to being a better car owner. While you don't have to know how to rebuild your engine on the..

Read More

Terminology

As we become more aware of greenhouse gases and their environmental impact, alternative fuel sources and modes of transportation are becoming increasingly popular. Fuel prices are also rising, which is..

Read More

Terminology

As a car owner, you've likely mastered the art of "filling up the tank." But while it may seem a fairly simple part of car ownership, even the most experienced..

Read More