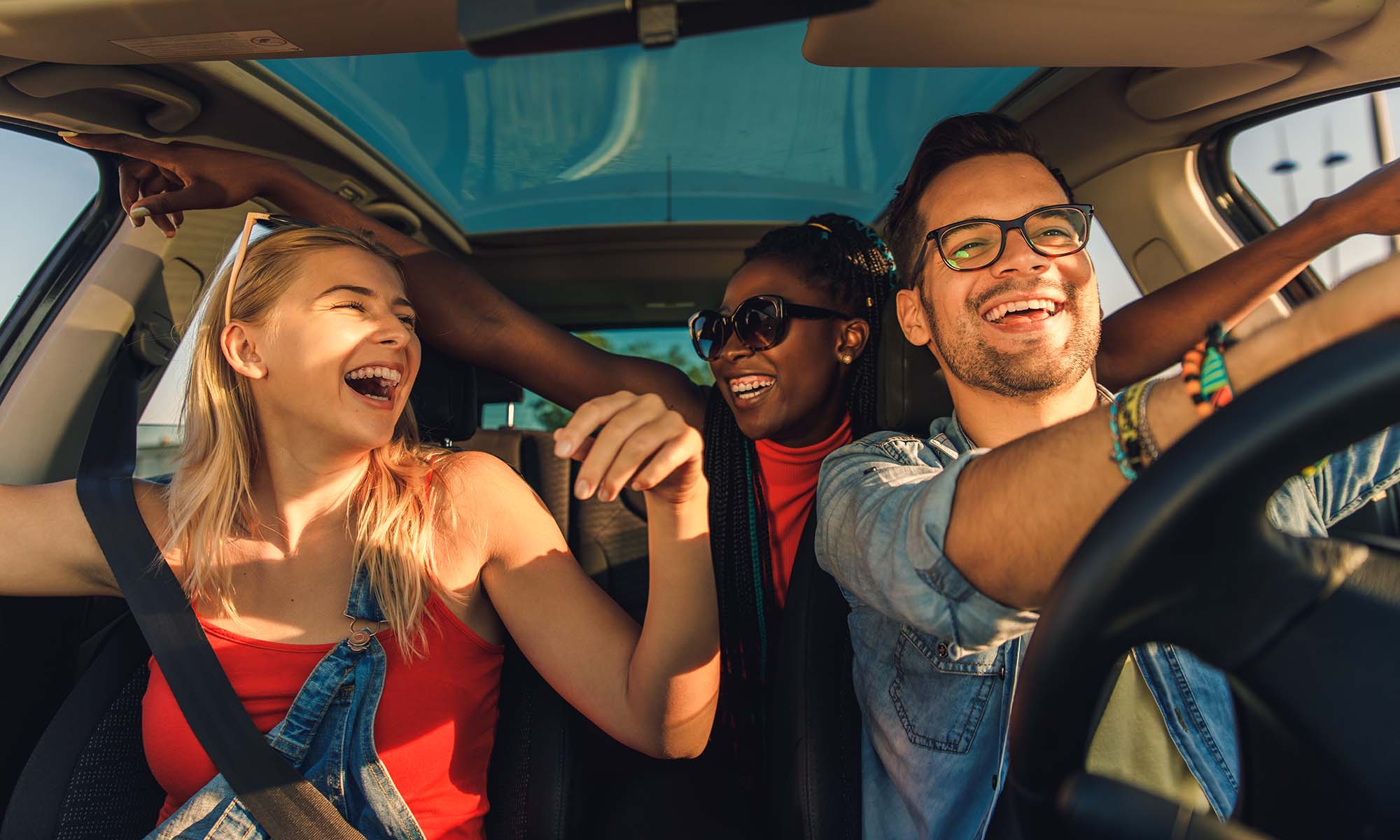 With the end of summer near, the Labor Day holiday weekend is just around the corner. It also means that millions of drivers will be hitting the highway for one final weekend of adventure, making it one of the busiest holiday travel weekends of the year. But while you may be getting ready to head out for a weekend of fun and relaxation, it's important to remain cautious.
So to help make sure you have the most enjoyable holiday weekend possible, you have to be sure that you're car is prepared and that you're following some of the most important Labor Day Weekend driving tips.
Labor Day Car Maintenance Tips
Like any road trip, you'll want to ensure your car is ready for the drive ahead—after all, nothing rains on a Labor Day parade quite like an unexpected breakdown. So, before you buckle your seat belts, always follow these standard preventative maintenance steps:
1. Check Your Tires
Check the pressure of each tire, and bring it up (or down) to the recommended levels found in your owner's manual. Not only does this help to prevent blowout, but it also gives better gas mileage. While you're at it, check your tire's tread, and consider getting a tire rotation if you haven't in the last 5,000 to 8,000 miles.
2. Check Fluids & Replace Filters
Brake fluid, coolant, transmission fluid, power steering fluid, and windshield wiper fluid will all need checking and topping up if necessary. If it's been more than 3,000 miles since your last oil change, it could be worth having that done too. Finally, make sure to clean or change your air filter completely.
3. Test Brakes & Lights
It goes without saying that brakes are vital for your safety, so check them thoroughly. If your brake pads are feeling spongy, you may need to add brake fluid. Any unusual noises coming from your brakes should be checked by a professional before you leave. Have someone walk around your car while you test the lights, including the brake lights, and if any of them aren't working, replace the bulbs immediately.
4. Check Your Battery
You aren't going anywhere with a bad battery. Pop the hood and look at yours, specifically checking for signs of corrosion on the terminals. If you see any, it can usually be cleaned quite easily with baking soda and water. It's also recommended that you have your battery health tested, which auto shops will usually do for free.
5. Check Belts & Hoses
Belts keep almost everything in your vehicle running. Check yours for cracks or fraying, and ensure they're adequately tight. Move on to your hoses and inspect for drips, leaks, or cracking. If your car is low on coolant, this is usually a sign that a leak is present.
6. Clean Your Car Inside & Out
If you're going to be driving for a long time, you'll want to make sure you're comfortable. Clean your car inside and out to give yourself maximum room to stretch out. Plus, a clean exterior is proven to improve fuel efficiency.
Preparing your vehicle can help you avoid potential issues, but it can't help with everything. But when you're an Endurance Warranty customer, you can get peace of mind knowing that any Endurance auto protection plan will help cover the repairs you may need for your car's vital components at no additional cost to you. We'll even be able to help you if your car breaks down away from home with complimentary services like 24/7 roadside assistance and towing, so you can be certain you'll never be stuck on the side of the road, no matter the time of year. 
Safe Driving Tips for Labor Day Weekend
Once you know your car is all set for your trip, it's time to buckle up and head out. But even while your car may be ready, driving long distances on busy roads comes with its own set of challenges. That's why, by following some of the top Labor Day Weekend driving safety tips, you can be sure that your trip will be smooth sailing:
1. Get Your Vehicle Prepared
Once you've completed all the necessary maintenance, make sure you're stocked up on everything you'll need for the trip. As well as any clothes, food, and navigation materials, you'll also want to pack a car emergency kit that's topped up with essentials like a first-aid kit, drinking water, some snacks and even things like a portable phone charger. Thorough car care should keep you from being stranded at the roadside, but it pays to be prepared for the worst.
2. Make Sure to Plan Ahead
Technology has made organizing trips easier than ever, so there's really no excuse not to plan ahead. Download any useful road trip apps before you leave, and use them to put together a detailed itinerary. Also, make sure you know your exits by name and number, and closely watch signs as you near the ramp. Many accidents are caused by drivers suddenly changing lanes before they miss an exit.
3. Avoid Driving at Peak Times
When it comes to safe driving, it always helps to slow down and not rush to help you stay safe and avoid potential car accidents. But if you don't time your trip right, you may have no choice but to slow down, thanks to bumper-to-bumper holiday traffic. Mainly, like you, many others around the country are looking to get out and enjoy the long weekend. But that also means that, like you, other motorists may have the same plan to just jump in their cars right after work and head off in rush hour traffic, making late afternoon to early evening a dangerous time to travel. So instead of waiting, leave as early as possible on Friday or Saturday morning (between 5 am to 7 am is best), or even earlier in the week if you can. Coming home, avoid heavy traffic by leaving before noon on Monday. Even better, take additional days off work and do your traveling the Thursday before and Tuesday after.
4. Let a Passenger Handle Navigation
Most modern vehicles have GPS systems built in, but if yours doesn't, there's no need to worry as most cell phones also come with the same capabilities. However, whether it's on your phone or a part of your car's infotainment system, let someone else handle it if you're driving with friends. You have enough to think about without being distracted by your phone, and a passenger has their hands free to search for alternative routes if necessary. Keep your eyes on the road, and you're in a better position to keep everyone in the vehicle safe.
5. Don't Cut in Front of Large Trucks
Large trucks are some of the most dangerous vehicles on the road, and due to their size and weight, their stopping distances are much greater. While you may be desperate to take an exit, it's much more sensible to continue driving and loop back around than it is to cut in front of a truck. Doing so is almost guaranteed to cause an accident.
6. Be Aware of Trucks' Blind Spots
While we're still on the subject of trucks, it's important to consider their blind spots. If you can't see a truck's mirrors from wherever you are, the truck driver can't see you. Give trucks a wide berth wherever possible, and don't get too close to their rear either.
7. Limit Night-Time Driving
Most road accidents happen at night, so avoid being on the roads after sunset if possible. If you want to go out in the evening, try a safer option like ridesharing, a taxi, or public transportation. Of course, this allows you to drink too, which very few people would complain about. Although there are legal limits on how much you can drink and drive, it's never recommended that you do.
8. Alert Authorities If You See a Drunk Driver
Drunk driving sadly kills around 34 people each day, according to the National Highway Traffic Safety Administration (NHTSA) traffic fatalities. In fact, 30% of traffic fatalities are caused by drunk drivers. Combine this fact with the number of celebrations during Labor Day weekend, and the number of drunk drivers is sure to rise, meaning you need to be diligent when on the road. For the safety of yourself, other drivers, and pedestrians, it's important you dial 911 when you spot one. Tell the authorities which road or major intersection the driver was on and which direction they were traveling.
Enjoy Labor Day Without Worry with Endurance
Routine maintenance and safe driving can be a great way to help ensure your Labor Day Weekend travels go smoothly. But while it can help boost your chances of driving worry-free, even the most well-maintained cars can't avoid every breakdown. And when your car breakdowns on a road trip, things could get tricky—but not when you have Endurance. 
Like a car's factory warranty, an Endurance auto protection plan can help cover you from expensive repair bills for your car's vital components. But unlike coverage from automakers, Endurance customers are able to take their vehicle to any certified mechanic or repair shop of their choice. You'll even get to enjoy extra perks like 24/7 roadside assistance and towing, trip interruption coverage and rental car reimbursements so you can ensure your trip goes on with as little delay as possible, regardless of the Endurance plan you have. You can also enjoy some Endurance Elite Benefits for an entire year, including help paying for tire replacements or repairs, plus collision discounts and more. Simply choose the plan that fits your needs and budget, activate your Elite Benefits and enjoy a full year of extra perks and savings. 
Want more information and a free, no-obligation quote? Get in touch via telephone or use the button above. But before you go, make sure to check out even more helpful and insightful articles, including even more driving and maintenance tips, vehicle buying guides, extended warranty coverage comparisons and more, by visiting the Endurance blog.
More like this
Travel

With the cooler months creeping in, it's the perfect time to begin planning a fall road trip to enjoy the best of what the season brings. However, weather conditions during..

Read More

Travel

In the warmer weather of summer, many people plan off-road excursions and road trips with the entire family. The only thing that can ruin these outdoor adventures is an unexpected..

Read More

Travel

Thanksgiving is fast approaching, and if you're like many across the country, you're probably gearing up to head home (or somewhere) to spend quality time with loved ones and enjoy..

Read More