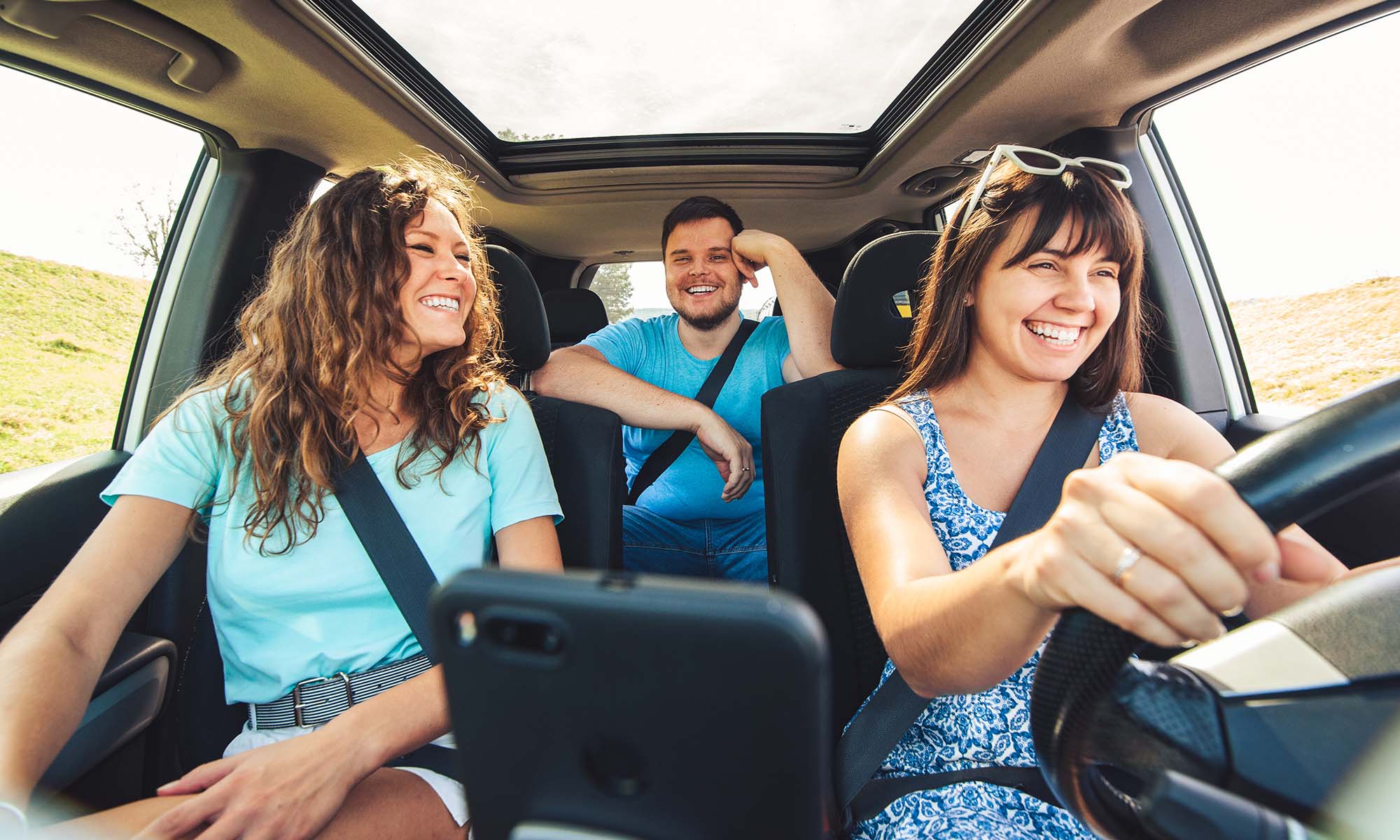 It's officially summer, which means warmer weather, sunshine, and of course, some much-needed vacations. And for many people all over America, their go-to summer vacation means starting their road trip planning process. Still, while picking where you'll go and when you're going is a must for any trip, there's more to being prepared than that. For starters, every vehicle can use some good old-fashioned car maintenance before hitting the open road, like an oil change, tire rotation, and then some. But once your vehicle's ready to roll, you should also prepare yourself, and that can start by simply picking up your phone and downloading an app. 
In fact, whether it's helping you plan your route like google maps or keeping you entertained along the way, your phone's app store is sure to have a travel app for every step of the journey.
The Best Apps to Have for Road Trips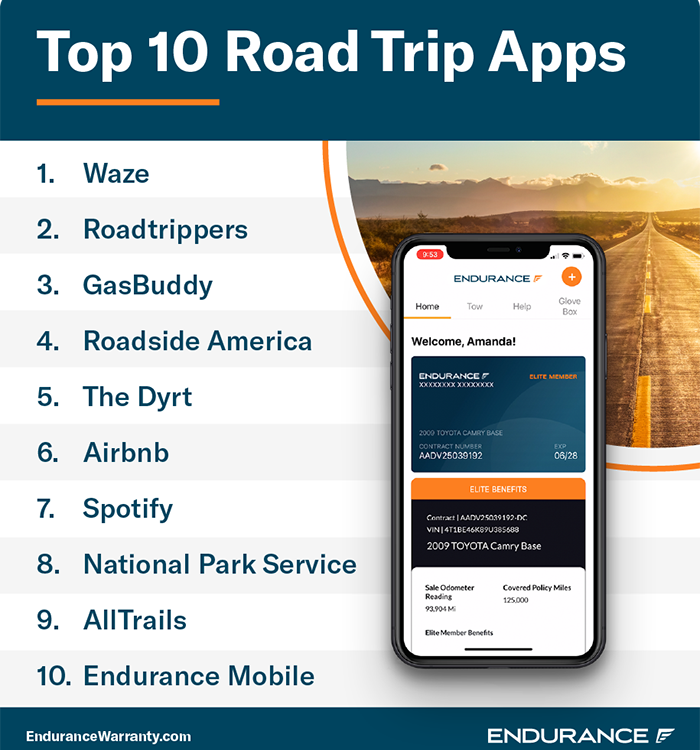 With thousands of apps uploaded daily, finding the best ones can take a little time. So to help, here are some of the 10 essential road trip apps to have to help make any trip a great one:
1. Waze
Available on: Apple and Android
Price: Free
Most navigation apps simply show you the route from A to B, but Waze does so much more. Owned by Google, this community-driven, free app collects data from other users in real-time, helping you to avoid annoying obstructions like traffic jams and construction to find the best route. For some added road trip fun, this maps app regularly releases bonus voice packs so that you can be guided by Arnold Schwarzenegger, Morgan Freeman, Terry Crews, and more!
2. Roadtrippers
Available on: Apple and Android
Price: Free or $29.99 per year for a RoadTrippers Plus membership
Probably the best road trip planner app around, Roadtrippers does pretty much everything you'd want it to. Plan your route with up to 150 stops, collaborate with friends and family, help build a packing list, and find attractions to stretch your legs at. The base app is free, but for an annual subscription, you can unlock lots more features—from exclusive deals to offline capabilities.
3. GasBuddy
Available on: Apple and Android
Price: Free
With rising gas prices, stopping to fill up the tank on an extended trip can often consume most of your road trip budget. That's where GasBuddy can help, as it's designed to save you money, showing you the cheapest gas stations in your area whenever you're running low. Users are encouraged to enter the latest gas prices at every station they visit, so information is always up to date. The app also monitors recall alerts for your car's make and model to help keep you stay safe.
4. Roadside America
Available on: Apple
Price: $2.99
From curiously quirky to charmingly tacky, it isn't a real American road trip without a visit to a classic roadside attraction. The Roadside America app is the most comprehensive resource for unique places to visit along your route, including "world's largest" campsites and other entertaining oddities. The app itself is $2.99, and you can unlock additional regions for another small fee. However, it is only compatible with iOS devices, so only iPhone users are currently only able to use this great app on their next road trip.
5. The Dyrt
Available on: Apple and Android
Price: Free or $35.99 per year for The Dyrt Pro access
If you're an avid camper and prefer the idea of sleeping under the stars, The Dyrt should be your go-to app. Helping you find campgrounds, RV, and cabin sites across the US, PRO members can even book spots straight from their smartphone with no additional fees. There are over 44,000 locations to choose from, and users can also leave reviews to guide future visitors.
6. Airbnb
Available on: Apple and Android
Price: Free
Whether staying within the United States or abroad, Airbnb is revolutionizing how we book vacation homes and experiences. No matter where you go, you'll find all kinds of unique places to stay, unlike a regular old hotel room, as well as tours and activities to participate in. The app is also completely free to download and use, so make sure to check it out before you "check in" for a stay while on your trip.
7. Spotify
Available on: Apple and Android
Price: $9.99 per month
Pretty much everyone knows about Spotify, but that doesn't make it any less of an essential road trip download. Collaborate with friends to create your perfect driving playlist and add to it on the fly. Or, if you want something a little less musical, you can also access most podcasts via Spotify. Don't be concerned about a weak wifi connection because if you download your music and podcasts, you can take your listening wherever your network can't go. The app is free to use, but ads can get annoying fast. If you want to remove them, the Premium version costs $9.99 monthly.
8. National Park Service
Available on: Apple and Android
Price: Free
National Parks are some of the most beautiful places in America, and no road trip would be complete without visiting at least one. The National Park Service app is your guide to every National Park in the country, with info on how to get there, things to do, like hiking trails, and where to stay. Once you arrive, you can also enjoy self-guided tours, all within the app.
9. AllTrails
Available on: Apple and Android
Price: Free or $29.99 per year for AllTrails Pro access
For hikers and mountain bikers, AllTrails is the ultimate guide right in your pocket. In fact, you'll have over 300,000 hand-curated maps at your fingertips, showing you the best walking, cycling, and running routes wherever you are. Crowdsourced ratings, reviews, and photos can help you decide which trail to take, and it's even compatible with fitness trackers too! The base app is free but upgrading to AllTrails Pro for $29.99 per year unlocks plenty more features.
10. The Endurance Mobile App
Available on: Apple and Android
Price: Free with every Endurance vehicle protection plan
Anything can happen when you're out on the road, and the strain long road trips put on your vehicle can easily lead to an unexpected breakdown, even on the most well-maintained vehicles. That's why having the Endurance Mobile app, which can be downloaded for free when you have an Endurance auto protection plan, is essential. 
With it, you can do everything from getting your policy information, checking the status of your claim, requesting 24/7 roadside assistance or a tow truck, contacting customer service and more. Download it in seconds, and wherever you're headed, you can be sure Endurance can help you avoid any last-minute change of plans thanks to unexpected breakdowns and repairs with just a touch of a button.
Road Trip without Worry with Endurance
Having the right mobile apps on your phone can help you plan the perfect road trip. With them, you can do everything from plan your route, avoid traffic, find a place to stay, or just have something to help pass the time. But while you can find an app for just about anything, when it comes to unexpected breakdowns, the Endurance Mobile app is the one you should never go without.
When you have an Endurance auto protection plan, you'll have peace of mind when it comes to costly repair bills for your vehicle's most vital components. But that's not all, because when you're an Endurance customer, you'll also automatically receive perks like 24/7 roadside assistance and towing, trip interruption coverage and rental car reimbursements to help keep your trip going. You'll even be able to take your vehicle into any ASE Certified mechanic, repair shop or even your vehicle's dealership for repairs while also being eligible for a year's worth of Elite Benefits, like key fob replacements, collision discounts and more. So no matter where you are on your road trip, Endurance will be there to help.
Before your next road trip, give yourself and your vehicle extra peace of mind by having an Endurance auto protection plan. Just request a free, no-obligation quote or give a member of the award-winning Endurance customer care team a call by calling (800) 253-8203. Or you can also find other helpful road trip planning guides and even more articles on all things automotive by visiting the Endurance blog.
More like this
Travel

With the cooler months creeping in, it's the perfect time to begin planning a fall road trip to enjoy the best of what the season brings. However, weather conditions during..

Read More

Travel

In the warmer weather of summer, many people plan off-road excursions and road trips with the entire family. The only thing that can ruin these outdoor adventures is an unexpected..

Read More

Travel

Thanksgiving is fast approaching, and if you're like many across the country, you're probably gearing up to head home (or somewhere) to spend quality time with loved ones and enjoy..

Read More