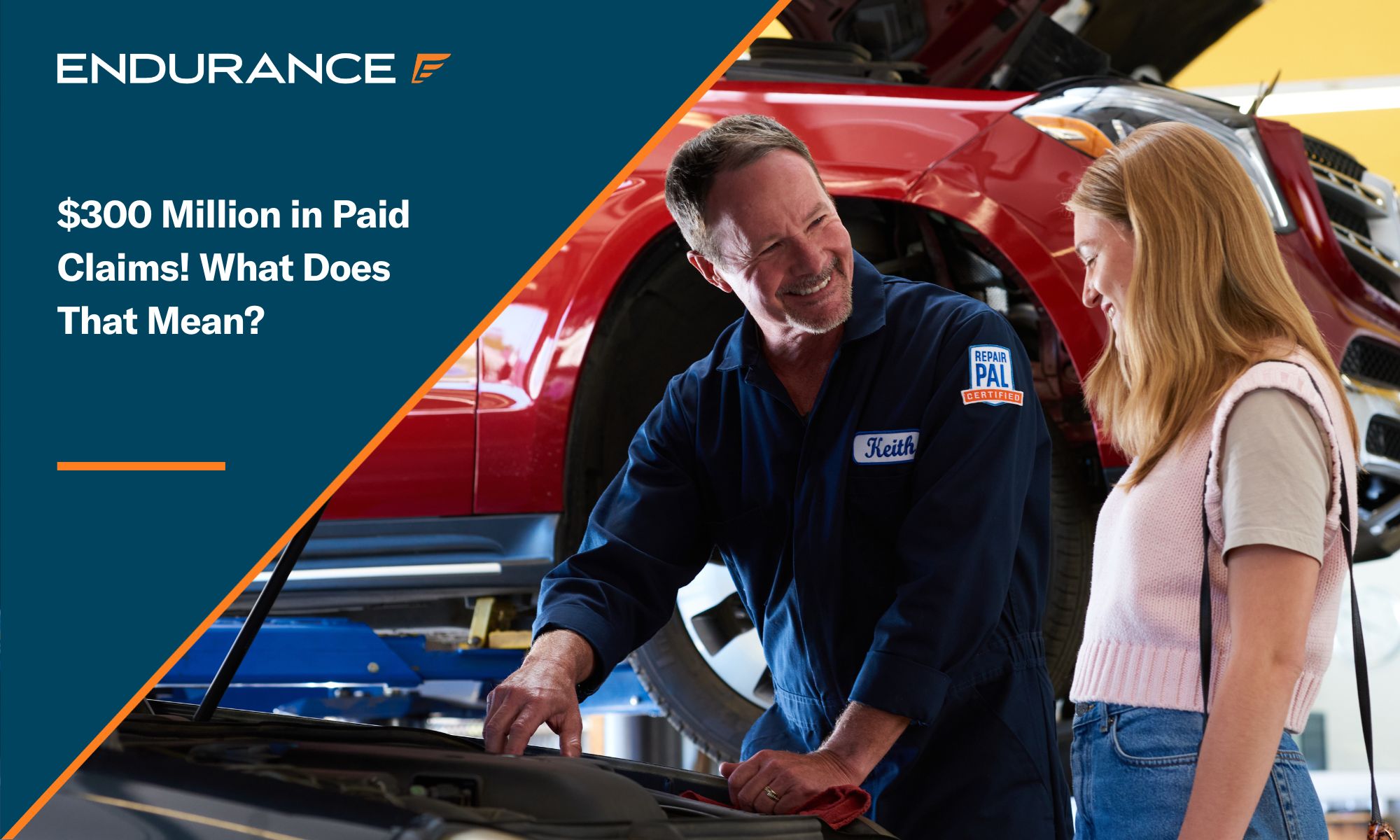 No matter how you count it, $300 million is a lot of money. But this figure is even more significant when talking about extended car warranties. This amount is the total Endurance has paid in claims since 2012.
And while there are numerous companies in the extended warranty industry, only some have reached this threshold. It's an achievement worth learning about, especially if you drive a car with an expired or soon-to-expire factory warranty.
In a nutshell, this nine-figure milestone proves that Endurance stands by its customers when they need help with breakdowns and surprise repair bills. Keep reading as we expand on the importance of this achievement and what it means for Endurance policyholders.
The Importance of Paid Claims in the Extended Warranty Industry
Paid claims are a big deal for car owners with an extended warranty (also called an auto protection plan or vehicle service contract) because it confirms that the warranty provider delivers on its promises. Let's explore what this means.
Understanding the Role of Paid Claims in Assessing the Reliability of an Extended Warranty Provider
An extended warranty plan is a contract with responsibilities for the vehicle owner and the warranty company. The owner agrees to pay the premiums and abide by the terms and conditions outlined in the agreement. Meanwhile, the warranty provider pays for covered repairs as detailed in the contract.
Add all these amounts together, and you have the total figure the provider has paid to meet its contractual obligations to cover approved customer claims. In the case of Endurance, this adds up to over $300 million as of this writing.
This level of paid claims measures the warranty company's dependability and responsiveness to customers. A provider with a low or declining level of paid claims could indicate a business is not serving its customers well or is in financial trouble.
Implications of High Paid Claims as an Indicator of Customer Satisfaction and Honoring Warranty Contracts
There's more to a large amount of paid claims than a warranty company's reliability; it's also about customer satisfaction. A promptly approved and paid claim gets the policyholder back on the road as soon as possible, which leads to a happy customer.
It's in the warranty company's best interest to take this approach because satisfied customers will feel they've got their money's worth. And delighted policyholders will not only tell others about their positive experiences but are more likely to purchase coverage for other vehicles.
Unfortunately, the extended warranty industry has its share of companies more interested in collecting premiums than paying for covered claims.
Why are Paid Claims Important in Auto Warranties?
Used car ownership is a significant investment. For many, paying for financing, insurance, fuel, and maintenance is a stretch. So, an unexpected repair can throw a monkey wrench into the budget. An auto protection plan provides coverage in these instances.
An auto warranty company with a high amount of paid claims helps in these dire circumstances and demonstrates they stand behind its customers. A business can make all sorts of promises, but putting its money where its corporate mouth is shows a commitment to honoring these vehicle service contracts (VSCs).
There's another aspect of paid claims that doesn't get talked about much, and that's speedy claims processing. Fast handling of claims helps the provider because less staff time is involved, and customers benefit from a laser-like focus on getting their cars fixed as soon as possible. Smooth claims processing is another sign of top-notch customer service.
The Milestone of $300 Million in Paid Claims
Endurance's ever-increasing rate of paid claims shows that the company stands behind the extended auto warranties it offers. In February 2023, the payout for approved claims since 2012 reached $265 million; less than six months later, the total exceeded $300 million.
There's also a greater meaning behind the $300+ million figure. It's an amount paid exclusively for the benefit of Endurance policyholders. Some warranty providers use third-party firms to oversee the claims process. So, when they boast about how much these "administrators" have paid in claims, the amount reflects the total among all the warranty companies it serves, not just one.
Endurance Warranty's Commitment to Customers
Because Endurance is the direct administrator of most of our plans, customers enjoy fast claims processing — and there's no intermediary to deal with. Every claim is handled by a trained Endurance professional dedicated to customer service.
The newest plateau for Endurance's rate of paid claims (over $300 million) illustrates a warranty company that delivers on its promises. This firm is proud to share how it serves its customers and put a dollar figure on these services.
Plus, Endurance customers get peace of mind from two perspectives. First, the comfort comes from knowing their cars are protected against breakdowns. And second, having confidence that their warranty company can promptly pay the bills for covered repairs even on high-mileage vehicles.
Testimonials and Customer Experiences
A high level of paid claims shows how Endurance puts its policyholders front and center, but what do the customers think of their experiences with America's largest direct provider of auto protection coverage plans?
For many, having an auto protection plan means the difference between driving and walking. "Endurance saved me a headache when I had to have my water pump replaced. I would not have been able to get my truck fixed if it had not been for their coverage," remarked customer Eddie on Trustpilot.

Perry, another Trustpilot commenter, put the benefit of his Endurance warranty in concrete terms, "Endurance made the process easy and saved me $2,000 without me having to jump through hoops. I highly recommend Endurance for your vehicle.
Customers also value the ability of Endurance's simplified claims process. Leonard told Best Company his thoughts, "I like the fact that Endurance does not have a middleman. That is the reason they can speak to my mechanic and make the repair approval right on the spot. I call that efficient."

Breakdowns can happen at the worst times, but having a superior auto protection plan can quickly get you back on the road. A Google Review by customer Maurice is just one example. "We were on a road trip when our car broke down. We promptly got hold of Endurance and they got the ball rolling. Our trip resumed with a minimum of fuss."
What's Next For Endurance's Paid Claims?
To Endurance, an increasing amount of paid claims indicates that more car owners are taking advantage of its extended warranty protections. This is a welcome sign that the company is meeting our commitments and helping customers with repairs.
There are other advantages to Endurance vehicle service contracts, including 24/7 roadside assistance (with towing coverage and lockout assistance), rental car reimbursement, trip-interruption support, and convenient terms (monthly payments start at $99). Our 30-day money-back guarantee means you can request a cancellation in the first month of your coverage, typically for a full refund. Policyholders can also choose from any ASE Certified mechanic or repair facility for covered repairs.
Customers also have access to one year of Elite Benefits. These extra features are worth up to $2,000 and cover tire repairs and replacements, collision repair discounts, key fob replacement, and more. Just pay a small activation fee to enroll in these services.
See everything Endurance offers, request a free quote, call our phone number at (800) 253-8203 for personalized help, or shop online to see your price.
Explore the Endurance blog for valuable articles about car care, DIY maintenance, provider comparisons of CARCHEX and CarShield, aftermarket warranty information, and other insightful topics.
FAQs: $300 Million in Paid Claims
What is the limit of liability for an Endurance warranty?
In practical terms, Endurance coverage options for mechanical breakdowns are capped at the vehicle's actual cash value at the time of the incident. The total benefit over the policy term can't exceed the vehicle's purchase price.
Does an Endurance car warranty actually cover everything?
Coverage depends on the type of policy. Powertrain coverage is the most affordable and protects vital systems like the engine, transmission, and drive axle. More advanced options include exclusionary coverage plans similar to a manufacturer's warranty (bumper-to-bumper coverage).
What does Endurance auto pay for?
Endurance generally pays for necessary repairs following the breakdown of covered mechanical components. The contract will spell out what's covered and any exclusions (which vary by the level of coverage). Policyholders may also elect warranty coverage with a deductible (anywhere from $0 to $500) to keep premiums lower. Plans can also help pay for roadside assistance and trip interruptions. Best of all, you can select any ASE Certified repair shop (including the dealership) for covered repairs.
Is Endurance car warranty a rip-off?
Definitely not. Endurance has been helping car owners with auto repairs for over a decade. This Illinois-headquartered business is licensed nationwide; many states require rigorous financial standards for sellers of vehicle protection plans. In fact, Endurance Warranty Services is one of the few major extended warranty providers offering mechanical breakdown insurance (MBI) coverage in California – the state with the strictest requirements.
More like this
Endurance Info

An extended warranty is a great way to protect your used car after your expired factory warranty. With great coverage options, affordable deductibles, and an easy claims process, Endurance leads..

Read More

Endurance Info

Owning a car is like owning freedom. Nothing beats knowing that at any given moment, you can grab your keys and go almost anywhere you want. Unfortunately, however, vehicle ownership..

Read More

Endurance Info

An extended car warranty (aka vehicle service contract) is a highly recommended investment for any used car owner. The cost of vehicle ownership is only ever on the rise, and..

Read More