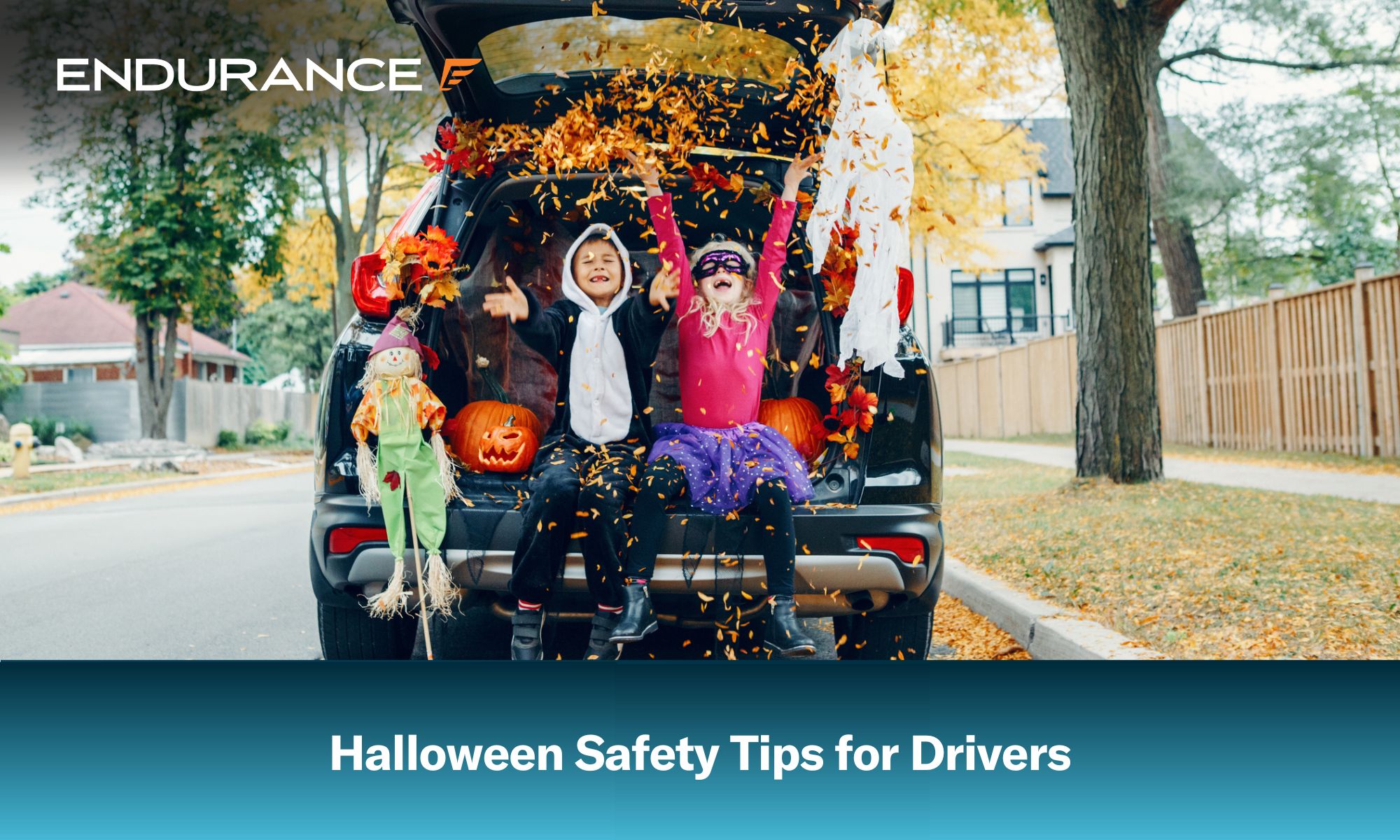 As the fall weather brings cooler weather and pumpkin patches start popping up, more and more people will be out and about. As one of the busiest days of the year for pedestrian traffic, Halloween night can pose many different risks for those driving at night.
As ghouls and goblins take to the street to fill their candy bags, motorists must be cautious and aware of their surroundings. To help you drive safer on Halloween night, we've put together a few safety tips for you to have a safe Halloween.
9 Safety Tips for Drivers on Halloween
While you should follow safe driving practices every time you get into your vehicle, holidays like Halloween can present some unique challenges for drivers. For those in the suburbs, less street lighting and other factors can increase the risk of an accident or injury if you aren't driving carefully.
To help better prepare you for your Halloween commute, follow these safe-driving tips:
Don't Pass Stopped Vehicles: While it may seem okay to pass a stopped vehicle that's pulled over to the side of the road, it's best to be cautious. On a day/evening like Halloween, children, teens, and even adults could be exiting the vehicle to attend their holiday celebrations. Instead, treat all stopped vehicles like you would a school bus and stop and wait for all occupants to exit if a vehicle stops in front of you.
Always Use Your Turn Signal and Hazard Lights: Letting other vehicles and pedestrians know your intentions while driving can help avoid accidents or other serious incidents. Always use your vehicle's turn signals before making any turn or changing any lanes. Using your hazard lights when pulling over to park or drop off individuals can also help make other drivers aware of your vehicle.
Pull In and Out of Driveways Slowly: With trick-or-treating as the go-to celebration on Halloween, chances are you'll be having visitors coming up and down your street throughout the day. When getting ready to head out, always be sure to pull out of your driveways slowly, looking both ways as you go. This can help you stay more alert for possible pedestrians and children. If you live in a city, be sure to always pull in or out of alleys, parking spaces, and other areas slowly. Using your car's horn can also come in handy if you find yourself in an area with low visibility, as it will indicate to other cars and pedestrians of your presence.
Avoid Distracting Costumes: While dressing up is a Halloween tradition, be sure to keep in mind any aspects of your costume that could distract you while driving. This includes any masks, eyewear, face paint, or other costume accessories that can impair your vision while driving. Instead, finish getting ready once you arrive at your destination. This should also hold true if you are unable to buckle your seat belt correctly when in costume. Be sure also to make a note of your passengers' costumes. If they get in the way of your vision, such as blocking the view to your blind spots or rearview mirror, see if they can remove the item or shift how they are seated until you have clear lines of sight.
Avoid General Distractions: It may be tempting to snack away at your favorite candy, but even eating can take your eyes off of the road for too long. Instead, look to avoid general distractions while on the road on Halloween, including using your cell phone or other electronic devices.
Keep Your Windshield Clean: Even without any distractions, having a dirty or cracked windshield can be just as dangerous. Be sure to clean off your car's windshield or get any chips, cracks, or other damages repaired before driving this Halloween.
Check Your Brakes: Malfunctioning or faulty brakes or brake pads can be dangerous. Make an appointment with a local repair facility or ASE Certified technician, and be sure your brakes are ready for your Halloween drive.
Check Your Tires: Just as your brakes are essential, so are your vehicle's tires. Check to make sure your tires have the proper tire pressure (also known as PSI), per your owner's manual, to help you avoid a potential tire blowout. You should also check your tire tread. Simply take a penny and place it in the groove of your tire's tread with President Lincoln's head upside down. If you can see the top of Abe's head, you should look at getting a new set of tires.
Keep Your Headlights On: Similar to using your turn signals and hazards, your headlights should also always be on. This should include dusk, when there still may be natural light, as well as when you are parked. Keeping your headlights on and others, like your brake lights and hazards, can help signal to cars that your vehicle is there and passengers are present.
Help get your vehicle Halloween-ready and protect yourself from costly repair bills with an Advantage vehicle protection plan. Each Advantage package provides comprehensive breakdown protection and also comes with up to $3,500 in regular maintenance service. That means essential services such as tire rotations, alignment checks, and engine diagnostic exams are all covered. Advantage customers can also receive special, one-time services like either a front or rear wiper blade set replacement, a brake pad/shoe replacement, or a new battery — at no additional cost.
Fun Ways to Celebrate with Your Vehicle
Believe it or not, your car, truck, or SUV could help make a good Halloween even better! Here are some fun things you can plan this Halloween with your vehicle:
Decorate It: Who says your car can't get a costume? Break out some (washable) paint, craft up some spooky accessories, and see what you can come up with for your vehicle. Some popular ideas are often placing a plastic skeleton in the passenger seat or painting the vehicle to look like a pumpkin.
Set Up a Halloween Parade: Once your car is decorated, why not show it off? Better yet, get the whole neighborhood involved! Reach out to friends, family, and neighbors and put together a Halloween parade to show off your spookiest and cleverest decorations on your vehicles.
Trunk-or-Treat: Don't let the fun stop at a parade! Once everyone has shown off their vehicles, it's time for some "trunk-or-treating." Thinking of it as a Halloween version of tailgating, you can use your decorated car's trunk to set up displays and other decorations that allow trick-or-treaters to walk up and fill up their bags with candy — all while staying socially distant.
Find Spooky Houses: Another great way to take in the best that Halloween has to offer is by using your vehicle to find the craziest decorations in your (or nearby) neighborhood(s). Be sure to check with your local park district or other public offices, as some may have competitions for the best Halloween displays!
Pedestrian Safety Tips for Halloween
For those traveling by foot this Halloween, it's also essential for you to stay alert and to follow safety precautions. To help you stay safe while trick-or-treating, be sure to follow these 4 tips:
Walk on Sidewalks: While it may be easier to get from house to house by cutting across streets, it's important to always stay on the sidewalk when able. If you cannot walk on a sidewalk, be sure always to walk facing oncoming traffic and to remain as far away from the road as you can. This allows you to keep an eye on all incoming vehicles while allowing drivers to have a better line of sight to you as well.
Follow All Signals at Crosswalks: Like using the sidewalks, it's also vital to follow all the signs while at crosswalks. Wait for the traffic light to turn red and for any pedestrian crossing signals to turn green before crossing the street. With stop signs, be sure all vehicles come to a complete stop before crossing.
Be "Visible": Some of the best costumes can often be some of the most difficult for drivers to see. Keep yourself and those around you safe by staying visible for drivers when trick-or-treating. This includes wearing brightly colored costumes or using things like reflective vests, reflective tape, flashlights, or even glow sticks to help keep drivers aware of your presence while on the road.
Don't Get Distracted: Just as it's essential to be alert while driving, staying clear of any distractions around busy roads, intersections, and residential neighborhoods is also vital for any pedestrian. Put away the phone, keep your eyes on the road around you, and enjoy the night!
Other Dangers of Halloween Night
While there are plenty of ways to stay safer on Halloween night as both a driver and a pedestrian, another consideration you should take into account is drunk driving. Since Halloween is a holiday that people like to celebrate with alcohol, drunk driving has contributed to an increase in fatalities on Halloween night.
According to the National Highway Traffic Safety Administration (NHTSA), 126 people were killed in drunk-driving car accidents from 2015 to 2019 on Halloween night. If you plan on drinking, plan ahead and have a designated driver to keep both you and others safe.
Protect Your Vehicle Year-Round with Endurance
Whether you're on your way to a Halloween party, Thanksgiving dinner, or your daily commute, protect yourself and your vehicle from unexpected breakdowns and repairs with an Endurance auto protection plan. Endurance offers customizable vehicle service contracts to choose from, allowing you to find the best plan for your coverage and budget needs.
New Endurance customers will also receive one year of Endurance Elite Benefits for a small activation fee with the purchase of any plan. That means you can have extra perks like tire repair, key fob replacement, and more. Customers will also have access to 24/7 roadside assistance and the Endurance Mobile app, allowing you to see all of the key aspects of your plan right in the palm of your hand.
For more information about any Endurance protection plan, call (800) 253-8203 or request a FREE online quote. You can also visit our blog to find more fun, informative, and exciting articles on a variety of different topics.
Halloween Frequently Asked Questions (FAQs)
What are 3 safety tips for Halloween?
Stay Visible – Since many Halloween costumes tend to be dark, it can be hard to see costumed kids at night. Ensure you are wearing bright and reflective accessories and carry a flashlight to help you be seen at night. Glowstick necklaces and bracelets are a great way to add some visibility to children.
Stay Alert – Whether you plan on driving or walking on Halloween night, staying alert is essential for everyone.
Choose Familiar Areas – If you plan on going trick-or-treating, choose well-lit areas that you are familiar with.
Should you drive on Halloween?
You should not be scared of Halloween driving, but it is certainly something you should take cautiously. There is no reason not to drive on Halloween; however, if you don't have to, it's best to stay off the roads.
What should you do if you're driving and see a costumed child?
If you plan on driving through residential areas, the chances of you seeing a costumed child will be high. While this can be distracting, it is important to keep your eyes on the road and drive cautiously, watching for children on the road.
More like this
Expert Auto Tips

With most states around the country getting colder, it's worth reminding yourself how to prepare your vehicle for the different seasons. Weather conditions play a major role in how a..

Read More

Expert Auto Tips

Being a car owner can be an incredibly rewarding experience, especially if you take pride in your vehicle's condition and performance. Cars that are well taken care of will generally..

Read More

Expert Auto Tips

No matter what kind of vehicle you own, staying on top of its care and maintenance should always be a top priority. Cars that are well taken care of and..

Read More