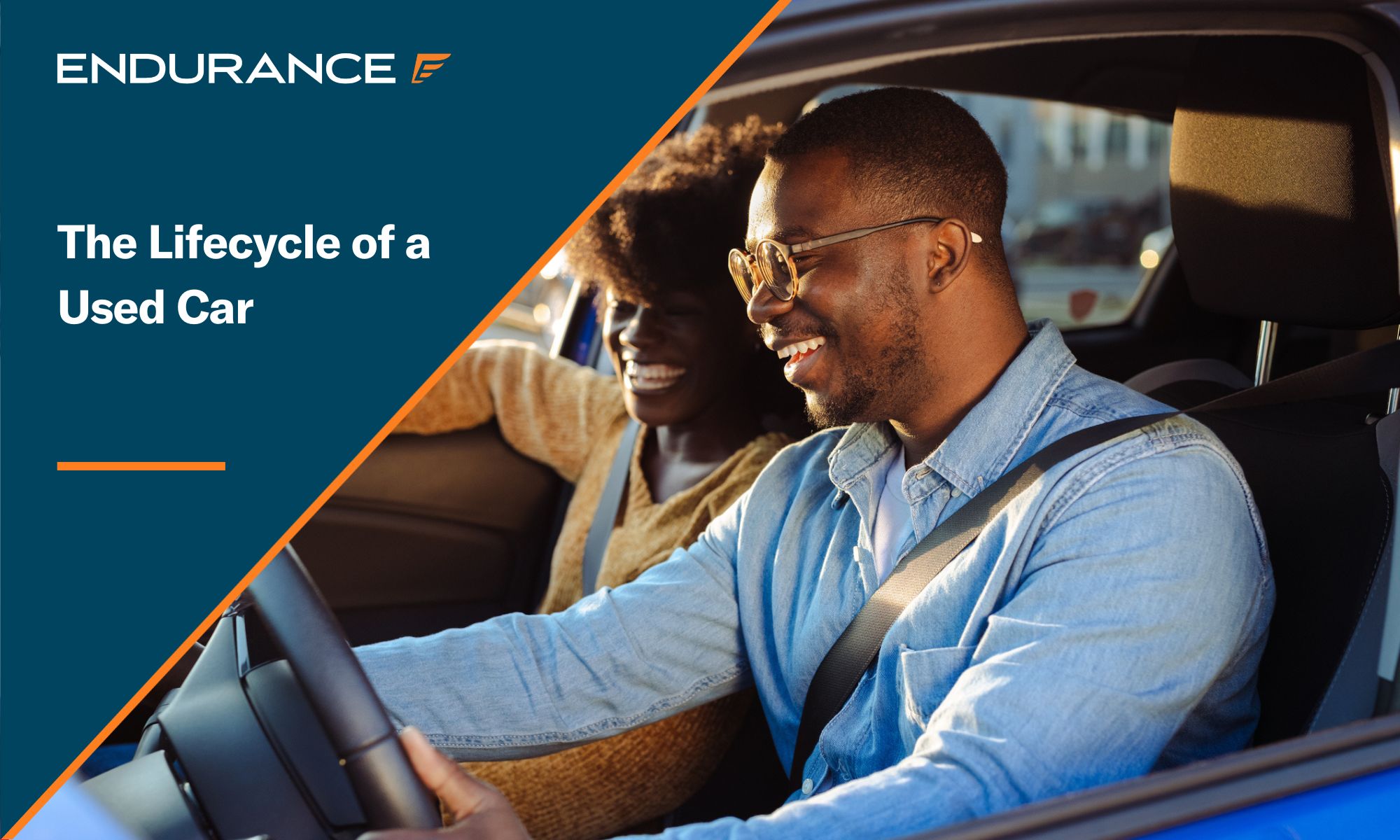 You've done all the hard work by locating which used car dealer to buy from, finding the perfect vehicle to match your needs, and working out how to pay for it. You've got things covered when it comes to knowing how to buy a used car.
It's hard to match the excitement of driving a new-to-you automobile. But whether you're just getting ready to sign a deal or already have a pre-owned car in the driveway, there's much more to consider.
Keep reading as we take you through the life cycle of a car. From something new and shiny to an automobile past its prime, we'll go through a life cycle analysis every vehicle owner should understand. Learning these details will help you prepare for the road ahead.

[Download Infographic: Image or PDF]
Your First Drive
Getting behind the wheel of a car (new or used) for the first time marks a special moment for most shoppers. Long before any paperwork gets signed, there are thoughts of more enjoyable daily commutes or dreams of fun-filled road trips. This often comes after hours (or days!) of research. Yet there are real-world concerns that require equal if not greater attention.
Admittedly, there are fewer worries when buying a new car. However, you'll still want to learn about the manufacturer's warranty and your options for colors and equipment.
On the other hand, a used car buyer has greater responsibilities. These duties start with carefully reviewing a vehicle history report (like from CARFAX or AutoCheck) and looking for accident details or unusual ownership patterns (like multiple owners in a short period). You may choose to buy a vehicle with a less-than-perfect record, but at least you're aware of these details.
Remember that vehicle history reports aren't perfect. So, a comprehensive pre-purchase inspection should also be part of the process. A professional mechanic can spot problems that may not appear in a vehicle's history (not all accidents are reported) or advise about components or systems requiring attention. In addition, an experienced technician can also check that a car's condition is consistent with its mileage. For instance, a car with 50,000 miles shouldn't have pedals with a substantial wear pattern (an indication of possible odometer tampering).
Lastly, an often-overlooked requirement is confirming that the used car you're considering has all the equipment you want. Don't assume that a particular vehicle has a specific feature just because all the other similar examples do. Check the particulars with the seller and visually confirm what's important to you. Some automakers and third-party services can provide a duplicate window sticker with equipment details.
The Honeymoon Period (Brand New Car)
A brand-new car's honeymoon period can last months but often ends after the inaugural ding or paint scratch (and hopefully, when this happens, it's on the passenger side, so you don't have to look at it every day!).
During these initial months, spend time learning about all the features. If you haven't owned a new vehicle in a while, you might be surprised how tech-filled modern cars are. Understanding how safety systems like automatic emergency braking and blind-spot monitoring operate is essential.
This is also a great time to review the maintenance requirements for your new car. Getting started on the right foot is vital to ensure a vehicle's longevity. If you're the type that may not prioritize upkeep, put reminders in your calendar about when the car is due for oil changes and other services.
Maintenance and Upkeep (Slightly Used: 1-3 Years)
After a year or so, a car shifts into a phase requiring conscientious maintenance to keep everything running smoothly. By now, the used car should have undergone at least one servicing, including changing the oil and filter. Regular fluid checks should be done regularly by both the owner and the dealership or repair shop. The work also includes tire rotations and brake checks, depending on your driving habits. Check the maintenance guide for details.
This is also a time to watch for leaks, vibrations, or unusual noises so problems can be addressed under the factory warranty. Often, a new vehicle needs a "shake-out" period before issues become evident. Keeping cars at this stage well-maintained directly impacts minimizing depreciation over the long term. Keeping on top of mechanical systems and the body, paint, and cabin is vital.
By the end of year three, the bumper-to-bumper warranty on mainstream-brand vehicles (such as Ford, Chevrolet, Toyota, and Honda) stops. These companies provide three years or 36,000 miles of protection, while premium automakers (Lexus and BMW, to name a few) extend coverage to four years or 50,000 miles.
Used Car Warranties with Endurance
The bumper-to-bumper protection offered through a new car warranty provides owners with a high degree of peace of mind. Yet, many are uncomfortable with the uncertainty of losing these safeguards. These situations are resolved by adding an extended warranty (sometimes called an auto protection plan, vehicle service contract, or used car warranty).
Endurance offers a range of extended warranties that protect Americans against breakdowns and surprise repair bills. Plans start at $99 and cover critical drivetrain systems, including the engine, transmission, and drive axles. Meanwhile, Endurance's Supreme program offers near bumper-to-bumper protections similar to a new car warranty. There are intermediate options that balance cost and coverage. Endurance also has plans for high-mileage cars and commercial-use vehicles.
The advantage of having an extended warranty is that there's no need to delay covered repairs. Having coverage in place means someone else is paying the repair bill (minus any deductible). This ensures that needed servicing happens as soon as possible, helping covered cars stay on the road longer.
Mid-Life of the Car (Moderately Used: 4-7 years)
A car enters midlife four to seven years after leaving the showroom. While midlife has different definitions for humans, it means only one thing for automobiles: many key components show wear and tear.
Belts and hoses can age, requiring replacement. Once-clean spark plugs may be fouled, diminishing performance and fuel economy. This period is also likely to involve auto part expenses for car batteries and tires. Original batteries last five years at best (sometimes just three years), and manufacturer-supplied tires often have ended their usefulness after 50,000-60,000 miles.
As with earlier phases, being alert to strange sounds and other changes is critical to catching problems earlier, minimizing the need for expensive repairs. Similarly, keeping up with scheduled maintenance requirements is equally crucial.
Keeping an Aging Car or Deciding to Replace (Heavily Used: 8-12 Years and Vehicles 13+ Years)
The twilight years begin once a car hits eight years old — a typical vehicle of this age will have 100,000 miles or more. This is often when thoughts of trading in old cars come to mind because these automobiles still have some life left, meaning they have value. A higher trade-in amount or resale price can come from simple fixes, like correcting minor cosmetic flaws and ensuring the maintenance is up to date.
At the same time, an owner may take the opposite approach and try to keep an older vehicle until the wheels come off. This type of commitment can get expensive as the transmission may show signs of wear. Critical components such as the alternator, air conditioning compressor, and water pump may be past their prime (this is when an extended warranty can really make a difference). This is also when the catalytic converter and other emissions equipment may need servicing.
Ultimately, a trade-or-keep decision comes down to the wallet. Can you better handle the upfront costs and monthly payment for a new car? Or is dealing with repair bills a more realistic approach? For many, the dividing line is not putting more money into a car than it's worth.
Used Car FAQs
What is the lifespan of a car?
According to Consumer Reports, a well-maintained car from a brand with a reputation for reliability should last at least 200,000 miles.
What are the benefits of buying a used car?
Used cars cost less upfront, may still have warranty coverage, depreciate slower, and let someone else take the big depreciation hit.
How much does a used car depreciate?
A used car will depreciate around 10% per year for the first five years (sometimes more during the first year or two).
How long do they last before they need to be serviced?
Most cars need oil changes every 5,000-10,000 miles and regular maintenance like fluid checks and tire rotations. Major service is often required at 30,000, 60,000, and 90,000-mile intervals.
Endurance Helps With Your Vehicle Life Cycle
The used car's journey lasts over a decade. During this time, an Endurance extended warranty can maximize lifespan and provide peace of mind to an owner distressed about breakdowns and uncertain repair costs. Other ways to keep your car on the road longer include ensuring regular preventative maintenance, attending to problems immediately, and keeping the car in good condition.
Learn all about Endurance auto protection plans. Request a FREE online quote or visit our online store for instant cost and coverage details. Call (800) 253-8203 to talk with an Endurance plan advisor and receive personalized help.
Check out the Endurance blog for expert-written articles covering make and model comparisons, DIY tips, car care, and more.
More like this
Extended Warranty

The advantages of having an extended warranty can't be overstated when a surprise car repair pops up. Coverage can make a difference during a breakdown, thanks to protection against expensive..

Read More

Extended Warranty

Nothing beats being able to hit the open road and head wherever you like, whenever you like. Plenty of drivers fall in love with our vehicles, maintaining them with total..

Read More

Extended Warranty

There's a lot to get excited about buying a new or used car, but one feature that often gets overlooked is the manufacturer's warranty. Understanding this coverage helps owners maximize..

Read More