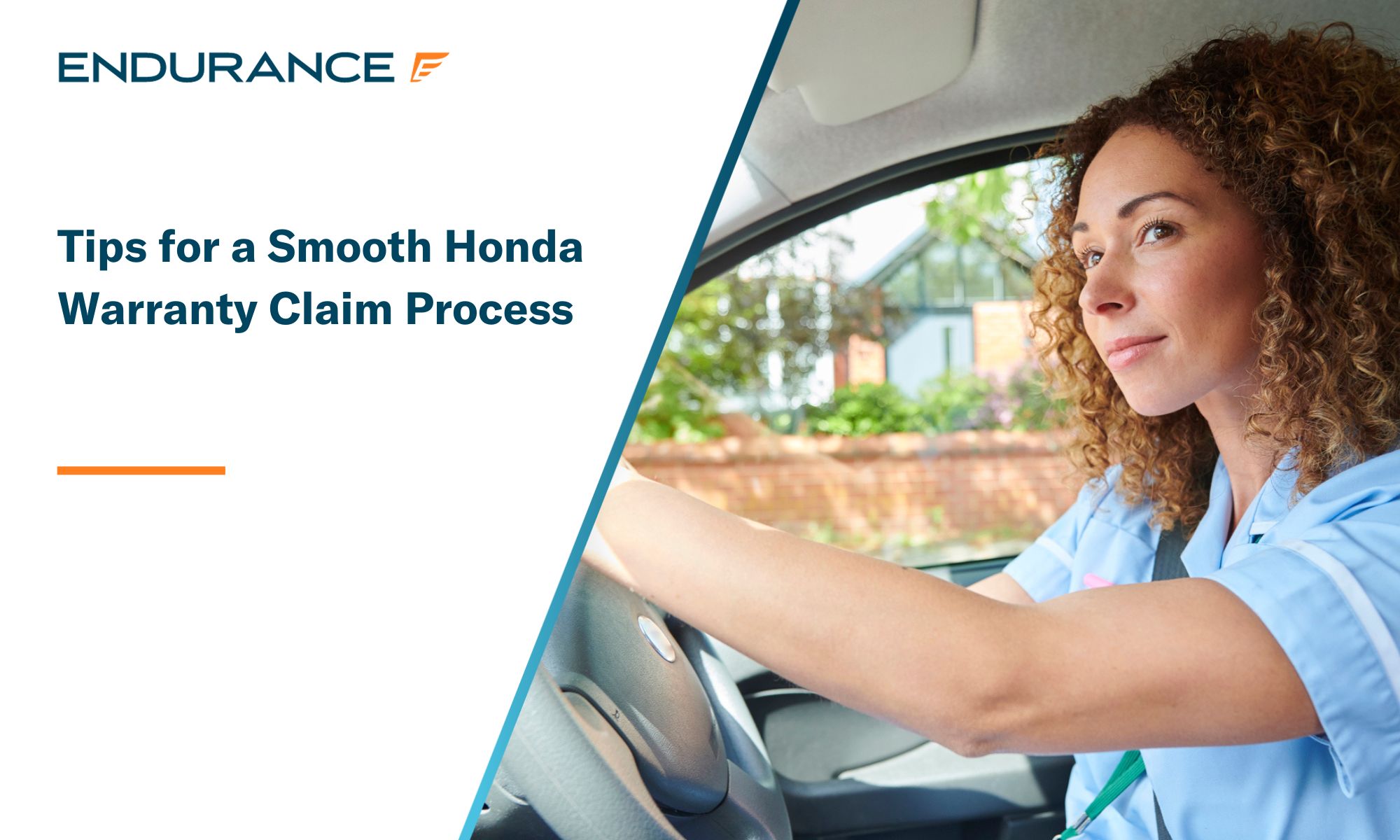 There's a lot to get excited about buying a new or used car, but one feature that often gets overlooked is the manufacturer's warranty. Understanding this coverage helps owners maximize their benefits and enjoy peace of mind. This holds true with Honda vehicles because even though the Japanese automaker enjoys a solid reputation, even the best-engineered cars can have problems.
So, knowing what the Honda warranty covers and how to make a claim are vital—whether you drive an Accord or Civic, a CR-V or Pilot, or any of the brand's other models. Keep reading as we explore ways to maximize Honda warranty coverage, including bumper-to-bumper and powertrain safeguards.
Know Your Honda Warranty Coverage
While a Honda warranty provides comprehensive coverage, it doesn't protect all components the same. Knowing the differences sets Honda ownership on the right path. Let's break down the details.
New Vehicle Limited Warranty
Primary coverage for a new Honda falls under the automaker's New Vehicle Limited Warranty. Often referred to as a bumper-to-bumper warranty, these safeguards cover almost all vehicle components against defects in workmanship and materials for three years or 36,000 miles, whichever comes first. This is based on the day you took delivery of the car and includes things like the engine, transmission, safety systems, electronics, and emissions.
You'll notice the term "limited" often appears among car warranty wording, which means protections have specific limitations. Further restrictions may cover duration, mileage, exclusions for wear, and transferability to subsequent owners. For example, Honda key fobs are only guaranteed for six months.
Powertrain Limited Warranty
Honda provides five years or 60,000 miles of protection for the powertrain, which applies to the engine, transmission, drive axle/transaxle, differential, and related components. This coverage overlaps with the bumper-to-bumper warranty and comes into play once the new vehicle warranty has expired.
Hybrid Powertrain Limited Warranty
Owners of Honda hybrids also receive extra protections for the powertrains, which include the hybrid battery. This coverage lasts for eight years or 100,000 miles.
Emissions Warranties
Given the importance of pollution control systems in modern automobiles, coverage for emissions systems is separate (all car makers do this). At a minimum, federal law mandates that these components are protected for three years or 36,000 miles. Depending on the vehicle and other factors, protections may last for eight years or 80,000 miles. However, California provisions (which also apply to a few other states) have a warranty period of at least three years or 50,000 miles. Under the California emissions warranty, some parts are guaranteed for seven years or 70,000 miles.
Tire Warranty
Defects in the original tires are typically covered by a warranty the tire manufacturer offers—terms can vary greatly.
Seat Belt Limited Warranty
Honda warranties the seat belts in its cars for 15 years or 150,000 miles.
Rust Perforation Limited Warranty
The body panels of a new Honda are guaranteed against rust for five years with no mileage limit.
Step-by-Step Guide to the Warranty Claim Process
While each Honda dealer may have a slightly different process for handling warranty claims, here's an overview.
1. Initial Assessment
Before arranging a service appointment for a warranty-related issue, take a step back to determine if the problem is actually covered. Such action will save everyone time and hassle. If you (or someone else) caused the situation (like damaging a component), then Honda won't pay for repairs. Review the owner's manual and accompanying warranty booklet for specific inclusions or exclusions. Of course, it never hurts to request a warranty repair if you're uncertain. Just remember that frivolous claims will be rejected.
2. Gather Documentation
Most new vehicle records are computerized, particularly if you get service at the purchasing dealer. However, you'll want ready access to the warranty booklet, purchase paperwork, and maintenance records in case this information is needed. Always keep hard copy receipts for any service work, especially if the repairs were performed by a non-Honda shop.
3. Contact Your Honda Dealer
Schedule a service appointment with your local authorized Honda dealer. This can be done over the phone, although many service departments offer online scheduling. Explain the issue and mention that you believe the problem falls under Honda's warranty. Depending on the dealer and your needs, request a loaner car (if available) or make reservations for a rental.
4. Dealer Diagnosis
In most cases, the dealer will contact you the same day or the next day with a diagnosis of the problem. Complex problems may require additional time if the dealer has to contact Honda for support or other information.
5. Approval and Repairs
The dealer will advise you if the issue is covered under the Honda warranty or if the problem isn't a warranty repair (meaning you're responsible for paying the bill).
Tips for a Smooth Honda Warranty Claim Process
While Honda's warranty coverage protects owners, there are a few steps to take to ensure a simple and hassle-free warranty claim process.
Regular Maintenance
Ensuring your car undergoes regular maintenance, as Honda recommends, is essential. Incomplete upkeep can lead to denied claims or a voided warranty. Be sure to keep detailed records of all maintenance work and repairs if you need to prove that the car has been well-maintained.
Use Genuine Honda Parts
Always rely on genuine OEM (original equipment manufacturer) Honda parts and supplies for repairs. This is the best way to avoid running into issues with warranty claims. Further, ensure that replacement fluids (like engine oil, coolant, and transmission fluid) meet Honda's precise specifications for your car.
Communicate Clearly
It's your responsibility to clearly describe any issues that may require warranty repairs. You don't need to be a mechanic, but communicating the symptoms, sounds, timing, and other elements of the problem will make things easier for the dealer service department. You're also more likely to get the car back sooner. If it's safe, consider using your phone to record video or audio of the trouble.
Ask Questions
Dealers don't expect service customers to be experts about car warranties. So, asking questions about warranty coverage, repair timelines, associated repair costs, and other aspects is reasonable. Don't leave the dealer without thoroughly understanding your claim to avoid confusion later.
Understanding Possible Delays or Challenges
Most Honda warranty repairs are routine and straightforward. However, owners can face roadblocks. Preparing for a warranty-related "hiccup" can make the situation less stressful. Reasons may include:
Parts Delays
In an era of supply chain challenges, it's not unusual to encounter delays for a specialized or rare part, particularly if there's high demand for the component. Although annoying, don't assume the warranty claim is to blame. The slowdown is simply a logistical issue.
Exclusions
Before making any claim, review the exclusions detailed in your Honda's warranty booklet. Some of the exemptions may be obscure. For example, air conditioner refrigerant is only covered for two years or 24,000 miles unless its replacement is associated with a warranty repair. Nonetheless, knowing the exclusions in advance can prevent disappointment.
What to Know About Honda Warranty Claim Problems
While Honda warranty repairs usually occur without incident, issues can arise, mainly if a claim is denied. The automaker advises, "Talk over your concerns with the dealership's management, such as the Service Manager or General Manager. In most cases, a satisfactory solution is found at this step."
Should this first action not lead to a preferred outcome, Honda recommends calling or writing to their customer service department for assistance. The contact information is located in the warranty booklet. You'll also need to gather the details about:
Year, model, current mileage, and vehicle identification number (VIN) of your car
Name of the dealer that sold you the vehicle
Name of the servicing dealer (if different)
Date, mileage, and reason for any service visits to a Honda dealer
Services performed by a non-Honda dealer
Telephone number(s)
Should interaction with Honda prove unsuccessful, the warranty booklet spells out how to have your case reviewed by an independent third-party organization.
Make the Most of Your Honda Warranty
Savvy Honda owners can maximize their new car warranties by:
Considering Extended Coverage: Every new car warranty eventually expires, adding an extended warranty offers protection just when your car needs it most (as it gets older and has more miles). The earlier you add an extended auto warranty, the less expensive it is (like life insurance). So, explore your extended car warranty options before Honda's new car coverage expires. There are numerous options from Honda and third-party companies like Endurance.
Regularly Reviewing Coverage: The trick to getting the most out of a Honda warranty is knowing what is and isn't protected, especially as the car ages. For instance, wheel alignment and balancing are only covered for the first year or 12,000 miles. So, watching for these issues shortly before this coverage ends may save you from paying for wheel services later. Mark your calendar with reminders about when particular protections expire so you can have the car checked out while the warranty is still valid.
Coverage Options After Your Warranty Expires
Once your Honda warranty coverage ends, you still have options to protect against breakdowns and repair bills through Honda or other car warranty companies:
HondaCare
Honda's extended warranty provides comprehensive protection after the original safeguards have expired. Through an affiliated company, Honda offers different plans with various coverage levels. There are options for protection for up to eight years or 120,000 miles (from the original delivery date).
Endurance
Third-party companies like Endurance offer extended warranties (also called vehicle service contracts or auto protection plans), often for less than what you'd pay Honda for equivalent protection. Endurance options start with primary powertrain safeguards but can expand to protections similar to a new car warranty. Endurance plans cover vehicles with as much as 150,000 miles and up to 20 years old.
In addition, Endurance works directly with consumers; there's no going through dealers to buy coverage. In addition, Endurance plan holders can choose from any ASE-certified mechanic or shop (including Honda dealers) for covered repairs.
Vehicle Warranty FAQs
Why would a warranty claim be denied?
A Honda warranty claim may be denied if the issue is not covered, maintenance was not done correctly, non-OEM parts were used, the vehicle exceeds age/mileage limits, or the damage is from owner misuse.
What is the warranty period for Honda cars?
The standard new Honda bumper-to-bumper warranty lasts for three years or 36,000 miles. Powertrain components are covered for five years or 60,000 miles. There's a hybrid system warranty for eight years or 100,000 miles for applicable models.
What should I do if I have a warranty claim?
If you have a potential warranty claim, review the coverage details, gather maintenance records, call your dealer to explain the issue, and schedule a service appointment to diagnose the problem. Discuss any denied claims with the dealer thoroughly, and contact Honda if you can't work things out with dealer management.
Endurance: Protection for Hondas and More
Protecting your Honda is smart because surprise visits to the shop are possible with any car. So, when the factory warranty expires, it's time to consider an extended car warranty. Endurance offers numerous options for Hondas and almost any car on the road, including plans for routine maintenance and oil changes all the way to high-mileage options. Endurance even has plans for select luxury models and commercial-use vehicles.
Every Endurance auto protection plan provides extra confidence with 24/7 roadside assistance (with towing coverage and lockout assistance), rental car reimbursement, and trip interruption support. We also offer a 30-day money-back guarantee, and you can choose your own deductible – anywhere from $0 to $500.
Discover all the advantages of an Endurance extended warranty. Get a FREE online quote or visit our online store for no-obligation cost and coverage details. You can also call (800) 253-8203 to speak with an Endurance plan advisor for expert advice.
Read the Endurance blog for expert-written articles covering warranty provider comparisons with CarShield and CARCHEX, maintenance advice, DIY tips and tricks, car reviews, and more.
More like this
Extended Warranty

The advantages of having an extended warranty can't be overstated when a surprise car repair pops up. Coverage can make a difference during a breakdown, thanks to protection against expensive..

Read More

Extended Warranty

Nothing beats being able to hit the open road and head wherever you like, whenever you like. Plenty of drivers fall in love with our vehicles, maintaining them with total..

Read More

Extended Warranty

You've done all the hard work by locating which used car dealer to buy from, finding the perfect vehicle to match your needs, and working out how to pay for..

Read More