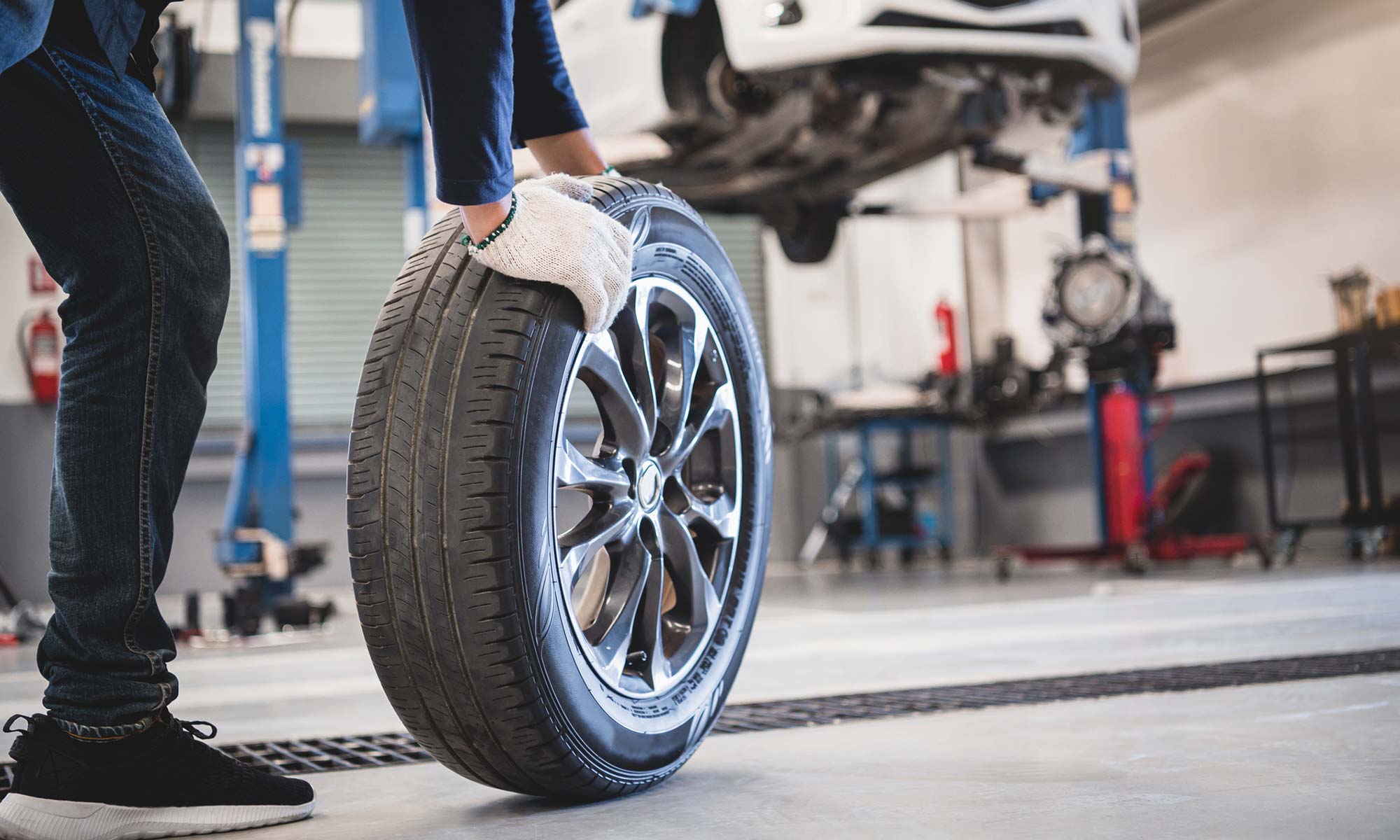 Whether you own a high-mileage used car or a brand new vehicle right off of a dealership lot, owning a car, truck or SUV is your ticket to enjoying the sights and sounds of the open road. But, while owning a vehicle can open up a world of new places to go and things to do, sometimes all it takes is for one single component to fail, leaving you stuck and not going anywhere fast.
Take your tires, for example. While they may not be as big or intricate as your engine, they're arguably just as important. Meaning if you get a flat tire for whatever reason, you're stuck until you can get things fixed. And while newer vehicles may have a manufacturer's warranty that can give bumper-to-bumper coverage, including tire repairs caused by manufacturing or workmanship defects, used vehicles might have this kind of coverage still active. Due to this, many car owners like yourself can be left wondering what kind of damage your tires can experience and if your extended warranty covers tire repairs. 
What Can Damage My Tires?
Tires can experience various issues throughout the year, especially for those who live in areas that experience warm summers and frigid winters, so it's important you're prepared for the unexpected. In fact, wh
Some of the most common ways that your tires can become damaged can include:
Punctures
Usually caused by sharp objects on the road (like screws and nails), punctures lower your tire pressure (PSI) over time. While professionals can repair punctures temporarily, it's always recommended to replace the tire as soon as possible.
Cuts
Unlike punctures, larger slits and gashes can't be repaired, meaning you'll have to get a whole new set of tires. These are often caused by sharp rocks and other big bits of debris you may run into when out on the road.
Impacts
Impacts are a kind of blowout your tires may suffer after your car bumps into a curb, pothole, or similar obstruction at high speed.
Cracks
While extremely resilient, the rubber used in tires is still perishable, meaning environmental factors like temperature changes can cause dry rotting. The resulting cracks lead to air leaks and eventual blowouts, so check for them regularly.
Bulges
If the inside lining of your tire is damaged, it weakens and begins to bulge. These can be seen as bubble-like protrusions from your tire's sidewall, and they mean your tire will need replacing immediately.
Irregular wear
If your tires aren't properly aligned, correctly inflated, have the recommended tread depth or are rotated regularly, they can begin to wear irregularly, leaving you at more of a risk of a potential blowout. To check your tire's tread quickly, use the "penny trick." Simply take a penny and place it in your tire's tread grooves so President Lincoln's head is upside down. If you can see the top of Abe's head, it's time to replace your tires.
How to Change Your Car's Tire
In the event of a tire blowout and you cannot wait for any roadside assistance or towing services, such as the 24/7 roadside assistance offered for free with any Endurance protection plan, you may need to change your car's tire yourself. Make sure to pull over to a safe space if you can and switch on your hazard lights. 
Then follow these steps:
First, set your parking brake and ensure your hazard lights are working.

Next, you'll need to gather all the necessary tools, including your spare tire, a car jack and any tools needed to remove your hubcap. A tire pressure gauge can also be beneficial, as it can help ensure your spare tire is adequately inflated until you have time to get a new set of tires installed.

Once you have securely pulled over and have all the necessary tools, remove the hubcap of the affected wheel and loosen the lug nuts as laid out in

your owner's manual

.

Next, using the car jack, lift your car until the wheel leaves the ground before removing the lug nuts and wheel.

Complete the process in reverse to install your spare, making sure to tighten the lug nuts properly.

Remember, it's always wise to check the tire pressure of your spare tire before setting off, so you can divert to a gas station and pump it up if necessary.
While there are almost countless ways your car's tires can be damaged, some are more likely to occur than others. It's also important to recognize some environmental factors as well. Specifically, it's vital to remember that for every 10-degree rise/drop in temperature, your car's tire pressure will fluctuate by about 1 PSI. This means you could be driving on a set of tires that are either over or underinflated, depending on how cold or warm it is. And if left unchecked, this could leave you at more risk of experiencing a potential blowout. Instead, it's best always to check your owner's manual to see your vehicle's recommended PSI for its tires. Regularly aim to check your tire pressure throughout the year, especially during severe temperature changes, to help ensure you stay safe while on the road.
How Much Do Tire Replacements Cost?
Just as with the cost of any type of repair or replacement part, the cost of replacing a tire will be dependent on the vehicle you drive. Different cars require different sizes and types of tires, which will factor into their overall cost. There are also different brands of tires, such as Firestone, Michelin, Continental, Goodyear and Bridgestone, which will cost more than a typical tire. 
Even if you only have one damaged tire, most certified repair facilities or ASE Certified mechanics will recommend you also get the opposite tire replaced—or even all of them at once. This is because matching tires and tire tread types will make driving much smoother and safer and help prevent any irregular wear.
However, regardless of the different variables going into the cost of replacing your car's tires, on average, car owners can expect to pay anywhere from $50 to $200 for an inexpensive tire. Bigger, heavier vehicles such as SUVs and pickup trucks like the Ford F-150 demand sturdier tires to support the added weight, which means a higher price tag of around $350 a tire. Multiply these the number of tires you need to replace, and you could be paying up to $1,400 to replace a full set of tires!
Are Tires Included in My Extended Warranty?
While a new vehicle's manufacturer's warranty will help cover the cost of tire repairs due to manufacturing defects, that type of coverage will not last forever. And as tires are considered a very high wear-and-tear component, most extended car warranties (more commonly known as vehicle service contracts or VSCs within the industry) won't cover these costs. However, that isn't the case with an Endurance auto protection plan.
For starters, our game-changing Advantage plan is the only plan to combine comprehensive breakdown protection AND up to $3,500 in yearly regular maintenance services—including alignment checks, tire rotations, and PSI checks—helping you extend the life of your vehicle's set of tires. You'll also have access to even more yearly services, including engine diagnostic exams, state safety inspection services and up to three filter and oil changes. You can even find more coverage and savings thanks to several other special, one-time services that include a battery replacement, cooling system maintenance and a brake pad/shoe replacement.
If you happen to experience a flat tire or a blowout, you can rest easy with 24/7 roadside assistance, trip interruption coverage and rental car reimbursement for free when you have an Endurance protection plan. And it doesn't stop there. For just a $29 activation fee, every Endurance plan includes a full year's worth of Endurance Elite Benefits, including up to two tire replacements or repairs! Not only that but these extra perks and savings will also include total loss protection, key fob replacements and collision discounts.  
Drive with Confidence with Endurance 
Maintaining your tires is one of the most essential things any car owner can do. With an Advantage auto protection plan from Endurance, you can drive confidently knowing you have comprehensive coverage and up to $3,500 in maintenance coverage. That includes PSI checks, tire rotations and alignment checks—helping to ensure your vehicle and its tires are road-ready. 
Our friendly team will work with you to tailor a protection program specifically to your needs, no matter your vehicle or budget. Every Endurance plan also includes 24/7 roadside assistance and more as standard, so you can rest assured that help is never far away if you experience a flat tire or other tire-related repair or issue while on the road. You can also receive up to two tire replacements or repairs plus other perks with a full year's worth of Elite Benefits whenever you purchase an Endurance protection plan and pay a small activation fee.
To learn more about how Endurance can help protect you and your vehicle from expensive and unexpected auto repairs, request a free quote or give our award-winning customer care team a call at (800) 253-8203. You can also discover even more answers to common extended warranty FAQs and expert auto tips, DIY maintenance how-tos, vehicle buying guides and much more by visiting the Endurance blog.
More like this
Extended Warranty

The advantages of having an extended warranty can't be overstated when a surprise car repair pops up. Coverage can make a difference during a breakdown, thanks to protection against expensive..

Read More

Extended Warranty

Nothing beats being able to hit the open road and head wherever you like, whenever you like. Plenty of drivers fall in love with our vehicles, maintaining them with total..

Read More

Extended Warranty

There's a lot to get excited about buying a new or used car, but one feature that often gets overlooked is the manufacturer's warranty. Understanding this coverage helps owners maximize..

Read More