Searching for a new or used car can be challenging, especially when facing higher than normal prices. But, even if you find a vehicle you like that fits your budget, you could end up spending more over time than another vehicle you may have never thought of. 
That's why if you're considering purchasing a new car or a used one, it's important to look past the sticker price and do your research. For example, suppose you're considering purchasing a new or used Mazda. In that case, you should consider a few things, like just how reliable they are and how much you should expect when dealing with inevitable repairs.
Things to Consider Before Buying a Car
When dealing with high car prices or if you're shopping on a budget, a used car is a great way to get a reliable vehicle at an affordable price. However, buying a vehicle isn't just about the upfront purchase price. It is also essential to consider routine car maintenance costs, like those listed in your car's owner's manual. There, you'll find a list of recommended services your car will need to stay running, but like most things, these services will cost some money, and over time, they can add up.
You should also always look to test drive any vehicle you're considering and get a vehicle inspection. This is because a specific make/model may have everything you need on paper, but it could still be the wrong choice. Getting behind the wheel and having a trusted mechanic inspect it is the only way you can identify potential issues to ensure you're not going to be left with a surprise after you drive off the dealership lot. Still, while a test drive and inspection are a must before purchasing a vehicle, as well as routine maintenance, sooner or later, something will break. And knowing what these potential issues could be and how much they can cost you can help you find the right vehicle to fit your specific needs and budget. But where do you start looking?
Luxury car brands often entice drivers with quality and reliability. But, unfortunately, luxury makes, like Audi, BMW, Lexus, or even Cadillac, usually cost more in both the purchase price and the cost of repairs than other vehicles, such as Chevy, Ford, Toyota or Honda. However, another more affordable alternative, Mazda, is popular among drivers by offering a budget-friendly price tag and luxury-grade styling, all while also receiving awards for reliability. 
But, despite their reputation, as you should with any vehicle, before purchasing a Mazda, it is helpful to understand the actual cost of ownership and maintenance.
Are Mazdas Reliable Cars?
Since its conception in 1931, Mazda "celebrates driving" by connecting car and driver while emphasizing safety, durability, and reliability. As a result, Mazda often gives luxury vehicles a run for their money with impressive technology, fuel economy and design. Year after year, Mazda earns top ratings in government crash tests and consumer reports. 
For example, every 2022 Mazda vehicle tested earned the 2022 IIHS Top Safety Pick+ Award. The brand is even rated as the fifth most reliable car brand out of 32 by the automotive experts at RepairPal. And with praise like that, it's no wonder that various Mazda models are a great choice for drivers in the market for an affordable car that is fun to drive and reliable at the same time. 
In addition to Mazda's notorious reliability, it is also one of the more affordable vehicles to maintain and repair. So if you're asking yourself, "are Mazda cars expensive to fix?" you're in luck, as Mazda's annual maintenance costs average around $462. This places them notably lower than other popular car brands, including Ford ($775), Chevy ($649), Nissan ($500), and GMC ($744).
Overall, ownership costs vary from vehicle to vehicle, even those produced by the same automaker like Mazda. So to give you even more insight into the various Mazda maintenance costs and some potential repairs, here is what you could expect when owning one of the more popular Mazda models: 
Mazda 3
The Mazda 3 has seen a surge in popularity within the last few model years, and it's easy to see why. According to Car and Driver, this distinguished compact car offers a fun, playful driving experience wrapped in a sophisticated package reminiscent of the luxury market. It is also a fairly reliable ride, ranking as the ninth most reliable vehicle in its class out of 36 compact cars. It even has a relatively low yearly maintenance cost of just $433.
Of course, repairs are unavoidable with normal wear and tear, even when following the recommended maintenance schedule. Since the Mazda 3 was first introduced in 2004, there have been 13 manufacturer recalls for concerns regarding windshield wipers and airbags, among others. Consumers also report issues with the airbag warning light, even when wearing a seatbelt ($88 to $111), vibration felt when accelerating at 55 MPH ($88 to 111 to diagnose), and more. 
According to RepairPal, other potential repairs and issues you can face when owning a Mazda 3 can include:
*RepairPal data as of August 2022
Mazda CX-5
According to Consumer Reports, the Mazda CX-5 is one of the best small SUVs. The Mazda CX-5 is popular for its good looks, comfort, and cutting-edge features. In addition, this midsize SUV's reliability is admired, earning a 4.5/5.0 reliability rating with RepairPal, placing first out of 26 vehicles in its class. 
However, as with all vehicles, the Mazda CX-5 has active recalls despite its excellent reliability rating. Of the eight known recalls, the most commonly reported concern is the liftgate falls unexpectedly on the hatchback model. In 2021, there was also a recall for the fuel pump affecting approximately 120,000 models—the impeller inside the low-pressure fuel pump can crack and deform, potentially causing the fuel pump to fail.
Despite this recall, Mazda CX-5 owners can expect potential repairs and repair costs to look like this: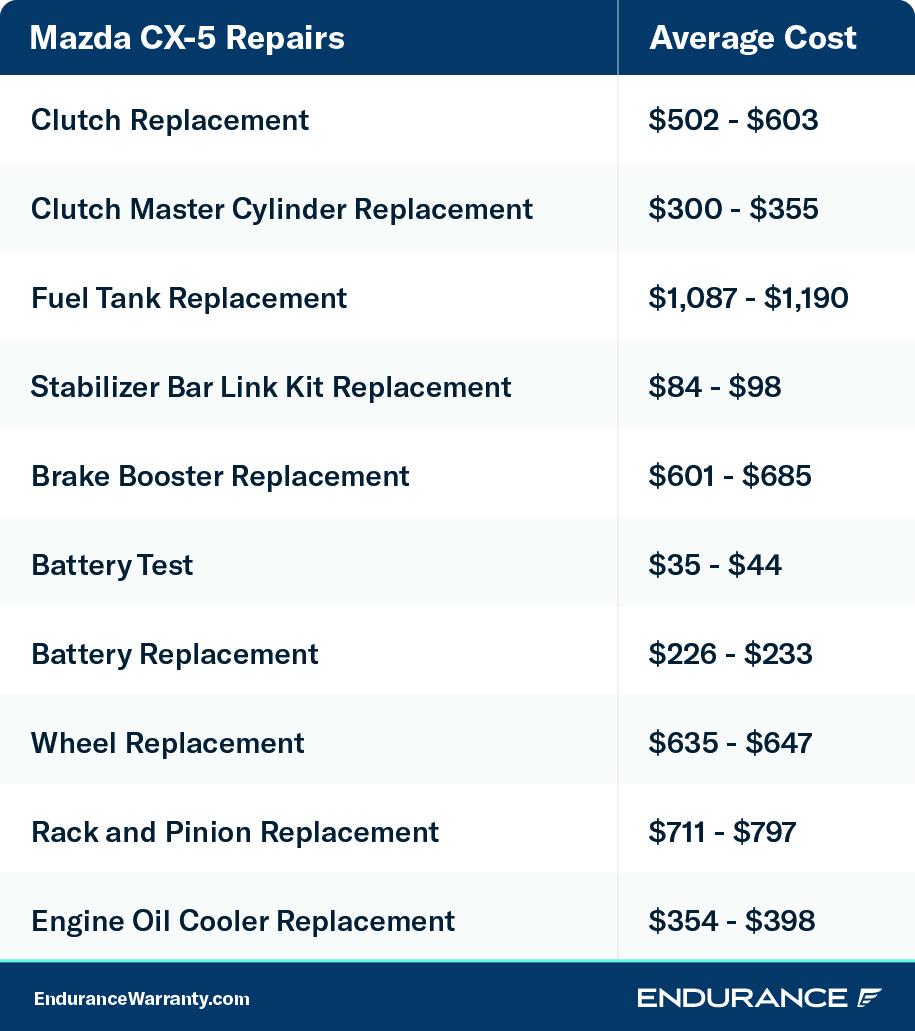 *RepairPal data as of August 2022
Mazda CX-3
Drivers looking for fuel-efficient Mazda models are often drawn to the subcompact Mazda CX-3. Boasting a whopping 34 mpg on the highway, this model quickly claims the top spot in its segment for fuel economy. As a bonus, this vehicle exudes the style and class typical of a luxury line without the luxury-level price tag. 
The Mazda CX-3 doesn't stop at impressive fuel efficiency and design. This sporty crossover SUV also has excellent crash test ratings, earning five stars from National Highway Traffic Safety Administration (NHTSA) during the 2020 model year. It also earned a Top Safety Pick award from the Insurance Institute for Highway Safety (IIHS) for the 2019 model year. Safety aside, it's also one of the most reliable vehicles in its class, coming in second out of seven subcompact SUVs by the experts at RepairPal.
Although the Mazda CX-3 annual maintenance and repair costs are lower than the average Mazda repair estimation ($345), as with any vehicle, repairs are a part of car ownership. RepairPal indicates that CX-3 owners can expect potential repairs such as: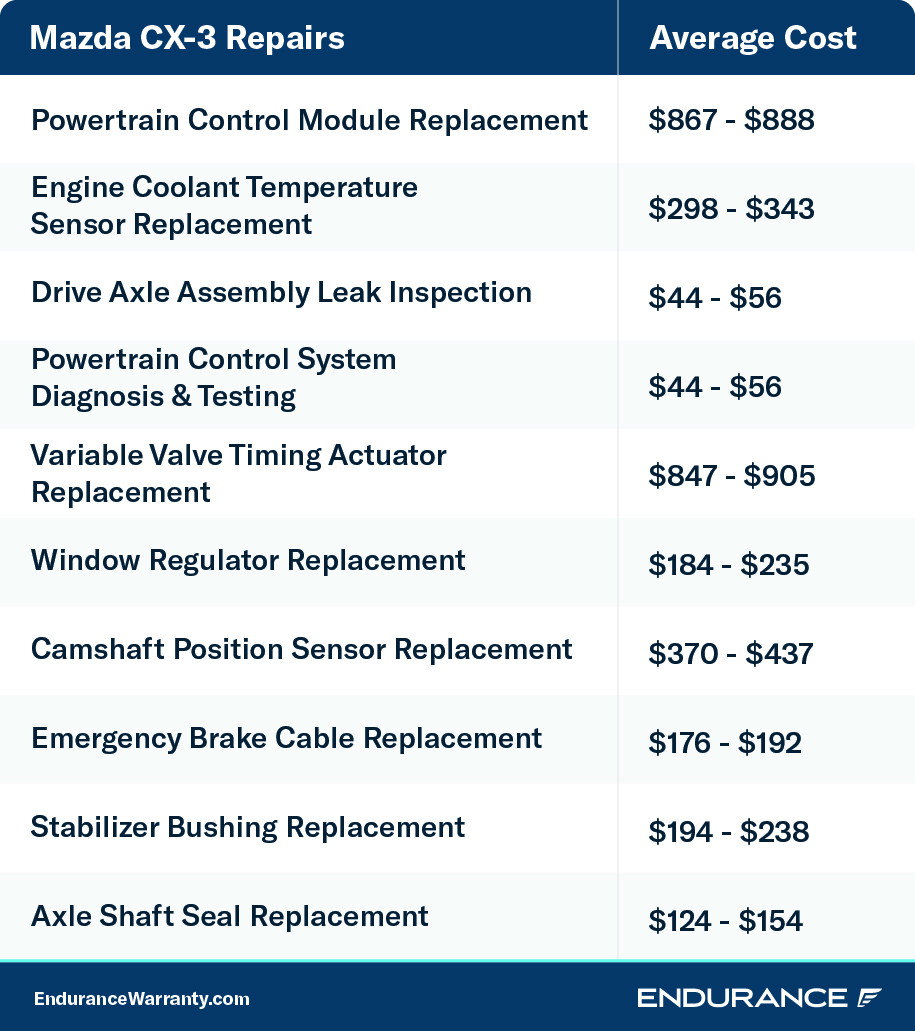 *RepairPal data as of August 2022
Mazda MX-5 Miata
Although discontinued from production in 2021, Mazda Miatas are still popular among enthusiasts, like the MX-5. The design style of the 2021 model year was heavily influenced by the eye-catching retro style of previous generations, captivating the hearts of Miata aficionados everywhere. 
But, despite no longer being produced, these subcompact sports cars are another example of Mazda's affordability and reliability, ranking eighth out of 21 cars in its class in reliability to go along with an average cost of repairs and maintenance being around $429. 
According to RepairPal, other potential repairs and their costs can include: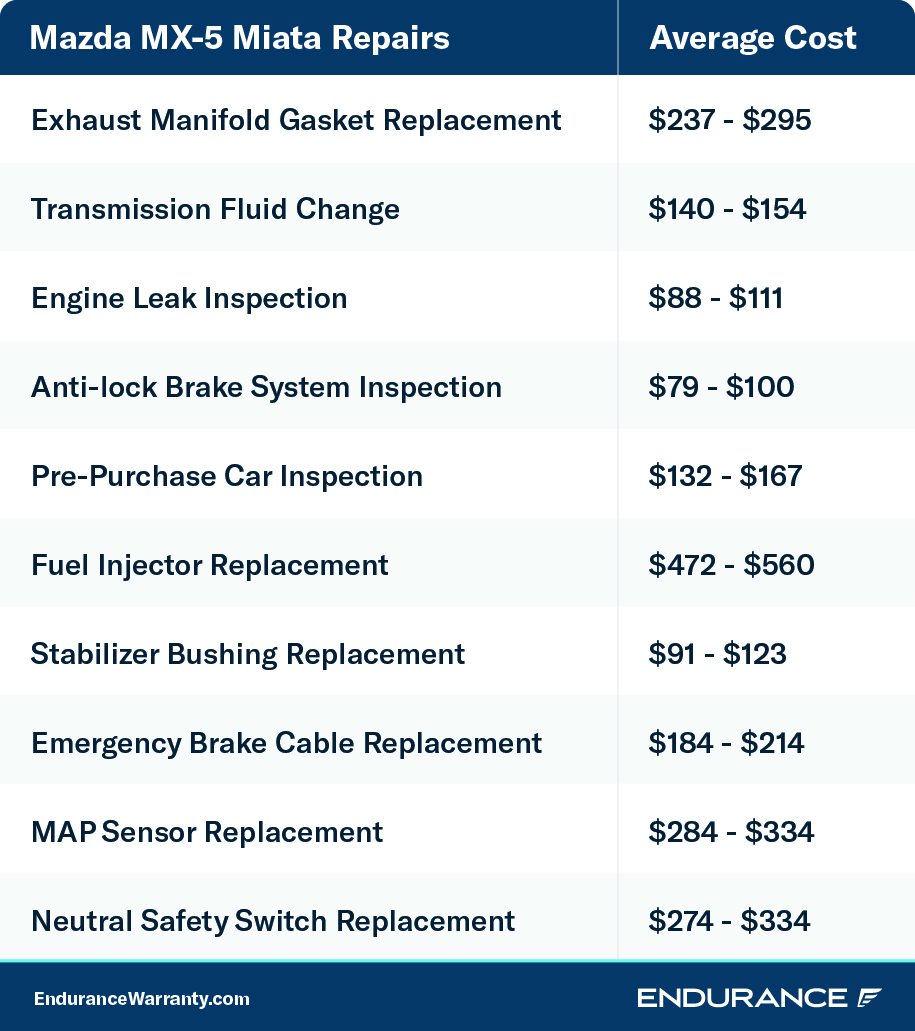 *RepairPal data as of August 2022
Can Mazdas Get a Warranty?
When purchasing a brand new Mazda, you'll be able to enjoy a factory warranty to help you feel more financially secure about any potential issues after your purchase, like unexpected check engine light warnings. More specifically, the Mazda warranty that comes with all new cars from a Mazda dealership includes three years or 36,000 miles of bumper-to-bumper warranty protection and five years or 60,000 miles of powertrain coverage. 
If you're considering buying a used Mazda, they offer a Certified Pre-Owned (CPO) warranty. However, not every used Mazda qualifies for the same coverage as a new Mazda. But, if the vehicle passes a rigorous 160-point vehicle inspection, it may be eligible for one year or 12,000 miles of CPO vehicle limited warranty with a $0 down payment and even seven years or 100,000 miles of limited powertrain warranty coverage. But while this coverage is comprehensive, if your used Mazda fails that inspection, you'd be on your own regarding repairs.
However, Endurance protection plans are another option that removes the burden from costly unexpected repairs, helping you save money without requiring a rigorous 160-point vehicle inspection. You also have the opportunity to select from various auto protection plans to fit your needs and budget, including basic powertrain coverage starting as low as $79/month or near factory-like coverage for all of your Mazda's vital (and costly) components. Plus, no matter which coverage plan you choose, you'll be able to enjoy flexible payment plans, 24/7 roadside assistance and towing, a risk-free 30-day money-back guarantee and more. 
Avoid Costly Repair Bills with Endurance
Mazda produces some of the most reliable cars on the market today. But regardless if you have a class-leading car in reliability like the Mazda CX-5 or one at the bottom, every car breaks down eventually. And without the right coverage in place, like being unable to have your CPO Mazda pass a 160-point inspection, you'd be left paying costly repair bills on your own—but not when you have Endurance.
Like coverage from an automaker, whether it be Mazda, Hyundai, Subaru or any other brand, Endurance auto protection plans are designed to protect your vehicle's vital components, but without some of the drawbacks. For example, while you can get basic powertrain coverage from an automaker, many will often limit you to only getting repairs done at their dealerships. Instead, you can get the same coverage from Endurance starting as low as $79 each month while being able to take your car to any certified repair shop or mechanic of your choice. So whether you want to take your car to your trusted mechanic down the street, across town or if you'd like to go to the dealership for scheduled maintenance and repairs, you can with Endurance.  
Plus, each Endurance plan also automatically comes with extra perks like 24/7 roadside assistance and towing. You'll even be able to enjoy trip interruption coverage and even rental car reimbursements to help ensure that no matter where you are when a breakdown occurs, Endurance will have you covered. And, if you activate your year's worth of Endurance Elite Benefits, you can get even more perks and savings, including tire replacements or repairs, collision discounts and more. 
To learn more about how an Endurance protection plan can help you, request a free, no-obligation quote or call us at (800) 253-8203 to discuss your options with one of our award-winning customer service representatives. You can also find even more vehicle buying guides and other articles on topics ranging from DIY maintenance tips, extended warranty coverage comparisons, road trip planning guides, and more by visiting the Endurance blog.
More like this
Make/Model

As the world gradually transitions to renewable energy sources, the adoption of e-vehicles is on the rise, and Tesla has been leading the charge. Their range of electric cars is..

Read More

Make/Model

Originally formed from the remnants of the Henry Ford company, Cadillac is arguably the most quintessential American car brand in existence. Founded over 100 years ago, they were the first..

Read More

Make/Model

Buying a new car or a used car can be a tricky process. The choice of vehicles is almost endless, and while it can be tempting to go for the..

Read More