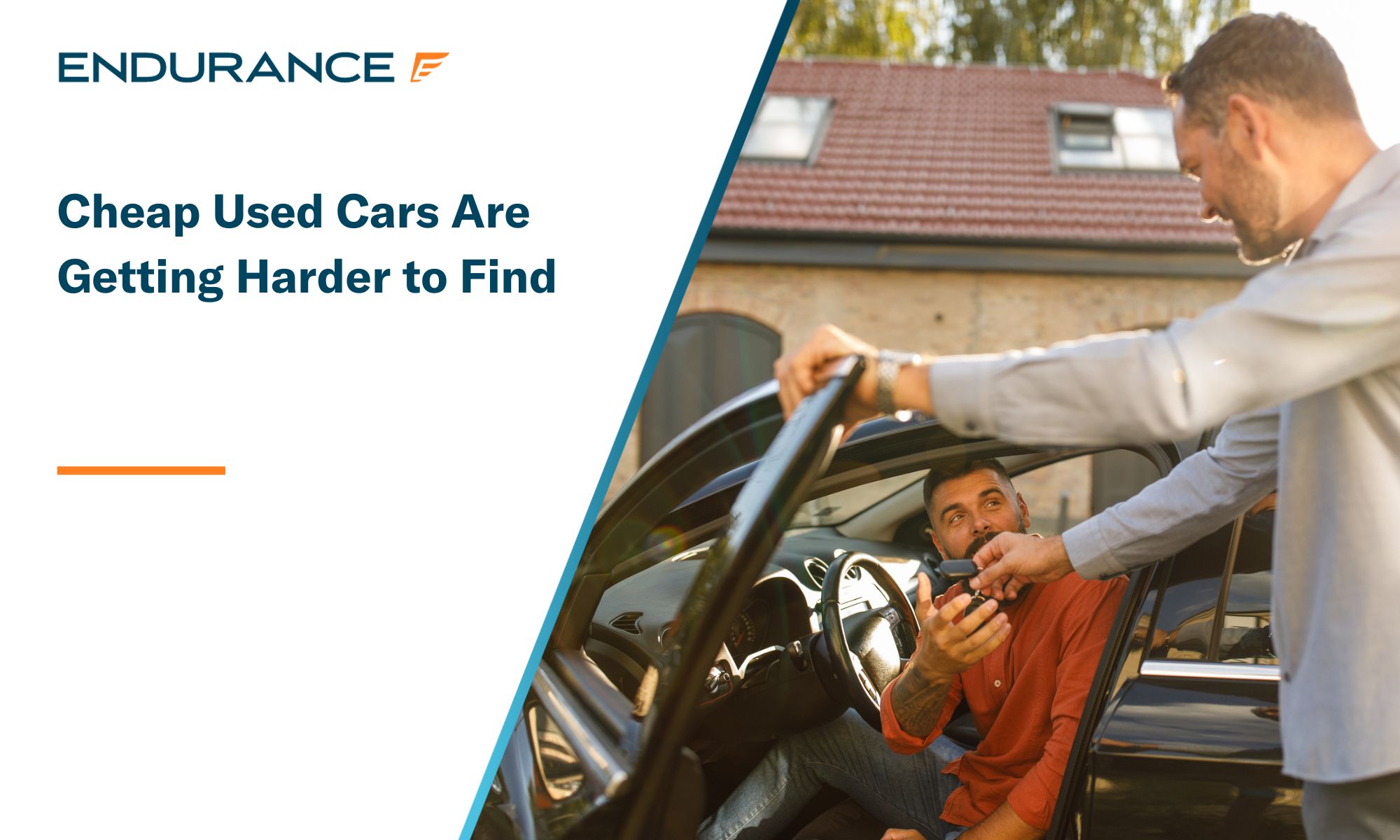 For decades, used cars have been the go-to solution for budget-conscious buyers. American shoppers could readily find quality second-hand vehicles for under the average price of $20,000 at most dealerships. However, the effects of the COVID-19 pandemic drastically changed this landscape. Seemingly overnight, cheap used cars disappeared, sending buyers into a frenzy.
This reduced supply and increased demand have steadily driven up used car prices over the past three years. And while used car prices have lessened from last summer's peak, second-hand vehicles are still 35% higher in America than before the pandemic, according to CarGurus data. It all adds up to a tough set of challenges.
Why is the $20,000 benchmark important? This price divides the line between used and new vehicles in today's market. There are so few new cars available for $20,000 that those with this amount to spend may be better served by shopping pre-owned if they can find a suitable vehicle. And the cheap new car options are economy models, devoid of many features. This compares to more loaded used cars.
Examining the factors behind the tight supply of cheap pre-owned cars can help buyers navigate the chaos in the current market. We'll explore what started these troubles, explain what buyers face, and offer suggestions for used car shoppers.
Onset of COVID-19 and Its Devastating Impact on Auto Manufacturing
The global onset of COVID-19 in early 2020 sent shockwaves through every industry, especially automotive manufacturing. As the virus spread rapidly across the globe, auto plants shut down production lines to protect workers.
According to Statista, worldwide light vehicle production dropped by 16% in 2020. That reduced new vehicle supplies by almost 15 million units. In the U.S., car makers sold about 11 million units in 2020, compared to forecasted sales initially pegged at 16 million vehicles.
To make matters worse, automakers found they had difficulty getting crucial components like microchips when factories resumed operations.
Ripple Effect on the Used Car Market
The grinding halt to new car manufacturing had an immediate ripple effect on the used vehicle market. Before the crisis, trade-ins and off-lease vehicles provided retailers with a steady source of late-model cars. But with new vehicle sales at a standstill, dealers found their usual supply channels dried up, reducing what was available to buy. You may recall seeing abundant "we'll buy your car" advertising. Many dealers also turned to Craigslist and other platforms to buy used cars.
But, this lack of supply was only half the equation. At the same time, consumer demand for cars skyrocketed. City dwellers escaped to the suburbs or rural areas and needed wheels. Commuters, once committed to public transportation, now sought out cars to minimize public exposure.
This double whammy of reduced supply and increased demand led to a textbook seller's market, allowing dealers to drive up asking prices for their cars. In January 2020, before the pandemic, the typical used vehicle sold for a little more than $21,000, reports CarGurus.
That amount is very close to the $20,000-cheap car threshold. By July 2022, the average pre-owned car sold for over $31,000, a 48% increase.  In mid-September 2023, the average stood at just below $29,000, a far cry from peak days of affordability.
Most dramatically, some tried-and-true used cars became outrageously expensive. The Toyota RAV4 and Honda CR-V are among the best-selling new vehicles in the country. This popularity extends to the used car market.
A recent report from iSeeCars shows that prices for pre-owned RAV4s and CR-Vs increased by 41% and 37%, respectively, over the last four years. What's equally eye-opening is the jump in prices, even with the average mileage on these cars increasing from 50,000 miles in 2019 to more than 100,000 miles in 2023.
The Disappearing Segment of Cheap Used Cars
Industry analysts are also tracking the near-total disappearance of key pricing tiers in the used car market. Most notably, in 2019, 49.3% of second-hand vehicles cost under $20,000, says iSeeCars. Today, that number is 12.4%, a startling 75% reduction.
And it gets worse for those with tighter budgets. Four years ago, shoppers with a $15,000 budget could afford 20% of the late-model used cars on the market. In 2023, this accessibility plummeted to 1.6% of newer used cars.
Karl Brauer, an iSeeCars analyst, remarks, "Used car shoppers have to face the stark reality of paying more for cars with higher mileage compared to the pre-pandemic used market." He adds, "It's news nobody wants to hear, but the numbers don't lie. This means due diligence in knowing a used car's market value and confirming its service history is more important than ever."
Primary Factors Shrinking Used Inventory
Let's review the causes of decreased used car inventories:
Reduced Off-Lease Supply: With new car sales down, associated lease volumes also declined due to COVID-19. So, lease returns that would ordinarily hit the used car market are down significantly. In addition, those leasing cars are buying their cars at the end of the term rather than turning them in and shopping for a new vehicle.
Rising Certified Pre-Owned Sales: Buyers flocked to certified pre-owned (CPO) vehicles, typically newer models that command higher prices as used car demand increased. Those who could not find a new car with their desired specifications also turned to CPO vehicles as an alternative.
Loss of Ex-Rental Fleet Vehicles: With new vehicles hard to come by, rental car companies held onto their fleets much longer.
Increased Trade-In Retention: Dealers desperate for used car inventory held onto traded-ins that would ordinarily get wholesaled to other dealers.
Challenges for Buyers
The unpleasant realities of the current used car market are reinforced by what buyers now face.
Less Value for the Money: Higher selling prices mean a shopper's money won't go as far. Before the pandemic, a buyer might find a five-year-old sedan with modest mileage for $15,000. Today, that same $15,000 buys a much older vehicle (perhaps a decade old) with high miles.
Reduced Bargaining Power: Thanks to low inventories, dealers feel little pressure to offer discounts, with some setting non-negotiable terms. Many automotive retailers have adapted their business models to sell fewer cars but at higher profits.
Risk of Buying a Poor-Condition Vehicle: Out of desperation, a buyer may overlook issues and end up with an unreliable vehicle requiring significant repairs.
Extended Auto Loan Terms: To make payments affordable on pricier used cars, buyers take out longer loans of 6-8 years. Yet these stretched-out terms can run up against cars in failing condition. In other words, the loan outlasts the car, creating a financial hole for the owner.
Rising Interest Rates: Making a bad situation worse is the steady increase in borrowing costs. The average 5-year used car loan came with a 5% interest rate in 2019. Now, the same loan has an 8% rate, a 60% increase.
6 Alternative Solutions for Prospective Car Buyers
While shopping for a used car isn't easy these days, some techniques can make the process easier and more financially worthwhile.
1. Take a Look at Leasing
While great lease deals are harder to find, some programs keep monthly payments lower over a 2-3-year term. Don't expect to find exceptional lease pricing on popular vehicles. The best deals are usually associated with slow-selling cars.
2. Consider Certified Pre-Owned
While CPO vehicles cost more than regular used cars, they undergo an inspection and come with a manufacturer-backed warranty. It's extra peace of mind that can help in a challenging car buying environment.
3. Skip the Dealer
There's greater risk in buying a car from a private seller, but the trade-off is usually a much lower price (10%–40% less). Before signing any paperwork, have a mechanic inspect the car and thoroughly review the vehicle's history (via CARFAX or a similar service).
4. Think About Alternate Transportation
While someone used to driving everywhere may balk at the idea of giving up a car, ride sharing (like Uber), car sharing (for example, ZipCar), and public transportation may fill the gaps until you come across a used car that meets your needs.
5. Be Flexible
In-demand cars equal higher vehicle prices. So, bypass SUVs and pickups in favor of sedans and other less desirable body styles. You'd be surprised how much cheaper a four-door sedan can be compared to a crossover. The same goes for more sought-after brands like Toyota and Honda. Look for alternatives that may not be on everyone's shopping list. For example, used Mazdas often sell for less than comparable vehicles from larger Japanese automakers (and Toyota owns a part of Mazda).
6. Get an Extended Warranty
Whether you need to hold on to your existing car or are considering a less-than-ideal used vehicle, an extended warranty (also called an auto protection plan or vehicle service contract) can reduce the stress of owning a car with questionable reliability. You'll be protected against breakdowns and surprise repair bills for a one-time upfront cost or predictable monthly payments.
Endurance Delivers Used Car Confidence
There's no need to worry if you have a car without factory warranty coverage or are considering buying a used car without manufacturer protections. Endurance has an extended warranty solution for just about every vehicle. We have plans that cover the powertrain (engine, transmission, and drive axles) as well as plans comparable to a new car warranty. There are even in-between options that balance your budget and vehicle safeguards.
Every Endurance customer also gets 24/7 roadside assistance (with towing coverage and lockout assistance), rental car reimbursement, trip interruption support, and convenient payment options. In addition, Endurance plan holders can select any ASE Certified mechanic or repair facility for covered repairs. Confidence also comes from a 30-day money-back guarantee—request plan cancellation during the first month of coverage to receive a typically full refund.
Learn how an Endurance auto protection plan can make car ownership easier. Request a FREE quote online or visit our online store for instant cost and coverage details. You can also call an Endurance advisor at (800) 253-8203 for one-on-one help.
Explore the Endurance blog for expert articles that cover maintenance tips, DIY repairs, vehicle comparisons, and more.
Used Car FAQs:
Why is there a shortage of used cars now?
Much of the used car shortage can be attributed to pandemic-related problems with new car production. Fewer new cars forced shoppers to buy used, leading to greater demand and higher prices.
Are used car prices going to drop?
It's hard to say if or when used car prices may decline. However, if new car production returns to normal (which appears to be on the horizon) and borrowing gets cheaper, people may be less interested in used cars, causing a price drop.
How can buyers find cheap used cars?
Finding a cheap used car requires much more effort than a few years ago. The step starts with extensive online research to find that "just-right" vehicle. Also, consider buying from a private seller to avoid the dealer markup (but always have the car inspected and the vehicle history thoroughly checked out).
More like this
News

As we transition away from combustion engines, electric vehicles (EVs) continue to dominate the automotive conversation. The latest development involves Honda's joint venture with General Motors to co-produce affordable electric..

Read More

News

There are a number of important components that allow your vehicle to operate, and each individual piece serves a purpose. Given the intricacies of these pieces, the value is naturally..

Read More

News

Now more than ever before, consumers and automakers are looking at alternative sources of transportation and different ways to power automobiles. More likely than not, the automobile industry is going..

Read More