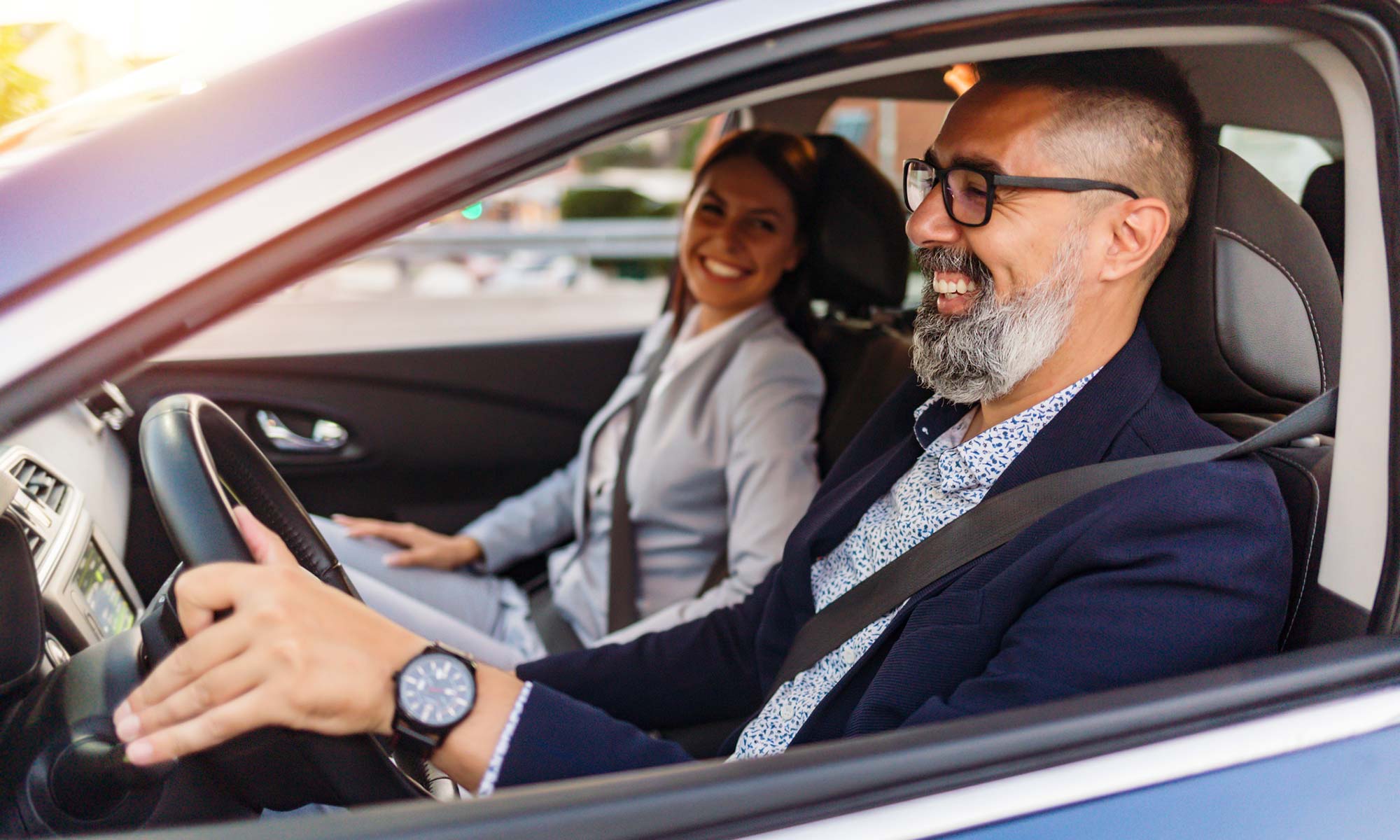 Healthy vision and driving go hand in hand. After all, seeing out of your car's windshield and mirrors at the cars, pedestrians, and driving hazards is crucial for your safety and the safety of other people. If you wear glasses, you need to ensure that your car has all the available features that make visibility a priority to help give you the best (and safest) driving experience possible. 
The Best Car Features for Drivers with Glasses
While having the proper eyewear for driving is essential for anyone with glasses, there's more to it than having polarized lenses or anti-glare ones. Instead, drivers with glasses can protect themselves and others on the road by equipping their vehicles with features that enhance their visibility—and not just out the windshield. These add-ons can make it easier to see in all kinds of lighting conditions and on any road. 
Knowing what features can help drivers with glasses will give you extra protection while driving.  
Adaptive Driving Beam Headlights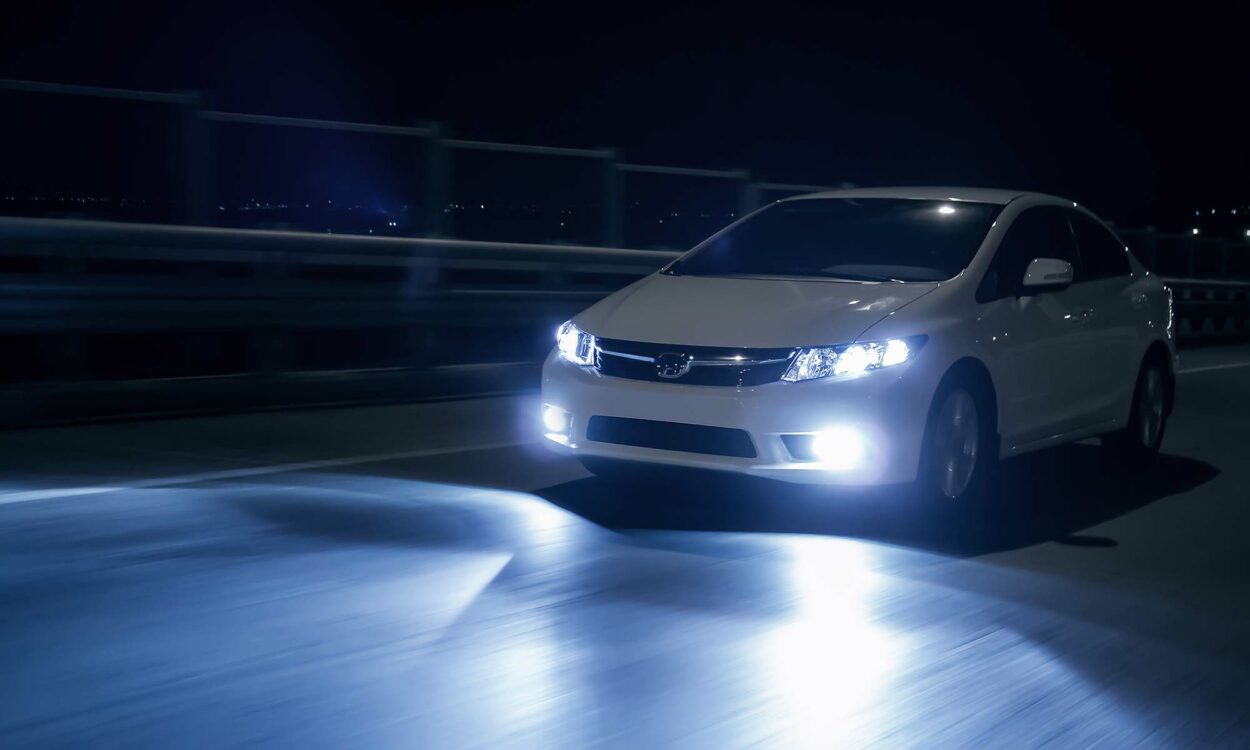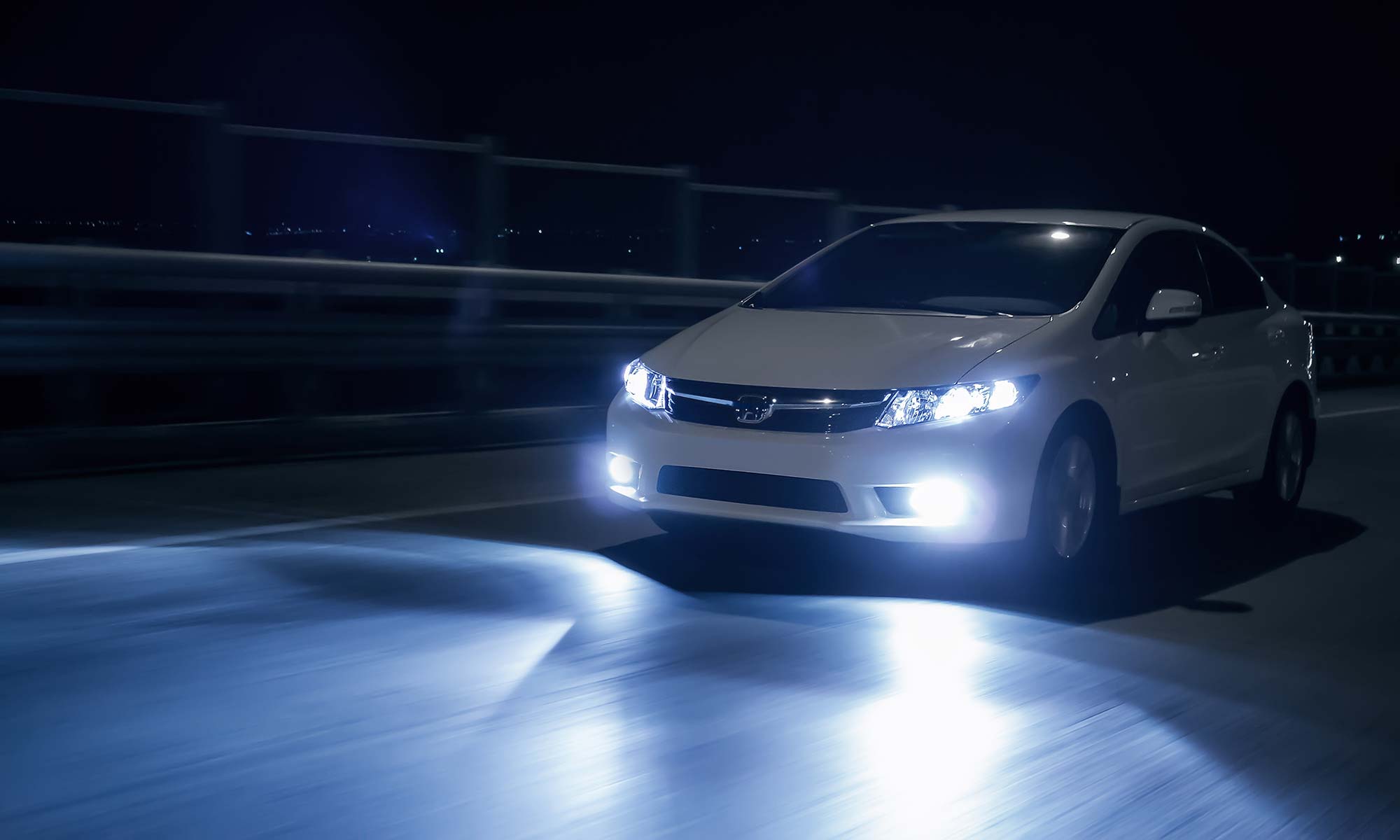 Adaptive driving beam (ADB) headlights are a relatively new technology, but they are quickly becoming a popular feature on new cars. ADB headlights automatically adjust their brightness and angle depending on the light conditions and the other cars on the road. With standard headlights, you need to switch between high beams and low beams manually, but adaptive headlights will do it on their own, helping you see better and helping reduce glare in the windshield and keeping light out of other drivers' eyes. 
Like a pair of glasses, it's also important to take care of your vehicle's headlights. Over time, they can become "foggy" due to exposure to UV rays, the weather, etc. When this happens, your headlights will appear duller and with a yellowish tint. However, it's relatively easy to defog your headlights at home. 
Be sure to take care of the rest of your vehicle by following its recommended maintenance schedule. This can usually be found in your car's owner's manual and can help you extend the life of your vehicle. You can also look to protect yourself from the cost of unexpected breakdowns and repairs while helping to keep your vehicle running for longer with the Advantage auto protection plan from Endurance. That's because when you have Advantage, you can save up to $3,500 on your car, truck or SUV's routine maintenance needs, including tire rotations, alignment checks, engine diagnostic exams and more.
Head-Up Display
Head-up displays (HUDs) are as close as you can get to feeling like you're in a video game. A heads-up display for a car is essentially a small projector that displays information in the lower part of the windshield and can be customized to show things like speed, time, and fuel level, depending on what information you want access to. They are available as add-ons when you buy a new vehicle and can also be purchased from a third party as a separate component. 
A head-up display helps people who wear glasses keep their eyes on the road while checking the display's information. Instead of looking down at your dashboard, the information is right at eye level. This is perfect for glasses wearers since their frames can often get in the way of the gauges, forcing them to move their heads and take their eyes off the road.  
Backup Camera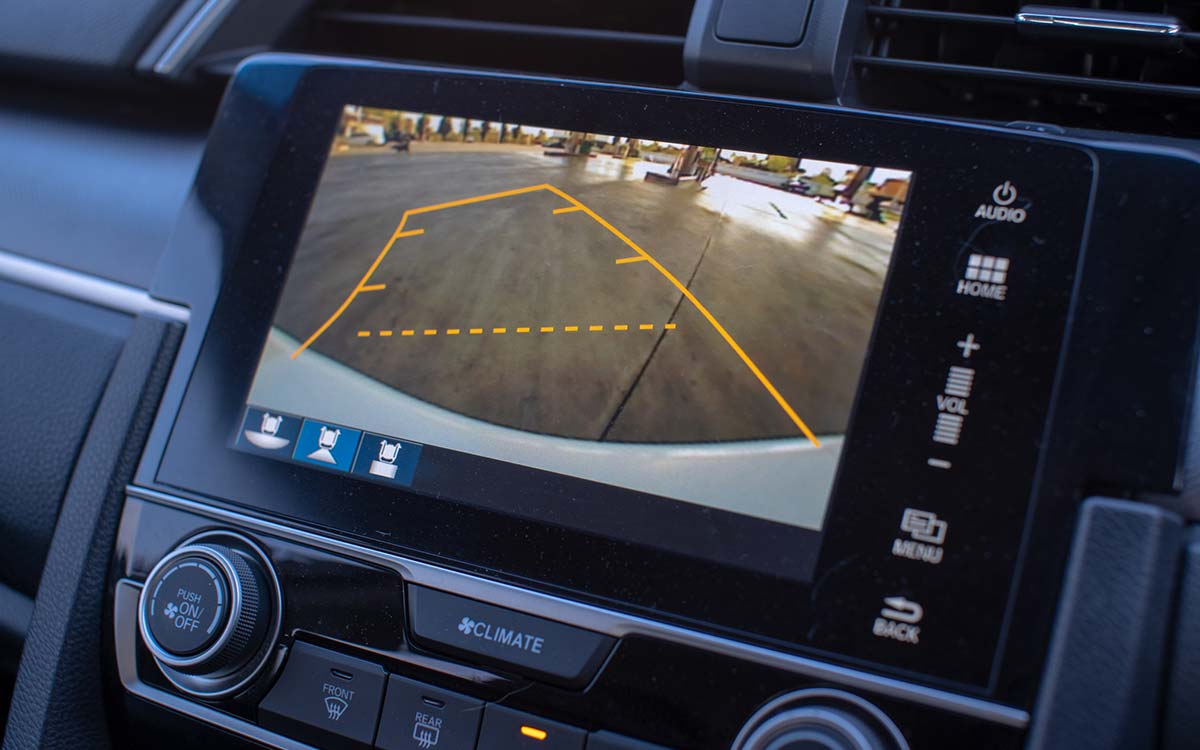 Backup cameras are becoming more and more popular as standard equipment on late model vehicles. They offer a wide-angle view of the space behind the car and display it on a screen in the front seat. This allows you to get a complete picture of anything behind the car as you back up to avoid accidents in a parking lot or your driveway. 
Backup cameras are perfect for people who wear glasses because they offer ease and an expanded range of vision. When backing up, glasses can distort your vision and make things seem closer or further away than they are. Many even come with an audible alert when you're getting too close to another car or object.
Lane Departure Warning
One of the best things about advancements in automobile technology is the automation of actual driving and control. Lane departure warnings are a great way to prevent sideswiping or other accidents, especially for those who have trouble seeing vehicles in their side and rearview mirrors when driving. 
Lane departure warnings work by sounding an alarm if your vehicle crosses over the dividing line on the road. Some vehicles may even come equipped with a lane keep assist, which acts similar to a departure warning but will physically adjust the vehicle to keep you in your lane.
Adjustable Mirrors
You already know that mirrors are essential when driving and need to be specifically adjusted for each vehicle driver. But not everyone is the same height or sits in the same position in a car. Because of this, your mirrors need to be easily adjustable right from the driver's seat so you can see clearly all around the vehicle. 
Forward Collision Warning
Forward collision warning systems are a fairly new addition to the available safety features on new cars. They act as an early warning for possible collisions before they happen so you can hit the brakes or try to avoid the obstruction in the roadway. They use mapping technology that creates a layout of the road ahead and warns you when something is coming up, such as a branch or other debris, when you might not know it is there. 
Forward collision warning systems are perfect for people who wear glasses, especially when driving at night. Glasses can create a glare due to street lights or other headlights on the road, and you might not see things blocking your path in time. The warning system allows you to be ready for any barrier or item and keep yourself safe while driving. If you do happen to hit a pothole or debris and puncture a tire, there's no need to worry. You automatically get 24/7 roadside assistance and other standard benefits when you have an Endurance auto protection plan, including trip interruption coverage and rental car reimbursements. You can even get coverage for up to two tire replacements or repairs (and more) when you activate your year's worth of Elite Benefits for just $20, so you can get back out on the road in no time. 
Other Safe Driving Tips
Ensuring that you have good visibility when driving is essential, but it isn't the only thing you need to consider. Many other driving tips can help you stay safe and other drivers and pedestrians, including: 
Always Use Turn Signals

: Signaling is essential for letting other drivers and passengers know when you will make a move. 

Wear a Seatbelt:

It may seem like a no-brainer, but many people forget to buckle up when driving, and it can make or break your safety in a crash. 

Avoid Distractions:

Distracted driving is incredibly dangerous, so you must remove all distractions like cell phones or tablets, eating, etc. 

Follow the Speed Limit

: Driving fast can be fun when you are out on a track, but driving the speed limit is always best. 

Secure Your Cargo

: Ensure that anything you are carrying in the car is safely stowed away so it isn't falling around the cabin while driving. This can also include anything you may be

hauling or towing

. 
Stay Safe and Drive Smart with Endurance 
Being a good driver means knowing what is on the road ahead of you and ensuring yourself, your passengers and other drivers' safety. But while staying safe while on the road is necessary for even the most experienced drivers, it's not the only thing you need to worry about. Unexpected breakdowns and more can all happen, even to the most well-maintained vehicles. And if you've recently purchased a used car or you've had yours for years, without the help of an active factory warranty, you'd be paying for any repair bills—but not when you have Endurance.
An Endurance auto protection plan, which can start as low as $79/month, picks up where your car's factory warranty coverage leaves off, without the limits of having to go to just the dealership for repairs. Instead, with Endurance, you can be certain you'll have comprehensive breakdown coverage while being able to take your vehicle to any certified repair shop or ASE Certified mechanic of your choice.
With the Advantage protection plan, you can even save up to $3,500 in yearly maintenance services like tire rotations, engine diagnostic exams, alignment checks, and more. You'll even have access to several one-time services like a battery replacement, a brake pad/shoe replacement and more when you have Advantage.
On top of that, for just a small activation fee, Endurance customers can get access to a full year's worth of Elite Benefits, including things like key fob replacements, total loss coverage, and more. 
To learn more details about Endurance auto protection plans, you can request a free, no-obligation quote. You can also speak directly with a member of our award-winning customer service team to help you find the right plan for you and your vehicle by calling (800) 253-8203. You can also visit the Endurance blog to find more articles on expert auto tips, make/model comparisons, answers to extended warranty FAQs, and other informative and helpful topics.
More like this
Autotainment

Car enthusiasts are always looking to learn more about a complex and constantly changing industry. One way to tackle this task is through automotive podcasts. These shows offer a treasure..

Read More

Autotainment

Moviegoers don't need to be car lovers to appreciate the legendary vehicles that have graced the big screen over the decades. These automobiles have helped to tell the stories and..

Read More

Autotainment

When football season arrives, it only means one thing—tailgates! But while die-hard fans are sure to have enjoyed a tailgate or two (or 200) in their time, many might not..

Read More