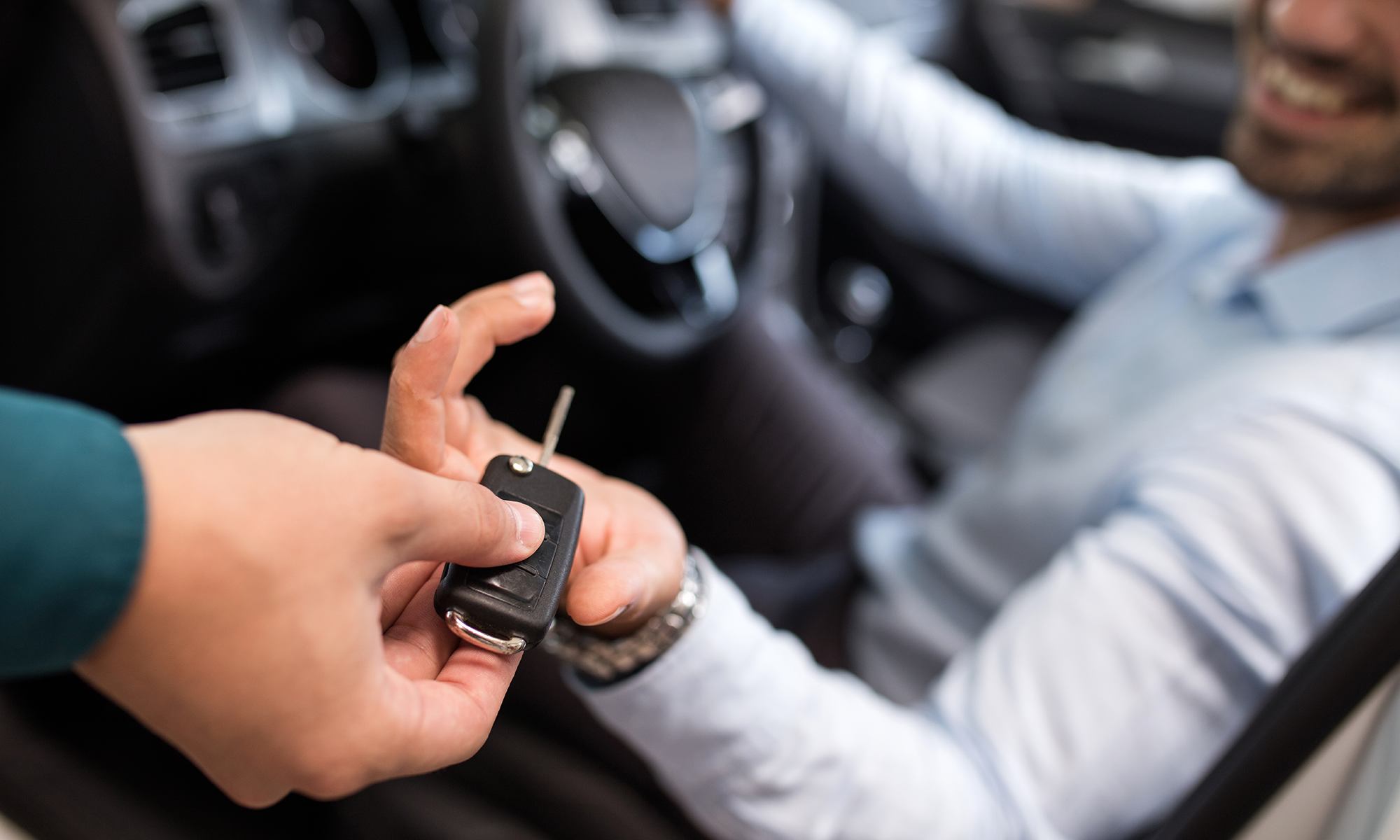 Believe it or not, it's almost December. And chances are ads plastered all over TVs, billboards, social media feeds, and more have reminded you that the holiday season is here, and so are the deals. But while you can absolutely get a stellar deal on clothes, the latest tech or gadgets and then some, it's also the perfect time to save on buying that brand-new car you've wanted. 
However, with an average price tag of $48,000, a brand-new model might be outside your budget, even with the various holiday sales. Fortunately, car holiday gift-giving is still possible with car-buying alternatives such as leasing a vehicle or even looking into a car rental subscription. 
What Are Car Rental Subscriptions?
Buying a car is a financial investment that requires a commitment for the next few years and a hefty down payment. However, things like holiday car sales are an excellent opportunity to save money buying a new or used vehicle with a discount. But unfortunately, even with a promotion, the steady rise in vehicle costs can leave you looking for more affordable alternatives. For example, car subscription services are an attractive solution that requires shorter commitment terms, lower down payments, and potentially lower monthly payments. But what exactly are they?
First, car subscription programs are not to be confused with car feature subscriptions, where drivers pay a yearly or monthly subscription fee to use features the vehicle is equipped with, such as self-driving options, remote start and GPS. A vehicle subscription is a subscription to drive the car, similar to leasing a car, but with some crucial differences. 
Car Leases
Leasing a vehicle allows you to enjoy the latest vehicle tech and features without a long-term commitment. Leasing essentially allows you to "rent" a vehicle for a set period of time, usually between two to four years. At the end of the lease, you will often have the option to either purchase the vehicle or return it to the rental car company or dealership.
When it comes to leasing, monthly payments can be less than that of car ownership. However, there are some downsides. For instance, as the driver, you are responsible for any applicable downpayments and car insurance, as well as any needed repairs and ongoing maintenance costs.
Car Rental Subscriptions
A flexible car subscription plan is similar to a long-term rental agreement in that drivers pay for the privilege to drive the vehicle rather than own it. However, with a car rental subscription, the terms are typically shorter, require no down payment and the monthly fee includes the cost of insurance, roadside assistance, repairs and maintenance. 
Another enticing benefit of a vehicle subscription service is the option to "swap" the vehicle regularly with another model, unlike a vehicle lease which includes using the same car for the duration of the contract. 
How Car Rental Subscriptions Work
Car subscription services are ideal for drivers with less-than-perfect credit thanks to flexible terms, no down payment or a long-term commitment. Plus, even with great credit, subscriptions allow you to have the latest models available at the tip of your finger without oppressive financial obligations. 
Vehicle subscription services are available from auto manufacturers and third-party subscription providers, each with unique benefits, terms and conditions. Overall, most terms are shorter than a traditional lease, with the option to opt out of the subscription without penalty if circumstances change or change models when the need arises. 
There are two types of subscription car services: manufacturer-provided and third-party. Manufacturer-provided services are the most well-known, but third-party providers are becoming more and more common. Let's take a closer look at the vehicle subscription options: 
Automaker Vehicle Subscriptions
To get started, you can subscribe online by filling out an application. Eligibility depends on credit, insurance, a valid driver's license and income. Once the application is approved, there can be a waiting period of up to two weeks for vehicle delivery. Once available, drivers pick up their vehicle at a local dealership or retailer when they make their first monthly payment, which may include an activation fee. There is also often a time for you to test-drive available models at the dealership before applying.
Unfortunately, while these subscriptions are available, a lack of consumer awareness and marketing left many manufacturer-based programs floundering, which motivated many manufacturers to end their car subscription services. However, a few automakers, like Cadillac and BMW, are considering restructuring their subscription programs to make them more appealing to consumers. 
Currently, car subscription models are available from two luxury car companies:
Volvo
Care by Volvo is an app-based car subscription service that allows you to apply and manage your subscriptions from your smartphone. This all-inclusive service includes benefits such as auto insurance, maintenance, and tire protection and even allows for wear and tear, something that many subscription companies have an additional charge for. 
Care by Volvo is available in most states, excluding CA, HI, MS, NC, and SD. However, Care by Volvo is unavailable in New York, though NY residents have access to an alternate version without insurance. Care by Volvo can be canceled anytime after the initial five-month subscription and includes: 
A monthly 1,250-mile limitation

Vehicle

insurance coverage

Factory scheduled vehicle maintenance

Excess Wear

Protection Plan

Road Hazard Tire & Wheel Protection Plan
Porsche
The Porsche Drive app is a handy tool, as it lets you apply for vehicle delivery and pick-up, request vehicle flips, and submit your monthly payment all in one place. You can also choose between a monthly rental enrollment or a three-month rental term for their single-vehicle rental model or get a new Porsche model every month. 
Pricing starts at $1,700 for 1,500 miles monthly for their single-car subscription. Alternatively, the month-to-month multi-vehicle subscription plan has a monthly price tag of $3,600 for up to 2,000 miles each month. 
All Porsche subscription plans include: 
Insurance coverage

Personal

concierge

Roadside assistance

Vehicle maintenance

Complimentary White-Glove Delivery

(within 20 miles of the participating

dealership

partners)
Porsche Drive is currently available in most major cities, including: 
Atlanta

, GA

Cincinnati, OH

Houston, TX

Irvine, CA

Los Angeles

, CA

Louisville, KY

Monterey, CA

Nashville, TN

Northern New Jersey

Philadelphia, PA

Phoenix, AZ

Sacramento, CA

San Diego, CA

San Francisco, CA

San Jose, CA
Third-Party Car Rental Subscription Services
Third-party providers provide a similar service as manufacturer-backed subscription services, with slight variations. For example, third-party car subscription companies offer a wider variety of rental options and subscription tiers that allow drivers to select an option that suits their needs and budget. Additionally, insurance coverage is only sometimes included. Some third-party companies include car insurance coverage. Others help you find coverage options or even let you secure your own car insurance quote.
Popular third-party vehicle subscription companies include:
Borrow is an electric vehicle subscription service located in Los Angeles, CA. Borrow privately owns their limited inventory of pre-owned EVs, which rotate out quickly, hindering test drive capabilities. Three and six-month subscription terms are available online for adults 18 and older with good credit and a decent driving record. Once approved, Borrow offers contact-free vehicle pick-up at their Los Angeles partner location.
Sixt is a globally recognized car rental company for short and long-term car rentals. Sixt Plus is their subscription service that offers month-to-month rental options for various makes and models. Car rental options range from economy and luxury sedans to full-size trucks and SUVs. Drivers over 21 with a good driving record are welcome to apply online and pick up at one of their pick-up locations in most major US cities. 
Pros & Cons of Car Rental Subscriptions
Although car subscriptions can sound appealing, you should consider a few pitfalls. Like vehicle financing and leasing options, vehicle subscription services have pros and cons, so you must weigh your options before choosing the best option for your needs. 
Pros of Vehicle Subscriptions
Subscribing a car may be the ideal option for many reasons. Car subscription programs are attractive for drivers who don't want the long-term financial obligations of owning a vehicle, like first-time car buyers or those between vehicles. 
Benefits of car rental subscriptions include: 
Contract-Free:

 Unlike a vehicle loan or lease, there is no long-term contract. Some providers offer monthly rental terms, allowing subscribers to use the vehicle monthly.

Zero Down Payment: 

Very few lenders or leasing companies offer zero-down deals. Subscriptions do require a small one-time activation fee to begin service. However, it is minor in comparison to a down payment. 

No Loans: 

Loans and leases leave a considerable dent in a credit report. The burden of a loan ties up financial income for an extended period of time, not knowing what the future holds. Subscription services keep income fluid, allowing drivers to stick to their budget even if circumstances change.

All-Inclusive Payments: 

Subscription plans include all of the fees, including car insurance and recommended vehicle maintenance, so drivers only have to pay for fuel.

Stress-Free Ownership:

 Subscribing to a vehicle allows drivers to enjoy all of the benefits of owning a vehicle without worrying about depreciation or selling it when it's time to upgrade. 
Cons of Vehicle Subscriptions
Vehicle rental subscriptions are an attractive solution for the right person. However, they aren't suitable for everyone. These are a few of the drawbacks car shoppers should consider:
Limited Options: 

Most car subscription companies are located in specific cities and only include select makes, models, and years. 

Mileage Caps: 

With vehicle ownership, drivers can drive wherever the road leads. Alternatively, vehicle subscription services limit the number of miles driven monthly. For example, if the contract has a 2,000-mile cap, drivers are charged an additional fee for each extra mile.

No Modifications: 

Subscription vehicles do not allow drivers to personalize or modify their vehicles in any way. Adding stickers to the bumper or windshields, tinting windows or even a locking fuel cap is strictly prohibited.

Giving Money Away: 

One of the perks of vehicle ownership is paying into something that can build equity and eventually be sold for a return on investment. With a subscription, the money is being sent to someone else with no possibility of future income.

High Monthly Fees: 

Many car subscription services have high monthly fees, which can make them quite expensive to use. The monthly payment for convenience can be cost-prohibitive for some drivers. 
Are Car Subscriptions a Good Value?
When determining if subscribing to a vehicle rental service is the right choice, users must assess the pros and cons of each provider. Car subscriptions may satisfy the need for a short-term rental without commitment hassles but at a substantially higher cost with a few inconvenient restraints, such as mileage limitations and model restrictions.
Buying a new or used car may be simpler for some drivers than car subscription options. Ownership offers the freedom to take that bucket list road trip without mileage limitations and the opportunity to build equity in an investment. No matter the car, every vehicle requires some upkeep and maintenance to keep it running smoothly. However, even with regular maintenance, all vehicles will eventually need repairs, which can be costly.
Save More with an Endurance Auto Protection Plan
Car rental subscriptions can be a great choice to drive a reliable vehicle at a budget-friendly price, but they still might not be for everyone. And while brand-new cars come with a factory warranty, those purchasing used may not be so lucky when it comes to getting that breakdown protection from the automaker. Luckily, no matter if your car is just past its factory warranty or if it's 20 years old, you can get peace of mind with the help of an auto protection plan from Endurance Warranty.
Like a factory or extended warranty from an automaker, Endurance plans can give you comprehensive breakdown coverage but with even more benefits. First, with Endurance, you don't have to be stuck to getting repairs done at the dealership, as you can go to any ASE Certified mechanic or repair shop. In addition, all Endurance plans come with complimentary 24/7 roadside assistance and towing, trip interruption, and rental car reimbursement benefits. You'll also be eligible to receive a year's worth of Endurance Elite Benefits, which include tire replacements or repairs, collision discounts, and more.
Request a free, no-obligation quote or call the award-winning Endurance customer care team at (800) 253-8203 to learn more about how Endurance can help you. In the meantime, check out the Endurance blog for more helpful resources for all things automotive.
More like this
Tech

Technology has changed many aspects of people's daily lives. Things like phonebooks and VCRs have given way to devices and systems that make accessing information quicker and more convenient. Artificial..

Read More

News

Since the early days of the automobile, carmakers have sought to introduce ever-increasing levels of automotive technology to their offerings. General Motors gets credit for the first automatic transmission in..

Read More

Tech

Nowadays, people of all ages can find an app for anything and everything—I mean there's even an app called nothing that stays very true to its name. While many see..

Read More