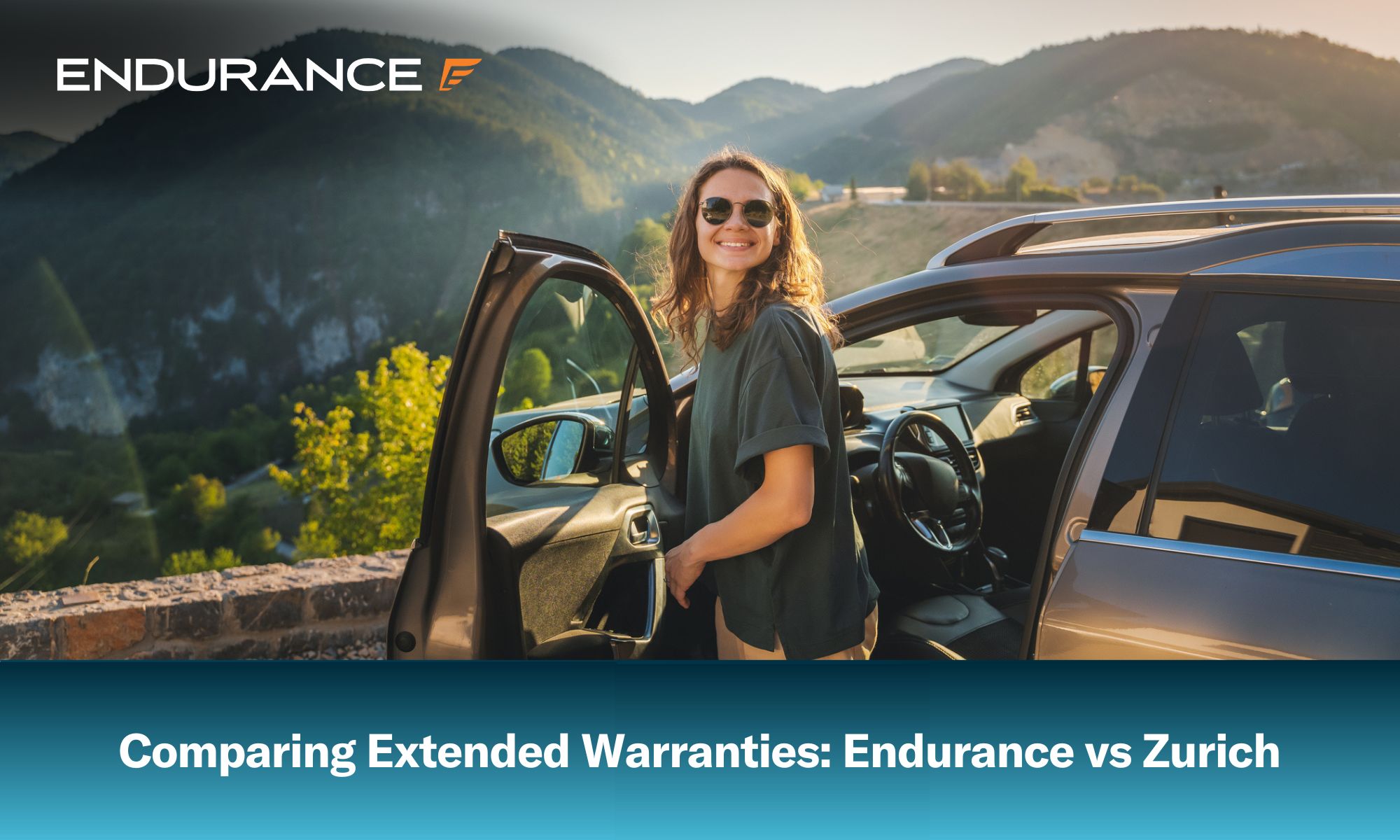 Drivers generally know that staying on top of a car's service schedule and needed repairs are essential parts of vehicle ownership. Making repairs as soon as they come up will not only keep the car going for longer, but it will also save money in the long run by preventing larger, more expensive problems.
It can be difficult to make timely repairs, though, if you don't have a plan to help with bills or coverage that can give you a boost when you need it. That's why it is so important to find an extended car warranty, which is more accurately called a vehicle service contract, or VSC, that gives you the protection you need.
There are several warranty companies on the market, and not all of them offer the same level of protection and coverage. Two of the most popular and well-known providers are Endurance and Zurich. If you are going to get the best possible VSC for your particular car, truck, or SUV, you need to know how each of these providers stack up. By comparing the two, you can decide which one will give you the best value and best service so you can rest easy whenever you get behind the wheel.
Provider Backgrounds
Endurance Warranty
Since 2006, Endurance Warranty Services has been helping customers all over the United States get the protection and coverage they deserve for their vehicles. In 2012, Endurance became a direct provider of VSCs, meaning there is no middleman for coverage. This allows you to get the financial help you need as soon as possible without the potential for miscommunications or lost information. Since its inception, Endurance has paid out over $100 million worth of claims to its customers. If you are looking for a straightforward claims process and a wide variety of plans to choose from, Endurance is going to be your best option.
Zurich Extended Warranty
Zurich is one of the oldest VSC providers in the world, having begun offering them over 40 years ago. Beginning as an insurance company in 1913, Zurich now operates in over 200 countries around the world and is a well-known option for drivers who want extra protection on the road. With a longstanding reputation and a commitment to helping car owners get the repairs they need, they are a good choice if longevity is important to you. Since Zurich is not a direct provider, though, it is important to keep in mind that their coverage will only be available through select dealerships, which means it might not be accessible to everyone.
Coverage Options
Endurance
Supreme Plan – If you want the most comprehensive protection available for your vehicle, the Supreme Plan is going to be your best bet. This plan covers nearly every component of the car, including things like gaskets and even some of the tech, which is not usually included in a VSC plan.
Supreme for Highline Vehicles – If you own a high-end luxury car or exotic vehicle, you need protection just like any other driver. Luxury vehicles are not necessarily known for their reliability, which makes having a VSC all the more important. The Supreme for Highline Vehicles plan protects cars that other providers won't and keeps your luxury car running smoothly.
Superior Plan – If you want comprehensive coverage but don't need the extensive protection provided by the Supreme Plan, the Superior Plan is an excellent middle ground. With coverage for all the essential components of your vehicle as well as some of the extras like tech, you can keep your vehicle in great condition for a lot longer.
Select Premier Plan – One of the challenges when selecting a VSC for your vehicle is finding one that will cover cars with higher mileage. The Select Premier Plan is meant for vehicles with up to 150,000 miles on the odometer. Being able to get protection for an older vehicle while still maintaining solid coverage is rare, and this is a great option for those well-loved cars.
Secure Plan – Sometimes, all you need for your vehicle is the most basic coverage possible. The Secure Plan covers the powertrain and the most important parts of your car that need to be in good shape at all times. Starting at just $99 per month, this is one of the most affordable plans on the market and is much more accessible to people with a smaller monthly budget.
Secure Plus – The Secure Plus Plan includes everything that is covered in the Secure Plan with some extra components included. Additional covered components include brakes, air conditioning, and steering, plus select electrical parts.
Endurance plans also come with a wide variety of standard benefits in addition to the coverage that comes with the plan. These benefits include 24/7 roadside assistance, towing, trip interruption coverage, and rental car coverage. Plus, for a small activation fee, you can get access to Endurance's Elite Benefits, which includes key fob replacement, tire repair, and more.
Zurich Warranty
Powertrain – Zurich's Powertrain warranty plan is their most basic coverage and includes protection for the most important parts of your vehicle. This includes things like the engine, transmission, and transfer case. If you are looking to simply protect the parts that keep your vehicle running and keep your costs low, this could be an excellent choice.
Standard – The Standard plan is the most popular option that Zurich offers drivers. This plan includes coverage for everything that is covered by the Powertrain plan, with the addition of some more key parts. These include suspension, steering, HVAC, brakes, and the electrical system.
Comprehensive – If you are looking to get the closest approximation of your vehicle's bumper-to-bumper factory warranty (aka a manufacturer's warranty), the Comprehensive plan is going to be your best bet. This plan is Zurich's version of exclusionary coverage and protects nearly every component of the car except for some predetermined exclusions in the contract.
Zurich also offers some coverage add-ons that you can include with your plan if you want a little bit of extra protection. These include Zurich Shield® Advanced Environmental Protection, which covers the exterior, Tire & Wheel, which includes tire repairs, and Prepaid Maintenance, which lets you pay for maintenance procedures ahead of time so you can stay on top of upkeep for your vehicle.
Pricing and Plans
Endurance Extended Warranty Plans
Endurance's plans are customized to the needs and specific circumstances of an individual car. Because of this, pricing will change from customer to customer depending on the particulars of the situation, such as mileage, model year, and type of vehicle. Plans start at $99 per month, which means there is something for every budget and need, and claim deductibles range anywhere from $0 to $500. Getting a customized quote for your vehicle will help you decide what plan is right for your car and will give you the most protection in the long run.
Zurich Extended Auto Warranty Plans
Zurich does not publish its prices to the public since, like Endurance, their quotes are specifically tailored to the individual driver and vehicle. For most drivers, a plan with Zurich will cost anywhere between $1,000 and $4,500 per year, with a deductible ranging from zero to $250. Depending on your car, the miles on the odometer, and the level of coverage you need, your quote may be on the high or low end of the spectrum.
Claims Process
Endurance
Endurance's claim process is designed to be as simple and easy as possible. When something goes wrong with your vehicle, you can take it to the ASE Certified repair shop of your choice. All you have to do then is show your Endurance membership, and the shop will take care of the rest. They will make sure that the repair or service is covered by your plan and let you know what your deductible will be if it is applicable. After that, all you have to do is wait for your vehicle to be repaired or take advantage of your rental car reimbursement to get replacement transportation.
Zurich
Zurich's claim process is very similar to Endurance's in that all you have to do is take it to the shop and present your membership. The repair facility will then get an authorization number from Zurich and find out if the repairs that are needed will be covered by your plan. After the repairs have been made, you will pay your deductible, and the rest of the repair costs will be paid by Zurich as long as they have been authorized. It is important to keep in mind, though, that since Zurich is not a direct provider, this whole process may have to go through the dealership, so you should anticipate the possibility of delays in your claims process.
Customer Service and Reviews
Endurance Warranty
One of the things that sets Endurance apart from other warranty providers on the market is its award-winning customer service team. Many people on Trustpilot and other customer review platforms have praised Endurance for its helpful, knowledgeable, and courteous service team. This kind of customer service is crucial when dealing with car repairs, especially when they leave you stranded on the highway. Knowing that you can get the peace of mind you need and that you will have a customer service team member on your side throughout the whole process can be incredibly comforting in a stressful situation.
Zurich
Zurich's reviews from current and previous customers are generally positive, but some complaints seem to be common for a large number of people. One of these common concerns is a tendency for claims to be denied. These generally happen when the circumstances of a repair don't quite match up with the requirements of Zurich's procedures. For example, one customer stated that their claim for a new windshield wiper motor was denied because water got into the motor, sharing the downside of Zurich if you can't get the protection you need.
Warranty Pros and Cons
Endurance Pros
Wide variety of plans for every budget and situation
Award-winning customer service team
Many standard benefits
Direct provider of coverage
New customers get one year of Endurance Elite benefits with a small activation fee
Endurance Cons
Coverage is only available in the United States
Zurich Pros
Availability in over 200 countries around the world
Additional coverage options allow for customizable plans
Accredited by the Better Business Bureau
Straightforward plan structure
Zurich Cons
Not a direct provider
Some customers have experienced claim issues
Small list of standard benefits
Get the Best Coverage on the Market With Endurance
Finding the right protection plan for your car is essential if you want to enjoy it for many years and keep it in the best possible condition. While there are a lot of VSC companies on the market, Endurance is America's most trusted provider and has a wide range of coverage plans for every budget and situation.
With coverage starting at just $99 per month, you are sure to find something that will suit your needs, even if you have a vehicle that other warranty providers simply won't cover. Endurance has plans for everything from high-end luxury vehicles to Canadian Gray Market cars, cars with a rebuilt or salvage title, and vehicles used for commercial purposes like rideshare or delivery. In addition, for a small activation fee, you get access to Elite Benefits, which include perks like key fob replacement, tire replacement and repair, and collision discounts.
Experience our award-winning customer service firsthand by calling our dedicated team at (800) 253-8203 to request a FREE quote. You can also explore our online store for an instant price preview and shop with confidence.
If you'd like to keep reading for now, we have plenty more useful content just like this over on our extended warranty blog. Explore our FAQs, other provider comparisons with CarShield and CARCHEX, common repair costs, and more.
More like this
Comparisons

Owning a car is incredibly liberating, but unfortunately, that freedom comes at a significant cost. Not only is it expensive to purchase a vehicle, but the cost of annual repairs..

Read More

Comparisons

Buying a used car can have a lot of benefits and is a great way to save money while still getting a quality vehicle. When purchasing a used vehicle, though,..

Read More

Comparisons

There's no getting around the fact that car ownership can be expensive. With the cost of annual repairs and maintenance only ever on the rise, it's no surprise that vehicle..

Read More