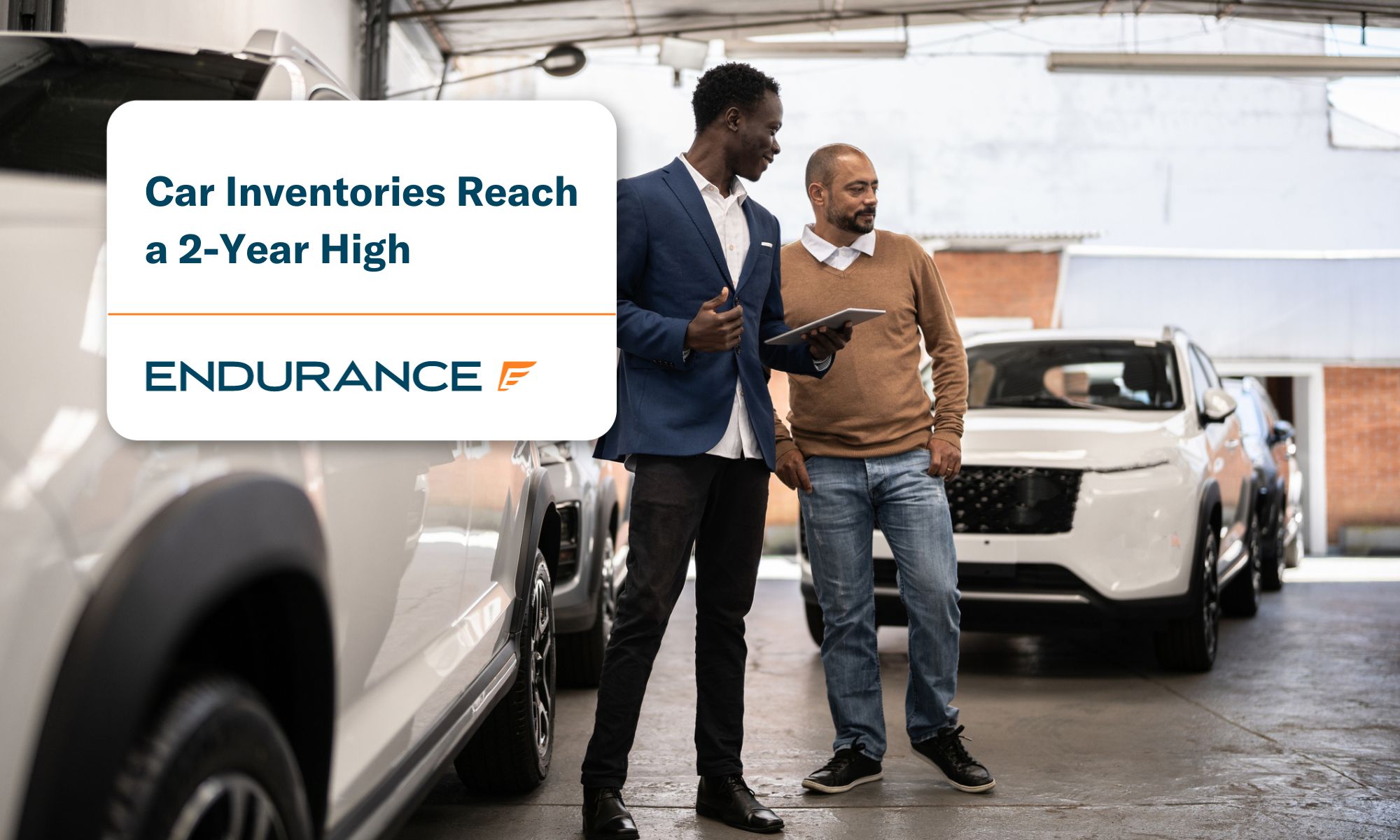 Calling the U.S. auto market of the past few years "unusual" is an understatement. The effects of the COVID-19 pandemic, manufacturing slow-downs, and low inventories have challenged car buyers. The idea of negotiating a great deal has been swept aside as car dealerships called the shots.  However, new information shows the tide may be turning in consumers' favor.
Recent data from Cox Automotive shows that new vehicle inventory has reached its highest level in two years. This abundance has led to more sales volume, which could bring back more incentives from automakers. New car sales jumped year-over-year by almost 19% in August 2023.
Cox economist Charlie Chesbrough remarked, "The supply recovery continues to improve across the country, and this is leading to the market's sales gains this year. In addition, the return of supply is also bringing back more discounting from manufacturers."
We'll get into more detail about this potential good news. But let's first review how we got here.
The Impact of COVID-19 on Car Inventories
Flashback to the first months of 2020, and the car industry was humming along with expectations for another strong year. Then, COVID-19 hit. By spring and summer, auto manufacturing plants shut down in response. New cars became scarce, which was one part of the problem.
Next, with production at a standstill, automakers canceled component orders, including critical microchips. When manufacturing resumed months later, many car companies couldn't access these vital semiconductors. As people stayed home, the chip makers shifted to building for consumer electronic products (cell phones, computers, gaming consoles, etc.). Automakers had to wait their turn for these essential microchips, another contributor to new car shortages.
In the meantime, car buyers turned their attention to used vehicles because of the scarcity of new automobiles. Not only did second-hand cars in America become harder to find, but they were more expensive. At the start of 2020, the average used car sold for $21,436, reports CarGurus. By July 2022, the typical second-hand vehicle went for more than $31,000. Average used car prices have decreased to about $29,000 per transaction since early September 2023. But this is still 35% higher than before anyone ever gave a thought about a pandemic.
And the new cars that were available also skyrocketed in price. Kelley Blue Book (KBB) data shows that the average new car sold for $38,948 at the end of 2019. In July 2023, the same transaction added up to $48,334. This came from more than just higher MSRPs; dealers marked up the sticker prices.
The Recovery
Although automakers couldn't address supply challenges overnight, they did eventually adapt. Focus was placed on building more expensive cars, which let the manufacturers and dealers sell fewer but more profitable products. This wasn't ideal for anyone looking for more affordable transportation and was a key reason for the rise in new car prices.
Along the way, car companies learned to use different chips, worked with semiconductor makers more closely to overcome chip shortages, and shifted to more of a build-to-order approach. The results are vastly better than the dark days of idle factories and minimal dealer inventories.
A recent report from UBS forecasts that 2023 global car production will exceed sales by 6%. Yahoo Finance reports that that would leave a surplus of five million vehicles needing sales incentives. If this proves true, bargains could again be available to car shoppers in 2023's closing months. We're already seeing this evidenced by price cuts from Tesla and other electric vehicle manufacturers.
Other signs are also pointing to a return to normal. Before COVID-19, the typical car dealer had a 60-day supply of new cars to sell. This was considered a healthy level, enough to meet consumer demands without sitting on too much inventory. At the height of the crisis, the new car supply level was cut by two-thirds or more. Most recently, the typical dealer has a 56-day supply of new cars on hand. We're getting close to the good old days.
Last year, Americans bought 13.8 million new cars, reports Cox Automotive. That's a far cry from the 16 million annual sales the auto industry considers a good pace. Yet, things have bounced back nicely. At the end of August, new cars sold at an annualized rate of 15.4 units. Clearly, normalcy is on the horizon.
What Does This Mean for Buyers?
The vehicle market's slow return to pre-pandemic days means two things for buyers: better selection and lower prices. "The return of supply is also bringing back more discounting from manufacturers," remarks Cox's Chesbrough.
Findings show that the typical new car purchase in July reflected 4.4% in incentives, almost double (2.4%) what consumers received a year earlier. That's still a far cry from 2019, when incentives made up 10% of new car transactions. But just about any discount is an improvement.
In the near term, these changing market conditions translate into select opportunities for a better deal. In other words, don't expect to find discounts on every car from every automaker. Buyers will need to cherry-pick from the best offerings. This approach usually involves targeting slow sellers.
For instance, search engine iSeeCars.com reports these vehicles were the slowest-selling new cars in August 2023 (accompanied by the average number of days required to sell):
The used car market also has its share of snails. Among them are the Tesla Model S, Buick Envision, Ford Mustang Mach-E, Land Rover Discovery Sport, and Cadillac XT4.
7 Tips for Buying a Car in a Buyer's Market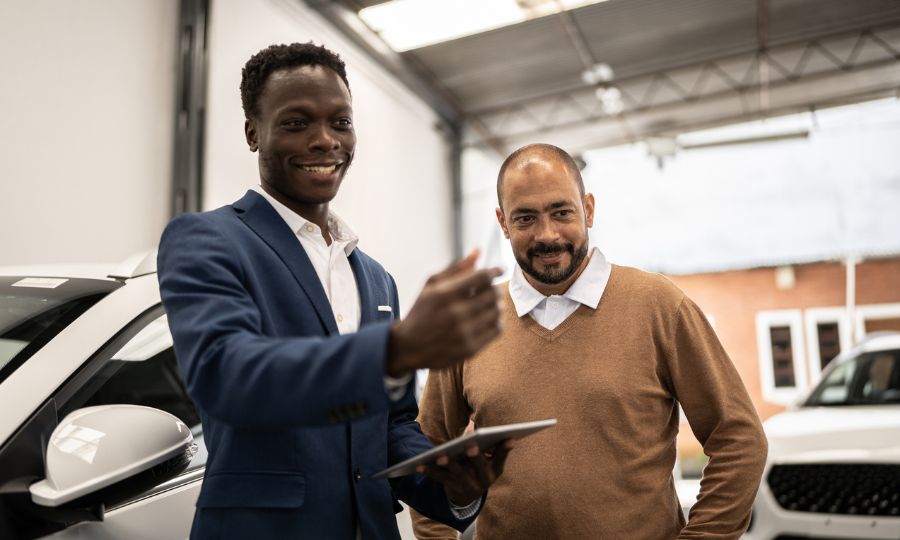 Remember these hacks for getting a good deal in today's market:
1. Conduct Research
Doing your homework is the key to making a smart purchase (for a car or any high-ticket item). The more information you have, the better you can make an informed decision. However, don't just look at vehicle reviews and specifications. While this is vital, you must also get a handle on market conditions. Is the car you want readily available? Are there manufacturer incentives and dealer discounts available?
2. Compare Prices
Don't rely on pricing from a single dealer; look around. Even in a market with tight supplies, some retailers are more flexible on pricing than others. Importantly, review all the fine print, as some dealers can mask the true selling price. Often, charges like freight and dealer preparation fees don't appear in advertisements.
3. Be Flexible
Arguably, flexibility is the most significant factor in getting a deal on a new car at the moment. This covers everything from brand and vehicle type to options and color. Greater adaptability increases your choices and your odds of saving money. SUVs are in greater demand these days. So, consider a sedan instead. Look for different automakers, as well. You may be leaning toward a Toyota or Honda, but Mazda offers compelling alternatives (and the company is partially owned by Toyota). These are just a few examples to consider.
4. Expand Your Search
Don't limit your buying efforts to local dealers. Look for retailers in neighboring cities, adjacent states, or even nationwide. What sells well in your area may not be so popular elsewhere, creating an opportunity for discounts. Broadening your search parameters also improves selection. And don't worry about location. Shipping a car is commonplace and not that expensive. Alternatively, a great discount can easily offset the cost of a plane ticket.
5. Inspect the Car
This matters less with new cars, but pre-owned vehicles should be carefully analyzed. Such action can help avoid repair headaches later but also open room for better pricing if you discover imperfections you can live with. Always have an independent professional mechanic inspect any used car under consideration. There are also mobile mechanic companies that can perform the same service remotely, making long-distance purchasing easier.
6. Negotiate
It never hurts to ask for a better price. The worst that can happen is that the dealer says no. Use your research to make a case for why the dealer should offer a discount. Perhaps another retailer has a better selection or lower prices.
7. Exploit Financing
Dealers make money on financing they arrange. Use this to your advantage by asking the dealer for a better price if you take out a loan through them. You might be surprised at the results. You'll want first to get pre-approved from another source (online lenders can do this without the inquiry impacting your credit score) and be sure the dealer at least meets your best independent financing offer.
What to Expect in the Future
The crystal ball for the car market remains clouding. No one has a definitive answer for when production and demand rebalance. It's safe to say that there will be select opportunities to find a deal on a car over the next six months or so. It just may not be the exact vehicle you want.
There's also economic uncertainty to contend with. Rising interest rates via the Federal Reserve and the onset of a recession could cause automakers to scale back on production, causing supplies to tighten again. If these or other unforeseeable factors occur, the momentum could shift back in favor of sellers.
Endurance Offers Protection for Today and Tomorrow
Whether you're focused on keeping the car you have or thinking about getting a new one, Endurance offers extended warranty coverage for just about every vehicle. These auto protection plans (also called vehicle service contracts) safeguard against breakdowns and unexpected repair bills.
But that's not all that Endurance offers. Every customer gets peace of mind from 24/7 roadside assistance (with towing coverage and lockout assistance), rental car reimbursement, trip interruption reimbursement, and convenient payment options. In addition, Endurance plan holders can choose any ASE Certified mechanic or repair facility for covered repairs. Confidence also comes from a 30-day money-back guarantee — request plan cancellation during the first month of coverage to receive a typically full refund.
Discover all the advantages of an Endurance auto protection plan. Get a FREE quote online or visit our online store for instant cost and coverage details. Personalized help is a phone call away. Reach an Endurance plan advisor at (800) 253-8203.
Review the Endurance blog for expert-written articles about vehicle maintenance, DIY reports, car reviews, and more.
Car Inventory FAQs:
Are new car inventories getting better?
Yes, thanks to overcoming the chip shortage, automaker production volume is approaching normal (pre-pandemic) rates.
Will the price of cars go down in 2023?
Besides some electric vehicle (EV) makers periodically adjusting sticker prices, don't expect lower MSRPs on most cars. Price reductions will come in the form of manufacturer incentives and dealer discounts. In addition, given greater supply, dealers are less likely to add markups to the window sticker, which will lower overall car prices.
Should I buy a car now or wait until 2024?
It's always good advice only to buy a car when necessary. Most cars (new or used) suffer from depreciation. So, the longer you can delay making a purchase means avoiding the loss of value that comes with a new (or newer) vehicle. That said, changing market conditions could once again swing against buyers. You'll want to pay attention to any disruptions that could limit availability and raise prices. In addition, the used-car market is still priced above normal. Waiting may lower what you pay for a second-hand vehicle.
Can I get a good deal on a new car now?
The key to buying a car now is finding a slow-selling vehicle or one with too much inventory (or both). These are the vehicles most likely to have discounts and automaker incentives. Flexibility also maximizes the potential for a better deal on a new car now.
More like this
Finance

For many car enthusiasts around the world, finally saving up enough money to purchase a luxury car is a huge goal in life. Whether that new car is manufactured by..

Read More

Finance

With the annual cost of car ownership only ever on the increase, it isn't surprising that so many drivers are investing in extended warranties. After all, why empty your wallet..

Read More

Finance

Owning a car is a big financial responsibility, especially considering the annual upkeep costs. After adding up registration fees, insurance premiums, gas expenses, oil changes, tire rotations, and the decrease..

Read More