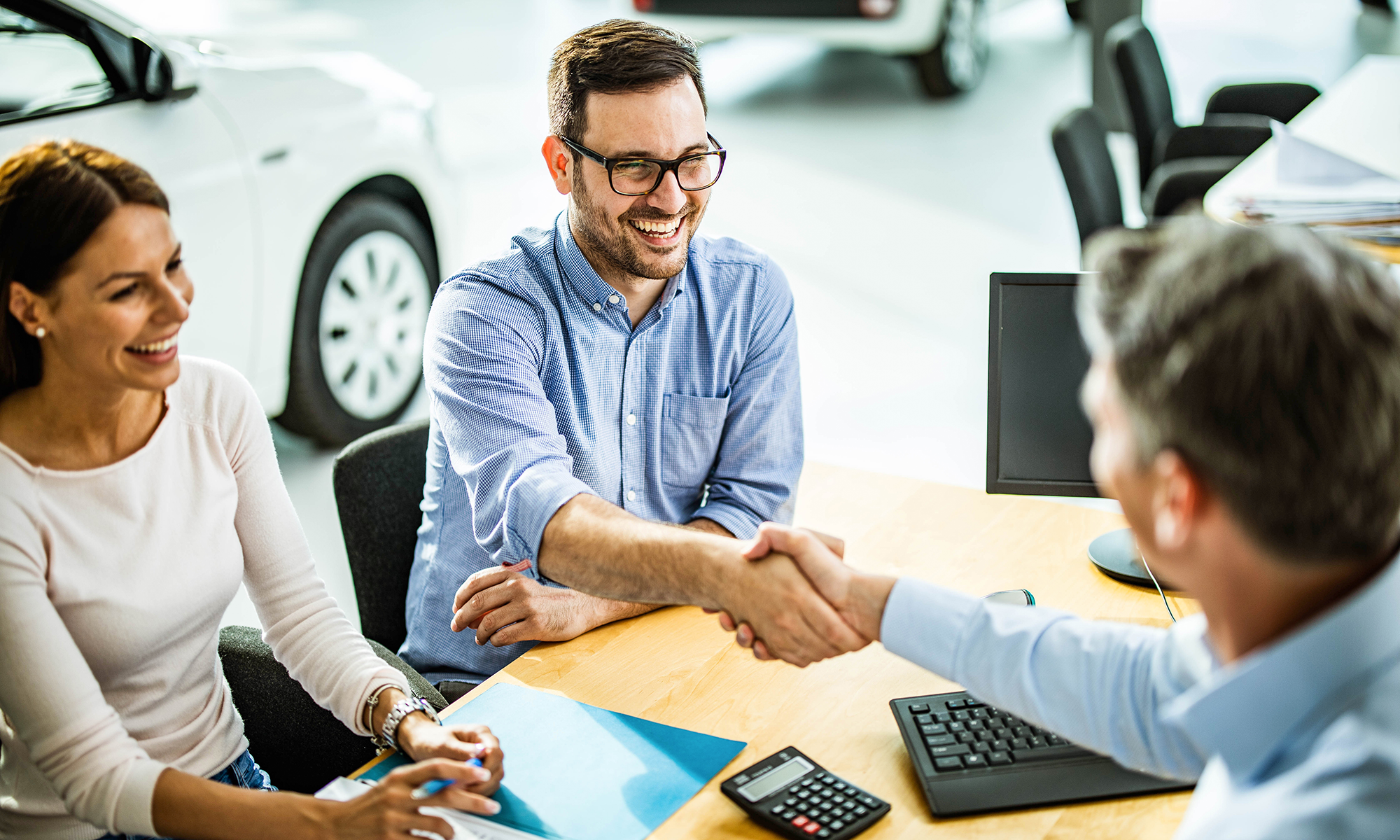 Whether you're looking to get a high-end luxury vehicle, a workhorse of a truck or a reliable everyday vehicle, finding your next car can be a thrilling experience. But between trips to dealerships, taking test drives, doing your research and everything else to help you find the right car for you, you may also find yourself choosing between actually buying the vehicle or leasing it.
And while both buying and leasing have their pros and cons, one of them may not be the best choice for you. That's why learning more about leasing a vehicle, and other car shopping tips can help ensure you're getting the right vehicle for you.
What is "Leasing" a Car?
For many, leasing a car may seem similar to the general car buying process, but it is distinctly different. First, while buying a car requires a down payment and monthly car payments (unless you can pay for the vehicle outright), leasing a vehicle will not always require a down payment. Instead, you will be responsible for monthly lease payments, often cheaper than the monthly payments on a new car. And along with these minor differences, the major difference between leasing a car and buying a car comes down to car ownership. 
As you can guess, when you buy a car outright or after a few monthly payments, you own the vehicle and can do with it as you see fit. But when you lease a car, you are simply paying for the right to drive it around up until a specific mileage limit or timespan, with most lasting between two to four years on average. For example, per the Department of Motor Vehicles (DMV), standard leases usually last for 36 months or 36,000 miles. But regardless of how long your lease agreement is, once the auto lease is up, you return the car to the dealership and walk away for good.
Should You Buy or Lease a Car
On the surface, leasing a vehicle can sound quite appealing, considering its lower average monthly cost than purchasing a vehicle. However, limitations imposed on a lease agreement may negate the lower cost benefit for your personal situation. That's why learning more about some of the common benefits and drawbacks of buying or leasing a car can help you make the right decision for you:
Benefits of Buying a Car
You own the vehicle and can do what you want with it.

No mileage restrictions or limits are hanging over your head.

Buying can be cheaper in the long run than continually leasing multiple times.
Cons of Buying a Car
You're stuck with it unless you sell it in the future or scrap it.

Higher monthly payments

than leasing.

There will be long-term maintenance costs as the car ages.
Benefits of Leasing a Car
You get to drive the car during its most trouble-free years.

Gives you the ability to drive a higher-priced car than you may generally be able to afford.

Potential benefits included within the

lease agreement

, such as oil changes or

warranty

coverage.
Cons of Leasing a Car
You may have to pay

excess wear and tear

costs if you don't keep the vehicle in good condition.

You don't have the flexibility to change things on a

leased car.

Lease contracts

for vehicles often have a

mileage limit

, so drivers who are always on the road may not benefit.
As evident by the above points, both options have excellent arguments for and against. If you're not in the market for a long-term vehicle, leasing can be an effective strategy for getting a vehicle for a cheaper cost for a few years. However, buying a car and keeping it for a few years will likely be cheaper than leasing multiple vehicles over the same period. 
Other Tips When Getting a New Car
Whether looking at getting a leased car, new car, used car, or anything else, there are some tips you need to consider before making your choice. 
Research the long-term maintenance costs
When you purchase or lease a vehicle, the upfront price is not the actual cost, as monthly lease payments or purchase payments are just one of many other things to keep in mind. For instance, regular car maintenance is vital for any vehicle. It is often covered on a leased vehicle, while you would be responsible for those costs when you purchase a vehicle. 
For example, on just maintenance alone, owning a Honda Civic Si would cost you around $3,284 over five years, or just around $658 per year. Combine that with the cost of car insurance payments, unexpected repairs, gas and other expenses, and you could raise the actual value of your car by a couple of thousand dollars compared to that initial sticker price. So, if you purchase a vehicle instead of leasing, don't just look at the price. Consider the long-term impact of that vehicle on your budget and ensure that the vehicle you choose has low maintenance costs and good reliability. 
Perform a pre-purchase inspection
While it may seem like a hassle at first glance, you should always perform a pre-purchase inspection of a vehicle you are interested in. A leasing company or dealership may not even be aware of a visible issue with the vehicle, but if you drive it off the lot and try to come back after finding it when you get home, they may not believe you.
Whether you are a lessee or a purchaser, save money by performing a walk-around inspection of any vehicle you are interested in. If you are leasing a vehicle, check the odometer to the number of miles on the vehicle to ensure accuracy with what you are told. Any normal wear and tear should also be noted before you drive off a lot, so you do not get charged for what already existed when you return a leased vehicle. 
Take it for a test drive
While a pre-purchase inspection can help you identify any visible flaws with a vehicle, taking the vehicle for a test drive allows you to see if you enjoy how the vehicle drives. The last thing you want is to pay high monthly costs for a vehicle you don't even like driving. Take any vehicle you consider purchasing or leasing for a short test drive on similar roads to those you would frequent to ensure the vehicle meets expectations. 
Choose the right warranty
One of the best ways to save money while owning a vehicle is to ensure all components under the hood are protected. And while factory warranties will offer this kind of coverage if you're purchasing a brand-new vehicle, investing in an extended warranty on a used car can help you get peace of mind and help mitigate some unexpected costs of owning a vehicle. This is especially true when it comes to covering the repairs and issues that the average car insurance plan won't help you with. 
For example, with an Endurance vehicle protection plan, you can get comprehensive breakdown protection for a car up to 20 years old, regardless of how many miles it has on the odometer. You'll even enjoy several standard benefits like 24/7 roadside assistance and towing, trip interruption coverage and even rental car reimbursements. And, because Endurance is a direct provider, most of our plans are also transferable. So even if you end up selling your car with active coverage, you can help fight against your car's depreciation and boost its resale value as the new owner can enjoy the same great coverage you had. 
How Endurance Can Help Protect Your Vehicle
Choosing between purchasing and leasing a vehicle is a decision that shouldn't be taken lightly. After all, while leasing has many cost benefits, these can quickly become void if you lease vehicles for your entire life. If you purchase a vehicle, going with a used one can help get you a lower overall purchase price while still getting a vehicle you can rely on. However, while a used car can help limit up-front costs, things like maintenance, repairs and so on can start to add up over time, especially if you no longer have an active factory warranty. Instead, give yourself peace of mind when it comes to those unexpected and expensive repair costs with the help of an Endurance vehicle protection plan. 
Like a car's factory warranty coverage, each Endurance plan is designed to protect your vehicle's vital and expensive components from the cost of breakdowns and repairs caused by general wear and tear use. But, unlike a factory warranty or an extended warranty from your automaker, with Endurance, you don't have to worry about your car being ineligible for coverage as Endurance plans can help cover vehicles up to 20 years old, regardless of their mileage. So whether you've purchased a lightly used car just past its factory coverage cutoff or if you've had your car for years already, Endurance is sure to have the plan for you, including coverage starting as low as just $79 per month.
And, as a bonus, no matter the Endurance plan you choose, you'll automatically be able to enjoy standard benefits like roadside assistance and more. You'll even be able to take your vehicle to any ASE Certified mechanic or repair shop of your choice while also being eligible for even more perks and savings with a year's worth of Endurance Elite Benefits. 
Don't wait until you're left paying for unexpected car repairs; request a free, no-obligation quote today. Or, to learn more about how an Endurance vehicle protection plan can help you, call our award-winning customer care team at (800) 253-8203. You can also find even more articles with car buying/leasing tips and other topics like DIY maintenance how-tos, driving safety guides, extended warranty coverage comparisons, and more by visiting the Endurance blog.
More like this
Finance

For many car enthusiasts around the world, finally saving up enough money to purchase a luxury car is a huge goal in life. Whether that new car is manufactured by..

Read More

Finance

With the annual cost of car ownership only ever on the increase, it isn't surprising that so many drivers are investing in extended warranties. After all, why empty your wallet..

Read More

Finance

Owning a car is a big financial responsibility, especially considering the annual upkeep costs. After adding up registration fees, insurance premiums, gas expenses, oil changes, tire rotations, and the decrease..

Read More