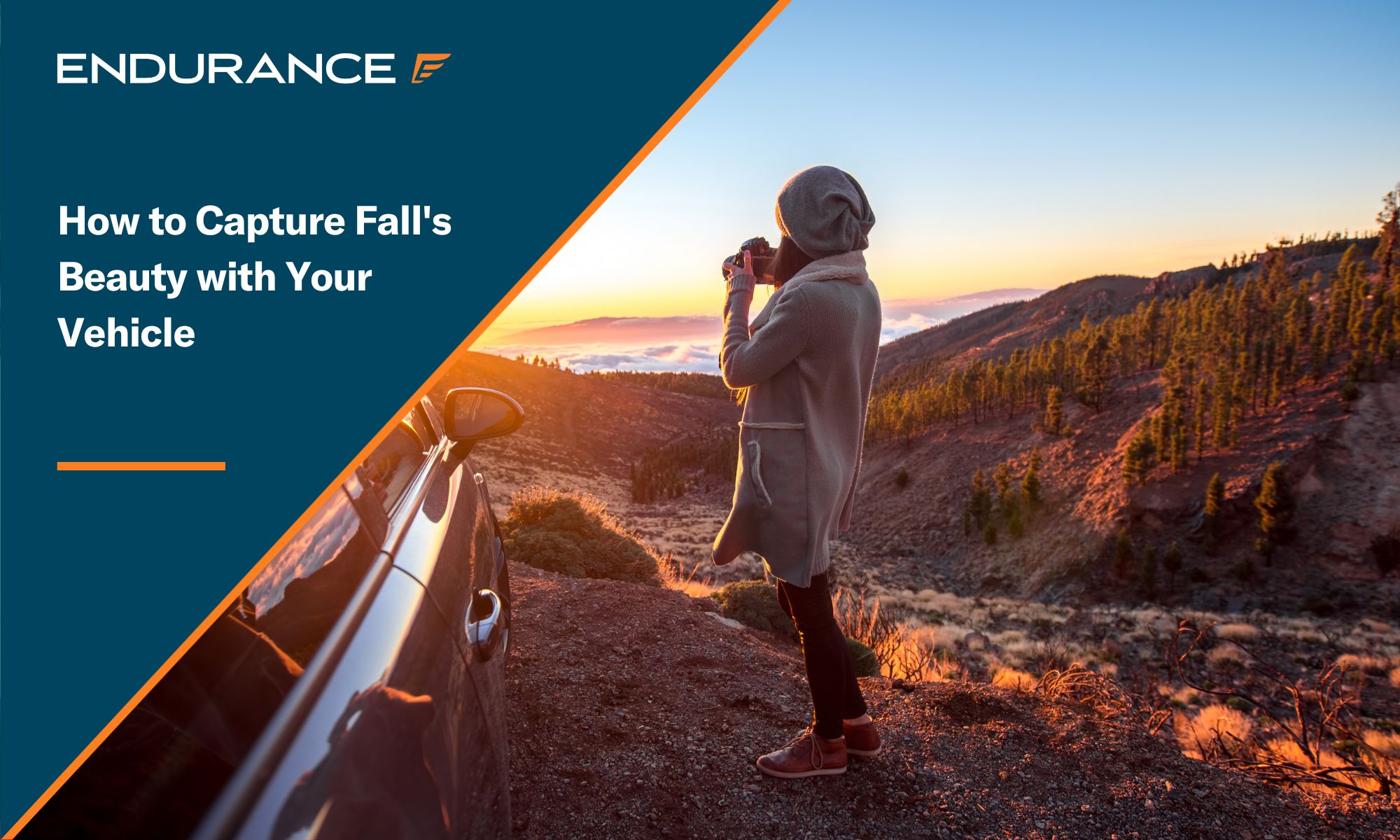 It is no surprise that autumn is a favorite season for car owners all across the United States. With pops of color and long shadows, there is so much beauty to appreciate in the autumn months.
If you are interested in capturing some photographs of your car, fall is one of the best times of year for it. The interesting juxtaposition of organic nature and machinery is a classic look, and you can create some truly stunning visual art with it.
Whether you are thinking about selling your vehicle and want some professional-looking photos or you simply want a few great pictures of your car, fall is a fantastic time to get started in automotive photography. Even if you don't have a fancy DSLR camera with a telephoto or wide-angle lens, you can still capture some excellent images as long as you are using the right techniques.
With the beautiful backdrop of autumn colors and some basic knowledge of photography, you might be surprised by the results you can get. Knowing some photography tips for capturing the beauty of the season as well as your vehicle will help you make the most of this magical time of year.
1. The Importance of Location
Location is one of the most important components of a great photograph, and this is especially true when trying to capture the elegance of autumn. Scouting out locations can be a lot of fun and allow you to stretch your imagination and see the photograph you want to take in your mind's eye. Look for locations with the quintessential elements of fall. Things like tree canopies, colorful fall foliage, and crisp leaves can all provide the perfect backdrop for shooting cars in the fall.
You should also consider the lighting in the location you choose. If, for example, the sun comes through the trees at a certain time of day, you may want to capture that in your photographs. Be sure to come back to your locations at different times to see what your options are for lighting. Places like forest roads, driveways with tree canopies, and lakeside spots can all be incredibly beautiful, and if you know when to take advantage of the light, you can enhance them even more.
2. Car Preparation for the Shoot
While you want to be sure that you choose the best background for your car photos, you also want to be certain that your car looks its absolute best. This can be accomplished in several ways, but a good wash, wax, and detailing can work wonders. Giving your vehicle a high-end detailing job that brings out all of its best qualities can translate wonderfully to photographs. A wax will also help it shine in the light and reflect the fall colors in a very pleasing way.
You can also choose accessories to add that compliment the autumn palette. Small touches like an orange window shade or yellow under-lighting can be excellent accent pieces that take your pictures to the next level.
If you don't want to add any accessories, you can choose a background that works well with the colors your vehicle already has. The general look you are going for will determine the choices you make when it comes to your setting.
3. Composition Techniques
When talking about the art of fall photography, composition should be your top concern. Composition refers to the placement of the subject within the frame of the photograph, and it can make or break your pictures.
The rule of thirds is an important composition consideration, which essentially says that the subject of your photo should be on the left or right side, taking up about a third of the frame while the other two-thirds is taken up by the larger background. Your main subject could be the whole car, but it could also be a certain component, like the wheels, while the rest of the vehicle makes up the other two-thirds. This is where your creativity can really come into play.
You can also choose elements to add to your photograph, such as leaves on the windshield or foliage around the wheelbase. These elements can become the focal point of the photo's composition, which will help the rest of the car stand out. Things like light reflections in the finish can also add some nice touches to the way the photo is framed. Experiment with different close-up placements within the frame to find the things that are most aesthetically pleasing to you.
4. Playing with Lighting
Lighting conditions are crucial in any photography project, but it is one of the most important parts of car photography. Recognizing how light changes the way your car looks in a picture will help you make the best decisions for what you are going for.
For example, the golden hour is a time of day, usually around sunset or sunrise, when the natural light is going to be very noticeable and usable for your pictures. If you want the light to be a big part of your final product, these are the best times of the day to be out taking photos.
While the long shadows of autumn are a very recognizable part of the season, they may not always be right for your pictures. If you want to avoid these shadows, it is best to use diffused light. Fortunately, overcast skies will automatically diffuse the sunlight. If you live in an area where gray skies are common, take advantage of them when you can to capture the vibrant colors without any shadows getting in the way.
5. Experimenting with Different Angles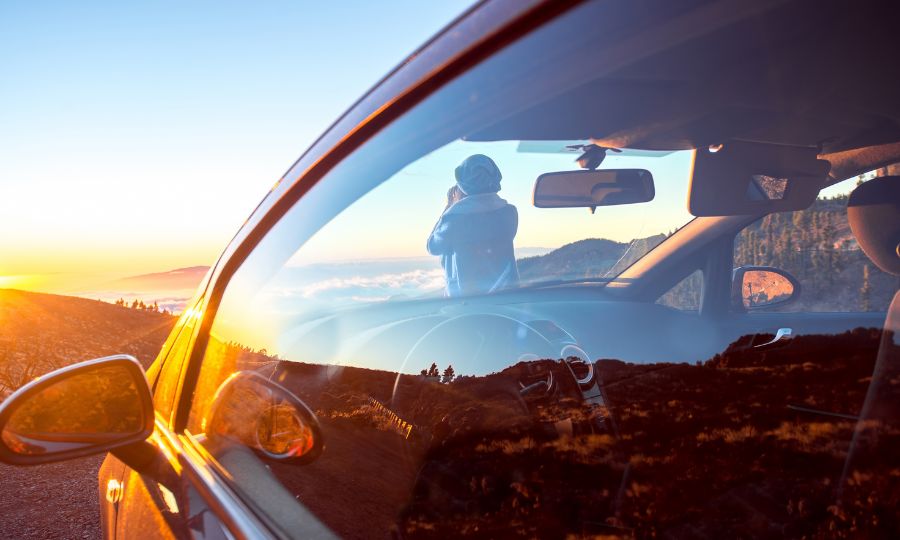 While composition is an essential part of the art of photography, angles are just as important. Knowing what parts of your vehicle you want to focus on and where its stance looks the best can be incredibly helpful. If your car has a low, aggressive stance, capturing it from the front with a 3/4 side angle can be excellent. If it is a larger, off-road truck, though, you may want to shoot it directly from the side to get the full picture of its height.
You can also use angles to showcase certain environmental elements that you want to highlight. For example, shooting the car from the bottom up can show either the gray skies above or the foliage in the trees while blocking out less appealing elements like a parking lot. If you want to show a bed of leaves and use their colors as an accent to the vehicle, shooting from the top down is a great option. Knowing what you want to show the most can be incredibly helpful, and, as always, experimentation can help you find the perfect angle.
6. Depth and Focus
While photographs are a two-dimensional medium, there are things you can do to give them a feeling of depth and reality that can be quite striking. Depth of field is an important element of photography and refers to the focus of the background when compared to the subject in the foreground. How you focus on the subject can create an effect that makes the photograph feel vibrant and alive.
If you want to increase attention on your car, use the focus function of your phone or camera to blur out the background and put it in a softer focus. The bright colors of fall can also help create a more artistic feel for the background and put all of the focus on your vehicle. This blurring of the background, or motion effect, is called the bokeh effect, and it can be a great way to make your photos feel three-dimensional without having to shoot a moving car.
7. Post-Processing Tips
In the digital age, post-processing has become an even more important part of the job when it comes to photography. Using popular post-processing software like Adobe Lightroom or Photoshop can be a great way to make your pictures pop.
If you don't have high-end software like that, though, most camera apps will have options for adjusting things like vibrance, contrast, brightness, and more. Experimenting with different settings to find the perfect look for your photos can be a lot of fun and help you take your car pictures to the next level.
In post-processing, you can do things like touch up elements that you want to remove, like spots on the exterior panels or debris on the road. You can also use cropping to frame your photos properly and abide by the rule of thirds, even if you weren't able to do so when you were out shooting. Adjusting color sliders and camera settings can also help you highlight the areas that you want to pop, draw focus in the photo, and enhance the natural colors of your photo shoot.
8. Showcase and Share
No matter what your intentions were for taking your car pictures, art is meant to be shared. It can be incredibly rewarding to get feedback on your pics and have them be appreciated by someone other than yourself. Fortunately, there are all kinds of ways to showcase your photographs and get them in front of other car photographers. Setting up a portfolio website online is fairly simple and can help you see how you have improved over the years as you take more and more photos.
Instagram is a fantastic social media platform to show your photos to an audience that will appreciate them. Using hashtags and searches, you can engage with other photographers or car enthusiasts and get feedback on your photos in real time. Getting involved in an online community of artists can be a great way to get motivation and learn things that will help you improve your skills in the long run.
Keep Your Car Photo-Ready with Endurance
If you want to take stunning photos of your car, the best thing you can do for it is make sure it looks and runs its best. While you may not be able to see any mechanical issues on the outside of the vehicle, cars that run well will almost always be better taken care of and look better. Taking steps to keep your vehicle in the best possible shape will help you take pride in its condition and keep it looking great for the most outstanding photographs.
If you want the best protection for your car, an extended warranty can help. Extended warranties, more accurately called vehicle service contracts, or VSCs, can help you pay for repairs when they come up so you don't end up putting them off and letting them get worse. After your factory warranty is up, having a protection plan in place can help you feel confident that your vehicle is looking and running its best every time you get behind the wheel.
Endurance has a wide range of plans available for every possible situation. Starting at just $99 per month, you can get a customized protection plan for your vehicle, whether it is a high-mileage car or a high-end luxury vehicle.
With plans ranging from the most basic powertrain coverage all the way up to bumper-to-bumper protection, there is something for nearly every car and every budget. Endurance also has plans for vehicles that other VSC providers won't cover, such as Canadian Gray Market vehicles, cars with a rebuilt or salvage title, or vehicles used for commercial purposes like rideshare or delivery.
Endurance plans also come with a large collection of standard benefits like 24/7 roadside assistance, towing, rental car coverage, and trip interruption protection. Plus, for a small activation fee, you can also get access to Elite Benefits, which includes extra perks like tire repairs, key fob replacement, and up to $1,000 in total loss coverage.
Take advantage of our services and experience our award-winning customer service firsthand. Contact our dedicated team at (800) 253-8203 in order to request a FREE quote. Alternatively, take advantage of our online store for an instant price preview so that you can shop with confidence.
You can also find more auto expert resources on the Endurance blog. Explore FAQs, warranty provider comparisons, mechanical breakdown insurance guides for California drivers, DIY maintenance tips and tricks, and more.
More like this
How To

Modern vehicles come with all the bells and whistles regarding safety features, but one feature in particular is standard on all vehicles: the horn. A car horn on your steering..

Read More

How To

As vehicle technology advances, features become more convenient, and design becomes completely geared toward making things as easy as possible for you. Modern key fobs are an excellent example of..

Read More

How To

Ford may have recently decided to discontinue the Focus, but with over two decades since the first iteration was revealed to the world, you can bet plenty of them will..

Read More