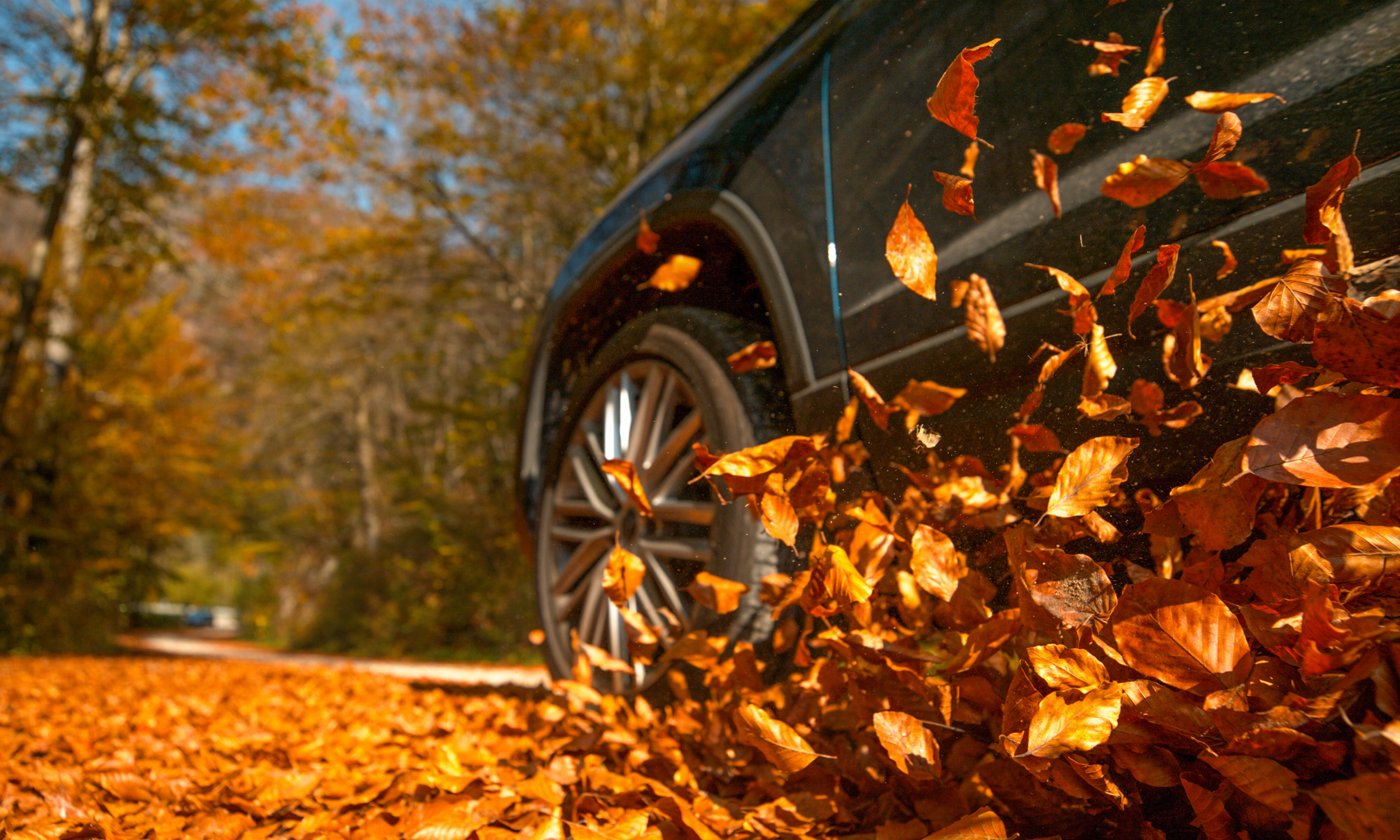 As a car owner, you should know that regular car maintenance is essential for any vehicle. In fact, it's so important that there are actually two whole months dedicated to it each year: April and October. April is National Car Care Month, while October is Fall Car Care Month, and the Care Care Council chose them for a good reason. They're the transitional months between summer and winter's extreme temperatures.
In particular, October is often the perfect time to perform routine vehicle maintenance to help prepare for the icy winter ahead while repairing worn-out parts after those fun summertime road trips. And knowing more about how this fall season can affect your vehicle and learning some seasonal-specific car care tips can help ensure you won't find yourself stuck on the side of the road later in the season. 
Common Car Problems During Fall
Summer heat can excessively strain your vehicle, even if parked in the driveway or garage. The sun can also cause considerable damage to vehicles, such as faded paint and overheating key components. In some cases, extreme heat and the sun can actually cause parts of your vehicle to melt, like the dashboard or center console! 
And by the time fall arrives, the heat of summer, along with any additional wear and tear put on the vehicle from things like summer road trips, can already have caused problems such as: 
Bad Tires
The heat of summer is your tires' biggest enemy. Heat expands the air in your tires, increasing your tire pressure by 1-2 pounds per square inch (PSI) for every 10-degree increase, which can put additional wear on the tire itself. The increased pressure can cause rubbing and unwanted friction, leading to a flat tire or, worse, a blowout.  
Not only that, but the heat from the road also begins to break down the synthetic and natural rubber compound in your tire. The road's heat and friction can dry out the tire, causing it to become brittle and can often even lead to dry rot. Once dry rot sets in, a dangerous and costly blowout becomes imminent. And come the fall, those issues that sprang up during the summer could only worsen.
Worn Brakes
Most people find themselves out and about more often during the summer. But with summer driving also comes more braking, so it's a good idea to have your brakes looked at before AND after those summertime adventures. And even though manufacturers design brake systems to withstand the heat of the friction caused by stopping, adding long driving distances and warmer temperatures can wear down brake pads and warp rotors faster than other times of the year. Plus, combined with the increased rain, sleet and snow of the fall, worn brakes could increase the risk of an accident. 
Internal Battery Corrosion
Both hot and cold temperatures impact the longevity and the health of your car's battery. However, the heat is the culprit of the most damage. Batteries optimally operate at 80 degrees Fahrenheit, so internal battery corrosion can occur when it gets too hot. Not only that, but the heat can evaporate battery fluids, which can also cause damage and shorten the battery's lifespan. And come the fall, a battery low on fluid or with too much corrosion will have a harder time operating, especially during the colder temperatures. 
Reduced Fluid Levels
Another way the summer sun can impact your car's health is by drying up the fluids it needs to function. For example, the sun can heat the engine bay, causing the thermostat to open more frequently, inevitably using more coolant, which is necessary for your car's engine to avoid overheating. In addition, if you put extra miles on your vehicle during the summer, you're more likely to hit the 3,000-mile mark faster and need to replace your engine oil. 
Fall Car Maintenance Tips
Keeping up with your car's recommended maintenance schedule (which you can find in your owner's manual) can improve your safety and keep your investment running smoothly. But, while there are regular monthly tasks you should do, such as checking tire pressure and hoses, getting a car wash and filling up the tank with gas, other essential tasks should be done every six months—in spring and fall. 
And as summer can wreak havoc on your vehicle, performing routine fall car maintenance is crucial to avoid issues and repairs while also keeping yourself safe as the months get cooler. 
Check Tire Pressure, Tread & Wheel Alignment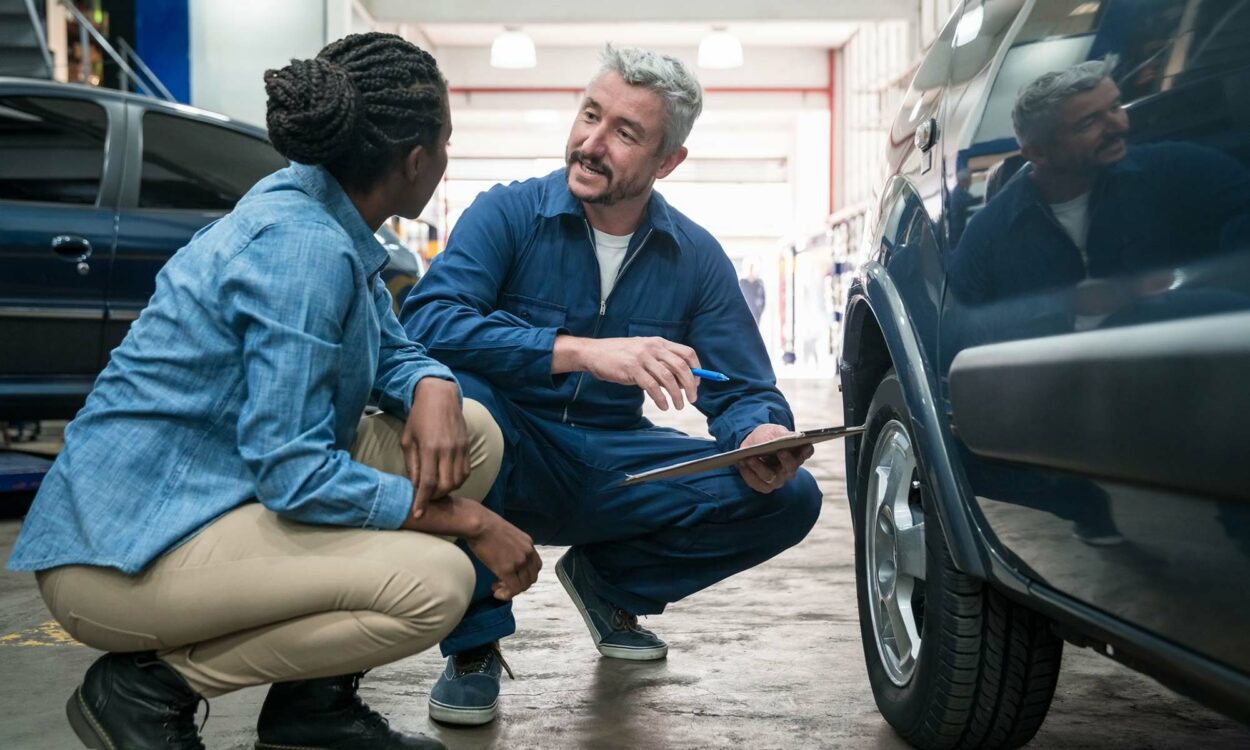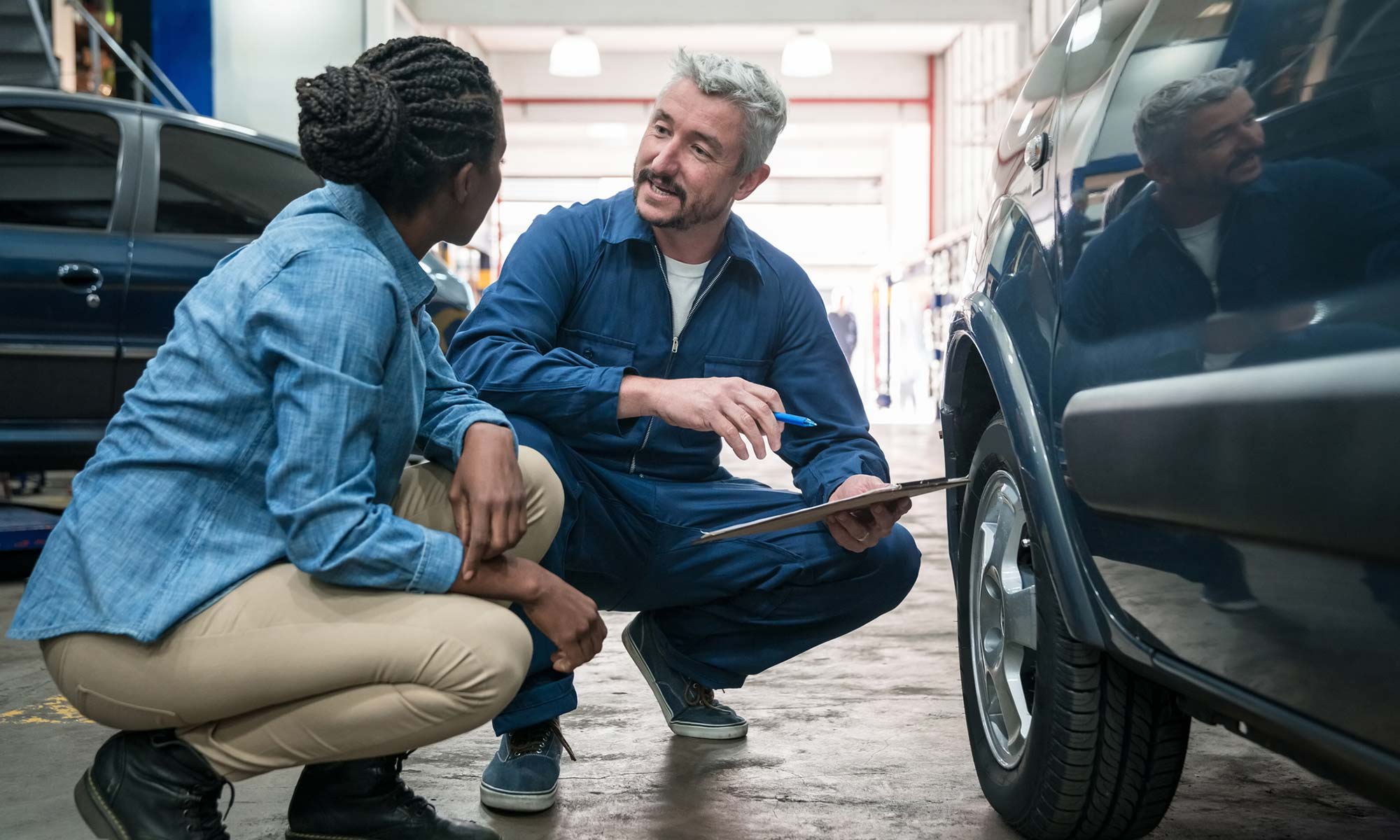 The summer heat can significantly impact your car's tires, which can only lead to an increased chance of a flat or a blowout during the fall if not taken care of. Plus, like the summer, the colder weather of fall can also impact your car's tire pressure, causing a 1-2 PSI decrease for every 10-degree drop in temperature. So even if your tires made it unscathed during the summer, not checking your pressure when the temperature drop could leave you with underinflated tires. 
Plus, as the leaves begin to fall, they can start collecting moisture, hide potholes, and even clog drains, all of which increase the possibility of hydroplaning when faced with the rain, sleet and snow that the fall and early winter can bring. Be sure to replace any tires with worn-out tread, as well as rotate your tires and check their alignment before winter arrives.
Check Brake Pads & Rotors
Brakes are more critical than ever as the weather turns from sunshine and clearer skies to that of a winter wonderland. And although you should check your brakes all year long, wet and icy road conditions require your brakes and rotors to work at their best, so getting them checked out before the fall is a great idea to help ensure your safety while driving and the safety of those around you.
Check Battery Performance
Getting stranded due to a dead battery can be dangerous in cold weather, so watch for some warning signs that your battery may be reaching the end of its life. This can include seeing dim headlights, difficulty cranking and backfiring. Although charging it can be a quick fix, the last thing you want is to be stuck out in the cold. So consider replacing your battery before the cold sets in. 
Check Fluids
Summer puts extra strain on your vehicle's systems, which can cause higher than normal usage. Even just the excess heat could cause some essential vehicle fluids to evaporate quicker than expected, so it's important to check that you have the recommended levels for your vehicle, including (but not limited to):
Engine oil

Transmission fluid

Power steering

fluid

Brake fluid

Coolant

Windshield washer fluid
Check Lights
Along with cooler temperatures, the fall also brings about shorter days, less sunlight, and an increased chance of fog and snow. All these make your car's lighting system much more necessary because it allows you to see your surroundings, and other drivers can see you. So check your headlights, brake lights, turn signals, hazard lights, and fog lights this fall before the season's first snowfall.
Replace Wiper Blades
Like other parts of your vehicle, the rubber of your windshield wiper blades can become worn and brittle during the summer heat. And as windshield wiper blades keep your windshield free from rain and debris, ensuring they can give you a clear line of sight while driving is imperative, which is why the fall is a great time to replace any worn or cracked windshield wiper blades.
Verify Your Vehicle Coverage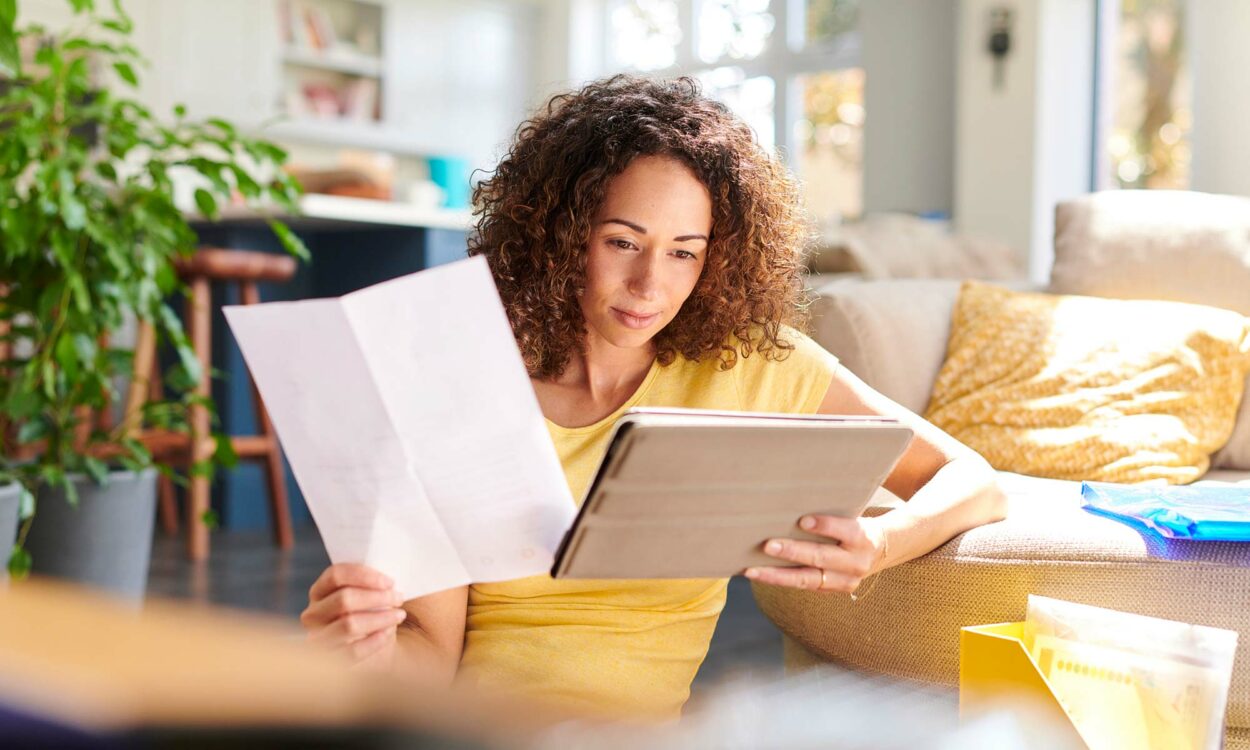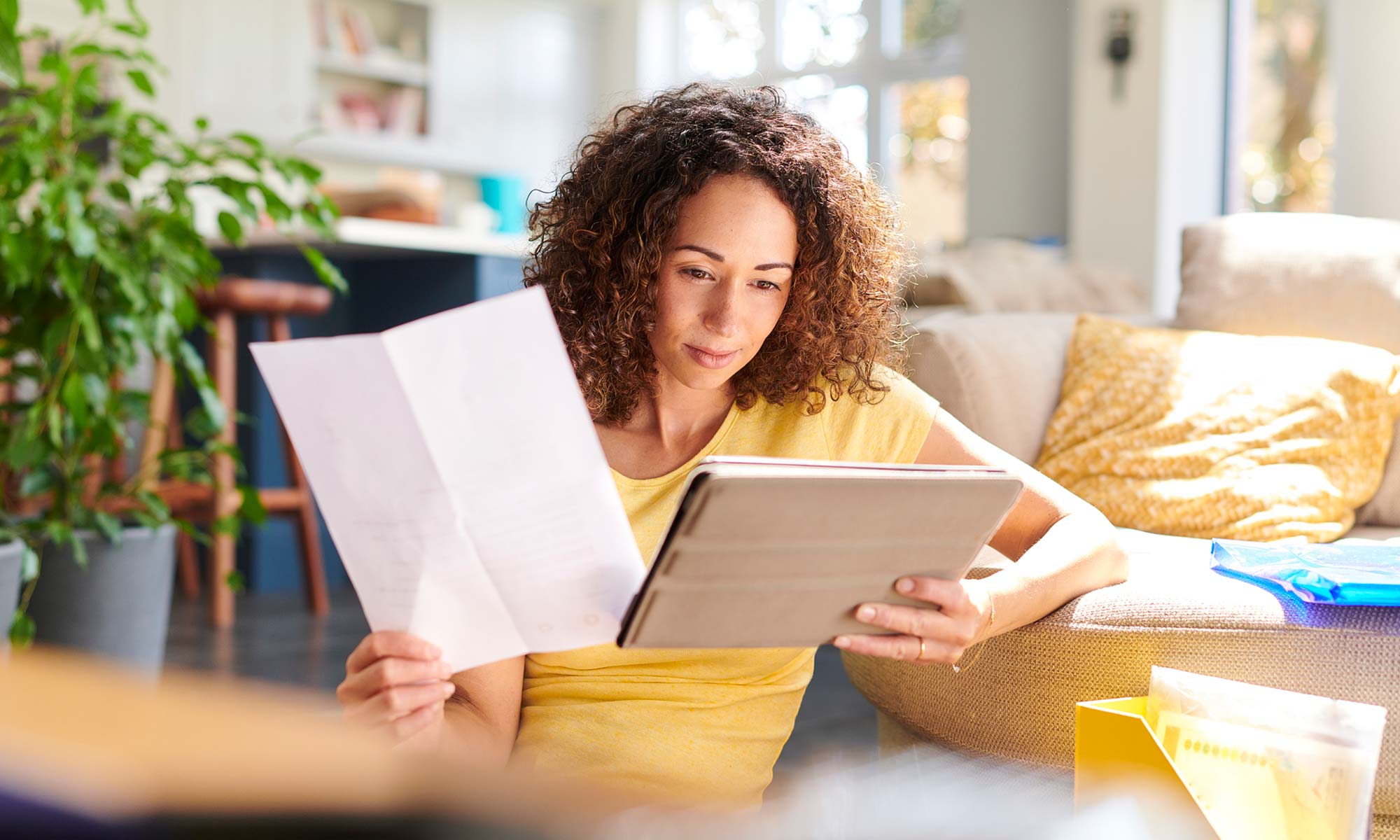 The best time to prepare for an emergency is before one happens; the same goes for your vehicle. That's why having the coverage you need in an emergency can help protect you and your vehicle before disaster strikes. Having everything in order can significantly lessen a stressful situation, such as an accident or a breakdown, as icy roads and distracted end-of-the-year traffic are prime conditions for anything to happen. That's why it's crucial to verify your insurance is up-to-date and that you have a copy in the vehicle in case of an emergency. 
However, while every driver needs insurance, it often only covers you in the event of an accident, theft or weather damage. For example, most insurance companies will not pay the bill if your water pump breaks, your cooling system goes out, or your brake system fails from regular wear and tear use. Instead, if you have a new car, you may be able to rely on an existing factory warranty to help cover the cost of those kinds of unexpected breakdowns and repairs. But, as factory warranties only last for so long and most automakers limit you to purchasing extended coverage while the original warranty is still active, those with older, used cars would need help from a third-party warranty provider. 
Like a car's factory or extended warranty, vehicle protection plans from third-party providers (also known as a vehicle service contract) like Endurance can give you the same kind of comprehensive coverage to protect you from unexpected and costly repairs. Some plans, like the Advantage protection plan from Endurance, can even help you save up to $3,500 toward your car's routine maintenance needs, including tire rotations, alignment checks, PSI checks, engine diagnostic exams and more. Plus, you'll even be able to enjoy some one-time only services like a battery replacement, cooling system maintenance and a front or rear wiper blade set replacement for even more coverage and savings. 
Protect Your Car Year-Round with Endurance
As the seasons change from summer to fall, ensuring your vehicle is ready for all of the common (or uncommon) issues, it can face this time of year is vital. But while regular maintenance can help prevent some issues, it won't be able to prevent everything. That's why, for true peace of mind this fall or any time of the year, having the peace of mind of an Endurance auto protection plan can help.
Like a car's original factory warranty, each Endurance protection plan is designed to protect your vehicle's vital components, including the engine, transmission and more. But unlike coverage from an automaker, you can customize your Endurance coverage to ensure you're getting the protection you need without breaking your budget. So whether you're looking for near factory-like coverage with the Supreme plan, or basic powertrain protection starting at just $79 per month, Endurance has a plan for you. Plus, because we know how important it is to stay up to date on car maintenance, we even have the Advantage protection plan that can help give you breakdown protection while saving on routine maintenance services, including oil changes, alignment checks and more. 
Plus, regardless of your plan, you'll be able to take your car to any certified repair shop, including the dealership. You'll also receive complimentary 24/7 roadside assistance, towing, trip interruption coverage, and rental car reimbursements. And as a bonus, you'll also be automatically eligible for an entire year's worth of Endurance Elite Benefits, including extra perks and savings like tire replacements or repairs, collision discounts and more. 
Protect yourself from unexpected costly auto repairs and request a free, no-obligation quote today. Or, to learn more about how Endurance can help you, call a member of the Endurance customer care team at (800) 253-8203. In addition, by visiting the Endurance blog, you can find more informative articles on topics like DIY maintenance tips, expert auto care how-tos, vehicle buying guides and more.
More like this
Expert Auto Tips

With most states around the country getting colder, it's worth reminding yourself how to prepare your vehicle for the different seasons. Weather conditions play a major role in how a..

Read More

Expert Auto Tips

Being a car owner can be an incredibly rewarding experience, especially if you take pride in your vehicle's condition and performance. Cars that are well taken care of will generally..

Read More

Expert Auto Tips

No matter what kind of vehicle you own, staying on top of its care and maintenance should always be a top priority. Cars that are well taken care of and..

Read More