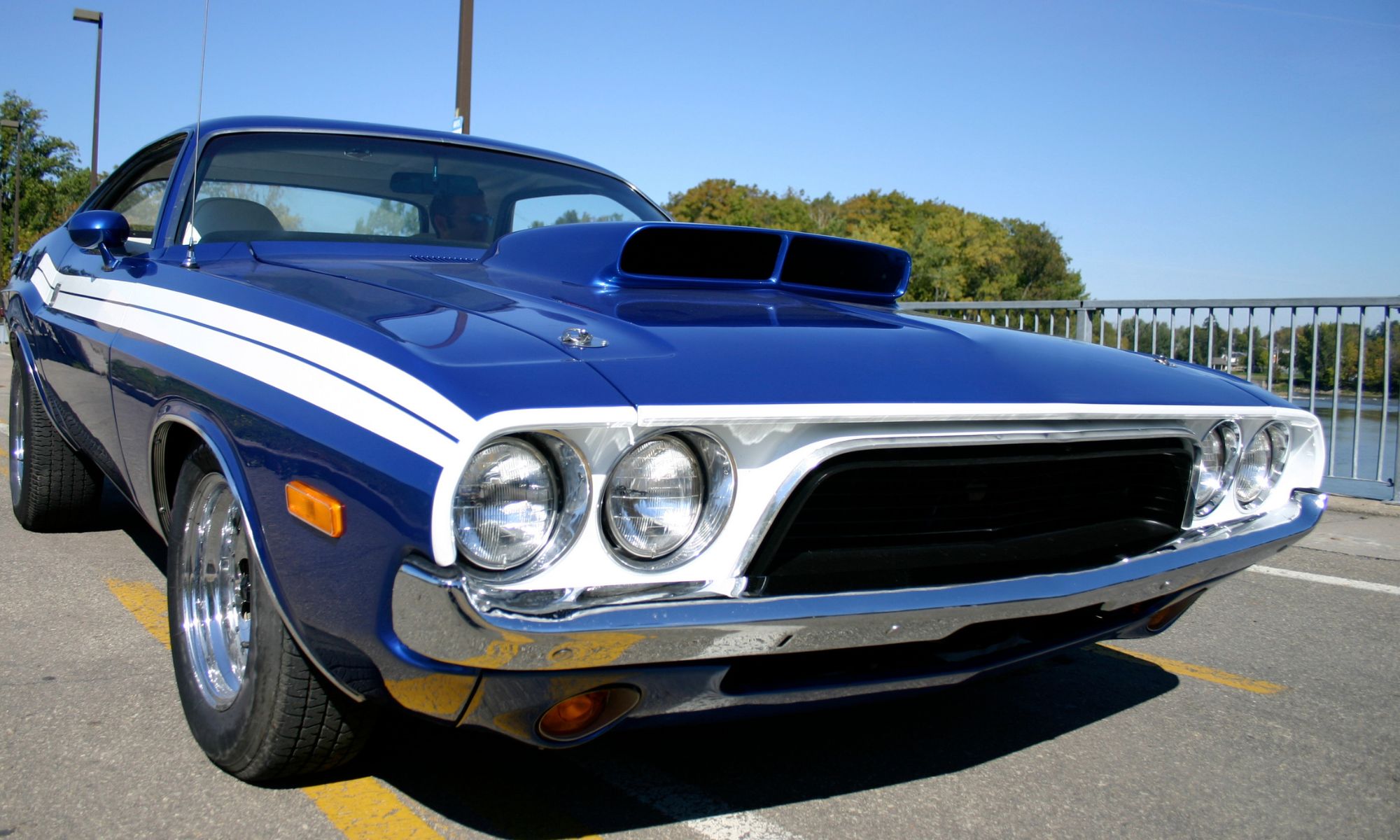 Charger and Challenger are memorable names that date back to Dodge's muscle car lineup from the 1960s and 1970s. And modern editions bring together bold styling and sophisticated powerplants. But, often, technology comes at a price, and the Dodge Charger and Challenger are no exception. That's where recalls come in, to correct things when engineering and manufacturing go wrong.
Recalls are a fact of life for the auto industry and its customers. To put that into perspective, more than 22 million automobiles in the U.S. underwent a recall in 2019, followed by another 21 million vehicles needing similar attention a year later. But arguably, one of the most significant and infamous recalls involved the 67 million vehicles that used Takata airbags. Hundreds of thousands of 2006-2010 Dodge Chargers and 2008-2010 Challengers were among them.
Let's explore what the Takata airbag recall means for owners of these Dodges (or those thinking about buying one).
About Dodge Chargers and Challengers
Dodge introduced the Charger in 1966 as horsepower mania swept through Detroit. While the first generation borrowed heavily from the sedate Dodge Coronet, the coke-bottle styling of the second-generation Charger still turns heads. It is among the most recognizable vehicles from the 1960s.
The Charger name would continue into the 1970s, including as a boat-ish personal luxury coupe for the fourth generation (1975-1978). Dodge brought the Charger back for a run in the 1980s as a Shelby performance version of its Omni economy car. Once again, in 2006, the Charger was resurrected, but this time as a stylish four-door sedan, which is still available in 2023.
Sharing underpinnings with the Plymouth Barracuda, the Dodge Challenger appeared in 1970 as another muscle car coupe in the automaker's lineup. But, the onset of stringent emissions regulations and the first energy crisis spelled the death of the Challenger after 1974. Dodge used the name on a rebadged Mitsubishi from 1977 to 1983, but that was more of a marketing effort.
Seeking to take on the Ford Mustang and soon-to-be reborn Chevrolet Camaro, Dodge introduced an all-new Challenger in 2008. Its coupe profile and a Hemi V8 under the hood paid homage to the original Challenger. This car and the Charger helped re-establish the brand's performance credentials.
However, with the rise of electric vehicles, Dodge is sunsetting the Charger and Challenger after the 2023 model year. Mopar fans may soon be able to get behind the wheel of a gasless Charger as the brand has teased the all-electric Dodge Charger Daytona SRT concept at recent industry events. The swoopy coupe looks every bit like a Dodge, and an 800-volt propulsion system and an artificial exhaust sound promise not to leave V8 enthusiasts disappointed.
Takata Airbag Recall: Dodge and Other Chrysler Vehicles
The Takata airbag troubles began with a May 2015 recall warning of the driver-side airbag inflators exploding due to moisture intrusion into the system. The recall was later expanded to the front passenger airbag. Additionally, the recall initially covered cars in southern states but has grown to northern areas.
Vehicle occupants risk severe and fatal injuries due to the shrapnel that can erupt from an exploding airbag. Overall, more than 4.5 million Dodge, Jeep, and Chrysler vehicles were impacted.
Although not all vehicles from these years and models are subject to a recall related to the Takata airbags, vehicle owners should visit the National Highway Traffic Safety Administration (NHTSA) website (you can search by VIN, vehicle identification number) or contact an authorized dealership to confirm if their cars are affected.
2005-2010 Chrysler 300, 300C, 300S, and SRT8
2007-2009 Chrysler Aspen
2008-2010 Dodge Challenger
2006-2010 Dodge Charger
2005-2011 Dodge Dakota
2004-2009 Dodge Durango
2005-2008 Dodge Magnum
2004-2008 Dodge Ram 1500
2005-2009 Dodge Ram 2500
2006-2009 Dodge Ram 3500
2008-2010 Dodge Ram 4500 and 5500
2007-2009 Jeep Wrangler
2006-2009 Mitsubishi Raider
Additionally, subsequent recalls may involve more Chrysler, Dodge, and Jeep vehicles from other model years. Recall repairs are always performed for free by an authorized dealer.
Other Important Dodge Charger and Challenger Recalls
While defective airbag problems make up the bulk of the 2006-2010 Dodge Charger and 2008-2010 Dodge Challenger recalls, other critical recalls from the same model years exist. Here are a few examples, according to NHTSA: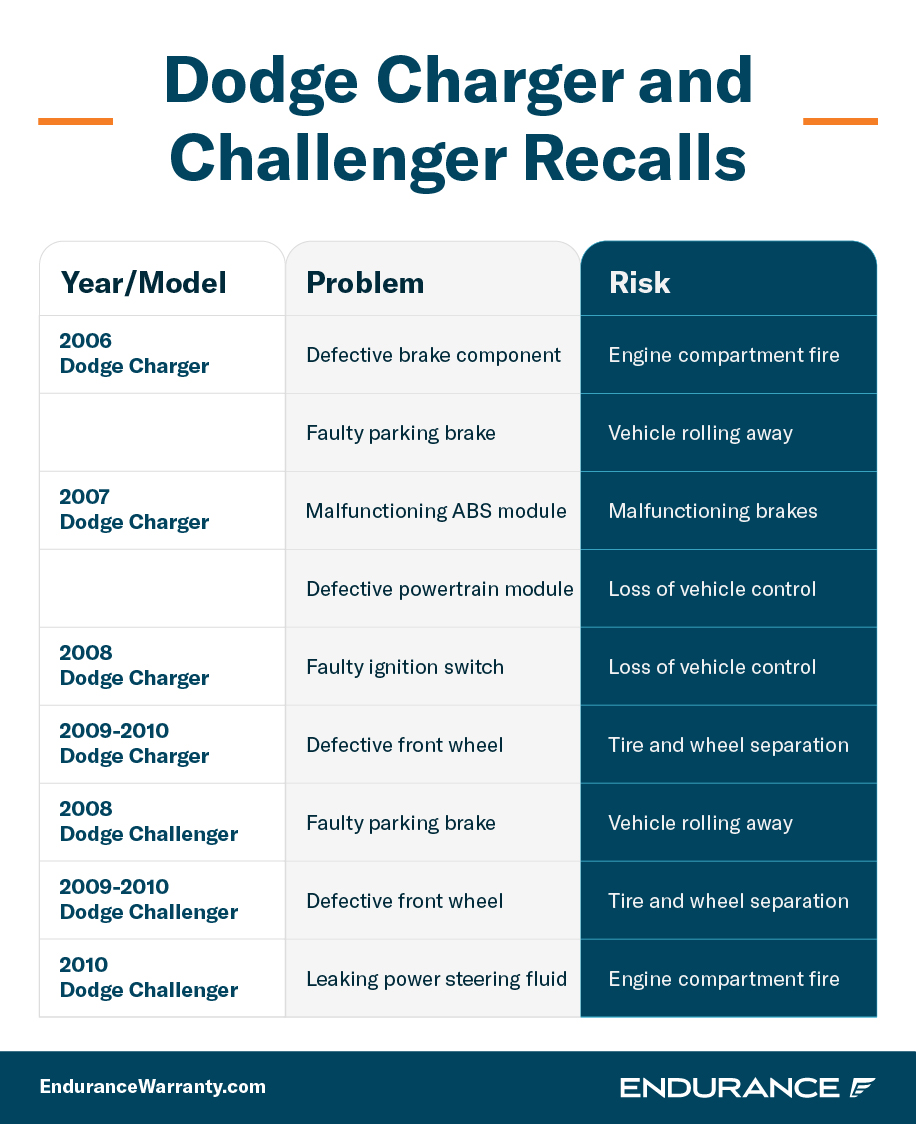 Should You Stop Driving Your Older Dodge Charger and Challenger?
Based on the November 2022 advisory issued by Fiat Chrysler Automobiles (FCA US)—now part of Stellantis – about 276,000 of the company's cars have not had repairs relating to the faulty Takata airbags. This involves:
2006-2010 Dodge Charger
2008-2010 Dodge Challenger
2005-2008 Dodge Magnum
2005-2010 Chrysler 300
FCA's statement included a strongly worded "Do Not Drive" recommendation if you own one of these vehicles without airbag recall repairs. There have been several recent fatalities due to ignoring the exploding Takata airbags.
So, if there's an older Dodge Charger, Challenger, Magnum, or Chrysler Magnum in your driveway, head to NHTSA's recall look-up tool to confirm if the Takata airbags have been replaced. If the original airbags are still present, DO NOT DRIVE THE CAR. Contact a local authorized Dodge/Chrysler dealer to arrange a free repair.
Confidence for Owners of Older Dodge and Chrysler Vehicles
There's more to worry about than recalls if you drive a car without factory warranty protection. Thoughts of breakdowns and expensive repairs are a fact of life, but an Endurance extended warranty makes it easier to own an older car. These vehicle protection plans offer a range of coverage choices, including plans starting at just $79 per month. Other options provide safeguards similar to a new car warranty or plans with up to $3,500 in maintenance services.
Every Endurance customer enjoys peace of mind from 24/7 roadside assistance, trip interruption protection, and rental car support. Plus, you can choose from any ASE Certified mechanic for repairs. Other standard features include flexible payment terms and a 30-day money-back guarantee.
One year of free Elite Benefits is another Endurance perk. Just pay a small activation fee for access to up to $2,000 in valuable services like tire repairs and replacements, key fob replacement, and more.
Learn all the extras that come with every Endurance protection plan by calling (800) 253-8203 or shop online today. Explore the Endurance blog for helpful advice about DIY car care, vehicle maintenance, car reviews, and more.
More like this
News

As we transition away from combustion engines, electric vehicles (EVs) continue to dominate the automotive conversation. The latest development involves Honda's joint venture with General Motors to co-produce affordable electric..

Read More

News

There are a number of important components that allow your vehicle to operate, and each individual piece serves a purpose. Given the intricacies of these pieces, the value is naturally..

Read More

News

For decades, used cars have been the go-to solution for budget-conscious buyers. American shoppers could readily find quality second-hand vehicles for under the average price of $20,000 at most dealerships...

Read More