No matter where you're going or what you're doing, being able to hop in your car and head out is a major convenience. But while you can easily hop in the car and go whenever you want, the last thing anybody wants is for their car to break down while out on the road. And whether a major or minor repair is needed, the hassle of taking your vehicle into a shop to be fixed can be a headache. However, what can be a larger headache is if you never hear updates from the mechanic and weeks go by without your car.
The question of how long a repair shop or dealership can keep your car for repairs is an important one. Believe it or not, there are actually legal regulations in place that protect your right to get your vehicle fixed promptly. 
How Long Can an Auto Repair Shop Keep My Car?
There is no set answer to how long a repair shop can keep your car, as it depends on its location. 
Suppose the repair shop is owned by a car dealership and is physically located inside the dealership itself. In that case, they are only allowed to keep the car for a maximum of 30 days if the vehicle is still under warranty. While this is the limit, some repairs can be so extensive that they may take longer, even though they aren't supposed to. This is why staying in contact with the dealership is important to understand any cause for a delay. 
For standalone repair shops, there is no defined limit to the number of days they can keep your vehicle for repairs. With that said, they are still required to complete repairs in an efficient amount of time for that specific repair and must ask for your consent to perform additional repairs. And while there is no defined amount of time to keep your vehicle, standalone repair shops are required to follow four main principles:
Repair shops

are required to keep customers informed at every new stage of the repair process.

Repair shops

are only allowed to complete repairs that have been authorized by the customer.

Unauthorized repairs

are well within your grounds to dispute. 

A written record of all parts and services used during the repair process must be kept.

A

written estimate

of costs and final invoices must be provided to customers.
While the above principles don't define how long the repair shop can keep your car, the information a customer gets from them allows a person the ability to inquire if a repair shop is taking too long. Should this occur, you may have a "Lemon" vehicle on your hands, meaning that you have a vehicle with a significant enough defect or manufacturing error that results in repairs that can't be completed in a reasonable amount of time. If you have a vehicle deemed a "Lemon," there are some legal actions you could pursue.
What Happens if My Mechanic Keeps My Car Past 30 Days?
If a dealership or repair shop keeps your vehicle for an unusual amount of time with no explanation for the delay, there is legal action you can consider taking. Most vehicles have a turnaround repair time of only 12 days before you can pick them up, so anything longer may be a cause for questioning regarding a motor vehicle repair. 
If your car has not been returned from the repair shop, auto body shop or dealership, you may have a Lemon Law case on your hands, which can help you receive compensation for faulty or defective products on your hands. Before looking into taking legal action, it's essential to gather all necessary information. Be sure you have access to all your vehicle's essential documents, a history of repairs, a sales contract, and more. 
After gathering all of the required documents, the steps any person can take are as follows:
Contact a

Lemon Law

attorney and inform them that your

dealership

or

repair shop

has not returned your car and is not providing information.

An attorney will then review the details of your case and determine if they would like to take you on as a client.

The attorney, should they take you on as a client, will either send a demand letter to the manufacturer stating that your vehicle entitles you to compensation if the

dealership

cannot fix the vehicle in time, or they will file a suit directly with the court.

A manufacturer may agree to settle the suit without going to

small claims court,

and funds can be expected within 30-60 days, or the case will go to court.
To be clear, a Lemon vehicle has so many issues after manufacturing that it cannot be repaired or fixed reasonably or cost-effectively. If your dealership or car repair shop is holding your vehicle for an extended length of time for reasons besides an inability to fix the vehicle, your best course of action would be to reach out to them and inform them that you will take legal action or contact the authorities to get your vehicle back.
Ultimately, how long a shop can keep your vehicle will depend on a few factors. Ultimately, though, vehicles held past a reasonable timeframe may be considered a Lemon, which you could then take legal action to receive compensation. But, if your car is in the shop due to regular old breakdowns and other issues, the best way to protect yourself is with an extended warranty, like the plans provided by Endurance Auto Warranty. 
How Can an Extended Warranty Help with Repairs?
Extended warranties, also known as vehicle service contracts when coming from third-party providers like Endurance, protect you as a car owner from the cost of unexpected repair work and breakdowns that an average car insurance company won't include in their plans. But while third-party providers can offer you coverage for your vehicle, they aren't all built the same. That's why if you want industry-leading coverage, award-winning service and complete peace of mind, Endurance is your best choice.
Whether you have a newer vehicle just past its factory coverage or an older, high-mileage used car, Endurance has a plan for you. You can even find coverage to help fit your specific needs and budget, as Endurance plans are customizable to give you the protection you need without breaking the bank. For example, you can get basic powertrain coverage for just $79 per month with the Secure plan or near-factory-like coverage with a small list of exclusions with the comprehensive Supreme plan. Even select, high-end luxury vehicles that most other providers avoid can get coverage with Endurance and the Highline protection plan.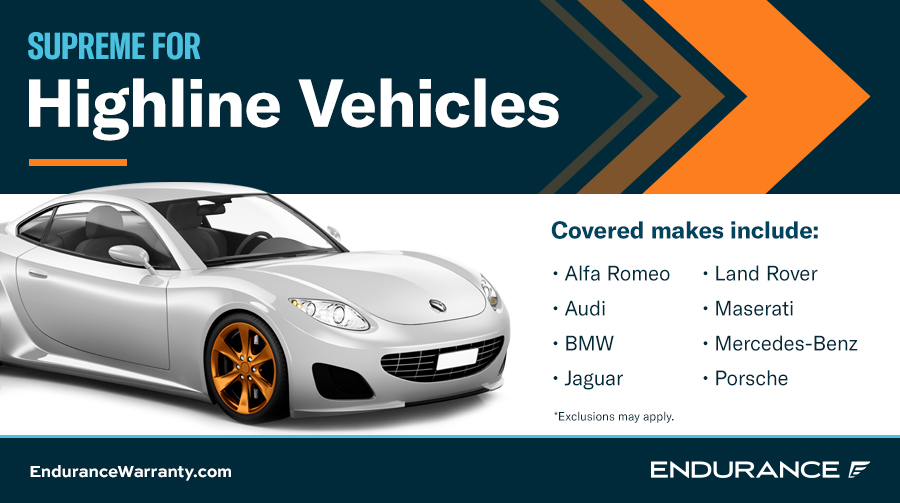 There is even the industry-leading Advantage plan, which includes breakdown protection with up to $3,500 in yearly maintenance services, including oil changes (and filter changes), alignment checks, engine diagnostic exams, tire rotations and more. You'll even have access to several one-time-only services such as a windshield wiper blade replacement, cooling system maintenance and more. And no matter the plan you choose, you'll automatically be able to enjoy complimentary 24/7 roadside assistance and towing, trip interruption coverage and rental car reimbursements, as well as being eligible for a full year of Endurance Elite Benefits for even more perks and savings.
Plus, unlike plans from automakers and other providers, an added benefit of Endurance is that no matter the plan you have, you can take your vehicle to any ASE Certified mechanic or certified car repair facility. We're even a direct provider of most of our plans, meaning unlike other providers, we'll be able to work with you every step of the way through your claims process and repairs. It also means that you don't have to worry should you ever want to sell your car with your coverage still active because our plans are transferable, so you can use your award-winning Endurance coverage to help upsell your vehicle to any potential new owner.
Keep Your Vehicle Protected with Endurance
With a 30-day time limit on dealerships and plenty of regulations ensuring you know where your car is at a repair shop, the repair process should hopefully go smoothly. However, when it comes to repairs, the costs associated can cause a bigger headache than anything else, especially if you have an older, used car to deal with. Even minor fender benders can result in high repair costs if a mechanic needs to dig underneath the hood to get to the part affected. 
But when it comes to unexpected breakdowns and other issues with your car's vital components, an Endurace auto protection plan can help. That's because, like a car's factory warranty, each Endurance plan is designed to protect your vehicle from the cost of covered repairs due to unexpected breakdowns and wear and tear. Some plans can even help you with your car's maintenance needs. 
Plus, regardless of the plan you have, you'll automatically be able to enjoy complimentary services like 24/7 roadside assistance, trip interruption coverage and even rental car reimbursements. And additionally, no matter your plan, you'll automatically be eligible for an entire year's worth of Endurance Elite Benefits that provide extra perks and benefits like tire replacements or repairs, collision discounts and more.
Request a free quote today or call us at (800) 253-8203 to speak with a customer service representative and learn how Endurance can help you. You can also learn more about your vehicle and discover other great articles on topics like extended warranty FAQs, new car buying guides, DIY maintenance tips and more by visiting the Endurance blog.
More like this
Expert Auto Tips

With most states around the country getting colder, it's worth reminding yourself how to prepare your vehicle for the different seasons. Weather conditions play a major role in how a..

Read More

Expert Auto Tips

Being a car owner can be an incredibly rewarding experience, especially if you take pride in your vehicle's condition and performance. Cars that are well taken care of will generally..

Read More

Expert Auto Tips

No matter what kind of vehicle you own, staying on top of its care and maintenance should always be a top priority. Cars that are well taken care of and..

Read More