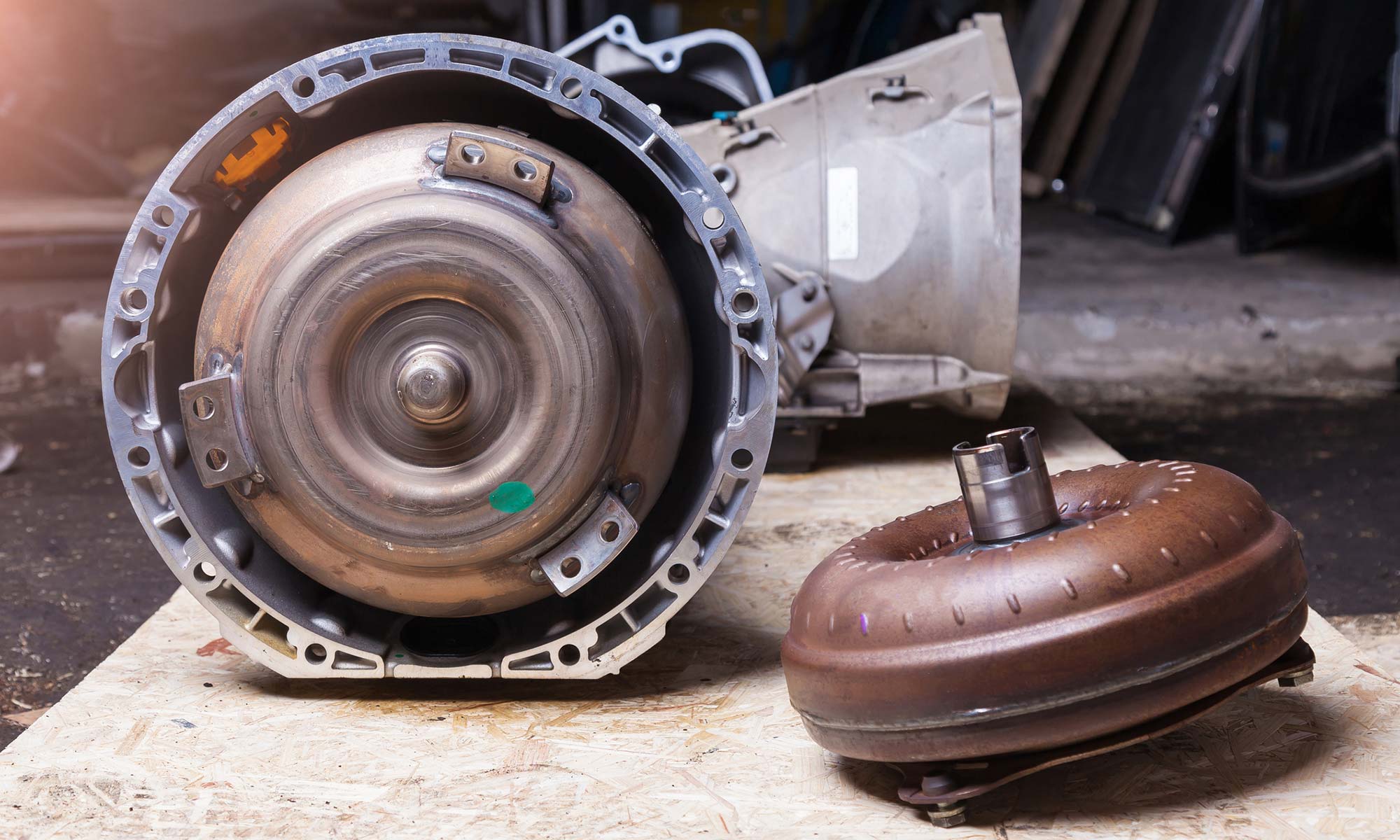 From catalytic converters to head gaskets, differentials, crankshafts, and more, plenty of components under the hood help keep your used car or brand new vehicle running. And as vehicles evolve and new technologies emerge, some components that were once vital in all vehicles can become all but obsolete. One such example of this kind of innovation is the torque converter. 
For those who drive vehicles with an automatic transmission, the torque converter is one of the most important parts you can find in your vehicle, so it's important to learn more about this critical component and whether or not it's covered under your extended warranty.
What Are Torque Converters?
In vehicles with an automatic transmission, torque converters replace the flywheel and clutch assembly found in manual transmissions. This means that you, as the driver, don't need to shift manually. Simply put, the torque converter allows your car, truck or SUV's engine to stay running while keeping your transmission from moving your wheels. 
Overall, torque converters are comprised of three main components:
The torque converter pump is a centrifugal pump, such as how a washing machine in your home operates. This means that when operating, the pump takes transmission fluid that makes its way through your vehicle when the engine is running and directs it towards the turbine. This will then cause the turbine's blades to rotate, and your transmission to spin, resulting in the power needed to move your car forward based on how you press the gas pedal — the harder your press, the faster the transmission spins. You can actually see this somewhat occurring when looking at the RPM reading of your vehicle's dashboard. 
Lastly, the stator, which is just a stationary portion of your torque converter located right in its center, works to redirect the fluid returning from the turbine before it ultimately makes its way back to the pump again. Without the stator, fluid would hit the pump, resulting in wasted engine power.
Common Issues with Torque Converters
As a vehicle's torque converter is vital for helping it move forward or backward, it's vital to keep it working as efficiently as possible. But, just as with any high-use component, even the most well-maintained torque converters can suffer from some issues, such as slipping, which can happen when the vehicle fails to shift gears or 'slips' into a different gear altogether. You can even potentially see this through an increase in RPMs even though you're not accelerating your vehicle.
Some other common torque converter issues that can cause slipping and other problems can include:
Worn Torque Converter Clutch
The torque converter clutch itself forms the bridge between the transmission and engine. Its purpose is to lock the converter turbine to the shell of the converter. This can reduce slipping in the transmission. However, when this part becomes worn over time, you may notice slippage or poor vehicle performance.
Faulty Torque Converter Clutch Solenoid
This tiny valve is responsible for measuring the fluid pressure of your transmission. As a result, if it begins to fail, you could be left seeing issues such as increased gas mileage. You may also experience overheating when dealing with a faulty torque converter clutch solenoid.
Damaged Torque Converter Seals
As you may have guessed by the name, the torque converter seal is what keeps all the transmission fluid within the transmission. If this fluid were to leak, the transmission's rotation would be impacted and potentially lead to slippage, the engine overheating, or other problems. Over time, the torque converter seal can degrade, and fluid can begin to leak out slowly.
Should you notice any of these signs or issues, it's best to take your vehicle in to be diagnosed as soon as possible. Visiting a certified repair facility or ASE Certified mechanic can help ensure you avoid any other potentially expensive repair bills.
How Much Does It Cost to Replace a Torque Converter?
With many potential issues that can arise with the torque converter, it's vital to know how much they may cost. 
On average, you can expect to pay around $600 to $1,200 depending on the repair that needs to be done. Several factors can go into this cost, such as the cost of the converter itself and the labor costs involved with the installation. Even flushing the transmission system can cost another couple hundred dollars.
However, suppose you recently purchased a brand new vehicle from a dealership, whether a Toyota Corolla, a Hyundai Sonata, a Nissan Altima, a Subaru Outback or any other make or model. In that case, you will have the help of some factory warranty coverage. This will sometimes be referred to as a manufacturer's warranty or a new vehicle limited warranty. But regardless of what your automaker calls it, this coverage can take on a few different forms. First, it can be a complete bumper-to-bumper warranty that will cover essentially every component in your vehicle, from the front bumper to the rear bumper. Or, it can be split it various types of coverage, each lasting for a different amount of years or miles driven, such as most basic new-vehicle limited warranties lasting around 3 years/36,000 miles.
One of the major types of factory coverage is powertrain coverage, which typically lasts for 5 years/60,000 miles, though this can vary by the automaker. However, powertrain coverage will include your engine, transmission, and drivetrain parts, such as the transfer case, driveshaft, and differential. Your torque converter will also be covered under this type of warranty coverage. 
But while factory coverage is invaluable, if you've owned your vehicle for some time already or have purchased a used vehicle, you may not have the benefit of the vehicle's original coverage. That means you'd be left paying for any repair bills not covered by your average auto insurance policy. And considering insurance will usually only cover repairs caused by accidents or severe weather, you'd still be left paying out-of-pocket for any unexpected breakdowns and expensive repairs you may face — unless you have extended warranty coverage. But while helpful, before purchasing any extended warranty coverage, it's first important to understand if they will help cover torque converters. 
Are Torque Converters Covered in an Extended Warranty?
When your vehicle's original factory warranty coverage expires, you have a few options to help cover yourself and your vehicle from expensive repairs, including those involving your torque converter. First, you can find extended factory coverage through your automaker, also known as an "extended warranty." You can also find coverage from third-party providers in the form of vehicle service contracts (VSCs), though you may also hear these often referred to as extended warranties. However, only the automaker can truly extend your factory warranty coverage. 
But, while not truly an extension of your initial coverage, these types of protection plans, such as those provided by Endurance, can provide much of the same types of coverage as your factory warranty, including covering your powertrain. You can also find many of the same services and extra benefits of your factory warranty when using a third-party provider, such as having 24/7 roadside assistance and towing. Some third-party providers can also give you other perks and savings not found in many typical factory warranties.
For example, with an Endurance protection plan, you can have comprehensive breakdown protection for your vehicle's vital systems, including your engine, suspension, transmission and more, similar to what you can find in a factory warranty. With the Advantage auto protection plan, you can even save up to $3,500 on your vehicle's essential maintenance needs, including engine diagnostic exams, state safety inspection services, tire rotations, and more. Not only that, but each Advantage plan also comes with several special, one-time services, including a brake pad/shoe replacement, cooling system maintenance and a battery replacement for even more coverage and savings. Owners of select luxury vehicles from popular automakers like Land Rover, Jaguar, Audi, Porsche, Mercedes-Benz and more can also find coverage with the comprehensive Highline protection plan. 
You can get even more peace of mind knowing that you'll have 24/7 roadside assistance and towing, trip interruption coverage and rental car reimbursements for free, regardless of your chosen plan. You'll also have a 30-day money-back guarantee to help ensure you have the right plan for yourself and your vehicle. New and existing Endurance customers will also automatically be eligible for a full year of Elite Benefits whenever they purchase any Endurance plan. These benefits will include up to two tire replacements or repairs, collision discounts, key fob replacements and more and can be available for just a small activation fee. 
Protect Your Vehicle's Powertrain with Endurance
A faulty or failing torque converter can be caused by several factors, even if you've been staying up-to-date on your vehicle's essential maintenance needs. But, while even the most well-maintained vehicles can experience a breakdown or repair now and then, it doesn't have to break the bank. 
With an Endurance auto protection plan like Advantage, you can rest easy knowing you'll have comprehensive breakdown coverage while also saving up to $3,500 in regular maintenance services. That includes vital services such as up to three oil and filter changes, tire rotations, engine diagnostic exams and more, including several special, one-time services and savings to help keep your vehicle running for longer. Each Endurance plan also comes with 24/7 roadside assistance and towing, trip interruption coverage and rental car reimbursements to help give you even more peace of mind. 
Not only that, but for just a small activation fee, Endurance customers can also receive access to a full year of Elite Benefits, including additional perks such as collision discounts, key fob replacements, up to two tire replacements or repairs and even up to $1,000 in total loss protection. 
To learn more about how Endurance can help protect your vehicle, give our award-winning customer care team a call at (800) 253-8203 or get started by requesting a free quote today. You can also find even more answers to various extended warranty FAQs or discover other great articles on topics such as vehicle buying guides, DIY maintenance how-tos, expert auto tips and more by visiting the Endurance blog.
More like this
Extended Warranty

The advantages of having an extended warranty can't be overstated when a surprise car repair pops up. Coverage can make a difference during a breakdown, thanks to protection against expensive..

Read More

Extended Warranty

Nothing beats being able to hit the open road and head wherever you like, whenever you like. Plenty of drivers fall in love with our vehicles, maintaining them with total..

Read More

Extended Warranty

There's a lot to get excited about buying a new or used car, but one feature that often gets overlooked is the manufacturer's warranty. Understanding this coverage helps owners maximize..

Read More