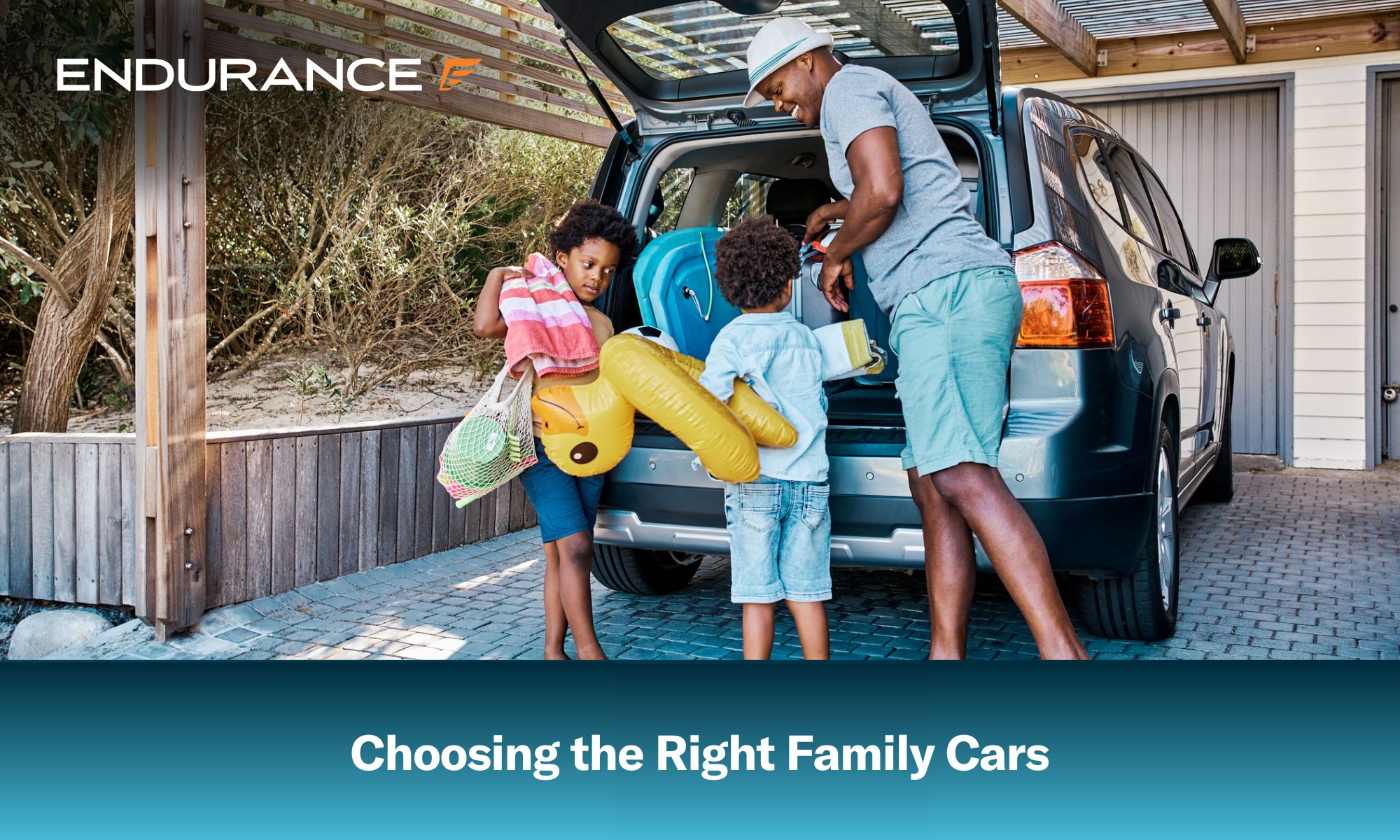 While reliability is always a factor when choosing a vehicle, many more considerations are involved when kids are in the picture. Safety, space, and comfort must also be part of the equation. With this in mind, we'll dive into what families need to prioritize when evaluating what's next for the driveway.
In addition to exploring crash testing, passenger and cargo accommodations, and convenience factors, we've included a list of the best family cars.
Importance of Safety Features
Safeguarding their offspring is every parent's top priority, and sadly automobile accidents are a leading cause of death among children and adolescents, says the New England Journal of Medicine. It's a sobering statistic emphasizing the importance of choosing safe family transportation.
Keeping everyone protected while on the road begins with a rigid steel cage that protects the passenger compartment and crumple zones that absorb crash energy before it reaches the vehicle's occupants. Airbags provide further cushioning during an accident by safeguarding the head and torso.
Meanwhile, anti-lock brakes (ABS) use computer-aided pulsing to prevent the wheels from locking up during emergency braking. This technology minimizes skidding and enhances driver control. A vehicle stability system ties into ABS technology and a network of sensors to prevent a spinout or rollover.
At a minimum, you'll want a vehicle with all these protective features. And with few exceptions, cars from the 21st century incorporate this safety equipment. Some automobiles from the 1990s may have ABS and airbags, but these systems are not as advanced as newer vehicles.
If your budget allows for a new car or one built in the last few years, you need to be aware of next-generation safety technology that's standard or optional in most new or newer family vehicles. Called advanced driver assistance systems (ADAS), these technologies advise drivers of potentially hazardous situations, activate the brakes to prevent or minimize a collision and provide driver support for things like maintaining a proper lane position.
Manufacturers have their own names for these systems (such as Ford CoPilot360 or Honda Sensing), but they all pretty much do the same things. Generic terms for the individual safety features include forward collision warning, automatic emergency braking, blind-spot monitoring, cross-traffic alert, and lane-centering assistance. There are many more, and sometimes car makers use their own terms, which can be confusing.
A coalition of AAA, Consumer Reports, J.D. Power, and other groups have come together to encourage automakers to standardize the names for these technologies. Learning about this effort is worthwhile, especially if you haven't been car shopping in the last five to ten years.
ADAS technologies are arguably the most significant automotive safety advancements since the seat belt and the airbag. If the wallet permits, you want a family vehicle with these features.
Understanding Safety Ratings
According to the National Highway Traffic Safety Administration (NHTSA), an estimated 5.5 million police-report car accidents happened in the U.S. in 2022. That works to a traffic collision every six seconds. So, these incidents still happen despite accident-avoidance technology.
These occurrences reinforce the need for family vehicles with top safety ratings. Two testing organizations in the U.S. rank automobiles for safety performance. NHTSA, part of the U.S. Department of Transportation, provides star ratings (1 to 5) for how a vehicle performs in front and side impacts and rollovers.
The Insurance Institute for Highway Safety (IIHS), funded by a consortium of insurance companies, provides Good, Acceptable, Marginal, or Poor ratings for several tests, including small frontal overlap, side impact, roof strength, and headlight effectiveness. IIHS also assesses ADAS technologies and judges seatbelts and child car seat attachments. The group assigns its Top Safety Pick and Top Safety Pick+ designations to the best-performing vehicles.
Keeping an eye on top safety performers is essential to shopping for the best family transportation. We've included safety testing highlights in our list of top family cars (below).
The Need for Space
While younger children don't need adult-size space in a car, their accompanying gear certainly does. Strollers, car seats, and diaper bags are bulky space hogs. And while older kids don't require the same equipment, they do have their own set of needs. We're talking about abundant legroom and plenty of space to avoid "they're touching me" complaints.
The station wagons of the 20th century have mostly given way to crossovers, SUVs, and minivans. Crossovers are vehicles that combine some SUV traits (boxy styling and a rear door) with car-like driving qualities. The Toyota Highlander and Honda CR-V are two examples.
SUVs use body-on-frame construction (like a pickup truck) to provide extra off-road and towing capability. This often translates into more interior space. A Chevrolet Tahoe is just one of several SUVs on the market.
For some, minivans carry the stigma that a family has sacrificed style for practicality. But others swear by the versatility and spaciousness that can only come from a minivan. It wasn't too long ago that most mainstream automakers offered a minivan, but now there are only four on the market, including the Honda Odyssey and Toyota Sienna.
Passenger Accommodations
Determining adequate passenger space for a family comes down to how many rows of seats you'll need. For most families, two rows are sufficient.  However, some clans need extra room for children, their friends, or extended family. Two-row transportation usually means seating for five.
However, passenger capacity increases significantly with the addition of a third row. Depending on the car and its seating configuration, a three-row vehicle can handle six to nine people (seven to eight is common; some versions of the Chevrolet Tahoe, Chevrolet Suburban, and GMC Yukon can transport up to nine people). However, it's vital to mention that not all third rows are created equal. Some third rows are only suitable for children, while others offer generous accommodations. It's safe to assume that the longer the vehicle, the greater the third-row legroom.
Cargo Space
Figuring out how many seats you need is only part of the recipe for finding the ideal family car. There's also a need to bring along everyone's stuff. Often, this involves trading passenger capability for cargo space.
Most crossovers, SUVs, and minivans offer flexible seating for just such a purpose. Split seatbacks in the second and third rows can be folded to adapt to abundant cargo. And some minivans allow seats to be removed completely. Importantly, always inspect the cargo space for any vehicle under consideration. This is especially important because the area behind the third row can be limited in some cars.
Comfort and Convenience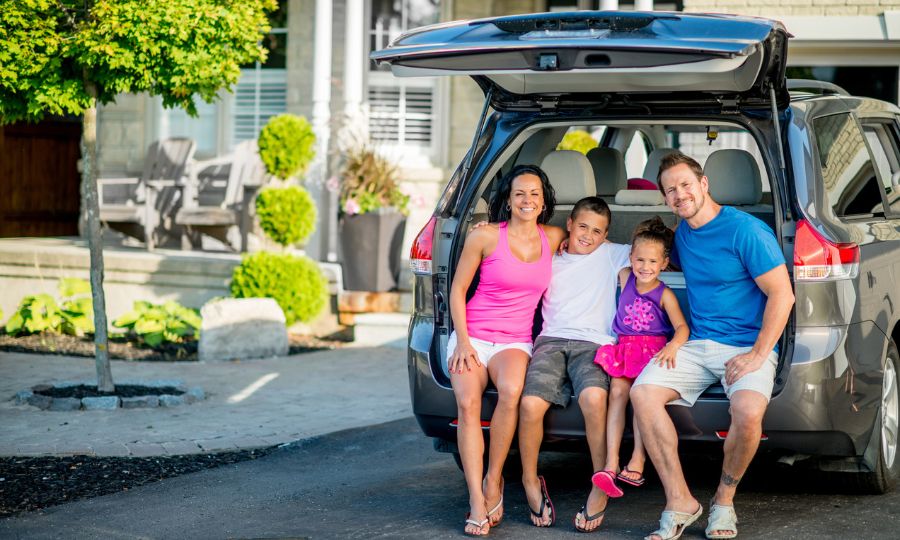 Comfort and convenience features make life easier, whether you're headed to the grocery store or on a week-long road trip. Let's review the equipment that can keep parents and kids happy.
Basic comfort starts with cabin temperature. Base models will have a single-zone climate control system with manual settings, while some vehicles come with dual-zone automatic climate control for the front seats. Explore what's available for keeping the second and third-row passengers comfortable. You may find a tri-zone system or separate climate controls for the rear positions. At a minimum, there should be HVAC vents for the back rows.
Seating is the next on the list. We'll leave the debate about fabric, leatherette, or leather upholstery to the individual, but there are other considerations. Heated seats keep passengers toasty during chilly weather; they're popular for the front seats and available in the second row with some models. Meanwhile, ventilated front seats keep the driver and copilot cool in some family vehicles. Integrated sunshades on the second-row doors can also help regulate the temperature.
A sunroof helps bring light into the cabin, with a standard unit offering extra daylight to the front row, while a panoramic sunroof brings airiness to the back. Depending on the car, rear sunroofs may just provide a fixed glass panel or the ability to open for improved circulation.
Comfort for the whole family is also enhanced by in-car entertainment. It wasn't too long ago that this meant a built-in display screen with a DVD player for the back rows. But, these cumbersome and expensive units have been replaced by personal tablets. The only thing required is USB charging ports in the back rows. Access to a Wi-Fi hotspot doesn't hurt, either.
Cupholders may not be the focus of family vehicle buyers, but it's a big deal for automakers. It's common to find three-row cars with at least a dozen cupholders. For instance, the Subaru Ascent has 19. Of course, these aren't just for holding beverages. Cupholders are excellent cubbies for phones, snacks, and toys.
Let's finish our conversation about amenities with a quick look at clever features with parents in mind. A power liftgate and power-sliding minivan doors come in handy when your arms are full with packages or you have little ones in tow. Remote start makes the cabin comfortable before anyone steps inside. And more and more manufacturers are adding cabin intercom systems, so "Are we there yet?" questions don't have to turn into shouting matches. Even ambient interior lighting can help set the mood.
Operating Costs to Consider
The costs of keeping a family vehicle on the road can be as impactful as the purchase price. These considerations start with fuel economy, with the trade-off for extra space being decent but not stellar gas mileage.  Most three-row family cars deliver 20-25 MPG. The standout is the Toyota Sienna, which only comes as a hybrid (if you're buying new). This minivan is rated for an impressive 36 MPG. We've included fuel economy information with our list of top family cars (below).
But there's more to owning a vehicle than trips to the gas station. Maintenance needs to be accounted for. New car shoppers will appreciate that some brands include scheduled servicing. Honda, Toyota, and Volkswagen come with the first two years of basic maintenance, while Hyundai and Kia stretch this out to three years (these programs have mileage restrictions).
However, you're on your own with second-hand vehicles. This means paying for oil changes, tire rotations, and other basic services. In this scenario, consider the Advantage extended warranty plan from Endurance. It covers up to $3,500 in maintenance services.
Also, remember that every new or used car will eventually require replacement tires and brakes. While shopping, review the maintenance schedules for the respective vehicles under consideration. Checking sites like RepairPal can help identify what vehicles are more reliable, lessening the worry about future repairs.
Review of Top Family Cars
The market for family vehicles is crowded. To simplify shopping, we've highlighted ten of our favorites among the three-row category and included some of the highlights for each model. Although larger SUVs like the Chevy Tahoe and Ford Expedition can be helpful, we've focused on minivans and larger crossovers. These are presented in alphabetical order.
We're starting with a summary chart for easy comparisons. This information is based on the 2023 model year with the base engine. Unless mentioned otherwise, all vehicles have two-wheel-drive configurations (mostly front-wheel drive; the Ford Explorer is rear-wheel drive). The Toyota Sienna is the only hybrid on the list, although the Chrysler Pacifica is available as a plug-in hybrid.
Make/Model
Fuel Economy

(combined MPG)

NHTSA Overall Rating


(out of 5)

IIHS Top Safety Pick

(TSP or TSP+)

Cargo Space


(cubic feet behind third row)

Cargo Space

(cubic feet behind first row)

Passenger Volume


(cubic feet)

Chevrolet Traverse

21

4

n/a

23.0

98.2

157.1

Chrysler Pacifica

22

5

TSP+

32.3

140.5

165.0

Ford Explorer

21

4

TSP

18.2

87.8

152.7

Honda Odyssey

22

5

TSP+

38.6

158.0

163.6

Hyundai Palisade

22

5

TSP+

18.0

86.4

155.3

Kia Carnival

22

not rated

TSP

40.2

145.1

168.2

Mazda CX-9 (AWD)

23

5

TSP

14.4

71.2

135.8

Subaru Ascent (AWD)

22

5

TSP+

17.8

75.6

153.2

Toyota Sienna

36

5

TSP+

33.5

101.0

162.5

Volkswagen Atlas

23

5

n/a

21.0

96.8

155.0
Chevrolet Traverse
The Chevy Traverse serves big families well, with seating for up to eight and generous legroom. The RS appearance package adds sporty flair, while interior ambient lighting creates a welcoming space. Chevy's Teen Driver Mode promotes safe habits, and a rear seat reminder warns about forgotten occupants.
Chrysler Pacifica
The Chrysler Pacifica offers ample interior space, and top trim levels provide luxuries like quilted leather upholstery.  As a plug-in hybrid (PHEV), the Pacifica offers 32 miles of gasless driving, making it excellent for local errands. Meanwhile, Stow 'N Go seating maximizes cargo space convenience.
Ford Explorer
The Ford Explorer delivers three-row versatility befitting its legacy as one of the original family-friendly SUVs. The current (sixth-generation) edition maintains SUV-like qualities (such as rear-wheel drive) for excellent towing capability while incorporating crossover features for comfortable driving.
Honda Odyssey
Also adept at maximizing interior flexibility, the Honda Odyssey fits up to eight passengers or an impressive 158 cubic feet of cargo volume when the back rows are folded (more than any other vehicle on our list). This minivan is built to handle parenting and cargo-hauling duties with ease.
Hyundai Palisade
The well-rounded Hyundai Palisade delivers safety and upscale comfort for growing families. A long feature list includes available power-folding third-row seats, multi-zone climate control, and heated/ventilated seats. The Palisade easily earns its family-first status.
Kia Carnival
Kia cleverly masks the Carnival's minivan DNA. But these roots help enhance the Carnival's substantial cargo space with sliding and removable second-row seats and a fold-flat third row. An upscale interior and available dual sunroofs create a welcoming cabin for every family member.
Mazda CX-9
The Mazda CX-9 is ideal for families that only need to use the third row for smaller passengers occasionally. At the same time, an upscale cabin and meticulous craftsmanship convey an interior that's more common to luxury vehicles.
Subaru Ascent
Subaru instills its safety traditions into the family-sized Ascent. Standard all-wheel drive lends stability in all weather, and a suite of advanced driver aids adds extra confidence. Large windows and slim roof pillars help outward visibility and give the cabin an airy feeling.
Toyota Sienna
Multiple seating configurations, cavernous cargo space, and clever storage solutions make the Toyota Sienna a well-suited family vehicle. A hybrid-only powertrain ensures top fuel economy ratings (36 MPG), and available all-wheel drive steals the thunder from crossovers and SUVs.
Volkswagen Atlas
Young families will appreciate the Volkswagen Atlas's cavernous second row for car seats and a third row that is still suitable for adults. An available digital cockpit display will satisfy tech-oriented drivers, and a suite of the latest safety features brings extra peace of mind.
7 Tips for Test Driving and Purchasing a Vehicle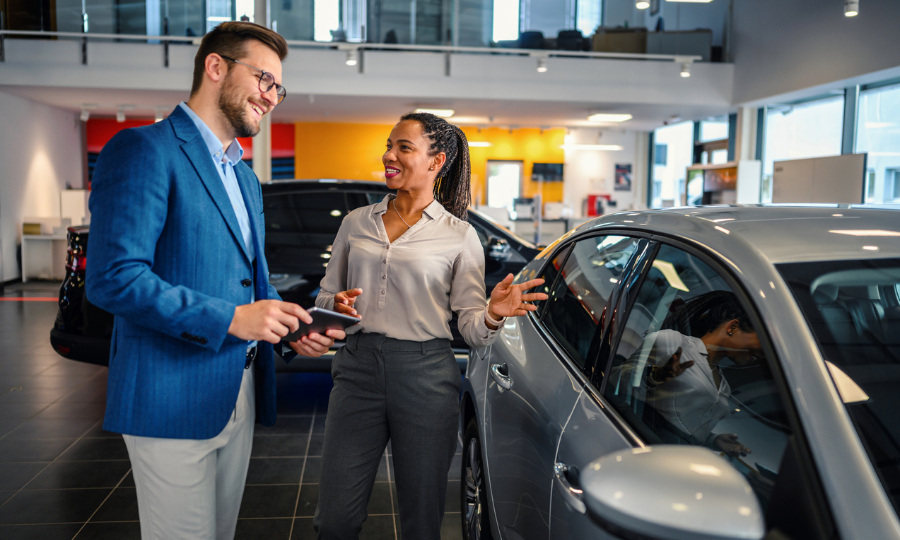 Selecting the perfect family car requires careful evaluation. Your research should include a well-planned test drive. Bring along the car seats, strollers, and family; everything and everyone that might usually join you for a ride. If you don't have a child (like if one is on the way), borrow them from a relative or friend!
Here's a test-drive checklist to review:
Conduct a Walk Around:

Visually inspect the exterior to confirm the car is in good condition before hitting the road.

Review Vehicle Equipment:

Learn what features are included in the car you're checking out. Make sure it has all the equipment you want. This is a good time to ask the seller any questions about how the different features work.

Set the Controls:

Position the seat and mirrors for a comfortable and safe driving position. 

Plan a Route:

Don't settle for a quick trip around the block. Plan a test drive route that includes local streets, back roads, and highways to ensure the vehicle behaves like you want it to.

Start the Car:

Start the car (or restart it) to listen for unusual noises and check for warning lights. 

Pay Attention While Driving:

With the radio off, listen for

unusual noises

(like rattles and vibrations), especially during cornering, braking, or accelerating. When safe to do so, sharply press the accelerator to check responsiveness. Likewise, stomp on the brakes (look for traffic in the rear first) to check the stopping power. Does the car steer straight or pull left or right?

Perform a Post-Drive Assessment:

Gather your observations immediately after the test drive. It may be useful to write down your thoughts. Did the car meet your expectations? What is comfortable to drive? Can you see yourself owning this car for five or ten years?
Smart Negotiating Hacks
We could write an entire article about how to get a good deal on a car, but we'll leave you with these five tips to always consider before signing the paperwork.
Shop Around:

Work with multiple dealers to get competitive quotes and leverage competition. Don't hesitate to shop outside our local area if the numbers aren't to your liking.

Check Online Prices:

Go online to research fair pricing so you know what a reasonable offer looks like. A dive into web forums may even reveal real-world transaction information.

Look for Available Rebates and Incentives:

Manufacturers are stingier now with promotional offers, but special offers do exist if you look hard enough.

Prequalify for Financing:

Contact your bank or credit union or use an online lender to get pre-qualified for a

car loan

. This will put you in a stronger negotiating position with the seller.

Negotiate Final Price, Not Monthly Payment:

Concentrate negotiations on the bottom line price instead of the monthly payment. There's less chance for the dealer to hide what you're really paying.
Family Cars and the Confidence of Endurance
There's a lot to think about in searching for a well-matched family vehicle, with space, safety, and comfort being just some of the considerations. However, one thing you shouldn't have to worry about is what to do when a breakdown occurs. An Endurance extended warranty helps cover the bills for surprise repairs.
Endurance provides a range of auto protection plans. Select powertrain coverage for the engine, transmission, and drive axles — the most affordable option. Or, choose a vehicle service contract that offers bumper-to-bumper protection with few exclusions — this plan is similar to a new car warranty. There are in-between options that balance premiums with coverage.
Every Endurance extended warranty comes with 24/7 roadside assistance (with towing coverage and lockout assistance), rental car reimbursement, trip-interruption support, and flexible terms. A 30-day money-back guarantee typically provides a full refund if the cancellation request is made during the first month of coverage. And, Endurance plan holders can also choose any ASE Certified mechanic or repair facility for covered repairs.
Customers can add one year of Elite Benefits. These extra features are valued at up to $2,000 and cover tire repairs and replacements, collision repair discounts, key fob replacement, and other valuable services. A small enrollment fee activates this additional protection.
Contact Endurance today for a FREE quote, or call (800) 253-8203 for personalized service from our award-winning customer service team. Can't wait? Visit our online store for instant pricing and coverage details.
Explore the expert-written article in the Endurance blog for guidance about car repairs, vehicle maintenance, DIY tips, and more.
More like this
How To

In the event of a breakdown, having an extended warranty or vehicle service contract watching your back can be a total lifesaver. With some major repairs costing thousands of dollars,..

Read More

How To

Keeping a Hyundai Accent running for the foreseeable future is about more than simply being a safe driver on the road. While keeping your eyes peeled and attention on the..

Read More

Finance

For many car enthusiasts around the world, finally saving up enough money to purchase a luxury car is a huge goal in life. Whether that new car is manufactured by..

Read More