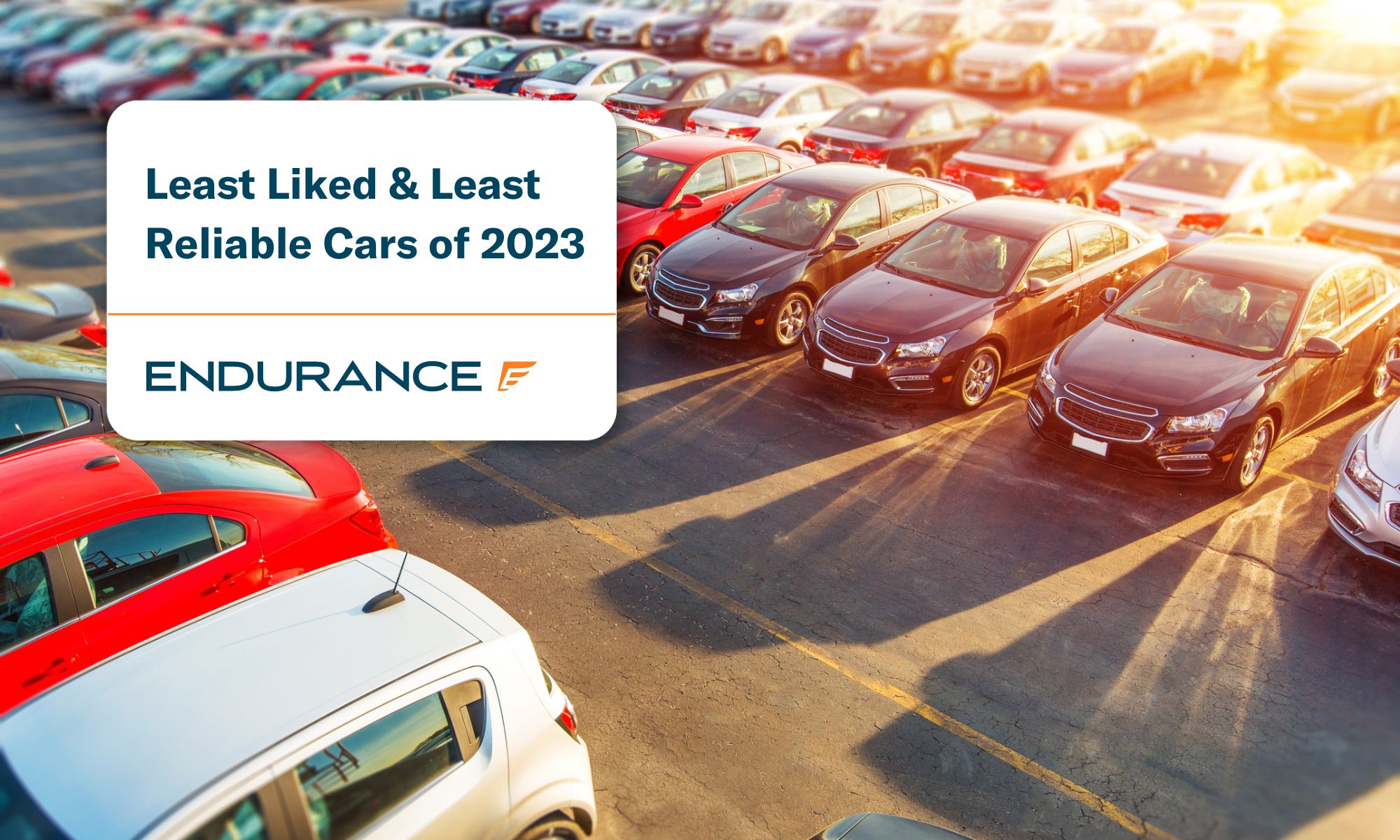 Buying a new car is exciting. At the same time, checking out the features and styling while searching for the best deal can overwhelm the process. Yet, two vital factors often go overlooked and significantly impact long-term satisfaction: reliability and likability. Check out this article as we explore what most reliable cars and likability really mean. 
We'll put things in practical terms by highlighting the automotive brands and models that don't make the cut for 2023. If you're curious about last year, check out 2022's most and least-liked car brands.
Defining Reliability and Likability in Cars
Reliability reflects how trouble-free a vehicle remains over many years of use. The most dependable cars can travel for tens (if not hundreds) of thousands of miles without requiring a visit to the repair shop except for routine maintenance. Owners of vehicles with dubious reliability have to contend with drivability issues, component failures, and other troubles.
Quantifying vehicle reliability comes from expert analysis of historical data and detailed owner surveys. Organizations like J.D. Power and Consumer Reports use these tools to assess the dependability of hundreds of makes and models. Those cars that receive high marks bask in the glory of their success, while low performers hope for better outcomes in the future.
Likability is far more subjective and encompasses an owner's enjoyment of a vehicle's design, drivability, features, and, of course, dependability. Models with high owner satisfaction generate pride and delight. On the other hand, troublesome automobiles sap the enjoyment that comes from ownership and often accelerate car replacement.
Keep reading as you'll see how reliability and likability stack up in recent J.D. Power and Consumer Reports research.
List of the Least Reliable Car Brands of 2023
For 2023, ten car brands anchored the bottom of J.D. Power's dependability rankings based on data collected from owners of three-year-old models. Let's highlight the car brands that struggle the most with reliability and drive customers back to the dealership more frequently.
Survey respondents cited issues experienced during the previous 12 months across several categories, such as driving performance, interior quality, exterior, and the powertrain. JD Power combines these scores into an overall Problems Per 100 Vehicles (PP100) rating.
Lower scores reflect higher dependability, with the industry average hovering around 186 PP100.  The top-ranked brand, Lexus, received a score of 133 PP100. Genesis and Kia rounded out the top spots with PP100 ratings of 144 and 152, respectively.
The PP100 ranking for each subpar brand below is in parentheses.
Subaru (214)
Subaru builds on a reputation for reliability and all-weather capability, but some engines have faced oil consumption issues (up to the 2018 model year). Subaru's focus remains on sensible AWD transportation.
Volvo (215)
Volvo markets itself on safety, but electronics problems in newer vehicles have hurt dependability scores. Most models lack excitement but prioritize comfort and family utility.
Volkswagen (216)
VW aims for its cars to be fun and practical, with a German-engineered twist. But ambition may exceed quality control as electronics and engines get more complex. The brand consistently lacks Japanese rivals' dependability.
Chrysler (226)
Chrysler struggles with dated platforms and a lack of investment, making dependability inconsistent. The end of production of the 300 sedan means the Pacifica minivan will be the sole Chrysler-badged vehicle leaving the factory until something new arrives.
Jaguar (229)
Jaguar's stylish sports sedans and SUVs target luxury yet sacrifice reliability for complexity and style. Electrical issues remain a nagging problem for the brand.
Mercedes-Benz (240)
Mercedes pioneered luxury vehicles, yet cheap parts in the brand's low-end cars tarnish the brand's legacy. JD Power is not the only outfit to call into question the reliability of Mercedes vehicles.
Ford (249)
Ford covers the spectrum from working class to luxury but has endeavored to improve quality control in its electronics and other key systems.
Audi (252)
Audi's dazzling designs impress, yet glitchy electronics glitches and problematic engines cause this brand's reliability scores to plunge.
Lincoln (259)
As Ford's luxury brand, Lincoln lacks consistency in dependability and technology execution compared to segment leaders. Quality control issues persist.
Land Rover (273)
Land Rover makes aspirational SUVs with dismal records of expensive problems. Electrical gremlins, air suspension failures, and transmission issues are some of the frequently-cited repair problems for this storied British marque.
List of the Least Liked Cars of 2023
We'll go from the broad brush of least-reliable car brands to the specifics of least-favored models courtesy of Consumer Reports (CR). CR conducts an annual car satisfaction survey that digs deep into the ownership experience across numerous makes and models. The group asks how satisfied owners are with their cars and whether they would buy the same vehicles again.
And, like most lists, there are winners and losers. We'll save the most-liked cars of 2023 for another article and focus on the least-liked ones. Here's what survey respondents had to say.
Kia Forte
51% Would Buy Again
The affordable Kia Forte looks good on paper thanks to generous tech features and distinctive styling, but this subcompact sedan falls short on ride comfort. Owners appeared to agree with the poor 2 out of 5 ratings assigned by CR for ride comfort and noise. This Kia also lacks the refinement of the class leaders, ranking 9th out of 12 small sedans.
Nissan Altima
51% Would Buy Again
Curiously, the Altima's poor likability rating stands in contrast to reasonably good CR ratings for reliability and interior comfort. This Nissan even scores well (4 out of 5) for low cabin noise levels. Perhaps the Altima is merely showing its age as newer rivals (like the Honda Accord) are hitting the streets. While affordable, the Altima nameplate needs a re-do.
Nissan Kicks
49% Would Buy Again
When it rains, it pours for Nissan, with another of the automaker's models making this least-liked car list. That's what often happens with cheap cars like the Kicks. Low-quality materials are constant reminders that there are nicer options on the road. An underpowered engine, anemic continuously variable transmission (CVT), and mediocre ride quality don't help matters either.
Volkswagen Taos
48% Would Buy Again
Volkswagen's first attempt at a subcompact crossover for the U.S. started well with a spacious, well-designed cabin and sharp price point. But apparently, this wasn't sufficient to make owners come back and do it all again. CR is equally brutal, giving the Taos a 1 (out of 5) for reliability and owner satisfaction.
Kia Seltos
48% Would Buy Again
Below-average ride comfort and noise ratings validate a thumbs down from more than half of Kia Seltos owners. "Meh," scores for the driving experience and value aren't a ringing endorsement either. Meanwhile, a 1 ranking for reliability seals the fate of the Kia Seltos.
Jeep Compass
46% Would Buy Again
Seeing another small utility on this least-like cars list isn't exactly a surprise because it seems like automakers are only selling SUVs. That said, the Jeep Compass adds to the chorus of crossover disappointment. Its age shows that there hasn't been a major update in the seven-year lifespan of the current generation.
Mercedes-Benz GLA
45% Would Buy Again
A higher sticker price doesn't guarantee buyers will be back for more. More than half of Mercedes-Benz GLA owners felt their costly crossover failed to meet expectations. In particular, the GLA didn't deliver ride and rear seat comfort. A reliability score of 1 also indicates other problem areas.
Infiniti QX50
40% Would Buy Again
In another case of price failing to keep up with promise, the upscale Infiniti QX50 compact crossover marks the third Nissan in this hall of shame roster (Nissan owns Infiniti). A lacking driving experience and poor value aren't in keeping with a car that starts at $40,000. CR also dings the QX50 with the lowest reliability rating.
Mercedes-Benz GLB
39% Would Buy Again
The premium price owners paid for the boxy GLB doesn't guarantee a return trip to a Mercedes-Benz showroom. This compact crossover is poorly received by the majority of owners due to a lack of comfort and value.
Volkswagen Atlas Cross Sport
38% Would Buy Again
If you listen to VW Atlas Cross Sport owners, style has little to do with satisfaction. According to CR, the sleek profile of this two-row crossover can't keep owners happy who are likely dealing with reliability issues.
The Intersection of Reliability and Likability
Reliability and owner satisfaction have significant overlap. A lack of dependability understandably diminishes enthusiasm for a vehicle of any age. Constantly dealing with mechanical, electrical, or other issues taxes the ownership experience. A higher frequency of repairs and their severity directly contribute to low likability.
But there's more to likability than reliability. Ride quality, performance, seat comfort, and overall build quality affect ownership satisfaction. What's challenging for car buyers is that these faults may not be detected during the shopping process, particularly with new vehicles.
The most satisfying cars tend to be well-engineered and well-built.
What to Consider When Purchasing a Car
Prioritizing both dependability and likability takes patience but pays off in the end. Here are some quick tips for maximizing vehicle enjoyment.
Research Reliability Ratings:

Review sources like

RepairPal

,

J.D. Power

, and

Consumer Reports

to identify which vehicles have a track record for dependability.

Understand Owner Satisfaction:

Explore vehicle reviews to get a handle on potential trouble areas that might impact likability.

Test Drive Extensively:

Nothing beats real-world time behind the wheel to assess ride quality, cabin comfort, visibility, and performance.

Inspect Build Quality:

Examine any car for uneven body panel gaps, blemished or discolored paint, poor-quality interior materials, and other visual clues that a vehicle under consideration isn't perfect.

Check Vehicle History:

Even for new cars, get a vehicle history report to confirm you're buying what the seller is promising.

Get An Inspection:

Skip this step for a new vehicle, but always have a professional mechanic inspect any used car you're considering. 

Compare Total Ownership Costs:

Think beyond the purchase price. Do your homework to determine the costs for insurance and maintenance and examine what resale value might be in the future. 

Focus On Safety:

Peace of mind is significant to vehicle likability. So, driving a car that has good crash test scores and the latest safety technology will inspire greater driver confidence and comfort. 
Endurance Helps You Like (and Protect) Your Car
Breakdowns and surprise repair bills are the surest path to dissatisfaction with a car. However, an auto protection plan from Endurance can ease these troubles. That's the advantage of having an extended warranty for a vehicle without factory coverage. 
Endurance offers numerous vehicle service contract options, from basic powertrain coverage (for the engine, transmission, and drive axle) to a bumper-to-bumper plan like a new car warranty. Owners can choose from other programs that safeguard high-mileage cars, select luxury models, and commercial-use vehicles.
Standard benefits with every Endurance plan include 24/7 roadside assistance (with towing coverage and lockout assistance), rental car reimbursement, trip-interruption support, and flexible payment terms. A 30-day money-back guarantee typically provides a full refund if the cancellation request is made during the first month of coverage. And, Endurance plan holders can also choose any ASE Certified mechanic or repair facility for covered repairs. 
Endurance customers can enjoy one year of Elite Benefits. These extras are worth up to $2,000 and cover tire repairs and replacements, collision repair discounts, key fob replacement, and other valuable services. A small activation fee starts this additional coverage.
Discover everything that Endurance has to offer. Visit us online for a FREE quote, or call (800) 253-8203 for one-on-one help from our award-winning customer service team. You can also visit our eStore for instant pricing and coverage details. Check out the Endurance blog to learn about car care, maintenance tips, car buying advice, and more.
More like this
Make/Model

If you're the owner of a Honda Accord, you certainly aren't alone. The brand has a great reputation for producing some of the most reliable cars on the road, with..

Read More

Make/Model

The last thing any Ram driver wants is to hear an odd noise while driving down the road, followed by a mechanical issue within their vehicle. Unfortunately, mechanical breakdowns are..

Read More

Make/Model

Finding yourself in the position where you are notified of a recall affecting your vehicle is never a fun situation, but it should require immediate action on your part. Depending..

Read More