From Black Friday to holiday sales, the end of the year is a fantastic time to shop for a new car. Dealerships are also trying to make room for new models for the coming year so that you can take advantage of all kinds of deals and incentives. Before making a significant purchase, however, it is always a good idea to calculate the actual cost of owning any vehicle, like understanding what common repairs you might be facing and how much they will cost. Knowing this, you can give yourself the best chance at getting the best deal and a reliable vehicle on your car purchase. 
One brand, Kia, can be an excellent choice for owners looking for an affordable and reliable vehicle, whether it's a brand-new Kia or a used one. So if you're considering purchasing a Kia model, like the popular Forte or Sorento, knowing what kind of repairs you can expect can help prepare you for the unexpected. It's also essential to learn what kind of coverage Kia provides for their new and certified pre-owned (CPO) vehicles, such as what coverage you can get with a factory or extended warranty, so you can determine if one of these Kia models is the right choice for you. 
What Is Included in a Kia Factory Warranty?
Like many automakers, Kia offers drivers of brand new Kia models peace of mind thanks to a factory warranty on all their vehicles. This coverage helps car buyers in case of a design flaw or issue on the production line by covering the cost of repairs that may need to happen in the first years of your ownership. All you would need to do is take your car to a Kia dealership or certified service center, and you can get repairs done for free. 
The Kia factory warranty includes coverage for various components on the car with varying coverage lengths and mileage limits. These individual warranties include: 
10-year/100,000-mile limited powertrain warranty:

This

warranty covers

all the parts of your

Kia

's powertrain, including the engine block and transmission. 

5-year/60,000-mile limited basic warranty:

The basic warranty is

Kia

's version of a

bumper-to-bumper warranty

. It covers nearly every part of the car except for wear-and-tear components like brake pads, windshield wiper blades, and tires. 

5-year/100,000-mile limited anti-perforation warranty:

Kia

's anti-perforation

warranty covers

perforation and corrosive damages to the car's body panels. However, damages must come from inside the vehicle and spread outward. This also means that this coverage will not include exterior damages caused by accidents, the weather, or debris.

5-year/60,000-mile roadside assistance:

Kia vehicles

come with

five years

of 60,000 miles worth of

roadside assistance

for instances up to $75 each. These include gas delivery,

towing

to a

Kia dealer

or

service center

, and

flat tire

repair. 
Overall, Kia offers coverage for Kia owners longer than most other automakers. Still, while expansive, once your coverage ends, you will be responsible for any repairs on your Kia. Luckily, you can get coverage for your Kia with an extended car warranty, but where that coverage comes from, such as Kia or a third-party warranty provider, is up to you.
What's Included in a Kia Extended Car Warranty?
Brand-new Kia vehicles come with some of the best factory coverage around with their 100,000-mile warranty program. However, when it comes to extended coverage for your Kia, you have a few options, such as getting coverage directly from Kia or a third-party warranty provider like Endurance. 
Knowing what each offers is the best way to make the right choice for you and your driving needs. So let's break down the extended warranty coverage offered by Kia and how it compares to the coverage you can get with Endurance Warranty.
Kia Extended Warranty
Kia offers a variety of extended warranties for CPO Kia vehicles and your run-of-the-mill used Kias, though there are some stipulations you need to be aware of. First, Kia notes that to be "Kia Certified," the vehicle has to be less than five years old AND have less than 60,000 miles, along with passing a complete 165-point inspection. This means that owners of older, used Kias that are past either cut-off or that fail their inspection will be ineligible for this coverage. Another stipulation with the CPO is that you must get your work done at a Kia dealership, while standard plans can go to the dealership or any licensed facility.
As of November 2022, certified pre-owned Kias are eligible for coverage that includes:
10-year/100,000-mile limited powertrain warranty:

like their factory coverage, this will give you complete protection for your

Kia

. However,

Kia

notes that this coverage "starts on vehicle original in-service date and '0' miles." This means that if you have a

CPO

Kia

that's four years old and with 50,000 miles, you only have another six years or 50,000 miles of coverage.

1-year/12,000-mile comprehensive Platinum coverage:

this additional coverage starts when you purchase your

CPO

Kia

and gives you a bonus year (or 12,000 miles) of complete coverage.

Kia

also notes this coverage is transferable, so you can pass it along to the next owner if you sell your

Kia

while still active.

10-year/unlimited-mile roadside assistance:

Kia

offers owners of

CPO

Kias

a decade's worth of 24/7

roadside assistance

, including

coverage for

flat tires

,

battery jump starts

and if you ever

run out of gas

or lock yourself out of the vehicle.

Kia

notes, however, that their emergency

towing

services cover up to $75 per covered breakdown.

Additional coverage:

along with the coverage above,

Kia

notes that

Kia

Certified pre-owned

vehicles can also enjoy a 90-day subscription to

SiriusXM®,

travel

reimbursements

of up to $100 per day and $500 per covered repair.

Rental car

coverage offers up to $35 daily for 10 days.
Kia offers three primary levels of coverage on eligible used vehicles, including: 
Powertrain:

the first of the primary coverage levels, this plan covers components of the powertrain, such as the engine, transmission,

drive axle

and more.

Gold:

this level covers all the same parts as the

Powertrain coverage

but with some additional components of your

Kia

's major systems, like the engine, steering, brakes, A/C and more. 

Platinum:

the last of the three primary levels, this

 plan is

Kia

's version of an exclusionary extended warranty. It covers almost every part of your vehicle with just a few noted expectations. 
To round out their coverage, Kia offers additional coverage plans for components not traditionally found in plans, like the tires/wheels or the car's interior or exterior. Each also includes roadside assistance of up to $50 and one day of rental reimbursement of up to $50. 
These include:
Deluxe:

the most basic of

Kia

's additional coverage will help protect your car's tires and wheels only. It is also the only one that notes a $5,000 tire and wheel benefit cap.

Premium:

excluding the benefit cap found in Deluxe, Premium covers your tires and wheels plus cosmetic repairs.

Superior:

this level includes paintless dent repairs and interior coverage for rips, tears, and burns on top of the coverage provided in the Deluxe and Premium tiers. You'll also get covered for a windshield repair.

Superior Plus:

this level includes everything from the previous three and a windshield replacement. 
How Endurance Can Cover Your Kia
Whether you own an eligible Kia Certified pre-owned vehicle or not can make a big difference in the kind of coverage you can get. Luckily, if you want more comprehensive coverage and a wider variety of options for your extended coverage, an Endurance protection plan, also called a vehicle service contract, could be a perfect choice. Whether you're looking for basic powertrain coverage starting at just $79 a month with the Secure plan or coverage as close to a manufacturer's warranty as possible with just a small list of exclusions with Supreme, Endurance can help you put together a customized coverage plan to help keep your Kia running smoothly for years to come. 
Overall, here are some of the many ways we can help you as a used car owner, whether you have a Kia or almost any other make/model of vehicle:
Eligibility
While Kia offers exceptional coverage for their new and CPO vehicles, it's no good to you if you've got a Ford, Honda, Chevy or any other automaker. With Endurance, however, you can get coverage for almost every vehicle from major automakers, no matter the mileage. So whether you're behind the wheel of "old-reliable" with over 200,000 miles or more or a car just past its 36,000-, 60,000- or 100,000-mile cut-offs for factory coverage, Endurance can get you covered. Even select high-end luxury vehicles from popular (yet often expensive) automakers like Porsche, Mercedes-Benz, Maseratti and more that most third-party providers avoid.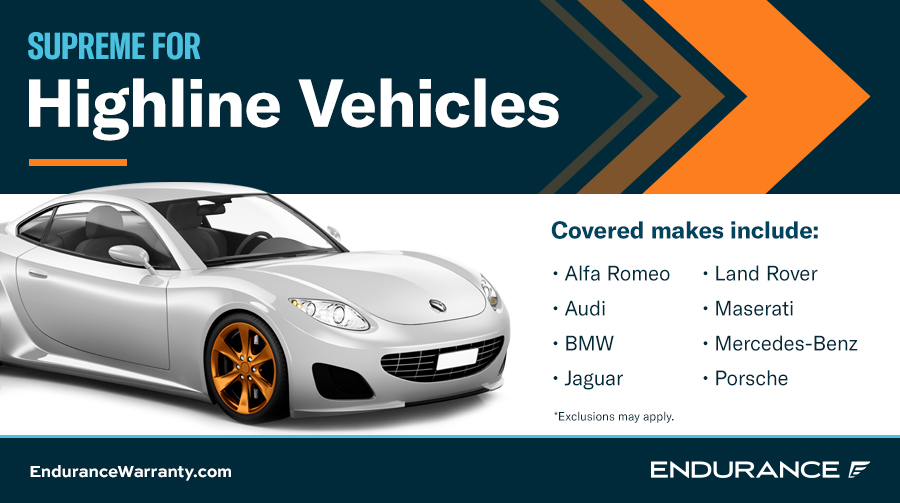 Better still, Endurance plans can cover other vehicles most providers won't, including those with a salvage or rebuilt title, Canadian Grey Market vehicles, those used for commercially used purposes like rideshare and delivery services, and more.
Choice of Repair Shops or Centers
No matter what kind of Endurance coverage you have, you can take your vehicle to any ASE Certified repair shop, service center or mechanic. You can even take it to the dealership or service center if you'd like!
Maintenance Coverage
Whether it's Kia, another automaker are practically every other third-party provider, you'll have a hard time finding coverage for your car's maintenance needs—but not with Endurance. The award-winning Advantage auto protection plan can give you comprehensive breakdown coverage AND up to $3,500 in yearly maintenance benefits. That includes helping you cover the cost of oil and filter changes, alignment checks, tire rotations and more. Each Advantage plan includes several one-time-only services, including cooling system maintenance, a brake pad/shoe replacement, a battery replacement and more. 
Award-Winning Customer Service
Few things are as frustrating as car repairs, which is why the award-winning Endurance customer care team is here to help. Whether you're looking to learn more about Endurance or for answers to your biggest extended warranty FAQs, they'll be there to help.
You can even access your policy's vital information, including calling for roadside assistance and more, right from your phone with the exclusive Endurance Mobile app.
Access to Complimentary & Elite Benefits
Breakdowns and repairs happen, which is why with Endurance, you can get complimentary roadside assistance and towing services, trip interruption coverage and rental car reimbursement. But that's not all, as new Endurance customers will also be automatically eligible for a whole year's worth of Endurance Elite Benefits, which include extra perks and savings like tire replacements or repairs, collision discounts, key fob replacements and up to $1,000 in total loss protection.
Transferability
Like Kia's Platinum coverage for the CPO vehicles, most Endurance plans are also transferable. This means you can use your award-winning Endurance coverage to help upsell your car should you ever sell it with your plan still active. 
Common Issues with the Forte & Sorento
No matter the warranty coverage you pick, it is important to know what you can expect regarding repairs on your Kia. Two of their most popular models, the Forte and the Sorento, have their own sets of issues and common repairs that can be expected. By knowing what repairs are likely to come up, you can make the right decision for your extended warranty plan. 
Forte
Kia's sedan, the Forte, is a handsomely styled vehicle with a starting 2023 manufacturer's suggested retail price (MSRP) of just $19,490 per Kia, making it a stylish yet affordable car. On top of that, the experts at RepairPal rank the Forte as the sixth most reliable vehicle in its class of 36 total compact cars. Combined with an average annual repair cost of $451, it's an excellent choice for an affordable, reliable vehicle that also looks great. The 2023 model year also boasts an impressive 35 miles per gallon and 201 horsepower, best-in-class cargo space and a 10.25-inch touchscreen infotainment/navigation display. 
Like any vehicle, though, it has common issues that tend to come up after it has been in service for a while. 
Common Forte Repairs & Issues
One of the most common issues on the Kia Forte is engine knocking, which can cost between $2,500 and $4,500, depending on the source. This problem generally starts around the 100,000-mile mark, meaning you'll like to be past your Kia's original factory coverage if you bought it as a new vehicle. Knocking occurs for several reasons, but it will almost always be within the powertrain components. 
While the 2010 Forte has some of the most significant issues related to its engine, per CarComplaints.com, the 2017 model year has the most reported problems. Nearly all reported issues with the 2017 Forte have to do with the powertrain and misfires in the cylinder. 
Per RepairPal, other repairs that you can expect as a Forte owner can include:
Sorento
While the 2023 model year isn't officially released until sometime in December, the Kia Sorento is a little pricier than the Forte, with a 2022 MSRP of $29,590. Still, this midsize SUV is an excellent choice for any looking for a larger vehicle with some performance to spare, including 191 horsepower and a combined 26 miles per gallon with its base 2.5-liter V8 engine. It also boasts an above-average reliability rating from RepairPal, coming in 12th out of 26 total SUVs in its class while having an average annual repair cost of $533.You'll also have a few safety features to choose from, including trim levels available that feature forward collision-avoidance assistance, blind spot assistance, parking collision avoidance and more.
Common Sorento Repairs & Issues
The Sorento has some prevalent issues with the engine, some of which have resulted in a complete engine replacement, with repair costs upwards of $6,500. Most of these issues stem from the piston rings and cylinders, all of which will be covered with a comprehensive extended warranty. Unlike the Forte, these problems tend to occur around the 75,000 to the 85,000-mile point.
The 2011 Sorento is the most problematic model year. Still, the 2015 and 2016 Sorento have also had their fair share of these severe engine problems that can make these vehicles run roughly and be inconsistent on the road. With a comprehensive protection plan, you can make sure that you are protected from these costly automotive repairs should they come up.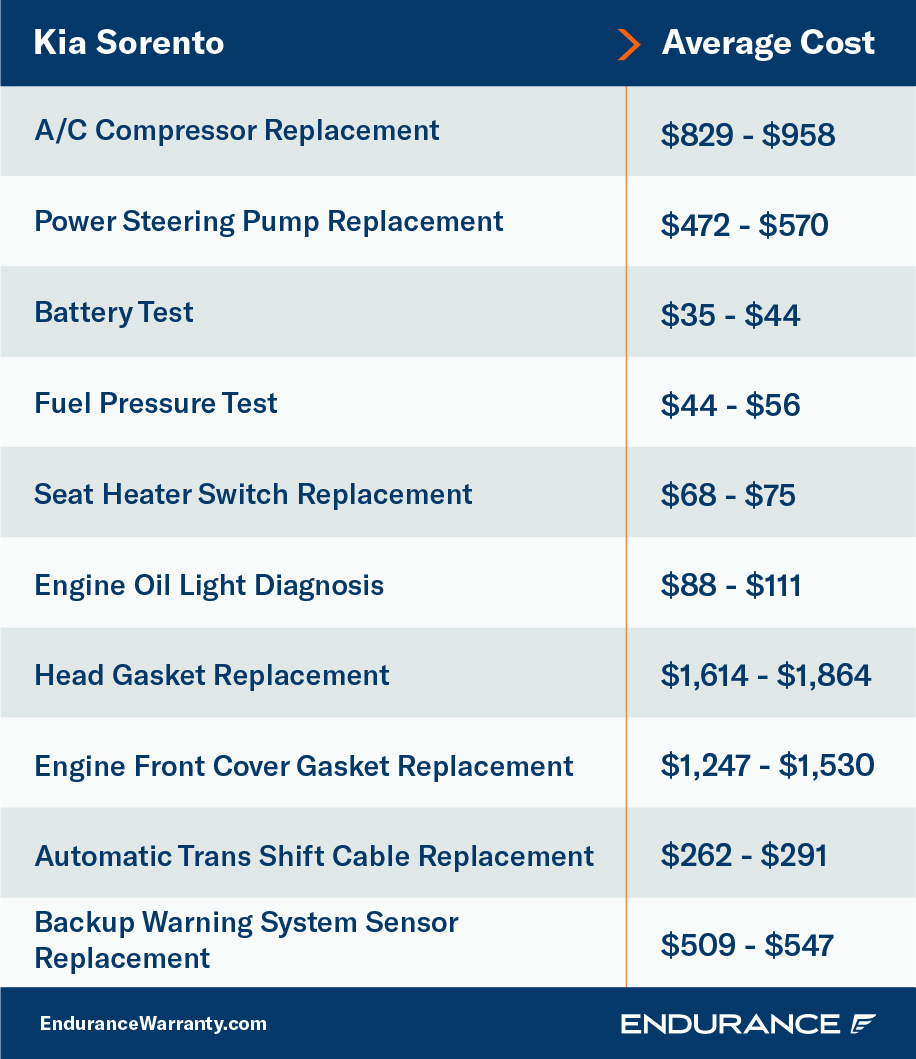 Protect Your Kia with Endurance
If you are thinking of purchasing a new or used Kia, knowing what you can expect when it comes to repairs can help you be ready when the time comes. By getting the best extended auto warranty coverage you can find, you can get the help you need to get your vehicle back on the road. Knowing your options will keep you safe and get you the best deal on your protection plan or extended warranty. 
If you want better extended coverage than what Kia offers, an Endurance vehicle protection plan will be your best bet. Along with award-winning coverage, you'll also get additional benefits like 24/7 roadside assistance, trip interruption coverage, and rental car reimbursements at no additional cost. For a small activation fee, every Endurance plan also comes with a year's worth of Elite Benefits, which include extra perks like tire replacements/repairs, collision discounts, key fob replacements, and total loss protection. 
To get the best coverage for your particular vehicle, request a free, no-obligation quote today. Or, for help finding the right protection plan for your needs and budget, call a member of the Endurance customer care team at (800) 253-8203. You can also visit the Endurance blog to find more articles on how a warranty can help you, DIY car care tips, expert buying guides, warranty coverage comparisons, and more.
More like this
Make/Model

As the most rugged SUV Honda has ever offered, the Pilot offers a wide variety of benefits for those looking for an off-road capable SUV with adequate features. Like any..

Read More

Make/Model

As the world gradually transitions to renewable energy sources, the adoption of e-vehicles is on the rise, and Tesla has been leading the charge. Their range of electric cars is..

Read More

Make/Model

Originally formed from the remnants of the Henry Ford company, Cadillac is arguably the most quintessential American car brand in existence. Founded over 100 years ago, they were the first..

Read More