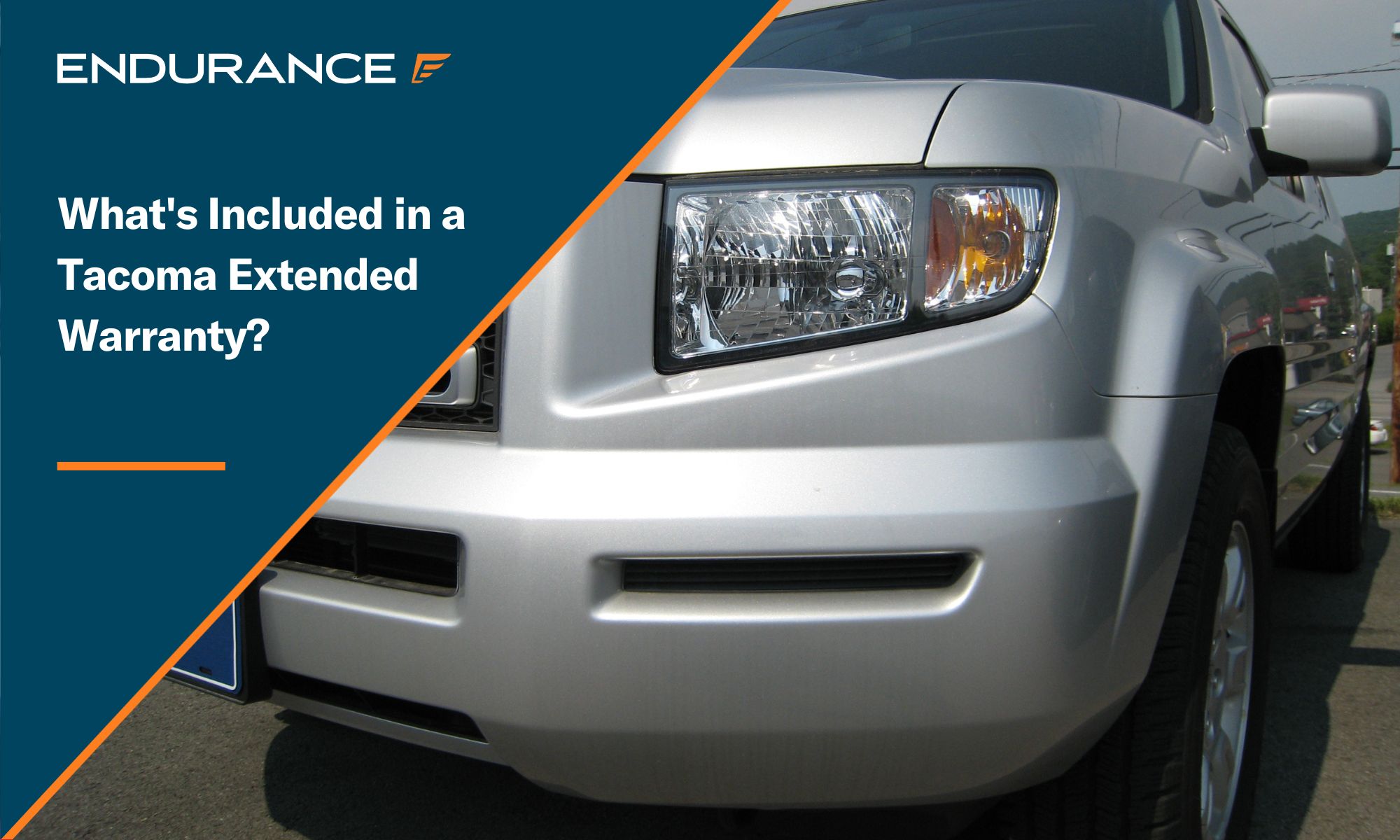 When buying a new car, there are a lot of things to consider and a lot of factors that can determine whether it is right for you. One of the most important things to think about, though, is how the manufacturer's warranty guarantees their vehicles and makes sure that you, as the consumer, are protected. Most of the time, a new vehicle will come with a factory warranty that covers you in the event of any issues due to problems during manufacturing or design flaws.
However, once that warranty is up, you will have the option to purchase additional extended coverage. Reviewing your choices for auto protection can help you decide if the manufacturer's extended warranty is the right choice or if a third-party provider will be the best option for you and your car.
Toyota is an automaker that is known for its dedication to reliability and economy. Even with this reputation, its factory warranties are fairly robust. They consist of three years or 36,000 miles of bumper-to-bumper coverage, five years or 60,000 miles of powertrain coverage, and five years of rust coverage with unlimited miles. Once this factory protection runs out, you can then purchase an extended warranty from Toyota.
Knowing what this extended coverage includes and what your other choices are will allow you to get the protection you need so you can have peace of mind whenever you are behind the wheel.
The Scope of Toyota Tacoma's Extended Warranty
Should you decide to get an extended warranty from the automaker for your new Toyota Tacoma, you have three coverage options to choose from. The plan you decide on will depend on things like how you use your Tacoma and what kind of condition it is in when your factory warranty runs out. If you want more comprehensive coverage for your Tacoma, be prepared to pay more for it. It could, however, be well worth the cost if an issue arises that requires an expensive repair.
The plans that Toyota offers include:
Powertrain Plan – The Powertrain warranty coverage is good for up to six years or 100,000 miles and covers all of your Tacoma's most important components. These include things like the engine, drive system, and transmission. While this plan won't cover any of the accessories or tech, the components it includes are some of the most expensive to repair, so it could still be a good option.
Gold Plan – Toyota's Gold Plan is good for anywhere between three years or 50,000 miles and ten years or 125,000 miles, depending on the level you decide on. The warranty covers all the same things that the Powertrain Plan covers, with the addition of several different systems like fuel injection, steering, and air conditioning. This is a great choice if you are someone who commutes or puts a lot of miles on your vehicle and you want to make sure everything is protected.
Platinum Plan – The Platinum Plan ranges from anywhere between three years or 50,000 miles and ten years or 125,000 miles and is the highest level of extended coverage that you can get from the manufacturer. It is the most similar plan to the factory coverage that is included with the Tacoma and covers nearly every major component of the vehicle.
Benefits of Toyota Extended Warranty Plans
Should you choose to go with a Toyota extended warranty option instead of a third-party plan, you will get access to a few extra benefits that the manufacturer provides. Every Toyota extended warranty holder gets roadside assistance and towing, trip interruption coverage, which will help you get reimbursed for travel protection if your Tacoma breaks down, and rental car reimbursement while your vehicle is being repaired.
While these benefits are certainly useful, they are not unique in the world of extended protection plans. Most third-party providers will also offer benefits similar to these.
One of the biggest advantages of getting your extended warranty through Toyota is the fact that the claims process is streamlined. When something goes wrong with your vehicle, all you will have to do is take it to the Toyota dealer, and everything will be taken care of for you. If you live near a Toyota dealership, this can be incredibly convenient and make getting your used car fixed as easy as possible.
You can also be certain that the repair facilities will be knowledgeable about your specific vehicle and that they will have access to all the tools and parts needed to make the repair. This can speed up the process and get you back on the road quicker than if you took your Tacoma to a third-party shop.
Potential Costs and Limitations
When you get an extended warranty from the manufacturer, there are going to be some costs and limitations associated with that coverage. It is important to remember that the price of your coverage will be different than it is for someone else since it depends on things like the condition of the vehicle and the number of miles that are on the odometer.
That being said, the average cost of a Toyota extended warranty is $243 per year. If your vehicle has more miles on it or you choose the most comprehensive plan available, though, you can expect to pay much more.
You will also have to choose whether or not you want to pay a deductible when you get your Toyota extended warranty. A deductible is how much you are responsible for paying when you bring your car to the shop before the coverage kicks in. Toyota offers options for $0 deductibles as well as $100 disappearing deductibles for each visit.
A disappearing deductible means that if you bring your vehicle to the dealership you bought it from to get repairs done, the deductible will not apply to the visit. The option you decide on for the deductible will also affect how much you pay for your coverage every year.
One of the biggest limitations that comes with getting your extended auto warranty from the manufacturer is the fact that you have to bring your vehicle to the dealership to have it repaired. With a third-party protection plan, you can generally go to any certified repair shop.
If you don't live near the dealership, taking your Tacoma there for repairs could be a major inconvenience. Plus, if you opted for the disappearing deductible option, you may even end up spending more out of pocket if you didn't buy your Tacoma at the dealership closest to you. These kinds of limitations on your options could make getting a third-party plan a much better option.
Comparing Factory Warranty and Extended Warranty
Before you decide if the Toyota extended car warranty is the right choice, it is a good idea to compare it to the coverage that comes with the vehicle straight from the factory. As the factory warranty runs out, you want to be able to get comparable coverage so you can be sure your Tacoma will be taken care of. This way, you won't have to sacrifice protection just because you have owned your vehicle long enough for the warranty to run out.
As of 2023, the Toyota factory warranty includes three years or 36,000 miles of Basic coverage. This is the bumper-to-bumper coverage and covers all the components outside of the wear and tear items and maintenance procedures. It also includes five years or 60,000 miles of Powertrain coverage, which protects all the most important components, including the engine, transmission, and drive axle.
Toyota also gives its customers five years and unlimited miles worth of rust-through protection. This ensures that the exterior panels are protected from premature rust and corrosion so your Tacoma can look its best and stay structurally sound.
Generally, if you get your extended warranty coverage from Toyota, you can extend the length of the coverage that comes with the vehicle. If you want to extend it even more, though, it is a good idea to consider your other available options.
A third-party protection plan provider can give you more miles worth of coverage as well as some extra perks that may not be available with the plan you can get from the dealership. Setting yourself up to be as covered as possible is the best way to get the most enjoyment and miles out of your Tacoma.
Why Consider Endurance for Your Toyota Tacoma?
If you want more protection than what the Toyota extended warranty has to offer, a third-party plan could be your best choice. Third-party extended warranties, also called vehicle service contracts (VSCs), are a great way to explore your options and find specialized coverage that will protect your Tacoma from mechanical breakdowns. There are all kinds of third-party VSC providers on the market, and finding the one that suits your needs the best is incredibly important.
Endurance has been helping customers protect their cars since 2006. Based in Northbrook, Illinois, Endurance provides customized, comprehensive coverage with plans that cover a wide range of needs and requirements.
With starting monthly payments at just $99, you can get a plan ranging from the most basic powertrain protection all the way up to exclusionary coverage and plans for high-end luxury vehicles. Plus, Endurance will cover your Tacoma even if it has a rebuilt or salvaged title or is used for commercial use, like for rideshare or delivery drivers. Having this kind of flexibility means Endurance is a great way to enhance your Toyota factory warranty or replace it when it runs out.
One of the biggest upsides of getting a VSC from Endurance is the fact that you can take your Tacoma to any certified shop for repairs. Unlike a Toyota extended warranty, which requires you to go to the dealership, you can use your Endurance membership at a much wider range of shops. All you have to do is go to the certified mechanic of your choice, present your Endurance contract, and we will take care of the rest.
All Endurance customers also get a package of standard benefits, including 24/7 roadside assistance, towing, lockout services, trip interruption reimbursement, and much more. New customers can also take advantage of the Elite Benefits package for a small activation fee. These bonus perks include up to $500 in collision discounts, key fob replacement, and more.
Protect Every Vehicle With Endurance
Choosing the right vehicle protection plan for your Tacoma will depend on what your driving habits are and what you need from your coverage. If you want to extend your protection for as long as possible and be sure that your vehicle can get the repairs it needs as soon as they come up, Endurance has a plan for you.
Endurance plans can help cover a variety of repair costs for both pre-owned and relatively new vehicles. Plus, you can choose from any certified mechanic or repair facility for your covered repairs to ensure your vehicle is in the hands of a qualified professional. This makes it a lot more convenient to get the repairs you need to keep your vehicle running for many years to come.
To learn which Endurance extended warranty plan may be right for you, give our customer service team a call at (800) 253-8203 and request a FREE quote. You can also shop online to preview your pricing and options now.
More like this
Make/Model

As the most rugged SUV Honda has ever offered, the Pilot offers a wide variety of benefits for those looking for an off-road capable SUV with adequate features. Like any..

Read More

Make/Model

As the world gradually transitions to renewable energy sources, the adoption of e-vehicles is on the rise, and Tesla has been leading the charge. Their range of electric cars is..

Read More

Make/Model

Originally formed from the remnants of the Henry Ford company, Cadillac is arguably the most quintessential American car brand in existence. Founded over 100 years ago, they were the first..

Read More