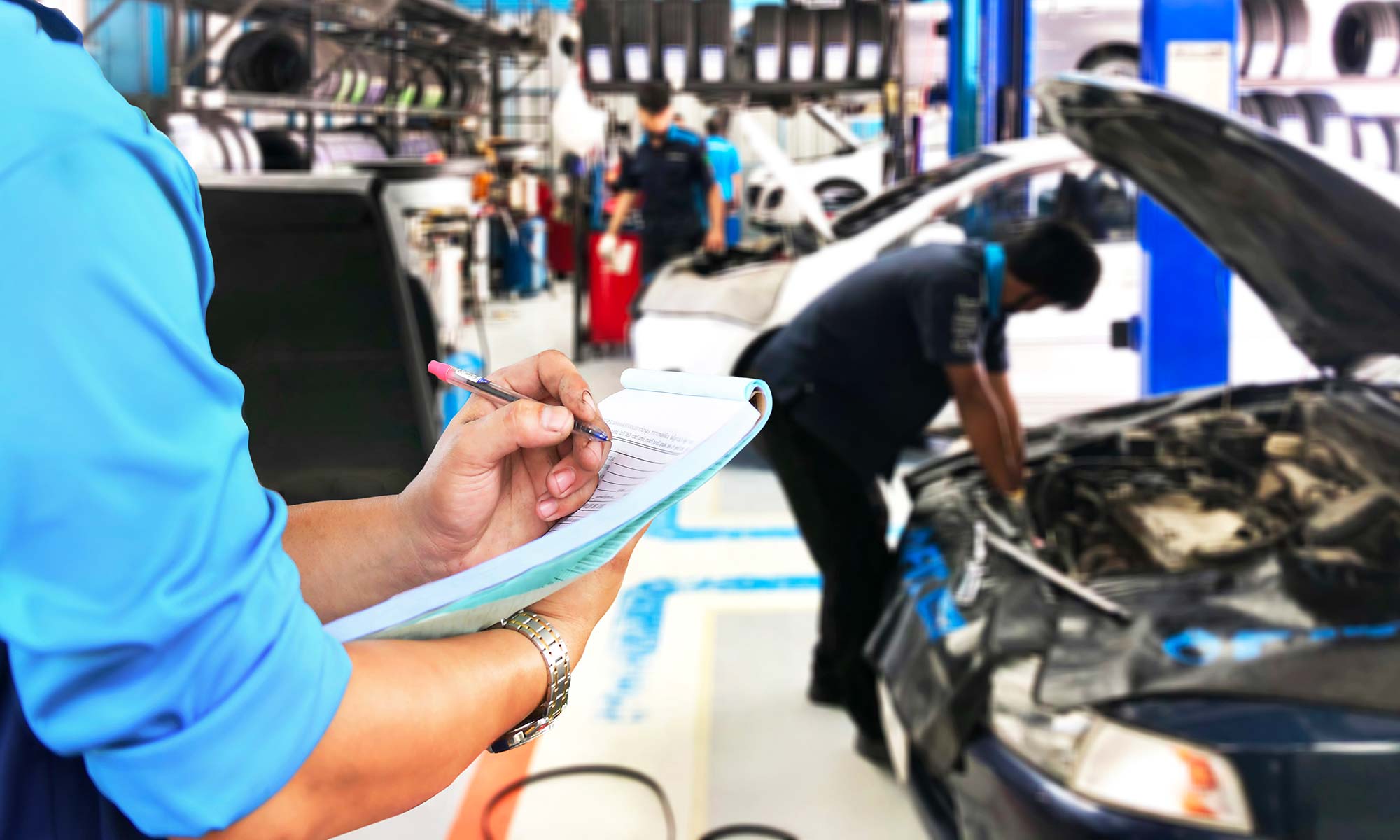 No matter where you live, a car is a necessary investment for most Americans, but being a car owner doesn't come cheap. In 2022, the AAA calculated that the average annual cost of running and maintaining one had passed the $10,000 mark—an increase of over $90 a month since 2021.
Combining this increase in the cost of owning a vehicle with the already high costs of new cars and even used cars, it makes sense that protecting this investment is a top priority for most car owners. For those with older, used cars, an extended warranty is one of the best ways to help you avoid unforeseen and expensive automotive issues. In fact, comprehensive automotive coverage can save you thousands in unexpected and expensive trips to a repair shop, but there are so many options that it can be tough to know what's best.
That's why taking the time to research extended car warranties, like learning more about the plans from Endurance Warranty and American Guardian Warranty Services, can help ensure that you and your vehicle get the best coverage to fit your needs and budget.
Why Get an Extended Warranty?
When a new car is made, it rolls off the production line with a manufacturer's warranty, aka a "factory warranty" or a "new vehicle limited warranty." Yet, regardless of how it's referred to, this coverage is effectively the manufacturer's promise to correct any faults that might occur within a predetermined number of years/miles traveled after purchase. Once this expires, however, you're responsible for any repair bills that might come up. But there are a couple of ways that coverage can continue.
Firstly, we have the classic extended auto warranty, which you can often purchase from your car's automaker for an annual fee. This does exactly what you'd expect, extending the coverage from your factory warranty and protecting you from unexpected expenses. The catch is that most extended warranties must be purchased and activated before your factory warranty expires. Leave it too late, or purchase a used car with no factory warranty coverage, and you'll no longer qualify. 
On the other hand, we have vehicle service contracts. These vehicle protection plans are brought to you by third-party warranty providers like us at Endurance, CARCHEX, Carshield, autopom!, Protect My Car and more. However, you will often see these service plans referred to as aftermarket "extended warranties," even though the original provider can only truly extend the original warranty coverage. Still, while these plans aren't warranties by definition, plans from these third-party car warranty companies can give you the same comprehensive coverage and more, often at a much lower price. They also include great perks and privileges too, plus the flexibility to have repairs carried out at any certified auto repair facility or ASE Certified mechanic (rather than restricting you to dealerships as plans from automakers often do).
It's these benefits that put vehicle service contracts head and shoulders above extended warranties in terms of value—and money-saving potential. However, it's vital to remember that while they can help you when faced with high repair costs, a car warranty is entirely different from auto insurance. 
Mainly, while any factory or extended warranty can help you with covered repairs due to mechanical breakdowns, the coverage you get from an insurance company will only help cover the cost of damages due to an accident, inclement weather or theft. However, other plans and providers can also give you other types of coverage. Car insurance is also mandatory in most states while having warranty coverage isn't. Still, while they aren't the same and not a must-have, having the right warranty can help you avoid costly repairs and other issues that you otherwise wouldn't have coverage for. 
The Companies
Endurance Warranty
For over 15 years, Endurance has been protecting drivers from the high cost of auto repair bills as one of America's most trusted vehicle service providers. Based out of Northbrook, IL, we cover almost any kind of vehicle and can fit almost any need and budget thanks to our award-winning coverage options that you can trust. So whether you have an old, high-mileage vehicle, a Canadian Grey Market vehicle, a car with a salvage or rebuilt title, or a high-end luxury car from select automakers, Endurance can get you covered. Plus, even commercially used vehicles for rideshare and delivery services can get coverage from Endurance. You can even enjoy a full 30-day money-back guarantee that gives you the time you need to be sure you've picked the right plan for you. But don't just take our word for it, as we are highly rated on various consumer review sites like Consumers Advocate (5.0), Trustpilot (4.1), Google Reviews (4.5) and more as of October 2022. In fact, here's just a tiny sample of what some of our customers have said about their Endurance coverage: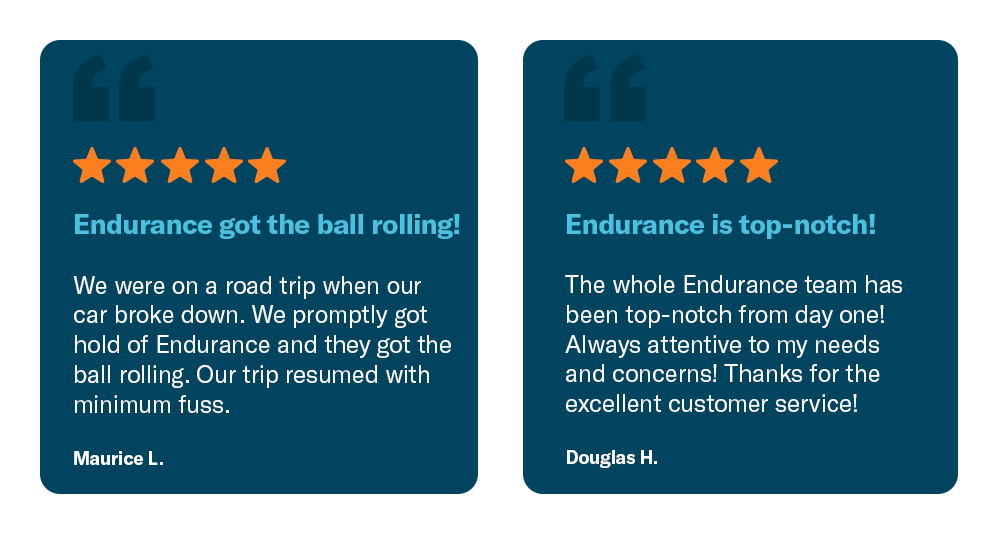 If all of that wasn't enough, we also throw in some of the best benefits in the business, including complimentary 24/7 roadside assistance and towing, trip interruption costs, and rental car reimbursements included with every Endurance plan. You'll even be eligible to enjoy an entire year's worth of Endurance Elite Benefits, which offer extra perks and savings such as tire repairs or replacements, collision discounts, and more.
And, unlike other providers, we're the direct administrator of most of our plans, so you'll never have to deal with pesky middlemen. It also means that Endurance plans are transferable, so if you ever decide to sell your vehicle, you can use your award-winning coverage to help upsell it. Our friendly team is always available to handle any questions or help you with your claims process. At the same time, the Endurance Mobile app puts all the vital information about your plan, perks and benefits right in the palm of your hand.
American Guardian Warranty Services, Inc.
Established in 1998 and headquartered in Chicago, IL, American Guardian Warranty Services (AGWS) focuses on providing the administration and insurance of service contracts, with a focus on automotive dealers. They work with over 4,000 dealers across the US and Canada and have an A+ rating from the Better Business Bureau (BBB). While this is certainly a good sign, it's worth noting that their customer reviews only come in at 3.05/5.
Their wide range of products covers everything from cars to RVs, trucks, and even powersport vehicles like ATVs and snowmobiles, but all of these are only available via approved partners. For cars, in particular, there are several levels of coverage and specialist products for more specific areas, such as tech and appearance.
The Plans
Both AWGS and Endurance offer a selection of coverage plans with varying levels of protection:
Endurance Warranty Plans
Advantage
Advantage is our most comprehensive plan, offering fantastic coverage in the event of an unexpected breakdown. Better yet, as well as protecting you against the cost of car repairs, it's one of the only plans you'll find anywhere that includes $3,500 in annual maintenance costs, covering you for things like oil changes and other services to help keep your vehicle in top running condition, and saving you even more on the cost of car ownership.
Supreme
The Supreme plan is an exclusionary coverage plan that's as close to a factory bumper-to-bumper warranty as you're likely to get. It covers hundreds of components with just a small list of exclusions, making it ideal for people who rely on their cars for daily commuting.
Supreme for Highline Vehicles
While luxury vehicles are a thrill to drive, their low reliability can make them a burden to own. To help when the inevitable happens, Supreme for Highline Vehicles is available for owners of specific luxury vehicles with less than 80,000 miles on the clock and less than eight years old.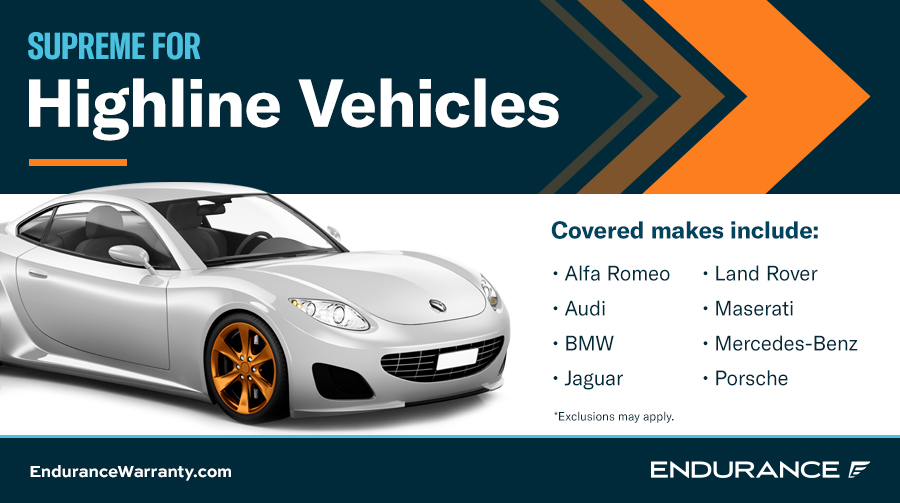 Superior
Superior is another comprehensive plan that covers a wide range of key components. This level of protection is perfect for people who use their vehicle daily or for those adventurous types who enjoy regular road trips.
Select Premier
Getting coverage for high-mileage vehicles can be difficult, but not with Select Premier. This plan is designed for older cars with up to 150,000 miles and covers select lubricated components of the engine, transmission, and drive axle assembly. Your cooling system, fuel system, and some air conditioning and electrical components are also included on top of other covered parts of your vehicle.
Secure Plus
Secure Plus is a step up from our basic Secure coverage, adding other vital components such as your brakes, air conditioning, and steering. Some extra electrical parts are included too.
Secure
While the Secure plan is our lowest level of coverage, it isn't something to ignore. It can give you basic powertrain coverage starting with monthly payments as low as $79, so you can cover the most vital parts of your vehicle without breaking the bank.
AGWS Plans
Compass Protection Plan
AGWS's Compass Protection Plan comes in Bronze, Silver, and three Platinum levels: Platinum, Platinum II and Platinum Wrap, each covering different components. Bronze and Silver are both stated component plans, which means they list the parts they will cover, including the engine, transmission, and drive axle. The Silver plan also expands some coverage, including electrical, steering and other components. Both also have some noted exclusions, such as Bronze not including "enhanced technology" if the vehicle is over 100,000 miles. 
Platinum is an exclusionary plan that covers everything in the Bronze and Silver levels, plus emissions components. As for the other two Platinum Plans, there is no clear indication of the differences, as they show the same covered components as the standard platinum plans. All three plans pay up to $100 in emergency roadside assistance services and offer rental car reimbursement. The Silver and Platinum plans also offer trip interruption assistance.
Compass Platinum Plus
As you'd expect, Platinum Plus is the next step up from the three Platinum tiers in the Compass Protection plan. It adds coverage for your brake pads, battery, headlamps, belts and hoses, windshield wiper blades, electrical, wheel alignment, diagnostic-related damage, and fluids—with a $0 deductible.
Compass Basic
With a focus on powertrain components, Compass Basic protects your engine and water pump, transmission, transfer case, drive axle, fluids and even taxes, with a $100 deductible. Optional surcharges are available for seals and gaskets, commercial use, modified vehicles, air conditioning, electrical, and Day One coverage. There are strict limits of liability applied to each component, and the total cost of all benefits paid under the agreement can't exceed $10,000.
Compass Advantage
With three levels of coverage, this plans basic coverage starts by offering a lifetime engine-only limited warranty that includes seals and gaskets, while a lifetime powertrain limited warranty is also available that includes the same components plus the transmission and drive axle. Next, it includes a 10-year/200,000-mile powertrain limited warranty that includes many of the same systems found in the Compass Protection Plan's Platinum levels. Lastly, the Compass Advantage plan offers Platinum Wrap coverage, an exclusionary plan only available for used vehicles.
Other Offerings
There are several additional products offered by AGWS, some of which are standard benefits offered by Endurance. For example, AGWS provides key fob replacement at an additional cost, which comes as part of our Endurance Elite Benefits. Other products by AGWS include tire protection, tech protection, various levels of theft protection, and even job loss protection.
Get Award-Winning Coverage & Complete Peace of Mind with Endurance
With countless warranty and vehicle service contract providers, taking the time to do your research can help ensure you're getting the perfect coverage for you and your vehicle. But, at the end of the day, while many different providers can give you coverage for your vehicle, only Endurance gives you the combination of award-winning coverage and service, industry-leading plans and expanded eligibility.
So whether you're looking for basic powertrain coverage to fit your budget or a plan as close to your car's original factory warranty, Endurance has one for you. Plus, all Endurance plans automatically come with a host of benefits to help give you even more peace of mind while on the road, including roadside assistance and more. You'll even be eligible for a whole year's worth of Endurance Elite Benefits for even more coverage and savings.
Get the coverage you need to protect yourself from costly auto repair bills by requesting a free, no-obligation quote today. Or, if you'd like to learn more about how Endurance can help you, call our customer care team at (800) 253-8203. You can even find other extended warranty coverage comparisons, as well as other articles on topics like answers to your biggest extended warranty FAQs, vehicle buying guides, DIY maintenance tips and more, by visiting the Endurance blog.
More like this
Comparisons

Owning a car is incredibly liberating, but unfortunately, that freedom comes at a significant cost. Not only is it expensive to purchase a vehicle, but the cost of annual repairs..

Read More

Comparisons

Drivers generally know that staying on top of a car's service schedule and needed repairs are essential parts of vehicle ownership. Making repairs as soon as they come up will..

Read More

Comparisons

Buying a used car can have a lot of benefits and is a great way to save money while still getting a quality vehicle. When purchasing a used vehicle, though,..

Read More