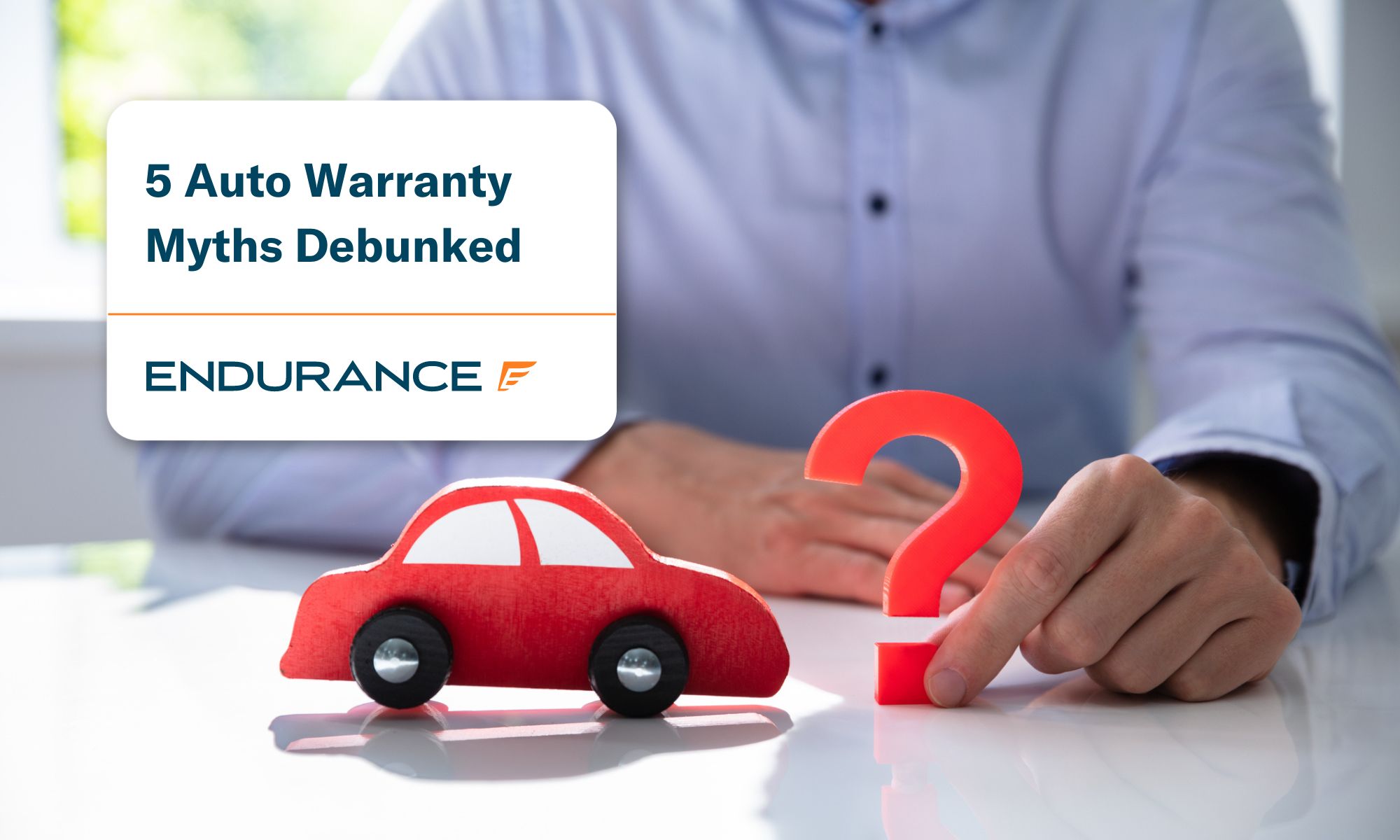 An extended car warranty can wear many labels, like an auto protection plan or vehicle service contract. But no matter what they're called, extended warranties are valuable for vehicle owners who want a safeguard against breakdowns and surprise repair bills.
Yet, this coverage can bring confusion and misconceptions because many warranty companies have different coverage options (including programs from automakers). The various names for this type of protection and the complex nature of automobiles make things more complicated.
With all this in mind, let's debunk the most common myths about extended car warranties. Why does this matter? Because misunderstandings can lead to unexpected repair costs, dissatisfaction with coverage, and frustration.
At a minimum, every extended warranty policyholder should know what their plan covers (and doesn't cover) and how long the protection lasts. Not knowing these details makes informed decisions challenging about your car's repair needs. It also leads to false beliefs about what an extended warranty can and cannot do.
Let's get to work addressing common extended warranty myths.
Myth #1: Extended Warranties Are Always Worth the Cost
In truth, an extended warranty doesn't make sense for every vehicle. Car owners need to realize this. Sure, there's peace of mind knowing there's coverage for breakdowns and unexpected repair bills, but this may not matter in a few situations.
For instance, an extended warranty may not be worth the price if your car is on its last legs (like if you're on a first-name basis with tow truck drivers). The money spent on a plan may be best used towards a new car.
An extended warranty may not be worthwhile if you have a bundle in the bank. That means you'll have no problem dipping into your account if you get hit with a repair bill for hundreds or thousands of dollars. This isn't the case for many people, but it's a situation to be aware of.
Myth #2: Auto Warranties Cover All Repairs and Maintenance
It's vital to remember that extended warranties don't cover everything. Let's first talk about repairs, as different plans offer different coverage. For instance, Endurance has an essential program that just protects key systems like the engine and transmission. This is the most affordable option, but it won't cover unrelated components like the air conditioning.
On the other hand, Endurance offers a Supreme plan featuring exclusionary coverage; it comes close to a new car "bumper-to-bumper" warranty, with only a few parts excluded from protection. Of course, this option costs more. And there are plans in between, along with programs for high-mileage cars and specialty automobiles (such as commercial-use vehicles and select luxury models). It all goes back to knowing what's covered, especially because extended warranties only cover defects in manufacturing or workmanship, not issues relating to wear and tear.
At the same time, most extended warranties won't cover vehicle maintenance unless it's a specific feature of the plan. For example, Endurance offers Advantage coverage, which includes up to $3,500 in maintenance services (like oil changes, tire rotations, and diagnostic exams). But this is the exception, not the rule.
Myth #3: It's Necessary to Get Car Serviced at the Dealership to Maintain the Warranty
Automotive retailers love it when people falsely believe they must take their vehicles to dealership service departments to maintain the warranty. This is absolutely not true. But don't take our word for it; it's federal law you don't have to go to the dealer for out-of-pocket repairs. In short, the Magnuson-Moss Warranty Act provides a layer of protection for consumers experiencing problems with their vehicles beyond what is offered by state "lemon laws." If your car is a lemon and the manufacturer won't replace or refund it, this law allows you to sue the manufacturer to get a refund or replacement.
In addition, as long as you follow the manufacturer's recommended maintenance schedule and use approved parts, your warranty remains in force. You'll need to maintain records, and using an ASE Certified mechanic or shop is always a good idea.
Myth #4: All Extended Warranties are the Same
Like there are different healthcare or home protection insurance policies, many options exist for extended car warranties. As mentioned in Myth #2, car owners can choose from various plans with different costs and protection levels. Most extended warranties have different deductibles, helping to lower your premiums or limit out-of-pocket costs.
Avoid companies that only offer a one-size-fits-all extended warranty without any options for adapting coverage. You'll either pay too much or find less comprehensive protections.
Myth 5: New Cars Don't Need an Extended Warranty
Car owners with an existing new car warranty may not think there's a need for extra coverage, but there are advantages to getting a jump on additional protection. The earlier you buy an extended warranty, the cheaper it is. It's no different than buying life insurance; premiums are more affordable the earlier you sign up.
Plus, some extended warranties have benefits that don't come with a factory warranty. A case in point is Endurance's Advantage coverage. Most new cars don't come with maintenance services (and if they do, it's for basic tasks like oil changes). This Endurance program includes car battery replacement, alignment checks, and other services you'd otherwise have to pay for, no matter how good the new car warranty is.
Tips for Understanding Your Auto Warranty
Understanding what's involved with an extended warranty can be challenging, but knowing the details helps maximize this coverage.
Start by determining exactly what's covered. Does the plan just offer powertrain protection (for the engine, transmission, and drive axles), or are other components covered? Be sure to review any specific exclusions.
You'll also want to have a solid perspective of any deductibles and limitations that cap the coverage amount. Be certain to understand how to file a warranty claim and when coverage expires. It's also a good idea to keep repair records and receipts if the warranty company needs to confirm that previous work has been completed.
Take the Mystery Out of Extended Warranties with Endurance
Endurance makes a point of being upfront about its extended warranties. Every customer has an opportunity to review coverage details before buying. And award-winning protection plan experts are on-hand to answer any questions.
Endurance has paid more than $300 million in claims since 2012. It's a benchmark few extended warranty companies have reached and demonstrates a commitment to getting Endurance plan holders back on the road as soon as possible.
Every Endurance extended warranty includes 24/7 roadside assistance (with towing coverage and lockout assistance), rental car reimbursement, trip-interruption support, and flexible terms. There's also a 30-day money-back guarantee, which means you can request a cancellation in the first month of your coverage and typically receive a full refund. Policyholders can also choose from any ASE Certified mechanic or repair facility for covered repairs.
Endurance customers can also sign up for one year of Elite Benefits. It's a collection of extra features worth up to $2,000, covering tire repairs and replacements, collision repair discounts, key fob replacement, and other valuable services. Just pay a small activation fee to get started.
Discover all the advantages of an Endurance auto protection plan. Request a FREE quote or call (800) 253-8203 for personalized help from a protection plan specialist. You can also visit our online store for instant pricing and coverage details.
Explore the Endurance blog for expert advice about car maintenance, DIY repairs, make and model comparisons, and more.
Auto Warranty FAQs
What are 5 common acts that void your vehicle's warranty?
Whether you're concerned with a new car warranty or an extended warranty, certain activities will lead to claim denials and cancellation of coverage. These include a change in title status (like if a vehicle is totaled after an accident), failure to perform scheduled maintenance, vehicle misuse (such as racing), alterations to the odometer, and unauthorized modifications (what constitutes this is detailed in the warranty terms).
What are two items typically not covered in a car warranty?
Most car warranties exclude tires, brake pads, and rotors from coverage. These are wear-and-tear items that degrade over time in all vehicles. Replacements typically aren't due to defects in workmanship or manufacturing.
What is the most important thing to remember when considering an extended warranty on your vehicle?
While price is always an important consideration, car owners need to understand exactly what an extended warranty covers and what it doesn't. That means knowing about the exclusions, limitations, deductibles, length of coverage, and other vital details before signing the paperwork.
More like this
Extended Warranty

When driving on roadways around the world, the thing most car owners fear is being involved in an accident. However, mechanical breakdowns are the thing that every average driver should..

Read More

Extended Warranty

Every car owner knows how important it is to keep their vehicle in the best possible condition at all times. This means making sure that you are getting the proper..

Read More

Extended Warranty

Driving down the road only to experience an issue with your vehicle's steering capabilities is a terrifying experience, regardless of if you are driving a new vehicle or an old..

Read More