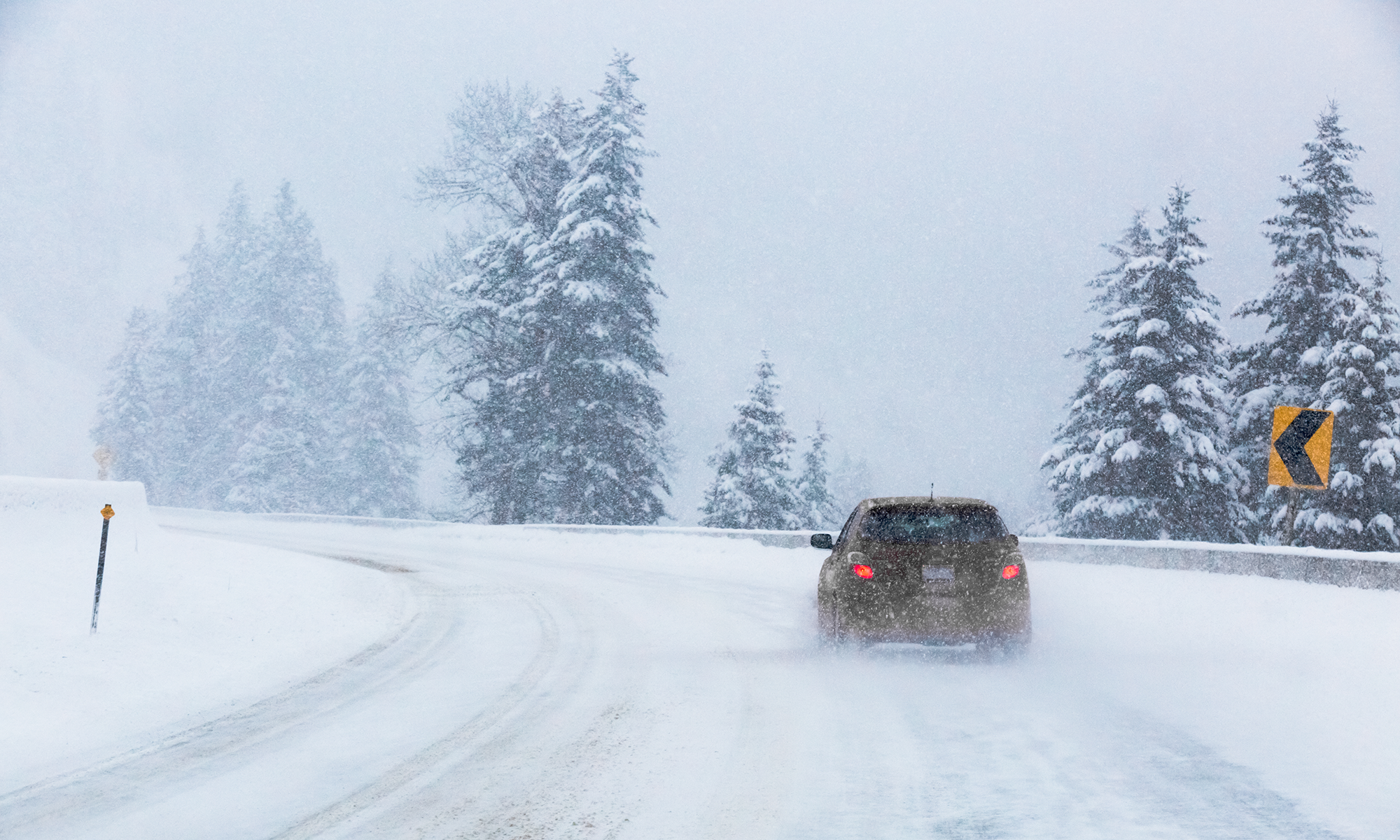 The end of the year can be tough on your car for many reasons, from excess holiday traveling or running more errands than usual. The most difficult part of this time of year and the winter months in general, though, is the temperature. Freezing weather and winter driving conditions can not only wreak havoc on your car but can make driving safely difficult. That's why knowing how to drive carefully and keep your car in good working order is vital when there's snow and ice on the road. 
How Winter Impacts Your Car (and Driving)
Lower temperatures and winter conditions can seriously impact your vehicle and how you should be driving. Understanding how the winter weather can cause problems with your car and your driving can help you prepare and keep an eye out for them. 
Tire Pressure:

Cold weather

can cause the pressure in your tires (also known as the PSI) to fluctuate. The colder the weather is, the more the air in your tires will contract, causing a pressure drop. In fact, for every ten degrees the temperature drops, you will lose between one and two PSI in your vehicle's tires. 

Battery Capacity:

Winter temperatures can decrease the capacity of

your car's battery

. If your battery is already on the older side, you may notice it has trouble putting out the right voltage as soon

as the weather gets cold

. 

Traction Issues:

Safe winter driving

means nothing when dealing with traction issues.

Cold weather

can cause the rubber to harden, decreasing your traction on the road. On top of that, the snow and ice that accumulates on the road can cause serious problems with how your car grips the surface of the asphalt. Heavily worn tires will also suffer from traction loss, even if you're not dealing with overly snowy or

icy roads

.

Thickening of Fluids:

The fluids in your vehicle are

susceptible to

cold weather

,

just like any other fluids. They can freeze up and break in the lines, which can cause clogs and leaks. They can also expand, which may

crack the lines

themselves over time. 

Windshield Wiper Malfunctions:

Your

windshield wipers

will likely get a little more use than usual during winter. This can wear out the motors and the rubber of the wipers themselves. Checking your wipers regularly is highly recommended to ensure your visibility is always as good as possible. 

Corrosion:

If you live in an area that gets a lot of snow, your city most likely spreads road salt on the roads to prevent

black ice

from forming. Unfortunately, this "salt"

can cause corrosion

on the underside of your vehicle. This can result in serious structural issues and cause expensive problems down the line. 
Winter road conditions can present specific problems you must watch out for whenever you're behind the wheel. And for many around the country, the end of the year may often be the beginning of icy and snow-covered roads. But by knowing how your car can be impacted this time of year and some tips for driving in winter weather, you can ensure that you and the other people on the road are safe when the snow starts to fall. 
Safe Driving Tips for Winter Weather
While the winter can affect your driving habits and how your vehicle operates, there are things you can do to make sure you stay safe. Changing how you drive and engage with the road can protect you and ensure you stay in control of the car. With a few safe driving tips for winter weather, you can rest easy knowing that you will be secure when you get in the driver's seat. 
Drive Slowly
The best thing you can do for yourself when driving in winter conditions is to drive slowly. You should drive at least ten miles per hour slower than the posted speed limit when snow falls or ice is on the ground. However, it would be best if you slowed down, even more, depending on how severe the winter conditions are. 
The slower you drive, the more time you will have to react if something unexpected happens. Skids, sudden stops, or debris in the road can all happen when snow and ice have accumulated. If driving slower, you can give yourself a safe cushion to move or stop when necessary. 
You should also avoid making sharp steering moves and always move your steering wheel as gently as possible when turning the car to prevent skids. Don't look to use features like cruise control, either, as even the slightest delay in slowing down in less-than-ideal driving or weather conditions could result in an accident. 
Watch Out for Black Ice
Along with creating your usual slippery surfaces, freezing temperatures can also cause black ice to form, which is a severe problem for motorists. More specifically, black ice forms when a large amount of snow or water on the road freezes solid and creates a layer of ice over the actual asphalt. It is incredibly slippery and can cause you to lose control of your vehicle very easily. 
Watch for any black ice that may have frozen over on the road ahead as you drive, especially on bridges or overpasses. For the most part, black ice is clear, but it will be visible as a shiny, reflective surface in your headlights. Driving slowly and carefully will help you see any black ice before it gets under your tires. 
Know How to Handle Skids
Knowing about black ice is vital, but when driving in winter conditions, ensure you know how to handle skids, even if your car comes equipped with the latest and greatest anti-lock brakes (ABS) and other safety features. With snow and ice on the ground, the chances of finding yourself skidding are greatly increased, even if you have a pair of snow or winter tires on. While this can be incredibly dangerous, if you know how to regain control of your car, you can get out of the skid safely while doing minimal damage to your vehicle or others on the road. 
If you find yourself in a skid, the most important thing to remember is that you don't want to slam on the brake pedal. Instead, pump the pedal gently to keep the wheels from locking up and skidding more. Then, gently turn away from the skid to help the car straighten out without spinning around. 
Check Your Tires
During the winter, you want to ensure that your tires are in top condition. This means you should have enough tread on them to grip snow-covered roads. If you live in an area that gets consistent snow, switch over to snow tires, which have large nubs that will hold onto the asphalt and prevent slippage on snowy and icy roads. 
If you want to ensure that your tires have enough tread, you can use a penny to check the depth. Put a penny upside down into the gaps between the tread blocks on your tires. If you can see the top of Abraham Lincoln's head, you should replace the tires immediately. This will ensure you have enough grip on the road in snowy and icy conditions. 
Increase Your Following Distance
When driving with other cars on the road during the winter, ensure that you increase the distance between yourself and the car in front of you. When the weather is poor, all kinds of things can happen that will necessitate a quick stop. If you are following the car in front of you too closely, you may not have time to react if they have to slam on their brakes. 
In normal conditions, it is recommended that you leave at least three seconds' worth of distance between yourself and the car in front of you. In winter conditions, you should leave the tailgating for stadium parking lots and increase this distance to at least eight seconds. This will give you a good amount of reaction time if you have to stop quickly.  
Don't Stop on Hills
Like oil and water, slippery roads and gravity don't mix. You'll have a harder time getting the necessary traction to keep your car moving (or to get you moving again) and pose a risk of sliding backward on steep roadways, making hills a potentially serious problem when snow and ice have accumulated on the road surface. If you have to park on a hill in snowy or icy conditions, remember the basics:
Parking Uphill (with a Curb):

turn your wheels toward the center of the road.

Parking Uphill (with no Curb):

turn your wheels toward the side of the road.

Parking Downhill:

turn your wheels toward the side of the road.
Remember to accelerate as slowly as possible after being parked on a hill. This will help you avoid spinning your tires and digging them into the snow. If you get stuck, use things like sand or kitty litter to try and give yourself more traction.
Protect Yourself & Your Car All Winter with Endurance
Knowing how to drive in the winter is incredibly important, especially if your area regularly gets extreme weather, such as heavy snow, sleet and ice. While it is crucial to know some techniques for winter driving, keeping your vehicle in good condition is essential, as a car running smoothly and reliably will help keep you safe and prevent expensive breakdowns on the side of the road. But for even more peace of mind for the breakdowns and repairs that just can't be avoided, an Endurance auto protection plan can help get you back on the road and avoid expensive repair bills any time of the year. 
Endurance offers a wide range of plans for all kinds of drivers and budgets, including basic powertrain coverage starting as low as just $79 per month. You can even find coverage vehicles most other providers won't cover, including select high-end luxury vehicles, cars with salvage or rebuilt titles and vehicles used for rideshare and delivery. 
Best of all, every Endurance plan automatically comes with complimentary 24/7 roadside assistance, trip interruption coverage, rental car reimbursement, and the chance to go to any certified mechanic, not just the dealership. You can also get one year of FREE Endurance Elite Benefits for a small activation fee. This includes more perks and savings, including collision discounts, key fob replacements, tire coverage, and total loss protection.
Start protecting your vehicle today by calling our award-winning customer service team at (800) 253-8203 and get a free quote or shop online today. You can find other answers to your biggest car maintenance FAQs and other articles on topics ranging from vehicle buying guides, extended warranty coverage comparison, maintenance how-tos and much more at the Endurance blog.
More like this
How To

As vehicle technology advances, features become more convenient, and design becomes completely geared toward making things as easy as possible for you. Modern key fobs are an excellent example of..

Read More

How To

Ford may have recently decided to discontinue the Focus, but with over two decades since the first iteration was revealed to the world, you can bet plenty of them will..

Read More

How To

It is no surprise that autumn is a favorite season for car owners all across the United States. With pops of color and long shadows, there is so much beauty..

Read More