Summer is right around the corner! The kids are out of school, the temperature is rising, and everyone is looking for fun activities to pass the time. Luckily, there are many ways to keep busy using your car, and having even more things to do on a road trip or family vacation can help make any adventures even more fun. 
From visiting a drive-in movie theater for a movie night, lounging at the beach with some s'mores and marshmallows, or even giving the family car a DIY car wash, you can surely make any dull summer day an absolute blast for everyone to enjoy. And to help you plan even more fun, we've compiled a list of six of the most fun and unique car activities you can do in the summer.
Preparation is Key
Before any activity involving your vehicle, you need to properly prepare it for summer. To avoid additional wear as the season changes and as you embark on your summer adventures, follow these simple tips:
Check your

tire pressure

as it will change as the temperature changes.

Deep clean your car

to remove dirt and grime from the winter and spring.

Check all of the fluids in your car, including your engine oil, wiper fluid, and coolant. 

Protect your car's paint from fading by using a shield or parking in the shade as often as possible. 

Inspect the battery

for damage from the high temperature to avoid losing all power in the car and potentially being stranded on a road trip!

Check the cooling system to help avoid potentially overheating your engine.

Inspect your car's air conditioning, like checking the amount of refrigerant you have or if it's working properly; otherwise, you can risk

losing A/C

on a hot summer day.
Checking your car for these issues will allow you to enjoy your summer activities without interruption. However, even if you do every one of these preparation tips, you should still also take the precaution of protecting your vehicle from unexpected repairs, especially if you have an older, used car. After all, nothing puts a damper on a family activity or summer adventure like an unexpected breakdown. That's why having the protection of an Endurance auto protection plan can help make any trip run smoothly. Some plans, like the Advantage plan, can even help cover you from expensive repair bills while helping you save up to $3,500 on some of your vehicle's important maintenance needs, including tire rotations, alignment checks, PSI checks, engine diagnostic exams and more. You'll even get access to several special, one-time services like cooling system maintenance, a battery replacement, a brake pad/shoe replacement and more when you're an Advantage customer.
But that's not all, because regardless of the Endurance plan you choose, you can be certain that wherever you are across the country, you'll be able to take your vehicle to any certified repair shop or ASE Certified mechanic of your choice, including a dealership! Plus, you'll also automatically receive 24/7 roadside assistance and towing, trip interruption coverage, and rental car reimbursements to help ensure you get back on the road fast to have plenty of fun.
Visit a Drive-In Movie
The drive-in movie is a classic way to enjoy your summer nights with your family and friends. After all, not everyone can enjoy a movie night under the stars while still having the comfort of A/C, surround sound and (of course) no bugs. Plus, they are usually much cheaper than going to a traditional movie theater. 
While you can watch the movie from the comfort of your vehicle, you can also bring chairs, games, and picnic blankets to lay on the grass. Be sure to pack your car with plenty of popcorn, snacks, and drinks as well! Just be sure to give your car's interior a good cleaning afterward. 
Stargazing 
Stargazing can be a calm, eye-opening experience, and it's simple as you don't even need a telescope! Just by looking up at the night sky, you can find constellations and planets and enjoy its beauty. All you need to do is recline the seats of your car all the way back, roll down the windows or open the moonroof and look up. You can even lay a blanket on the grass near your car or your pickup bed and enjoy the stars from there. Or turn it into a full-blown camping trip and enjoy the view for a few more days. Just be sure to pack the essentials! 
If you do not live in a rural area, it may be hard to see many of the stars in the sky because of light pollution. Because of this, national or local parks are great places to stargaze from the comfort of your vehicle.  
Wash Your Car by Hand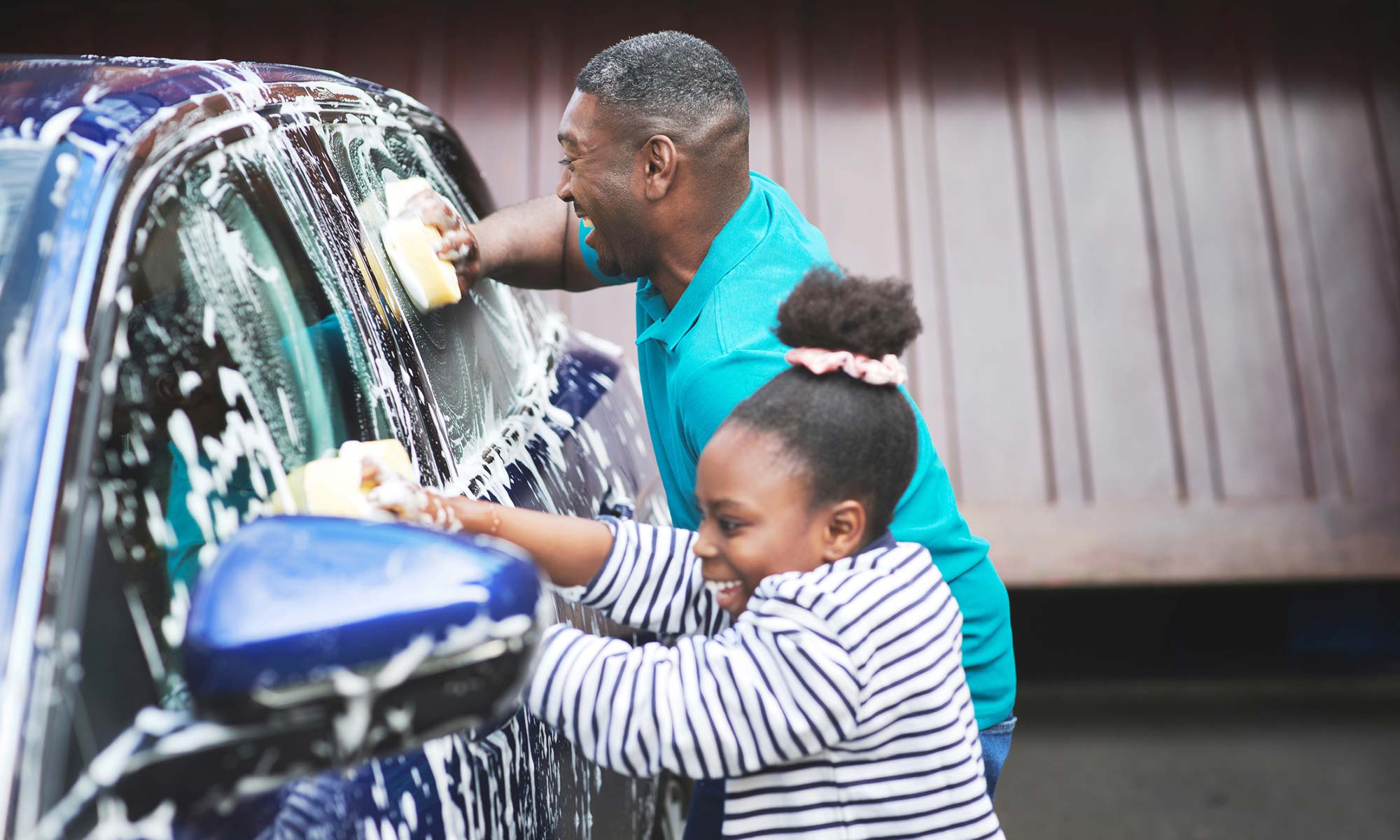 Washing your car can be a great opportunity to get the kids together and teach them about car maintenance because, believe it or not, getting a car wash is crucial to making any car last for years to come. So grab the hose, soap, some buckets, and all the rest of the necessary supplies and get to scrubbing! 
But while washing your car yourself is important, it's just as essential to go about it properly. Using the correct cleaning supplies for each part of the car is crucial to preserving it and preventing damage. Also, knowing what to avoid when washing your car and following good car washing practices and habits can help ensure that your vehicle is taken care of properly.
Have a Sleepover
If you don't have a tent, a car sleepover can be a great alternative! You can put down the backseats, hang some lights, and throw in some pillows or blankets. For a car sleepover, you can drive to a campsite or just stay in the driveway at home. 
Although a car sleepover can be fun, it may not fit an entire family. Be sure to assess how big your vehicle is and if it can fit every family member. Otherwise, a car sleepover is a great way to fall asleep under the stars but avoid the bugs. 
Have a Picnic
If you have an SUV or large vehicle, a picnic in the back of it may be a great idea for you! Just like the car sleepover, you can put down the seats and lay a blanket down. Then, pop the trunk and bring out the picnic basket and cooler. 
A car picnic is great because you can stop practically anywhere for a meal. Park in a field, at the beach, or in a park and enjoy the sun with your favorite picnic partners. Prepare foods that aren't too messy and won't spill while you drive.
Build a Fort
Building a fort in the car can be a great way to keep the kids occupied. Let them bring out their creative side by hanging up blankets in your vehicle and making their own castle! Be sure to bring flashlights as well. 
A fort in a large vehicle, like a truck or SUV, can easily be made, but it will take some critical thinking to make one in a small car. So let the kids have fun making their fort out of items that you have on hand already. 
Hit the Road This Summer with Endurance
Whether it's for a night at home or on the last legs of a family road trip, planning fun activities with your car can help create memories that can last a lifetime. But no matter what your summer activities entail, you won't get very far dealing with an unexpected breakdown—unless you have an Endurance auto protection plan.
With Endurance, you can rest easy knowing that your car, truck or SUV will be covered from costly repair bills no matter where you are across the country. When you're an Endurance customer, you'll have access to 24/7 roadside assistance and towing to get your vehicle to the nearest certified repair shop right in the palm of your hand, thanks to the Endurance Mobile app. But that's not all, as each Endurance plan also comes with other standard benefits, including trip interruption coverage and rental car reimbursements, so even if your repairs take longer than expected, your adventures don't have to stop while you wait. With the Advantage plan, you can even bundle your comprehensive breakdown protection with savings of up to $3,500 towards some of your vehicle's important maintenance needs. 
And regardless if you have Advantage or any other Endurance plan, you'll also automatically be eligible to receive a full year of Elite Benefits to open up a world of even more perks and savings. Just choose the Endurance plan that's right for you, pay a $29 activation fee and enjoy your entire year's worth of Elite Benefits, including tire replacements/repairs, collision discounts, key fob replacement and even total loss protection.
Get started protecting your vehicle this summer by requesting a free, no-obligation quote today. Or, if you'd like to learn more about how Endurance can help you, give the award-winning customer care team a call at (800) 253-8203. And don't forget that you can also find even more articles on everything automotive, including other road trip planning guides, expert auto tips, DIY maintenance how-tos, extended warranty comparisons and much more by visiting the Endurance blog.
More like this
Travel

In the warmer weather of summer, many people plan off-road excursions and road trips with the entire family. The only thing that can ruin these outdoor adventures is an unexpected..

Read More

Travel

Thanksgiving is fast approaching, and if you're like many across the country, you're probably gearing up to head home (or somewhere) to spend quality time with loved ones and enjoy..

Read More

Travel

With the end of summer near, the Labor Day holiday weekend is just around the corner. It also means that millions of drivers will be hitting the highway for one..

Read More