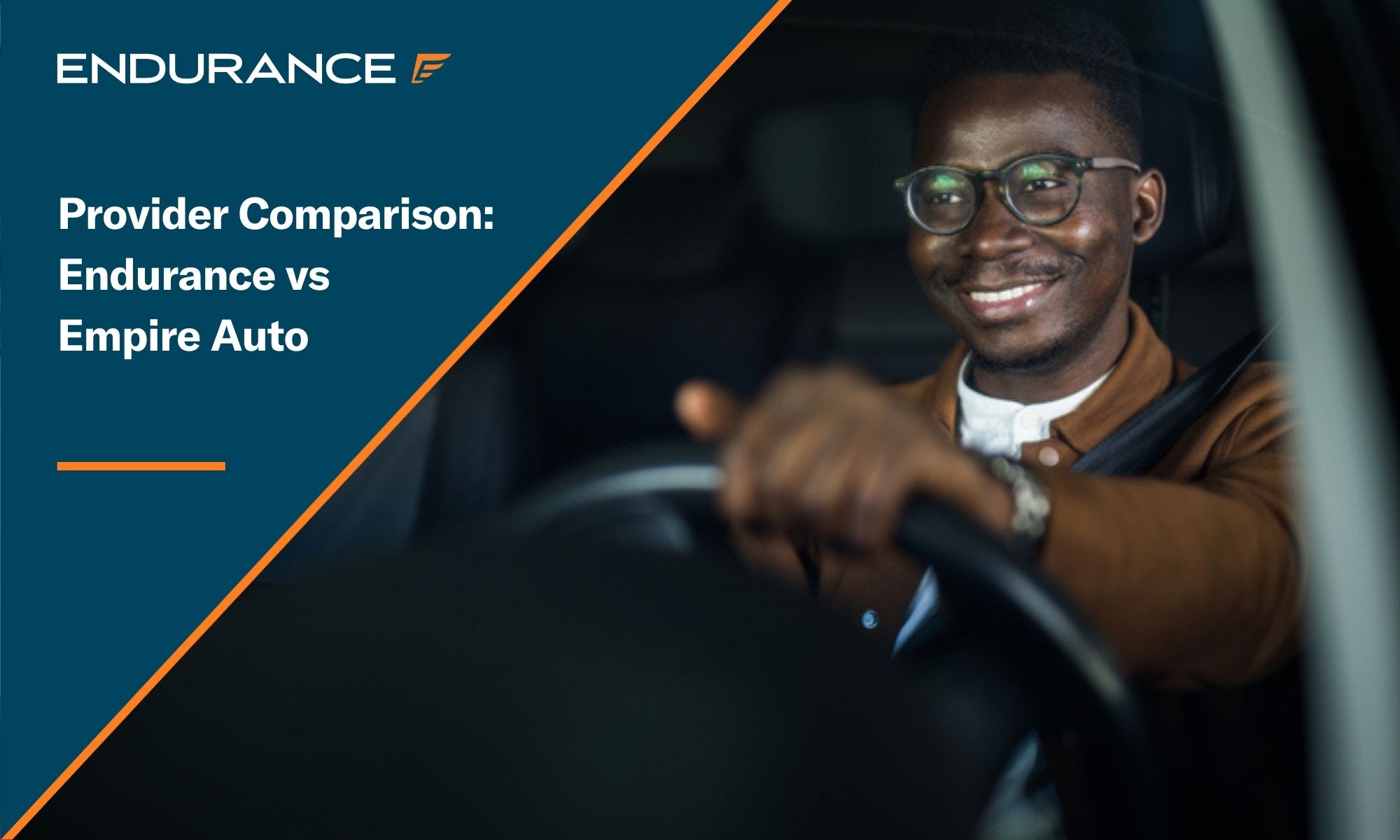 Buying a new or used car can be incredibly exciting, especially if you are buying something you have always dreamed of owning. No matter what kind of vehicle you purchase, though, making sure you can protect it is essential.
When you buy a car new from the dealer, it will come with a factory warranty, which helps pay for any repairs that come up due to issues at the factory or design flaws. After that warranty is up, though, you need to find a protection plan that will help you keep your vehicle in great shape for many years to come.
An extended warranty also called a vehicle service contract (VSC), is a great way to get protection for your car. There are many third-party extended auto warranty providers on the market, and finding the right one will give you confidence that your vehicle is in good hands every time you get behind the wheel.
With so many choices, though, it can be hard to find the right provider for your needs. Two extended warranty companies, Endurance and Empire Auto Protect, are both good options. Knowing how they stack up against one another and what each of them has to offer will help you make the right choice for your car.
Company Overview
Endurance Warranty Services
Endurance was founded in Northbrook, Illinois, over 15 years ago and, since then, has been providing customers with top-notch protection for their vehicles. With unrivaled eligibility and a wide range of plans for cars and drivers of all kinds, there is something for everyone. No matter what your needs or budget might be, you can get a custom plan specifically designed for your vehicle. Starting at just $99 per month, Endurance plans are comprehensive, versatile, and incredibly inclusive.
Endurance also offers a large number of standard and extra benefits that you can use to make your driving experience as safe and convenient as possible. These include things like 24/7 roadside assistance, towing, lockout service, travel interruption costs, and rental car reimbursement. Plus, for a small activation fee, customers also get access to Elite Benefits, which include tire repair, key fob replacement, total loss protection, and more.
Empire Auto Protect
Empire Auto Protect has been in business since 2006, and they have been offering extended car warranties to drivers around the country ever since. They offer three different tiers of plans: Silver, Supreme, and Titanium. Depending on how much coverage you want, one of these plans will be your best option. They also offer rim and tire coverage, albeit for an additional fee, which can be useful if you want to protect those specific components of your vehicle.
Coverage Options
Endurance
Supreme – When you want protection that is as close to the factory warranty as you can get, the Supreme plan is your best option. Nearly every component and system of your vehicle will be covered, including seals, gaskets, and even some of the more high-tech components that most providers won't cover.
Supreme for Highline Vehicles – If you have a high-end luxury car or exotic vehicle, it can be difficult to find coverage for it. The Supreme for Highline Vehicles plan covers cars by popular luxury automakers like Porsche, Mercedes-Benz, and Alfa Romeo, as long as they have less than 80,000 miles on the odometer and are less than 8 years old.
Superior – If you don't need the most comprehensive coverage but still want to be sure your vehicle is protected, the Superior plan is a great choice. With coverage for all the most important components of the car, plus some extra electronics and high-end features, you can get the protection you need.
Select Premier – If you have a vehicle with quite a bit of mileage on the odometer, it can be hard to find the right coverage for it. The Select Premier plan was specifically developed for cars that have higher miles and designed to protect them just as much as any other, newer vehicle.
Secure Plus – Getting the best protection for your vehicle's most important components is crucial. The Secure Plus plan covers your vehicle's powertrain components as well as a few extras so you can rest easy knowing your engine is protected.
Secure – For those looking for the most basic coverage, the Secure plan offers solid protection. With coverage for things like the engine, transmission, and drive axle, your car's most essential components can get the protection they need in order to keep your vehicle running.
Advantage – Advantage offers incredibly comprehensive coverage, and it's also the only auto protection plan on the market to include up to $3,500 in annual maintenance costs, such as oil changes, saving you even more on the cost of car ownership, making it perfect for those who need the best possible protection on the road.
Empire Auto Protect
Silver – The Silver plan is Empire Auto Protect's most basic coverage option. This plan covers the most important components like the engine, transmission, cooling system, and brakes.
Supreme – If you want a little bit of extra protection, Empire Auto Protect's Supreme plan comes with a few more features. These include protection for your steering system as well as lockout coverage on the road.
Titanium – The most comprehensive plan that Empire Auto Protect offers is the Titanium coverage plan. This plan comes with everything the first two plans come with, as well as coverage for the AC and heating systems, turbochargers, tech, suspension, and more.
Customer Service Experiences
Endurance
One of the things that Endurance has become known for over the years is a dedication to customer service. Endurance's award-winning customer service team is available to you 24 hours a day over the phone or through the Endurance Mobile app. This means you can get help with claims, find out about your coverage plan, or request roadside assistance at any time. Having this team on your side allows you to feel confident whenever you are out on the road.
Empire Auto Protect
Empire Auto Protect generally has good customer reviews when it comes to customer service. There have, however, been some instances of miscommunication when it comes to things like the deductible that the customer is responsible for and what will and will not be covered by a plan. If you are going to work with Empire Auto Protect, make sure you are 100% clear on the terms of your plan and that you get the correct information from any customer service representative you speak with.
Claims Process
Endurance
When you have a VSC from Endurance, the claims process is meant to be as simple as possible. When you have an issue with your car, all you have to do is take it to the shop of your choice, present your Endurance policy, and the shop will take care of the rest. This makes it simple to get the repairs you need and ensures that you can get your vehicle fixed so you can get back on the road.
Empire Auto Protect
Empire Auto Protect also has a relatively simple claims process that you have to go through when getting your vehicle repaired. You can take your vehicle to any certified shop or dealership that you choose, and Empire Auto Protect will work with the mechanic directly to get your claim approved. That being said, it is not clear whether or not your claim has to be approved before any work can start on your car, so it is possible that you could experience some delays before you can get your vehicle fixed.
Cost and Affordability
Endurance
Every Endurance plan is custom-made for each particular customer. This means that it is difficult to give a price range for plans. Plans start at a $99 monthly payment, though, so if you are looking for the most basic coverage for your vehicle, you can count on keeping your costs low. After that, the cost of your plan will depend on things like the age and mileage of your vehicle, what kind of car you have, and what your needs are when it comes to the components that you would like to be covered in your plan. Endurance also offers a 30-day money-back guarantee on coverage.
Empire Auto Protect
Empire Auto Protect does not give a range of prices for their plans. If, however, you want to include rim and tire protection for your plan, this will cost you an extra $799 per year. Empire Auto Protect also does not offer any information on the extra cost if you want to get a plan that does not have a deductible, which means you could end up paying quite a bit more. It should also be noted that Empire Auto Protect charges annually for their plans. This could make getting protection fairly cost-prohibitive if you do not have the money for a whole year's worth of coverage upfront.
Additional Benefits
Endurance
One of the major upsides of working with Endurance for your vehicle protection needs is the wide range of standard and extra benefits that come with every plan. These benefits include 24/7 roadside assistance, trip interruption coverage, and travel reimbursement. Plus, for a small activation fee, you can get Endurance's Elite Benefits package. This comes with extra features like tire repair or replacement, total loss protection, and more. Having access to these extra benefits and perks lets you feel as comfortable as possible whenever you are in your car.
Empire Auto Protect
Empire Auto Protect does not have as comprehensive of a benefits package as Endurance. While they do offer 24/7 roadside assistance and parts and labor coverage, they do not have any other standard benefits that come with their plans. For example, if you want to protect your rims and tires, you will have to pay an extra $799 per year, which may or may not be worth it in the long run.
User Feedback and Reputation
Endurance
Endurance's customer satisfaction ratings are incredibly high and include many references to the customer service team and their depth of knowledge. Endurance has a 3.7-star rating on Trustpilot and a 4.3-star rating on Google, with thousands of ratings. Many reviews call out specific members of the team as being particularly helpful and willing to go the extra mile. Having this kind of dedication to service is essential when you need to get your vehicle repaired and can make you feel like you have the best people on your side at all times.
Empire Auto Protect
Empire Auto Protect also has very good reviews from current customers. While they have a 4-star rating on Trustpilot, they only have 47 total reviews, which is a much smaller sample size than what Endurance has. Even with this high rating, there are still a few complaints regarding miscommunications about what is and isn't covered and with deductible obligations. Because of this, you should make sure you get thorough communication regarding your plan and know the details before you commit to a contract.
Get the Best Coverage for Your Car With Endurance
When choosing coverage for your car, it is crucial that you find the right company. Knowing what your options are and what each provider has to offer is your best bet and will help you get the protection that you and your car both deserve.
Endurance offers a wide range of plans to choose from, all of which come with comprehensive protection and a top-notch customer service team. With standard benefits and extra perks to help make your driving experience all the more convenient, Endurance can help you keep your car running smoothly for many years to come.
If you'd like to know more about how we can protect you and your wallet from unexpected repair bills, get in touch with our award-winning customer service team at (800) 253-8203 for a FREE quote. You can also shop online to see your price today.
If you're not done reading just yet, continue learning about all things automotive, including other provider comparisons for CARCHEX and CarShield, over on the Endurance Warranty blog.
Extended Car Warranty FAQs
Is Empire Auto Protect a legitimate company?
Empire Auto Protect is a legitimate company that has been in business since 2006. They offer plans to drivers all over the country and are a direct provider, which makes them a good choice if you want coverage you can use no matter where you live.
What's the best auto warranty company?
The best auto warranty company can be difficult to find since every driver has their own set of needs and requirements. Finding a provider that has the right plan for you and your car is dependent on what you want and how much protection your car needs.
Is Endurance a good brand?
Endurance is one of the most well-regarded VSC providers on the market. With a solid reputation for excellent customer service and peace of mind, you can find a plan that you will be happy with, and that fits your needs and budget.
Does Empire Auto Protect have good customer service?
While Empire Auto Protect has good reviews regarding customer service, there have been some complaints about miscommunication. If you are going to work with them, be sure to know all the details of your plan and to read the fine print of any contract you sign.
More like this
Comparisons

While owning a car is incredibly liberating, it doesn't come cheap. In August 2023, AAA announced that the average annual cost of running and maintaining a vehicle had just passed..

Read More

Comparisons

No matter what kind of car you drive, keeping it in good condition should be one of your top priorities. A vehicle that is well taken care of will last..

Read More

Comparisons

Owning a car is incredibly liberating, but unfortunately, that freedom comes at a significant cost. Not only is it expensive to purchase a vehicle, but the cost of annual repairs..

Read More