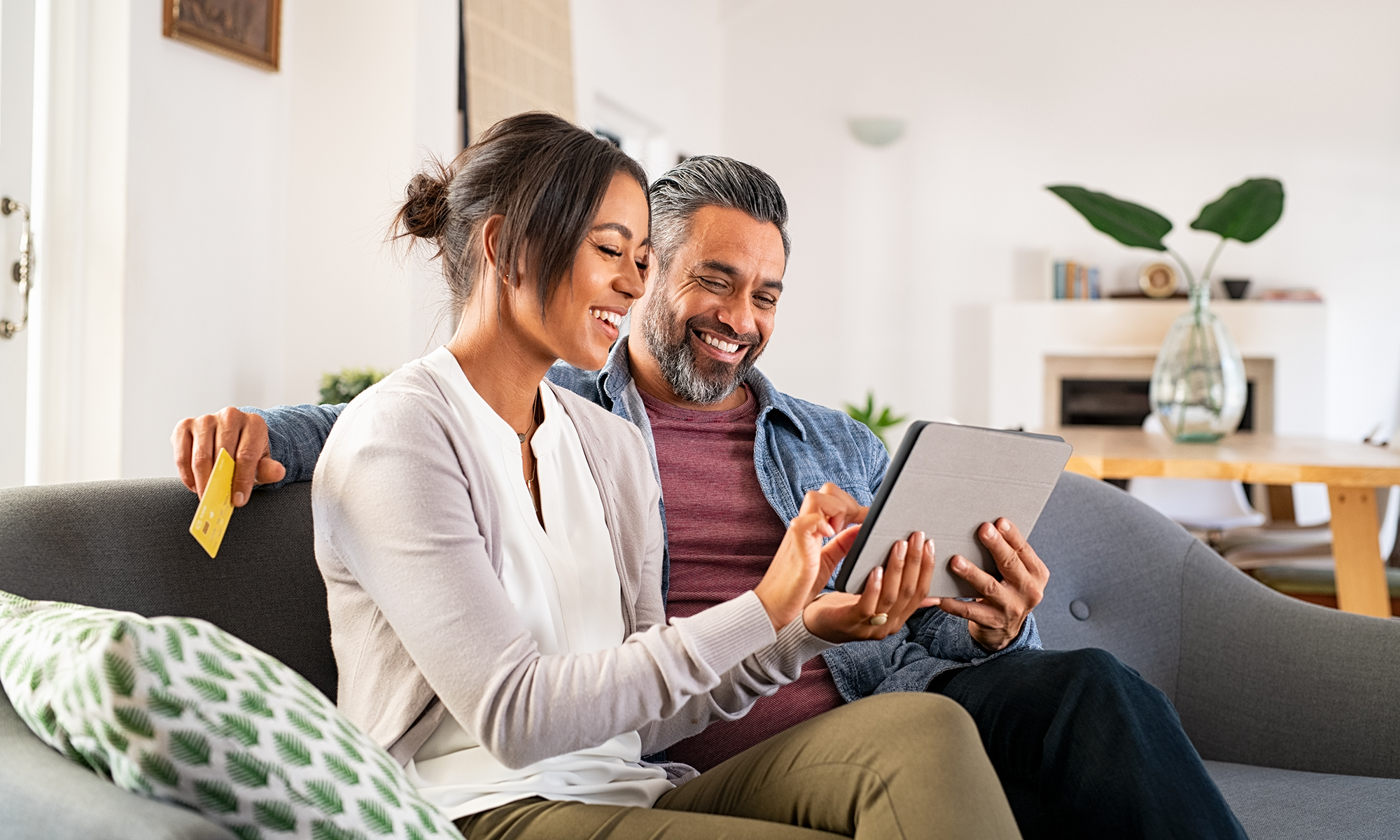 Whether shopping for a brand-new vehicle or just looking to get a used car, the price will be a significant factor in your purchasing decision. It is important to remember that the cost of ownership is more than what's listed on the windshield or car-buying website. You will need to consider the vehicle's repair cost over the years of your ownership.
If you purchase a new vehicle, it will come with an excellent factory warranty that offers coverage in the event of an unexpected breakdown. However, this factory warranty may have already expired for used vehicles, leaving you to foot any repair bills you face. With an extended warranty or vehicle protection plan, you can get factory-like coverage to help pay for these repair expenses. 
Just as you'll find when shopping for a new car, you'll have plenty of options for an extended warranty. Comparing popular third-party car warranty companies, such as Endurance Warranty and Alpha Warranty Services, can help give you a better idea of what to expect when purchasing a vehicle protection plan.
What's The Deal with Extended Warranties?
If you are purchasing a new car, you should expect your first few years of ownership to be worry-free, with little to no repairs needed, so long as you follow your manufacturer's routine maintenance schedule. However, if something goes wrong, you won't have to worry as manufacturers offer a factory warranty on all new cars to protect you from defects in workmanship or materials. 
A factory warranty will offer protection from breakdowns and repairs throughout the warranty period, typically about three years or 36,000 miles (whichever occurs first) and five years or 60,000 miles. Depending on the manufacturer, your factory warranty could be longer for added protection. But, no matter how long the warranty period is, once it is over, you will be responsible for paying for any repairs your vehicle may need—unless you purchase an extended warranty. 
Some vehicle manufacturers will offer extended auto warranties, but they usually have some restrictions. Many dealerships may require you to purchase your extended warranty when purchasing your vehicle, meaning if you do not buy it at this time, you cannot purchase it once you leave the lot. Most of these extended warranties from dealerships or automakers will require you to visit the dealership for repairs, making it inconvenient for those who live further away or like to travel.
On the other hand, a vehicle protection plan from a third-party extended warranty provider is your best option to get similar coverage to your factory warranty with more perks and benefits. With a third-party company such as us at Endurance, CarShield, CARCHEX, Protect My Car and more, you will also get better options when it comes to the available coverage options. For example, with Endurance Warranty, you can find a plan that ranges from basic powertrain coverage to factory warranty-like exclusionary coverage. As a bonus, companies such as Endurance will offer more benefits than traditional automaker extended warranties to help give you even more peace of mind knowing you're covered. These will include standard features such as 24/7 roadside assistance, trip interruption, rental car reimbursement, and more.
The Companies
When shopping for an extended warranty, you may feel intimidated by the number of companies and plans to choose from. Learning more about Endurance Warranty and Alpha Warranty Services, such as what plans are available and what benefits you get from each plan, can help you choose the right vehicle coverage.
About Endurance Warranty
Since 2006, Endurance Warranty has been offering some of the industry's widest variety of affordable extended warranty coverage options. With so many levels of coverage to choose from, you can be sure you'll find one that fits your needs and budget. Endurance also offers coverage for vehicles that most other providers won't cover, including high-mileage vehicles, vehicles up to 20 years old, or ones with a salvage or rebuilt title. You can also get Endurance's award-winning coverage on Canadian Grey Market vehicles, select high-end luxury vehicles, and cars used commercially, such as those used for rideshare or delivery services.
Along with eligibility far exceeding most factory warranty options, we also offer perks and benefits you can't get with an automaker warranty. For example, all Endurance plans automatically come with 24/7 roadside assistance, trip interruption, and rental car reimbursement. Plus, unlike factory warranties, where you can only have covered repairs done at a dealership, with an Endurance auto protection plan, you can take your vehicle to any certified auto repair facility or ASE Certified mechanic. All new Endurance customers will be eligible for one year of FREE Endurance Elite Benefits, including even more perks, such as tire coverage, collision discounts, key fob replacements and total loss protection. Best of all, with the exclusive Endurance Mobile app, you'll have access to your plan's important information and your Elite Benefits, roadside assistance, and more right at your fingertips.
You can also enjoy a 30-day money-back guarantee to ensure your coverage is the perfect fit for you. And since Endurance is a direct provider, most protection plans are transferable. That means you can use your Endurance coverage to help upsell your vehicle.
Along with award-winning coverage, you'll also get Enduance's award-winning customer service team there to help you whenever you need it, including being able to guide you through every step of your claims process. But don't just take our word, as they, and Endurance's coverage as a whole, have helped us earn thousands of 4- and 5-star customer reviews from car owners on sites such as Trustpilot, Google, Consumer Affairs, and more. 
About Alpha Warranty Services
In 2002, Alpha Warranty Services set out to do the right thing for its partners and customers, and this belief still drives the company today. Alpha Warranty Services understands that vehicles aren't perfect; they break down. When your car breaks down, you need a protection plan with the proper coverage. That is what Alpha Warranty Services has set out to do.
Alpha Warranty Services offers three categories of protection plans: Core Vehicle Service Contracts, Speciality Vehicle Service Contracts, and Ancillary Programs. Each category will offer various plans to fit your specific budget and vehicle needs. 
Powered by an award-winning staff and the latest technology, Alpha Warranty Services is on a mission to protect the lifestyles of its contract holders, agents, and dealers. Alpha Warranty Services places high value on focusing on the customer, doing the right thing, taking action, being accountable, and helping you enjoy your life. And like Endurance, they also note that their plan has additional benefits like roadside assistance, rental car coverage and transferability.
The Plans
Now that we have looked at the difference between the companies themselves let's look at the differences between the Endurance Warranty plans and Alpha Warranty Services plans to show you what you can expect when choosing between them.
Endurance Warranty Auto Protection Plans
As an industry leader in extended warranty plan selections, Endurance will offer a plan that fits just about every budget and vehicle. While Endurance lets you customize plans to fit your specific needs, you can kickstart your search with one of the following coverage plans.
Supreme
Endurance's Supreme plan is the most comprehensive plan, offering exclusionary coverage for maximum breakdown protection with only a small list of exclusions, similar to a vehicle's original bumper-to-bumper warranty. If you want the best coverage Endurance offers, Supreme will be your best bet.
Supreme for Highline Vehicles
There are plenty of upsides to owning a luxury vehicle, but when it comes to repair and maintenance costs, you can expect to pay more than most. Plus, even though most luxury cars come with a hefty price tag, they're often some of the least reliable cars on the road. Since these vehicles require more frequent repairs at a higher cost due to specialized parts, many third-party extended warranty companies exclude them from their coverage—but not Endurance. As one of the few providers that offer vehicle protection plans for luxury vehicles, you can get peace of mind with the Supreme for Highline Vehicles plan. With this plan, you get coverage on select models from some of the most popular automakers, including BMW, Jaguar, Porsche, Land Rover, Maserati, Mercedes-Benz, and more, that are up to eight years old and with less than 80,000 miles.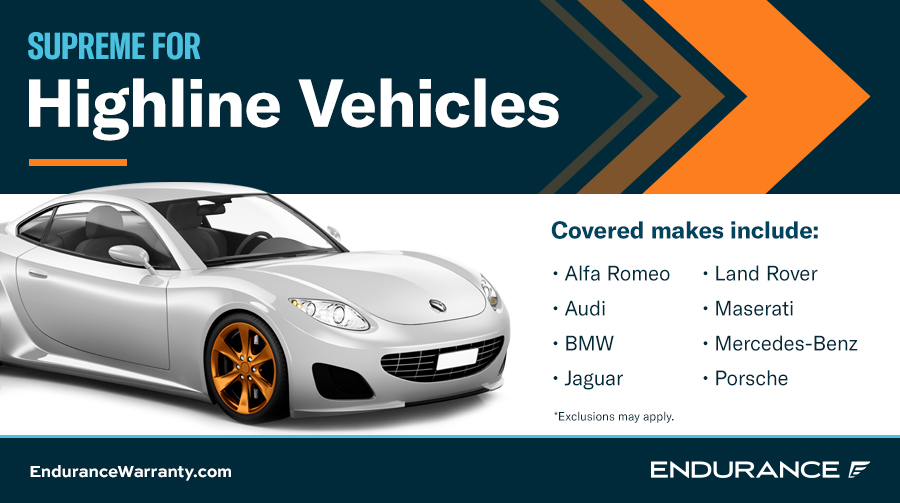 Superior
Endurance's Superior plan allows you to get the highest level of stated component coverage. With this protection plan, you get coverage on every part of your vehicle with minimal exclusions. From your vehicle's major components, such as the engine and transmission, to the rear suspension, Endurance has you covered.
Select Premier
Many extended warranty companies don't offer coverage for vehicles with higher mileage, but not Endurance. With the Select Premier plan, you can get peace of mind with coverage for vehicles up to 150,000 miles. You'll even have coverage for vital parts of your vehicle, including parts of your electrical, cooling, air conditioning, heating and fuel systems.
Secure Plus
Comparable to most "gold-level" coverages from other providers, the Secure Plus plan from Endurance will give your vehicle extensive powertrain coverage while offering protection for other vital components. Your car's A/C, electrical features, and steering system will be covered, along with a list of other essential systems.
Secure
The Secure plan from Endurance is the solution if you want the most affordable protection plan to keep your powertrain covered. Starting with monthly payments as low as just $79, you can get coverage for your engine, transmission and more without breaking the bank.
Advantage
While an extended warranty from an automaker or third-party provider will give you coverage in the event of an unexpected breakdown or costly trips to the repair shop, many will not offer savings on yearly maintenance needs to keep your car running at its best. With the Endurance Advantage protection plan, you can get comprehensive breakdown protection and maintenance service savings benefits. This plan is available for older vehicles up to 20 years old (including hybrids, minus the batteries) regardless of how many miles they have. 
With Advantage, you will get up to $3,500 in maintenance benefits each year, including alignment checks, tire rotations, engine diagnostic exams, help with state safety inspections, and much more. You will also benefit from one-time services, which include cooling system maintenance, a battery replacement, a front or rear wiper blade set replacement, and more.
Alpha Warranty Services
Alpha Warranty Services offers a wide selection of vehicle protection plans to allow you to find the best coverage for your budget and protection needs. These protection plans are broken down into core and specialty vehicle service contracts. Each Core Vehicle Service Contract (PriorityOne, A+, and A La Car) will include EV coverage.
PriorityOne
The PriorityOne protection plan is Alpha Warranty Services' best coverage, with over 750 parts covered. This plan covers vehicles up to 150,000 miles and up to 10 model years. You will also get additional benefits, including dedicated priority support lines and enhanced commercial eligibility options. You can also add a Hi-Tech option which gives you extra coverage for items such as Bluetooth, LCD screens, backup cameras, Blu-Ray players, and much more.
A+
As the "better coverage," the A+ plan covers over 260 parts on most vehicles up to 175,000 miles. This plan covers essential components such as your suspension, cooling, and fuel system. Per Alpha, the A+ program has proven popular with dealerships. 
A La Car
As a more affordable protection plan in Alpha Warranty Services' Core Vehicle Service contracts, the A La Car coverage will offer protection for over 88 parts on vehicles up to 15 years old and up to 175,000 miles. You can choose from great add-on options such as air conditioning, drive axle, electrical, fuel system, and seals & gaskets.
New Car
If you plan on purchasing a new vehicle, the New Car coverage program offers exclusionary coverage at an unbeatable price. This plan has eligibility of up to 5 model years or more recent and up to 60,000 miles, making it a perfect fit for low-mileage vehicles. You will also get day-one coverage to ensure your vehicle is covered as soon as you purchase it. 
Alpha Tiered
The Alpha Tiered plan is an all-in-one program with five coverage levels to offer you a perfect fit for your budget and coverage needs. Choose from Limited Powertrain, Powertrain Plus, Extended, Supreme, and Full plans. It's important to note that only the Limited Powertrain, Powertrain Plus and Extended plans offer coverage for vehicles up to 15 years old and 150,000 miles. The Supreme and Full plans are less expansive, covering vehicles that are six years old, with Supreme cutting off coverage at 100,000 miles and Full at just 60,000 miles.
ABC
The ABC program provides basic-level coverage for all internally lubricated parts of your engine, transmission, water pump, thermostat, and differential. This is available for any model year vehicle and mileage and includes day-one coverage.
Get Peace of Mind with Endurance Warranty
Purchasing a new vehicle can be exciting, whether brand new or "new to you." To ensure your new investment runs smoothly for years to come, it's essential to keep up with maintenance, though it can only prevent some issues. That's wThat'sping your car protected from unexpected breakdowns with an extended warranty is a great way to help with repair costs, but finding one that also helps with maintenance costs is a clear winner.
With an Endurance auto protection plan, you can get great coverage of your vehicle'vehicle'somponents while enjoying additional perks, like roadside assistance. Plus, Endurance can help cover cars usually excluded from other extended car warranty plans, such as high-end luxury vehicles, high-mileage vehicles, salvage title vehicles, and more. You can also rest easy knowing you'll hyou'll entire year's wyear'sf FREE Endurance Elite Benefits for even more perks and savings, including complete tire coverage and up to $1,000 in total loss protection.
Get your vehicle protected today by calling our award-winning customer service team at (800) 253-8203 to get a free, no-obligation quote, or you can shop online to find the perfect plan. You can also find even more extended warranty comparisons and articles on topics like DIY maintenance tips, vehicle buying guides, answers to your most extensive warranty FAQs, and more at the Endurance blog.
More like this
Comparisons

While owning a car is incredibly liberating, it doesn't come cheap. In August 2023, AAA announced that the average annual cost of running and maintaining a vehicle had just passed..

Read More

Comparisons

No matter what kind of car you drive, keeping it in good condition should be one of your top priorities. A vehicle that is well taken care of will last..

Read More

Comparisons

Buying a new or used car can be incredibly exciting, especially if you are buying something you have always dreamed of owning. No matter what kind of vehicle you purchase,..

Read More