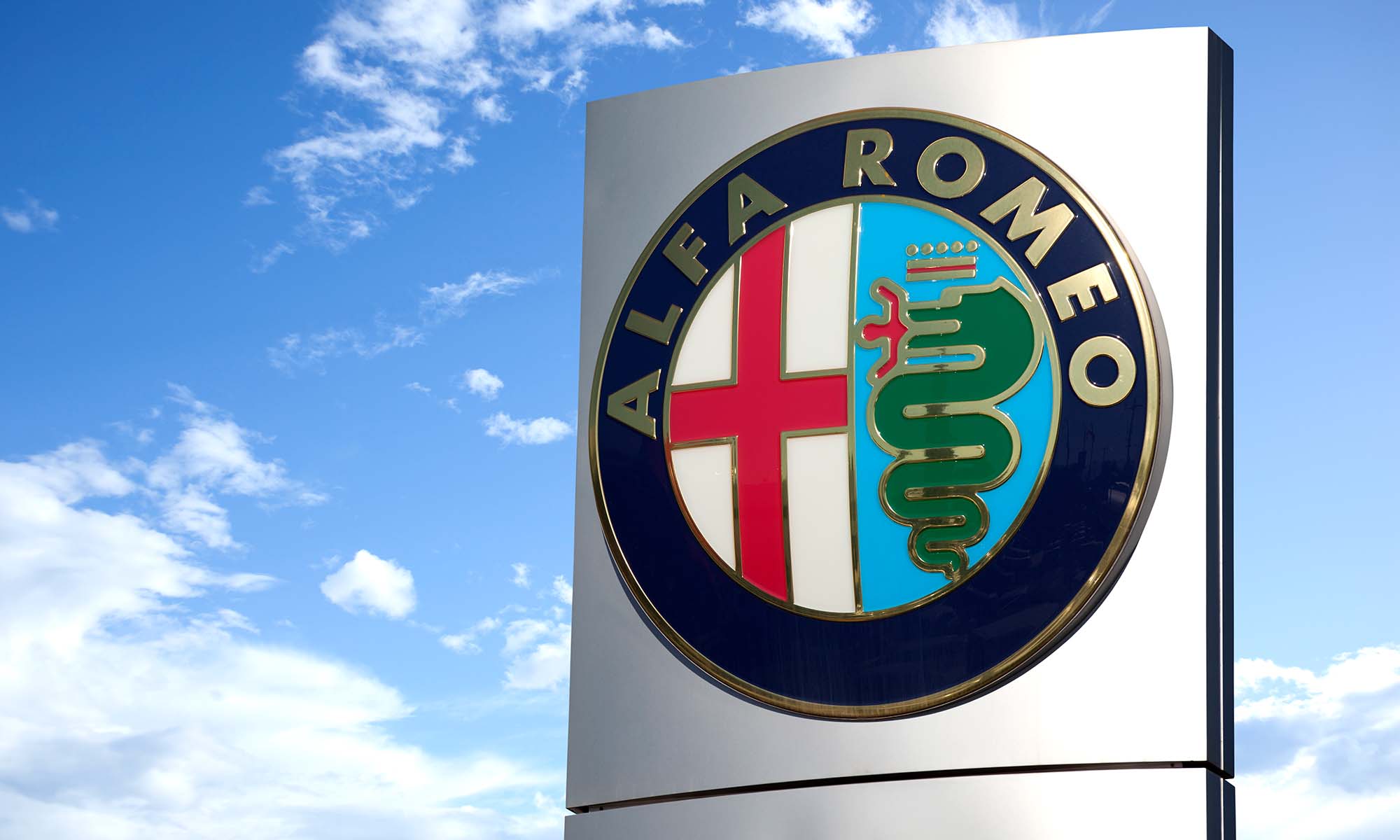 For automotive enthusiasts, getting out and hitting the open road for a summertime drive feels like no other. But while driving a run-of-the-mill Ford, Toyota, Honda, or Nissan can be a great way to enjoy any summer drive, being behind the wheel of a sleek, high-performance luxury vehicle can make any drive that much better. After all, there's a reason why you see more and more BMWs, Porsches, Jaguars, and Land Rovers out on the road during the summer months. But while automakers such as these are some of the most popular you'll find in America, there are a few luxury car brands that bring all the style and performance you may be looking for, but without all the name brand recognition you might expect, like Alfa Romeo.
While not as popular stateside, Alfa Romeo is one of Italy's most prestigious automakers. In fact, the Alfa Romeo brand is famous around the rest of the world, thanks to its impressive designs and high-performance sports cars. So whether it's the classic and sporty Giulia or the more practical Stelvio, each of their iconic models has been masterfully engineered to be the perfect combination of speed and sophistication. And if you're in the market for a brand new vehicle, learning everything you need to know about Alfa Romeo and its available models can help you find the right vehicle for you and your needs. 
Who Are Alfa Romeo?
With roots going back to 1906, Alfa Romeo has a rich and detailed history that can be broken up into several distinct eras.
The Beginnings
In 1906, the automaker known as Società Italiana Automobili Darracq was established, moving from its initial home in Naples to the bustling city of Milan. But, with the arrival of an economic crisis in 1909, things weren't looking too bright, so the managing director, Cavalier Ugo Stella, proposed that a new company be set up to improve numbers. 
Then on June 24, 1910, this new company registered its name: A.L.F.A. (Anonima Lombarda Fabbrica Automobili). At the same time, renowned automobile designer and engineer ​​Giuseppe Merosi began preparing the project for the 24 HP—the model that would become the brand's first historical car.
Unfortunately, the company failed to see financial success during the start of World War I as they were unable to receive an order of vehicles from the Italian government. This led to A.L.F.A being turned over to the Banca Italiana di Sconto (BIS). 
At the same time, a young entrepreneur named Nicola Romeo set up a company, Ing. Nicola Romeo & C, intending to build shells for the war efforts. But, while he had the orders, Romeo's factory wasn't big enough to produce what was needed. Luckily, Romeo's shop was close in proximity to the A.L.F.A workshop, which BIS had recently put into liquidation. So to help produce the orders, BIS entrusted A.L.F.A to Romeo.
Under Romeo's experienced eye, the business grew relentlessly, and in 1918 BIS and investors decided to bring the company public. The merged company's name became Società Anonima Italiana Nicola Romeo & C.—aka Alfa Romeo. Only after the war ended in 1919 did Alfa Romeo begin getting back to producing automobiles, first starting with the assembly of parts before ushering in the first designs of new Alfa Romeo models and starting a new era for the automaker.
Alfa Romeo from the 1920s to the 40s
In the early 20s, Giuseppe Merosi revealed the RL model. Then, in 1923, racer Ugo Sivocci drove the first vehicle with the Quadrifoglio (the Italian word for four-leaf clover) symbol used to mark Alfa Romeo's highest-performing vehicles, winning first place at the Targa Florio. Following this initial success, Alfa began to see even more thanks to Vittorio Jano joining the design team, leading to a victory in the first world championship and the beginning of the iconic "laurel wreath" in the brand's badge.
Despite being admired by the world and the likes of the great Henry Ford himself, Alfa Romeo, unfortunately, became weighed down by debts and was purchased by the state-owned Institute for Industrial Reconstruction (IRI) in 1933. They transformed Alfa Romeo into a major industrial player, capable of producing aircraft engines, heavy-duty vehicles and, of course, standard vehicles. Alfa Romeo's racing legacy would live on as well despite the change, with the racing division being entrusted to Scuderia Ferrari, the racing division of the legendary automaker Ferrari.
In 1945, it was decided that Alfa Romeo would be demilitarized, and Orazio Satta Puliga and his team took over the management of the design department. However, for commercial reasons, Alfa Romeo could no longer focus on hand-crafted cars and needed to industrialize production to help keep the business going. Still, they continued to see great success in racing, winning the first two World Championships in the brand new Formula 1 class of racing. Then, over the coming decades, the introduction of the Giulietta and Giulia models sparked huge growth for Alfa Romeo. Still, difficult times in the 1980s saw the company sold to the Fiat Group, later becoming Fiat Chrysler.
But in 2021, a merger of Peugeot S.A (Groupe PSA) and Fiat Chrysler began, leading to the creation of a new corporation known as Stellantis. Overall, Stellantis owns other popular automakers, including Chrysler, Dodge, Fiat, Jeep, Ram and the iconic Maserati. And with so much automobile expertise under one roof, the future looks promising for Alfa Romeo.
Alfa Romeo Vehicles
There are three main Alfa Romeo models sold in the United States: the Stelvio, the Guilia and the Tonale, with the Stelvio and Guila both coming in the high-performance Quadrifolgio trim level, with each offering its own unique style and performance:
Alfa Romeo Stelvio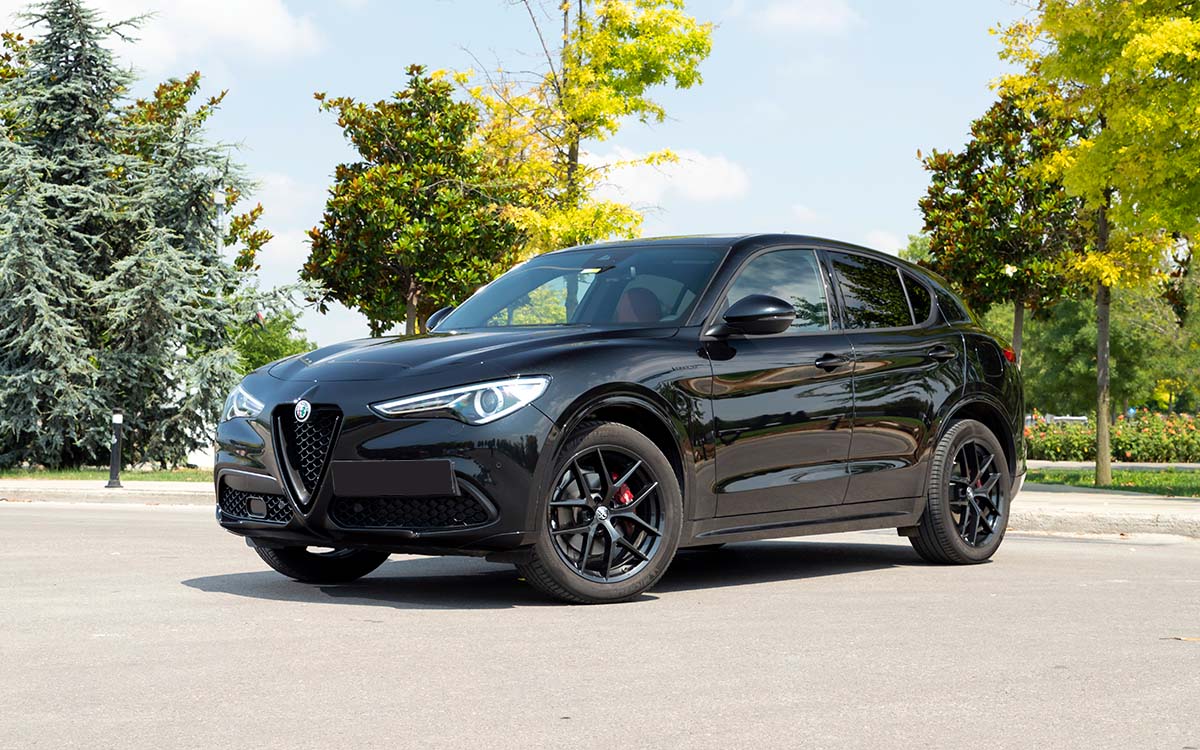 2022 MSRP: $45,550
An Italian take on an SUV, the Alfa Romeo Stelvio really is a thing of beauty. But with the most powerful engine in its class, capable of 280 horsepower, 306 lb-ft of torque and a top speed of 144 mph, the Stelvio packs quite a punch. But don't let its performance fool you, as the Stelvio comes equipped with a Q4 all-wheel drive (AWD) and a plethora of advanced safety features. These include standard forward-collision warnings (with full stop), blind-spot monitoring and both front & rear park assist, making it more than just a good-looking ride. Though, you will also be able to enjoy leather-trimmed seats, wood finish, an 8.8-inch infotainment display and more.
At almost double the price ($86,850), the Stelvio Quadrifoglio takes things to the next level. Inspired by Alfa Romeo's racing history, it's finely tuned for speed, taking the title of fastest SUV available in the country with a whopping 505 hp, 443 lb-ft of torque and a top speed of 176 mph to go along with a 0-60 time of just 3.6 seconds.
Alfa Romeo Giulia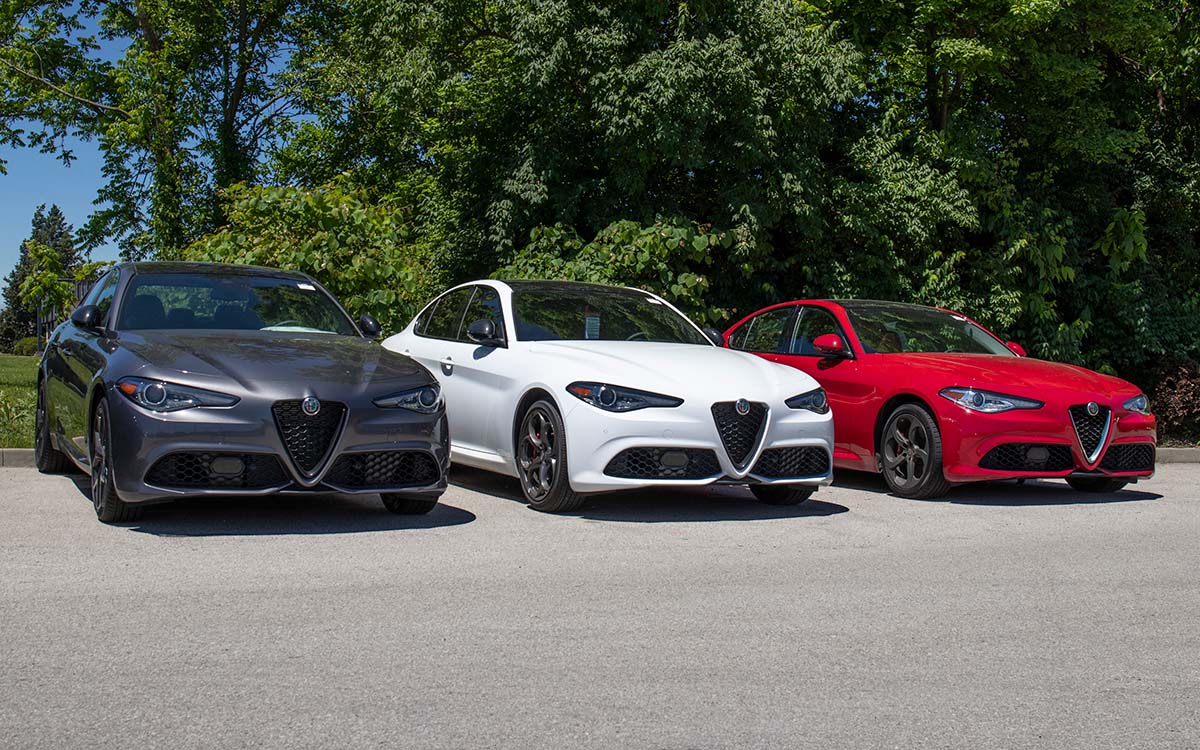 2022 MSRP: $43,350
Like the Stelvio, the Giulia also has a best-in-class engine and Q4 all-wheel drive, though only reaching 280 hp, 306 lb-ft of torque and a top speed of 149 mph. But despite packing less of a kick than the Stelvio, the Guila truly is a stunning sports sedan. And like the Stelvio, the base-model Guila also comes with the same standard safety features and even has advanced driver assistance features such as an available lane keep assist, blind-spot assist and even highway & traffic jam assist. It even has the same 8.8-inch infotainment display, capable of Apple CarPlay, Android Auto and more to go along with a 900-watt audio system with Harman Kardon speakers. You'll even be able to enjoy a wireless charging pad for your mobile device and three USB ports in the 2022 Guila.
There's even a Giulia Quadrifoglio, too, applying a significantly improved level of performance in almost every area, including 505 horsepower and 443 lb-ft of torque. It's also one of the fastest vehicles you can buy, with Alfa Romeo listing the Guila Quadrifoglio as capable of reaching 191 mph and having a 0-60 mph time of just 3.8 seconds—all from a V6 engine and an 8-speed automatic transmission!
Alfa Romeo Tonale
2022 MSRP: TBD
The latest addition to the Alfa Romeo lineup, the Tonale, is the brand's first plug-in hybrid-electric SUV, though it won't officially be released until 2023. Due to this, full specs aren't known just yet, but it's certainly something to be excited about. Alfa Romeo notes that the Tonale will have over 30 miles of range on a full charge and will come with a 12.3-inch digital instrument cluster (aka the Cannocchiale) that houses a 10.25-inch infotainment display. The Tonale will also have some standard and available safety features, including intelligent adaptive cruise control and speed control. It will also feature the same lane keep assist, traffic jam assist, blind-spot monitoring and forward-collision warning found in their other models. 
It also comes with a full 360-degree camera, driver attention alert, lane centering, and even a rear-seat reminder to alert you if someone or something is still in the vehicle's back seat as soon as the car is put in park and the engine is shut off.
Do Alfa Romeos Have a Factory Warranty? 
A factory warranty is a manufacturer's promise to cover the costs of unexpected part failure for a specified period after purchase, and pretty much every new vehicle comes with one. And Alfa Romeo is no exception.
Overall, the Alfa Romeo factory warranty is relatively straightforward, with the automaker listing on their website that the basic limited warranty lasts for 4 years/50,000 miles (whichever comes first). However, some specific components may only have 1 year/12,000 miles coverage. They also note that new Alfa Romeo vehicles will also get one year or 10,000 miles of coverage for help with the vehicle's first service interval. However, this is only available on 2017 and new model year vehicles. 
Those looking to lease an Alfa Romeo can also find courage with the Alfa Romeo Premium Care, which can help provide coverage for paint repairs, windshield damage, tire/rim damage and more for 4 years/40,000 miles. However, while both the basic limited warranty and the Alfa Romeo Premium care can help cover you from costly repairs for at least four years, once that coverage expires, you'd be left paying for any necessary issues on your own. That is unless you purchase an extended warranty.
An extended warranty picks up where your factory coverage leaves off and can often be purchased directly from your automaker. In Alfa Romeo's case, their extended coverage is available from Mopar in either an 8 years/125,000 miles bumper-to-bumper warranty or an enhanced powertrain warranty that lasts for 8 years/150,000 miles. However, while you can purchase extended coverage from Alfa Romeo (or most other automakers), you can also find coverage from various third-party providers, like Endurance, though these coverages are actually vehicle service contracts (VSCs) as only your automaker can technically "extend" your factory coverage. 
Still, while not technically a warranty by definition, VSCs from providers like Endurance can help you cover the same types of repair as your factory coverage while having fewer limitations. For example, automakers' factory or extended warranties may limit you to getting repairs done only at the dealership or specific repair shops. But, when you have the Highline protection plan from Endurance, which is available for select luxury vehicles (including all Alfa Romeo vehicles), you can take your vehicle to an ASE Certified mechanic or certified repair facility of your choice. Other select vehicles from popular luxury automakers such as Audi, BMW, Mercedes-Benz, Jaguar, Land Rover, Porsche and Maserati that are up to 8 years old and have less than 80,000 miles can also find coverage with Highline.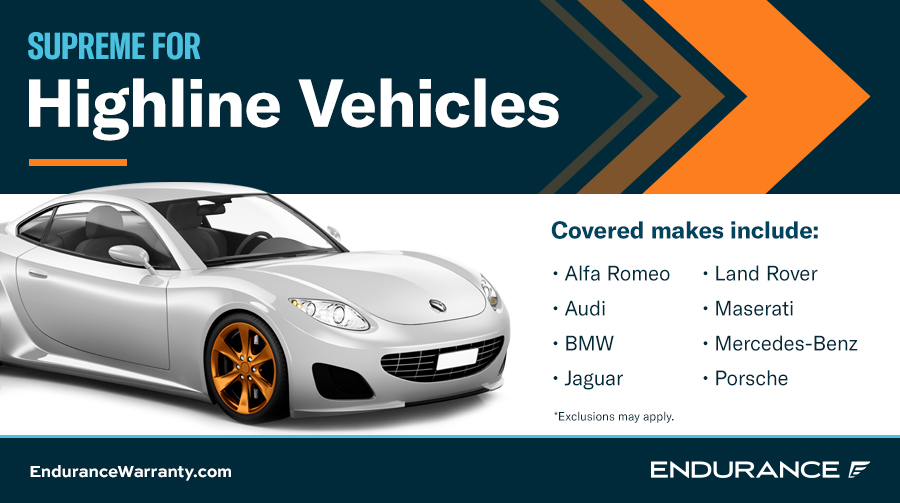 You'll even be able to benefit from having 24/7 roadside assistance, trip interruption coverage and rental car reimbursement for free when you have Endurance. You can even enjoy a full year of Endurance Elite Benefits, including key fob replacements, tire repairs/replacements, collision discounts and more. All you'd need to do is purchase the Endurance plan that's right for your and your vehicle, pay a small activation fee and enjoy your full year's worth of extra perks and savings. 
Protect Your Alfa Romeo with Endurance
Owning a high-performance luxury vehicle like an Alfa Romeo Giulia and Stelvio can be a thrilling experience, especially during the warmer weather of spring and summer. But while luxury vehicles can give you the best of both worlds when it comes to style and performance, they also come with luxury prices. And without the help of an active factory warranty or an extended warranty from Alfa Romeo, you'd be left paying for any costly repair bills on your own, but not when you have Endurance. 
With the Highline protection plan, you can rest easy knowing your Alfa Romeo or other eligible luxury vehicle is covered from expensive auto repair bills. Additionally, along with providing your comprehensive breakdown protection, every Endurance plan includes 24/7 roadside assistance, trip interruption coverage and even rental car reimbursements to help you if you ever experience a breakdown or need repairs done while away from home. You can even enjoy a full year of Elite Benefits for just a small $29 activation fee, including collision discounts, tire repairs/replacements and more.
Get started protecting your Alfa Romeo today by requesting a free, no-obligation quote. Or, to learn more about how Endurance can help you and your vehicle, give a member of our award-winning customer care team a call at (800) 253-8203. The Endurance blog can also be a great resource for finding even more articles on a wide range of automotive topics, including vehicle buying guides, extended warranty coverage comparisons, expert auto tips, and more.
More like this
Make/Model

If you're the owner of a Honda Accord, you certainly aren't alone. The brand has a great reputation for producing some of the most reliable cars on the road, with..

Read More

Make/Model

The last thing any Ram driver wants is to hear an odd noise while driving down the road, followed by a mechanical issue within their vehicle. Unfortunately, mechanical breakdowns are..

Read More

Make/Model

Finding yourself in the position where you are notified of a recall affecting your vehicle is never a fun situation, but it should require immediate action on your part. Depending..

Read More