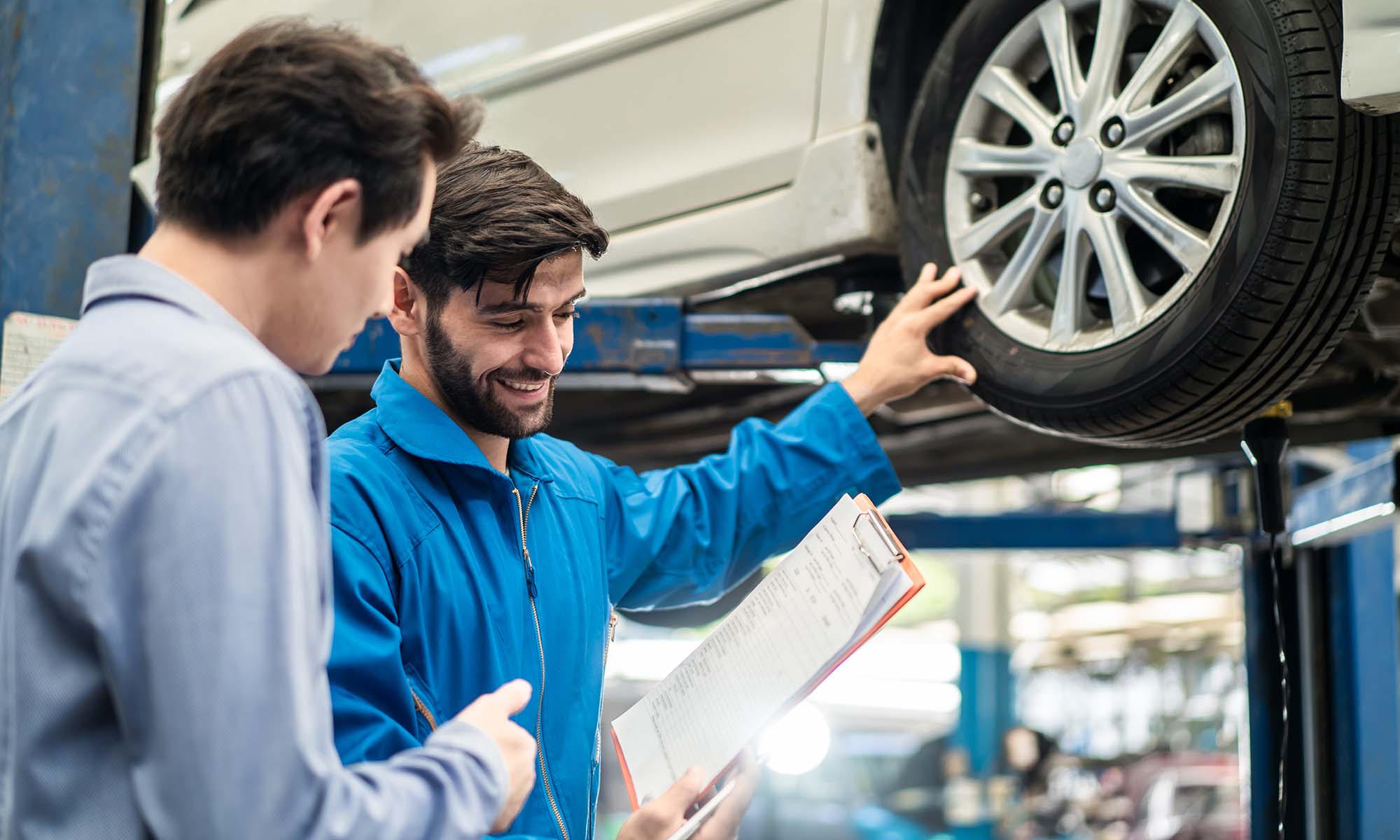 Whether you have a brand new sedan, a used pickup truck or a hand-me-down SUV, making sure it's protected from expensive breakdowns and repairs is a must. And while routine maintenance and proper care can help keep things in good condition, it won't prevent every issue, as even just general wear and tear can cause components to give out sooner or later. But, having the right extended warranty coverage can help give you peace of mind and protect you from expensive auto repair bills. 
When it comes to finding coverage for your vehicle, it's important to take your time and do your research, especially because there are so many options available to you. For example, along with your automaker, you can also find plans from third-party extended warranty companies like us at Endurance, Carshield, Olive, and more. That's why learning everything you can about the different plans and providers that offer coverage, like how plans from Endurance Warranty and ProGuard Warranty compare, can help you get the best coverage for you and your vehicle. 
What's the Difference Between a Factory and an Extended Warranty?
When you buy a new car, it usually comes with a factory warranty directly from the manufacturer. These auto warranties, sometimes called bumper-to-bumper warranty plans or new vehicle limited warranties, are meant to protect you from expensive repairs that may need to happen due to issues at the plant or design problems. This coverage will generally last between three years or 36,000 miles and five years or 60,000 miles, with a select few being longer. However, regardless of how long you may have coverage for, once this warranty time is up, you will be financially responsible for any repairs your vehicle needs. 
If you want to continue the coverage for your car after the factory warranty is up, you can often extend your coverage with your automaker, aka getting an "extended warranty." You can also choose to get extended coverage from a third-party provider. However, while you will often hear this kind of coverage is called an "extended warranty," they are actually vehicle service contracts (VSCs), as only an automaker actually "extend" your original warranty coverage. Still, while not a warranty by definition's sake, third-party coverage offers many perks and benefits that will most likely not be included in an extended car warranty from an automaker. For example, many VSCs will often include 24/7 roadside assistance, towing, rental car coverage and much more. 
Another bonus of having coverage from third-party providers like Endurance is that you won't find yourself stuck going to the dealership for repairs, which most automakers may limit you to doing. Instead, you'll be able to choose between any certified repair facility or ASE Certified mechanic for repairs. And yes, that even includes your dealership if you'd like. 
The Companies
Endurance Warranty
Since 2006, Endurance warranty has been one of the nation's leading providers of vehicle service contracts, thanks to comprehensive, flexible plans for all kinds of vehicles and drivers. With a unique combination of affordability and versatility, such as plans starting as low as just $79 per month, Endurance offers something for everyone regardless of your driving habits or what kind of car you own. In fact, with Endurance, you can be certain you can find coverage for luxury vehicles, vehicles up to 20 years old and even high mileage vehicles with no odometer cutoffs. Even Canadian Grey Market vehicles or cars with a salvage or rebuilt title can find coverage with Endurance. And if you use your vehicle for commercial purposes, such as being a rideshare or delivery driver, you can also find coverage with Endurance. 
Every Endurance plan comes with a 30-day money-back guarantee and extra perks like 24/7 roadside assistance, trip interruption coverage, and rental car reimbursements so you can have the confidence you need when you are out on the road. Plus, because Endurance is a direct provider of most of our plans, most plans are transferable. So even if you want to sell your car while your coverage is active, you can use it to upsell it to potential buyers. 
But, while each of these things helps us at Endurance pull away from the competition, the award-winning customer service truly sets us apart from the rest. In fact, this dedication to our customers has earned us thousands of 4- and 5-star customer reviews on Trustpilot, Google, Consumer Affairs and more. But don't just take our word for it, as these are just a few of the thousands of positive reviews we've received: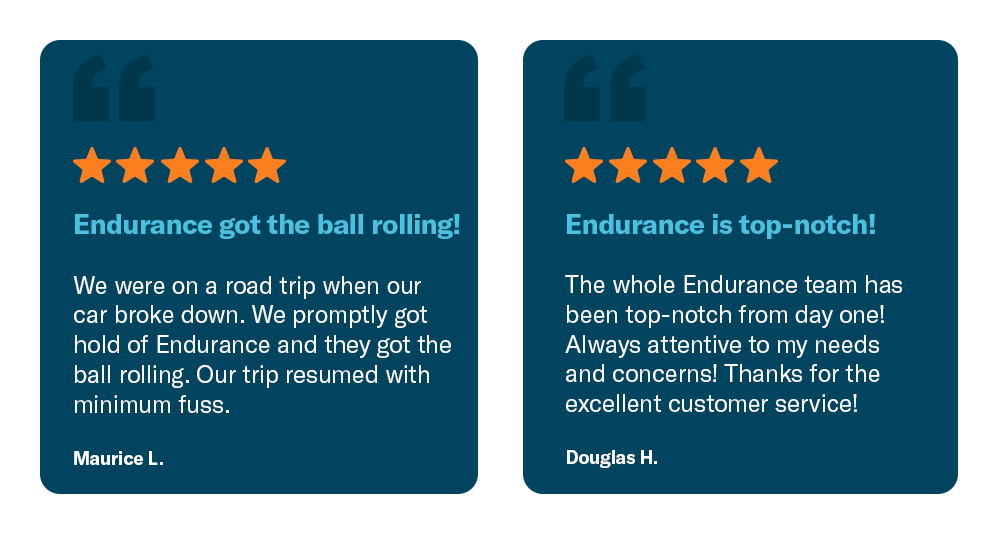 ProGuard

ProGuard has been around for nearly 70 years and is a third-generation family-owned business. They have a wide variety of plans, including those that cover certified pre-owned vehicles and commercial vehicles. Still, their eligibility is not as far-reaching and flexible as many other VSC providers. 

In fact, per their website, ProGuard will not cover any vehicle that has more than 200,000 miles on the odometer, which excludes many older used cars and vehicles that are used for everyday commuting, even though these cars still need to be protected. However, ProGuard does offer an iQ add-on for their higher leveled plans to provide coverage for some of the more complex pieces of technology found in a vehicle. They also don't include any trip interruption or rental car coverage to accompany their 24/7 roadside assistance and towing services on a few lower-level plans.

ProGuard's customer service is also not as renowned as Endurance's, and many customers have reported issues with communication between the company and the shops they claim to work with. This has caused problems with customers getting the coverage they need, even if their plan is supposed to include the repair. They are also not listed on Trustpilot, so they can not be rated on the same scale as Endurance regarding customer satisfaction. However, per ProGuard's website, some eligible customers may be able to enjoy a trial subscription to SiriusXM radio.
The Plans
While understanding more about the background of each company can help you narrow down your decision, the only way to truly find the best coverage for you is to understand what types of plans you can get.
Endurance Protection Plans
Advantage
Advantage is Endurance's most comprehensive coverage plan. It offers both the breakdown protection you're looking for in an extended warranty or VSC and maintenance coverage—which isn't something you'll find at most other providers or automakers. With up to $3,500 in yearly maintenance benefits, Advantage can help you pay for essential services like tire rotations, alignment checks, engine diagnostic exams and more. You'll even be able to enjoy one-time services like cooling system maintenance, a battery replacement, a wiper blade set replacement and more. 
Supreme
If you're looking for near factory-like coverage for hundreds of your vehicle's components and just a few exclusions, then the Supreme plan can help. This exclusionary coverage plan is ideal for anyone who relies on their vehicle for daily commutes. 
Supreme for Highline Vehicles
There's nothing quite like getting behind the wheel of a luxury vehicle. But while stylish, they can be some of the least reliable (and most expensive) cars to repair, which is why most providers may steer clear of them—but not Endurance. As an extension of the already comprehensive Surpeme plan, the Highline coverage can help protect owners of select luxury vehicles that are up to eight years old and have less than 80,000 miles, including select models from popular automakers like Jaguar, Porsche, Mercedes-Benz and more.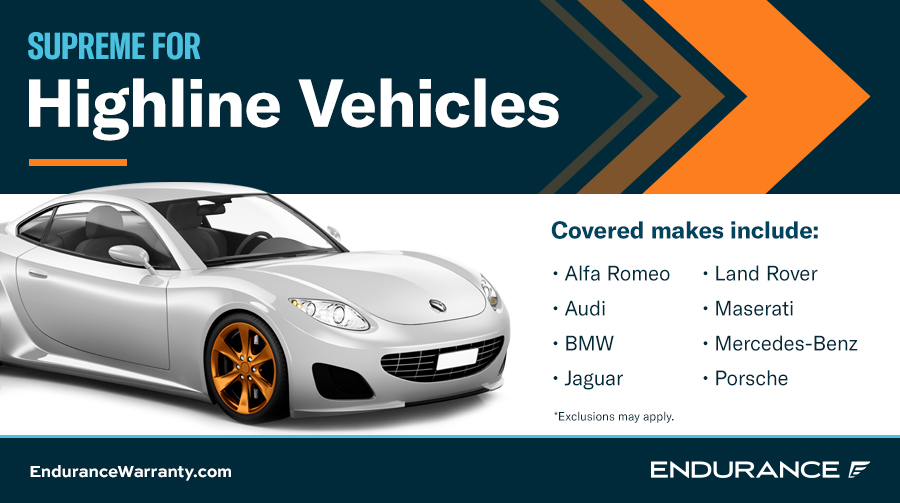 Superior 
Superior is a comprehensive plan that covers a wide range of components on your vehicle—from its rear suspension to the engine—making it an excellent option for people who use their vehicle every day or take long road trips often. This coverage can give you peace of mind and confidence while out on the road. 
Select Premier
Select Premier is designed to offer protection for high-mileage and older cars up to 150,000 miles that may not be able to get coverage from other providers. This plan covers select lubricated engine, transmission, and drive axle assembly components on your high-mileage vehicle. It also covers the cooling system and fuel system so you can keep your car running, along with other select air conditioning and electrical parts.
Secure Plus
The Secure Plus plan is a step up from the basic Secure plan and can give you even more powertrain coverage at a slightly higher price point, including coverage for your brakes, air conditioning, and steering. It also covers electrical components that help keep your car in good working order. 
Secure
The Secure plan is a fantastic choice for vehicles that only need basic coverage. The Secure plan is affordable, starting at just $79 per month, making it a great choice for almost anyone and covers the essential components of your car. These include the engine, transmission, and other parts that keep your car running. 
ProGuard Warranty 

ProGuard 1 – 5
ProGuard offers five different levels of plans, all of which cover different components of the vehicle, with increasing coverage with each level. The most basic level, Proguard 1, covers vehicles up to 200,000 miles and includes the engine and transmission and other essential components like the seals and gaskets and transmission. 

The other levels cover a wider range of parts up to the most comprehensive Proguard 5 plan, which includes wear and tear items, safety components, and emissions equipment to go along with advanced coverage on basic components, including engine mounts and various control modules. However, while ProGuard 5 is comprehensive, they indicate that only vehicles up to 100,000 miles at the time of purchase can get this coverage. 
Factory Xtend & Factory Xtend Wrap
The Factory Xtend plan covers vehicles still under the original factory warranty. This expands the coverage to include things automakers may not include in their manufacturer's warranty. It is essentially a discounted version of the ProGuard 3, 4, or 5 plan for vehicles that still have the added coverage from the automaker. 

The Xtend Wrap coverage is designed to help expiring factory coverages extend and match any existing coverage that may still be there. For example, when basic converge ends around the 3-year/36,000-mile mark, powertrain coverage may still have a few more years/miles left. This coverage will extend the expiring coverage to match the remaining powertrain coverage you may have.
Commercial Vehicle
ProGuard's Commercial Vehicle plan is for vehicles used for business purposes such as delivery and utilities. It covers essential components like the transmission, suspension, steering, engine, and electrical system so you can keep your business going without any interruptions due to unexpected breakdowns. 
Why Endurance is the Best Choice for Your Vehicle
Owning a vehicle is a great way to conveniently get where you need to go, but it can also be a big responsibility, especially if you want to keep it running smoothly. But having the right extended warranty or vehicle service contract can help keep your car on the road and give you confidence that even if something goes wrong, you won't have to pay for expensive repairs on your own. And knowing more about what different providers offer and how their plans compare can help you make the right decision when choosing coverage. 
With an Endurance protection plan, you can be confident that you can find award-winning coverage regardless of your needs or budget. And even if you have an older, used car with over 200,000 miles or a brand new luxury vehicle, you can drive confidently knowing Endurance has you covered. Plus, all plans come with a 30-day money-back guarantee, 24/7 roadside assistance and towing, and, with a small activation fee, one year of Elite Benefits, which includes tire replacements or repairs, collision discounts, and many more perks and savings.
To find even more information on how an Endurance auto protection plan can help you, call the Endurance customer care team at (800) 253-8203 or request a free, no-obligation quote today. You can also find more extended warranty comparisons and other articles on topics like DIY car maintenance tips, vehicle buying guides, answers to extended warranty FAQs, and more by visiting the Endurance blog.
More like this
Comparisons

While owning a car is incredibly liberating, it doesn't come cheap. In August 2023, AAA announced that the average annual cost of running and maintaining a vehicle had just passed..

Read More

Comparisons

No matter what kind of car you drive, keeping it in good condition should be one of your top priorities. A vehicle that is well taken care of will last..

Read More

Comparisons

Buying a new or used car can be incredibly exciting, especially if you are buying something you have always dreamed of owning. No matter what kind of vehicle you purchase,..

Read More