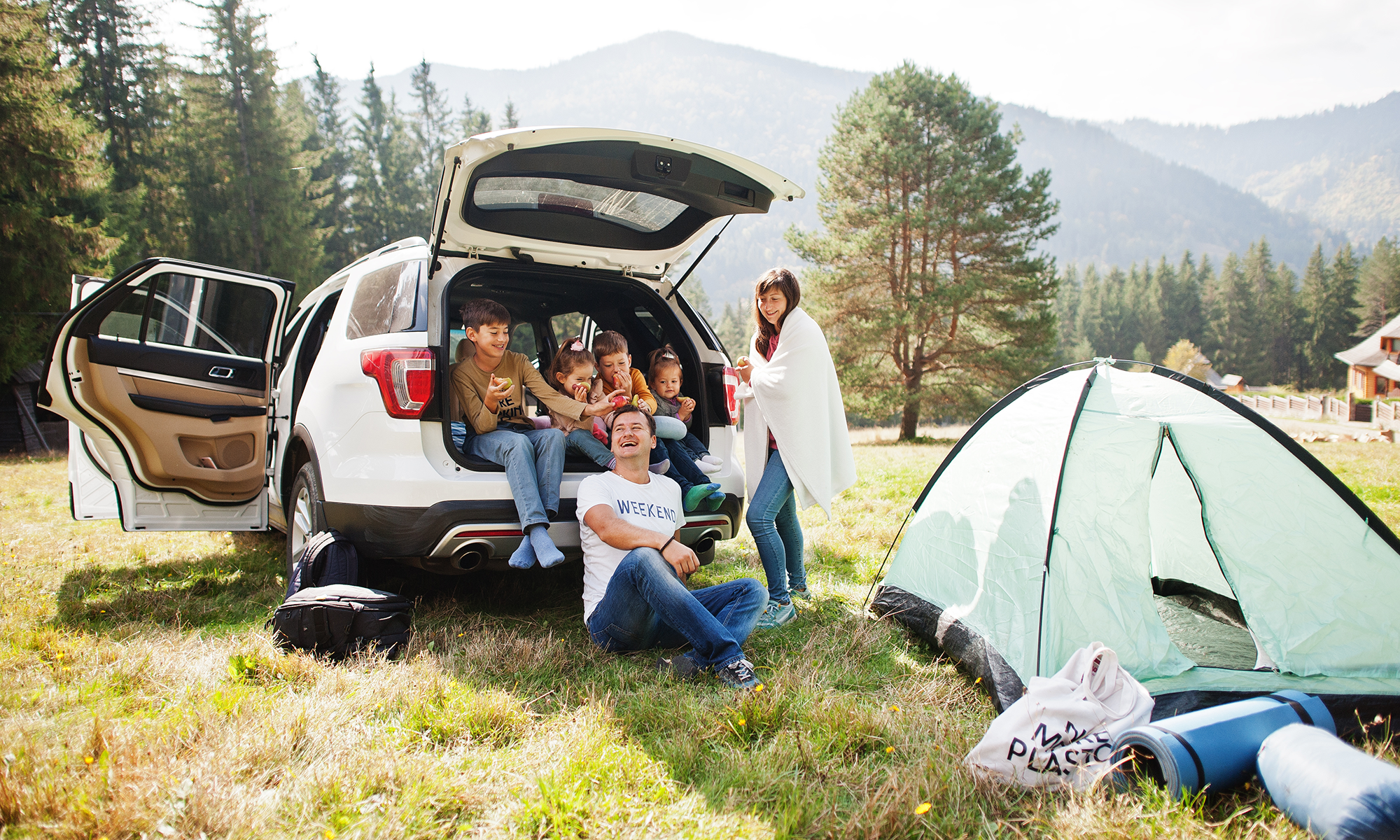 With summer in full swing, many people around the country are gearing up and getting ready to enjoy some much-needed vacations. And for families taking road trips during their summertime festivities, having the right vehicle can help make the difference between a memorable trip full of fun and one full of cramped kids asking, "are we there yet?"
The Top Cars for Family Road Trips
With the right car, you can help ensure your family road trip is a smooth, safe and comfortable ride.
2022 Jeep Grand Cherokee
MSRP: $38,325-$64,780
Seating Capacity: 5
MPG: 19 City / 26 Highway / 22 Combined
Reliability Rating: 3.5 / 5.0
Yearly Maintenance Costs: $666
The Jeep Grand Cherokee is a renowned and well-known vehicle. While still considered a great vehicle for off-road driving and packs a bit of a punch with 285 horsepower, the Grand Cherokee is a great family car for average travel and road trips. The Jeep Grand Cherokee is an excellent choice with a generous seating capacity of 5 people and a lower than average yearly maintenance cost of $666. Plus, throw in the Grand Cherokee's 6,200 pounds of towing capacity, and you'll be more able to take all the luggage and gear your need on your trip. 
And you can also enjoy some bonuses like safety features, including blind-spot monitoring or a backup cam, while also enjoying an 8.4-inch touchscreen capable of Apple CarPlay, Android Auto and even navigation. 
2022 Land Rover Discovery
MSRP: $53,900-$68,900
Seating Capacity: 7
MPG: 19 City / 22 Highway / 21 Combined
Reliability Rating: 2.5 / 5.0
Yearly Maintenance Costs: $719
The Land Rover Discovery is a 7-seater luxury SUV on the more expensive side, with an MSRP starting at just over $50,000. While the experts at RepairPal note that the Discovery's reliability rating is lower than other cars on this list, it can make up for it thanks to its off-road capability (a staple of Land Rover vehicles), 296 horsepower, and, if properly equipped, is capable of towing up to 8,200 lbs.! It even has decent fuel efficiency, as it can reach 19 MPG in the city and 22 MPG on the highway. 
Standard safety features also help set the Discovery apart. You'll have things like lane keep assist, blind-spot monitoring, forward-collision warnings and more, including even a driver drowsiness monitoring system which can be invaluable for those taking longer road trips. And for some bonus features, you can even look to include a heads-up display and adaptive cruise control. But that's not all, as you'll even be able to enjoy an infotainment system that saw an upgrade as recently as the 2021 model year. But, as you can imagine, with a brand like Land Rover, its yearly maintenance cost will be higher than most, coming in at $719. Still, despite that and its sub-part reliability, the Discovery is an all-around great vehicle for taking long trips in style and with comfort.
2022 Toyota Highlander
MSRP: $35,855-$49,960
Seating Capacity: 8
MPG: 21 City / 29 Highway / 24 Combined
Reliability Rating: 4.0 / 5.0
Yearly Maintenance Costs: $489
You'd be hard-pressed finding vehicles as reliable as Toyota's, and the same goes for the Highlander. But to go along with its well-above-average reliability rating, the Toyota Highlander is an excellent lower-cost option than other vehicles on this list, starting at $35,855. The large seating capacity of 8 means that your entire family and even a couple of friends can likely tag along on your road trip and still have plenty of passenger space for everyone to sit back and relax. On top of this, the yearly maintenance cost of only $489, meaning that you likely don't need to worry about expensive repairs popping up repairs. 
But don't think that it's just on this list because it's cheaper and more reliable than others. With the Highlander, you'll be able to get either a front-wheel drive (FWD) or all-wheel drive (AWD) drivetrain, 295 horsepower, and up to 16 cubic feet of cargo space, even when all the seats are in place. And thanks to its towing capacity, you'll even be able to bring along up to 5,000 lbs of gear.
2022 Toyota Sequoia
MSRP: $50,500-$69,775
Seating Capacity: 8
MPG: 13 City / 17 Highway / 15 Combined
Reliability Rating: 3.5 / 5.0
Yearly Maintenance Costs: $642
The 2022 Toyota Sequoia full-size SUV with impressive size and seating capacity of up to 8 people, thanks to the third row of seating. That's not even mentioning its whopping 18.9 cubic feet of cargo space, meaning the Sequoia is sure to keep you and anyone who tags along safe and comfortable on your road trip. However, while you're likely to have plenty of room for everyone and everything you might need, you most likely will find yourself stopping to fill up at the pump, as the Sequoia only gets a combined 15 MPG. 
2022 Toyota RAV4
MSRP: $26,525-$36,915
Seating Capacity: 5
MPG: 27 City / 35 Highway / 30 Combined
Reliability Rating: 4.0 / 5.0
Yearly Maintenance Costs: $429
The 2022 RAV4 is an excellent low-cost option for any kind of road trip, starting at only $26,525 MSRP. And while it only seats five and has about 37.5 cubic feet of storage when the rear seats are up, it makes up for it with a 4.0/5.0 reliability rating and a far lower than average yearly maintenance cost of $429. Thrown together with the impressive 27 MPG city and 35 MPG highway this car receive, you're sure to save a buck or two when traveling with the RAV4 than another vehicle. 
But the RAV4's appeal for road trippers isn't just when it comes to saving at the pump. The RAV4's base model has several great standard safety features, including road trip musts like adaptive cruise control, automatic emergency braking, automatic high beams and lane keep assist. You'll even have drowsy driver detection and Toyota's Lane Tracing Assist steering aid. 
2022 Jeep Wrangler
MSRP: $29,995-$77,095
Seating Capacity: 4
MPG: 17 City / 25 Higway / 20 Combined
Reliability Rating: 3.5 / 5.0
Yearly Maintenance Costs: $694
Finally, the 2022 Jeep Wrangler is THE road trip vehicle for anybody who enjoys off-roading while still having an overall reliable ride. Plus, it's hard to beat taking the top and doors off of a Wrangler while cruising around during the summertime. So, while the seating capacity may not be ideal for a large family, it still has a 3.5 out of 5.0 reliability rating to go along with a V6 engine capable of 285 and a towing capacity of up to 3,500 lbs. So, whether you are going off-roading or simply on a drive, the Jeep Wrangler is an excellent choice.
Get Your Vehicle Road Trip Ready
Whether you have one of the best vehicles for a road trip, a reliable daily driver or a high-end weekend sports car, any vehicle can benefit from regular preventative maintenance. First and foremost, it's important to check your tire pressure to ensure they're capable of handling extended periods on the road. Additionally, be sure to top off all fluids underneath the hood of your car, such as oil, coolant, windshield wiper fluid, and others.
Another excellent tip before hitting the road this summer is to prepare an emergency kit to store in the back of your car. Keep items such as a flare, non-perishable food, water, a jacket, and other similar and helpful goods. Taking the time to handle this preparation before hitting the road can save you time, money, and energy in the event of an accident. 
It's also important to have the protection of an extended warranty or vehicle service contract in case of an unexpected breakdown or repair, especially if you have a used vehicle. But, when you have a plan like the Advantage auto protection plan from Endurance, you can protect your vehicle while also saving up to $3,500 on services to help get it road-trip-ready. That's because, with Advantage, you can get services like tire rotations, alignment checks, engine diagnostic exams and even up to three oil and filter changes included—at no additional cost to you. 
Not to mention that as an Endurance customer, you'll also automatically have 24/7 roadside assistance and towing, trip interruption coverage and rental car reimbursements. And for just a small activation fee, you can even get a full year's worth of Elite Benefits, including bonus perks and savings like tire replacements or repairs, collision discounts and more. So whether you have a Kia, Hyundai, Ford, Honda, Mazda or almost any other kind of vehicle, Advantage and Endurance can help.
Prepare Your Vehicle with Endurance
No matter what vehicle you have, having a little extra protection when it comes to unexpected repairs and costly breakdowns is never a bad idea. After all, while car insurance is a must and can help you in the event of an accident, it won't be able to help you when it comes to unexpected repairs. Even mechanical breakdown insurance (aka car repair insurance) can't help with everything. Thankfully, whether you are looking at handling preventative maintenance tasks or simply seeking added protection for your vehicle, an Endurance auto protection plan can help. 
For example, with the Advantage plan, you can get breakdown protection for your vehicle's most vital (and expensive) parts while saving up to $3,500 on maintenance services. Or, if you have a select high-end luxury vehicle, including one from Land Rover, Audi, BMW, Jaguar, Mercedes-Benz, Porsche and other luxury automakers, it too can get coverage with the Highline protection plan. And don't forget, regardless of your Endurance plan, you'll also have 24/7 roadside assistance and more included automatically to help you no matter where you are across the country. Plus, with your year's worth of Endurance Elite Benefits activated, including tire replacements and repairs, key fob replacements, and more, you can enjoy even more perks and savings. 
Get started protecting your vehicle today to prepare for your next family road trip by requesting a free, no-obligation quote. Or, to get some help finding the right Endurance plan for you, give our award-winning Endurance customer care team a call at (800) 253-8203. You can even find other great road trip planning guides and articles on topics like DIY maintenance how-tos, extended warranty comparison guides, and much more by visiting the Endurance blog.  
More like this
Make/Model

As the most rugged SUV Honda has ever offered, the Pilot offers a wide variety of benefits for those looking for an off-road capable SUV with adequate features. Like any..

Read More

Make/Model

As the world gradually transitions to renewable energy sources, the adoption of e-vehicles is on the rise, and Tesla has been leading the charge. Their range of electric cars is..

Read More

Make/Model

Originally formed from the remnants of the Henry Ford company, Cadillac is arguably the most quintessential American car brand in existence. Founded over 100 years ago, they were the first..

Read More