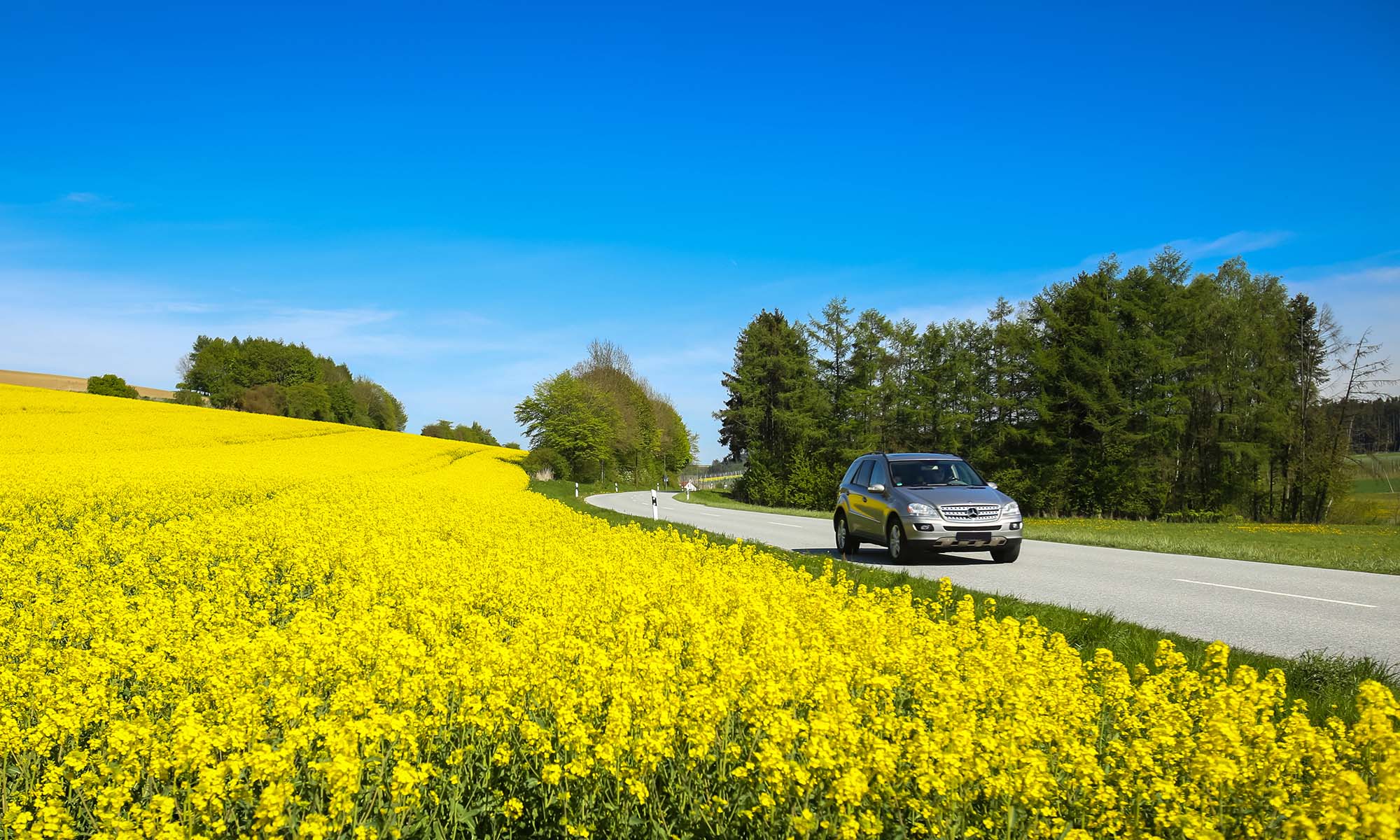 Having a car during the fall and winter months is a great way to ensure that you can get where you are going without walking in the snow or waiting at the bus stop in the cold. And with modern heating systems and airtight cabins, you can be just as comfortable driving to work, the store, or visiting your friends and family in your car as you would be just sitting in your heated home. But, while owning a vehicle during the fall and winter can have its upsides, your vehicle can also be affected by the wet and frigid weather of the seasons if you aren't careful. 
By failing to stay up-to-date on your vehicle's maintenance needs and making sure that you protect your vehicle from the snow and ice, you can leave yourself open to unexpected (and costly) issues come springtime. But, by understanding what problems can happen to your vehicle during the winter that can cause problems during the spring, you can take the steps necessary to make sure you and your car are covered.  
Why is Winter Car Maintenance Important? 
Freezing weather can wreak havoc on your car if you don't take the time to protect against it. Even if you are regularly driving in the winter, the cold can affect different components under the hood, causing issues long after the weather has warmed up. Knowing some of the most common issues can help you prepare for what you might face after the snow and ice melt. 
For example, one of the most vulnerable parts of your car during the winter is the fluid line system. Any hoses or lines that deliver fluid such as coolant, engine oil, or gasoline can freeze up when the temperatures get low. When this happens, the fluid in the lines will expand and create cracks and breaks, leading to big leaks once the weather warms up.
The underside of your car is also particularly at-risk during the winter season. Many cities and municipalities use rock salt to melt the ice on the roads, and it can stick to the frame and body of your vehicle very easily. The issue with this is that salt can cause these parts of your vehicle to deteriorate and develop large holes. Anything on the underside of your vehicle, such as the suspension or brakes, can be damaged by the road salt. 
What Does My Extended Warranty Cover? 
Unless you have recently purchased a brand new vehicle from a dealership and benefit from a manufacturer's warranty, you will need to cover yourself and your vehicle from unexpected repairs. Instead, an extended car warranty (more commonly known as a vehicle service contract or VSC within the industry) is the best help to ensure that your car and your wallet are protected from costly repair bills. 
Unlike car insurance or mechanical breakdown insurance (also known as car repair insurance), an Endurance protection plan can cover your car from costly repairs caused by general day-to-day use. This can be especially helpful in the wintertime when normal wear and tear on your car can be much more serious and extreme. Knowing which components Endurance will cover with their various protection plans can help you decide if one of them will be right for you and your vehicle.  
Brakes 
Your brakes can be severely affected by the cold weather. Not only can they deteriorate from the salt and moisture, but the fluid itself can also freeze if it is not properly circulated. An extended warranty from Endurance will cover your car's braking system and ensure that it is kept in good condition in the winter, which is when you will need it the most. 
Cooling System 
While it may not seem like it from the name, your car's cooling system also helps prevent it from freezing up in the winter. If it is not properly cared for during the winter, it will not be able to cool down your car when the weather heats up. An extended warranty or VSC can cover your vehicle's cooling system, so you won't be stuck overheating in the summer if the winter is especially tough on the car. 
Powertrain 
Your car's powertrain is essentially every component that supplies power to the wheels and moves them. This includes the engine, transmission, and drive axle, all of which can be affected by the cold weather in different ways. Every plan offered by Endurance will cover your vehicle's powertrain and help make sure that these essential components are protected.  
Electrical Components 
Cold temperatures and moisture are not good for your vehicle's electrical system. Whether it is through shorts or deteriorating connections, winter weather can ruin electrical components, especially because so many of them are located on the underside of your vehicle, including sensors and wiring. An extended warranty or VSC can help you pay for electrical repairs if the salt and snow of the winter have eaten away at any of these sensitive systems. 
Suspension 
No one enjoys an overly bumpy ride, so keeping your suspension in working order is crucial for any vehicle. And like many other components of your vehicle, your suspension is especially susceptible to damage during the winter months. The salt and moisture on icy roads can severely damage your suspension and cause corrosion, which can be detrimental to the car's structural integrity. An extended warranty covering your car's suspension, like Endurance's Superior, Supreme and Advantage plans, can help cover repairs or replacements after a harsh winter. 
Gaskets 
Your car has a series of gaskets that ensure connection points are completely sealed and protected from the elements. These gaskets can become brittle during the colder months from the constant cooling down and heating up in the engine compartment. An extended warranty or service contract covering gaskets can help ensure that your vehicle doesn't sustain more expensive and severe damage from bad gaskets during the winter.
There are, of course, some things that a VSC from Endurance won't cover that you may end up dealing with due to cold weather. For example, your windshield can become damaged from fluctuating temperatures due to the cold outside and running the heater inside. Most extended warranties or service contracts will not cover it if it develops cracks or chips, but depending on your policy, your insurance might. The same goes for airbags or your vehicle's catalytic converter.  
If the weather starts to warm up and you decide that you no longer need your vehicle, an extended warranty can act as a selling point and help you find buyers faster. An Endurance VSC can be transferred to a new owner with just a few simple steps. Endurance vehicle service contracts have to be transferred within 30 days after the sale of the car and will be subject to a $50 transfer fee. Almost all Endurance plans can be transferred directly, except for a 36-month, unlimited-mile Advantage contract. They turn into a 36-month, 50,000-mile contract when these are transferred.
Cover Your Car All Year Long with Endurance
While it's vital to protect your vehicle from many of the issues that can pop up during the fall or winter, you'll still want to make sure that your vehicle is taken care of all year round. To do so, you'll need to follow its recommended maintenance schedule. Unfortunately, many extended warranty providers or even your vehicle's original factory warranty can't help cover the cost of these vital services — unless you have Endurance. 
With the Advantage auto protection plan, you can get peace of mind knowing you'll have comprehensive breakdown protection AND help in saving up to $3,500 in yearly maintenance services. That includes vital services to help keep your vehicle running into and well after the winter, such as up to three oil and filter changes, alignment checks, tire rotations, engine diagnostic exams and more. Not only that, but each Advantage package also has several other special, one-time services available for even more coverage and savings, including cooling system maintenance, a brake pad/shoe replacement, a front or rear wiper blade set replacement and a battery replacement to help keep your vehicle running any time of the year.
Select luxury vehicles can also find coverage with the Highline protection plan. This comprehensive coverage package is designed to protect vehicles from popular automakers such as Audi, BMW, Mercedes-Benz, Jaguar, Land Rover, Porsche and more from the same kinds of costly repairs and breakdowns any time of the year.
Endurance customers will automatically receive 24/7 roadside assistance and towing, as well as trip interruption and substitute transport coverage for free when purchasing any Endurance protection plan. Not only that, but new and existing Endurance customers can also enjoy a full year of even more perks, coverage and savings with Endurance Elite Benefits. Simply purchase any protection plan, pay a small activation fee and enjoy up to two tire repairs or replacements per year, up to $1,000 in total loss protection, key fob replacements and more.
For more details about Endurance auto protection plans, request a free, no-obligation quote. You can also speak directly with an award-winning customer service representative to help you find the right plan for you and your vehicle by calling (800) 253-8203. You can also visit the Endurance blog for more articles, from expert auto tips, make/model comparisons, FAQs and other informative and helpful automotive and extended warranty topics.
More like this
Extended Warranty

The advantages of having an extended warranty can't be overstated when a surprise car repair pops up. Coverage can make a difference during a breakdown, thanks to protection against expensive..

Read More

Extended Warranty

Nothing beats being able to hit the open road and head wherever you like, whenever you like. Plenty of drivers fall in love with our vehicles, maintaining them with total..

Read More

Extended Warranty

There's a lot to get excited about buying a new or used car, but one feature that often gets overlooked is the manufacturer's warranty. Understanding this coverage helps owners maximize..

Read More