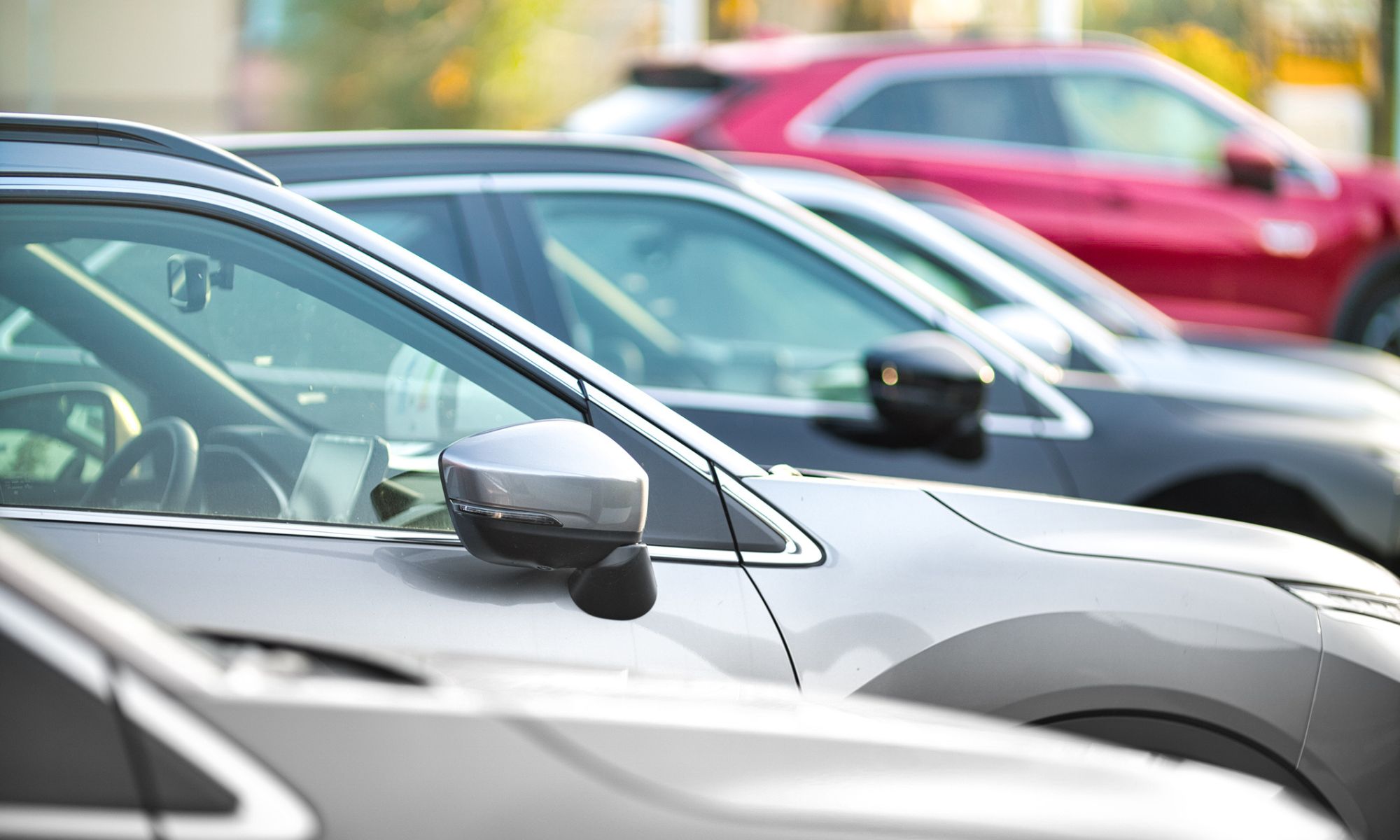 Buying a used car is one of the best ways to save money and get an excellent vehicle to drive around. With the right amount of research and knowledge, you can get a great deal on a used vehicle that will serve you well for many years. While used cars have risks, car buyers can remove some guesswork by knowing which used vehicles are the best and which ones they should watch out for.
There are a lot of factors that go into what makes a used car worth buying and what makes it a bad decision. Reliability, car price, and overall performance are some of the most important factors you should consider when used car shopping. Find out which cars rank the best – and which ones are the worst – so you can make the right choice and drive away knowing that your vehicle is the right one for you.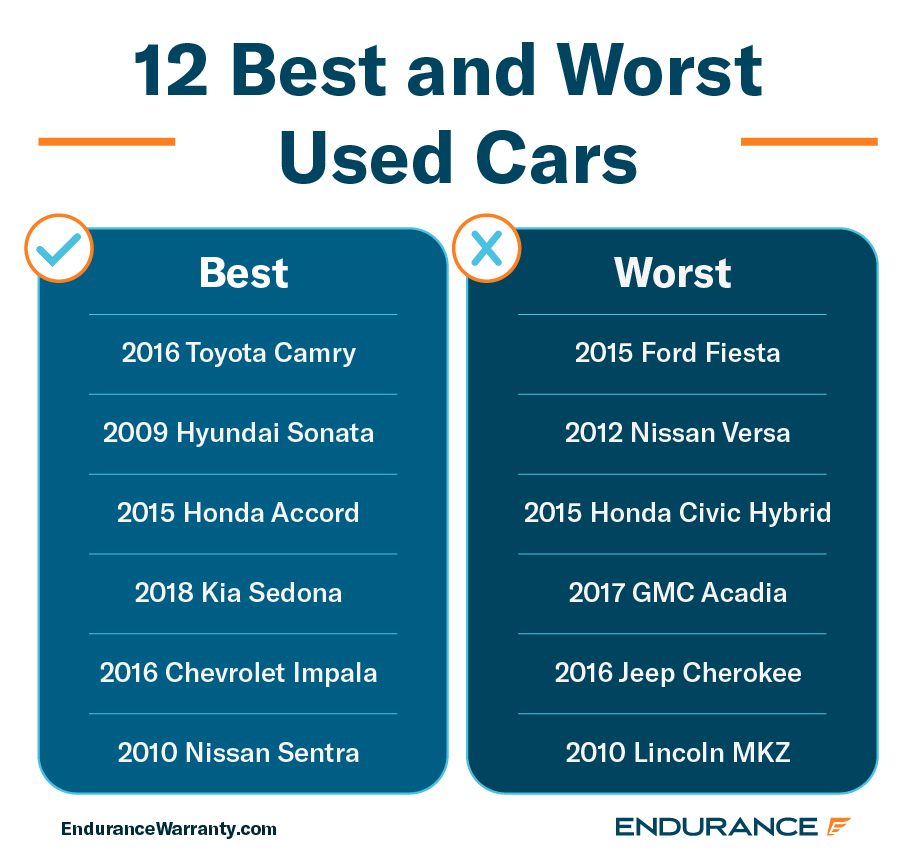 The 6 Best Used Cars
While all cars have their own sets of benefits and drawbacks, some are going to perform better as they age than others. To make a smart purchase, you must know what the best used cars are and what you can expect from them. Here are some of the top-ranking used vehicles on the market to help you narrow down your search and find something you will love for years.
2016 Toyota Camry
When it comes to reliable cars, the Toyota Camry is one of the leaders in the market. The 2016 Camry is one of the most dependable and well-performing used cars available and has a lot to offer people who want something that will give them years of trouble-free use. The 2016 Camry has a FWD 2.5-liter four-cylinder engine that produces more than enough power for everyday use and a spacious interior that is perfect for long commutes or road trips with the family.
The 2016 Toyota Camry is one of the best used cars you can buy if you are looking for something that will last a long time. It has an excellent 4/5 rating on RepairPal and ranks third out of 24 midsize vehicles on the market. You can generally find a 2016 Camry for anywhere between $12,500 and $17,880, depending on the trim level and the options that it is loaded with.
2009 Hyundai Sonata
Hyundai has long been known as an automaker that wants to make sure the people who buy their cars get as much value from them as possible. With their comprehensive factory warranty and a wide range of dependable vehicles, they are a good option if you are looking for a quality used car. The Hyundai Sonata is a midsize family sedan that has a conservative style and functional, easy-to-use components that are built to last as long as possible.
The best year for the Hyundai Sonata is the 2009 model year. RepairPal has given this version a 4/5 rating, making it an excellent buy for anyone who needs a dependable used car. The 2.4-liter four-cylinder engine puts out 175 horsepower and is designed to be simple and straightforward. For the most part, you should be able to find a 2009 Sonata for anywhere between $4,999 and $6,995 on the used market.
2015 Honda Accord
Honda, like Toyota, has been holding onto their reputation for excellence when it comes to long-lasting used cars for years. Their most reliable model, the Accord family sedan, features a spacious interior and a simple design that is ideal for people who need a dependable daily driver. The 2015 Accord is one of the best years for the car and features a 2.4-liter inline-four engine that puts out 185 horsepower and 182 pound-feet of torque. It also has a comfortable ride and all kinds of safety features to protect you on the road.
The 2015 Accord has a 4.5/5 rating from RepairPal and very few known issues that could make owning a used one problematic down the line. It is ranked number one out of 24 midsize cars, so you can be certain it will be one of the most reliable vehicles on the road. Depending on the mileage and trim level, you can find a 2015 Accord for anywhere between $13,788 and $18,998. If you need a used car with an amazing reliability rating and a lot of practical features, it is a great option.
2018 Kia Sedona
Minivans have slowly been getting phased out in recent years with the onset of the SUV revolution and the emergence of practical economy cars. That being said, the Kia Sedona remains one of the best used vehicles you can buy if you need something for carting the family around with plenty of room to spare. As one of the best model years for the minivan, the 2018 Sedona features a V6 engine and has a large cargo well to accommodate most driving and hauling needs.
RepairPal has given the 2018 Sedona a 4/5 overall rating and ranks it first out of eight minivans, making it a solid choice for almost any driver. The most common repairs that are needed are relatively minor things like a power seat motor replacement and a new windshield wiper arm. A 2018 Sedona in good shape will usually cost between $17,498 and $29,999, depending on options and mileage.
2016 Chevrolet Impala
When searching for both a quiet, comfortable ride and a little bit of power in the drivetrain, it can be difficult to find a used car on a budget. The 2016 Chevy Impala, which is one of the best model years available for this large family sedan, satisfies both of these incredibly common requirements. It features a 2.5-liter four-cylinder engine running through a six-speed automatic transmission and a FWD configuration. This, plus its 196 horsepower output, means it is as fun to drive as it is practical and comfortable.
The 2016 Impala has a 4/5 rating from RepairPal, with most owners reporting positive experiences with it. Most of the common procedures that it has to go to the shop for include regular maintenance items and tests like O2 sensor tests and battery tests. You can get a 2016 Impala on the used market for anywhere between $14,350 and $17,999, making it a relatively affordable family vehicle that delivers a little extra power under the hood.
2010 Nissan Sentra
When looking for an economy car, you might be thinking that you have to sacrifice space and quality to save money. With the Nissan Sentra, you don't have to worry about losing either. The best model year for the Sentra, 2010, features a roomy cabin thanks to the vehicle's hatchback platform that has been converted into a sedan. It also comes with a 2.0-liter four-cylinder engine putting out 140 horsepower that gets up to 34 mpg on the highway.
RepairPal has given the 2010 Sentra an excellent 4/5 ranking, which means you can rely on it to stay in good condition for many years. Current owners report needing very minor repairs, such as air conditioning recharges and door lock replacements. Most of the time, you can find a 2010 Sentra for anywhere between $3,200 and $7,995.
The 6 Worst Used Cars to Avoid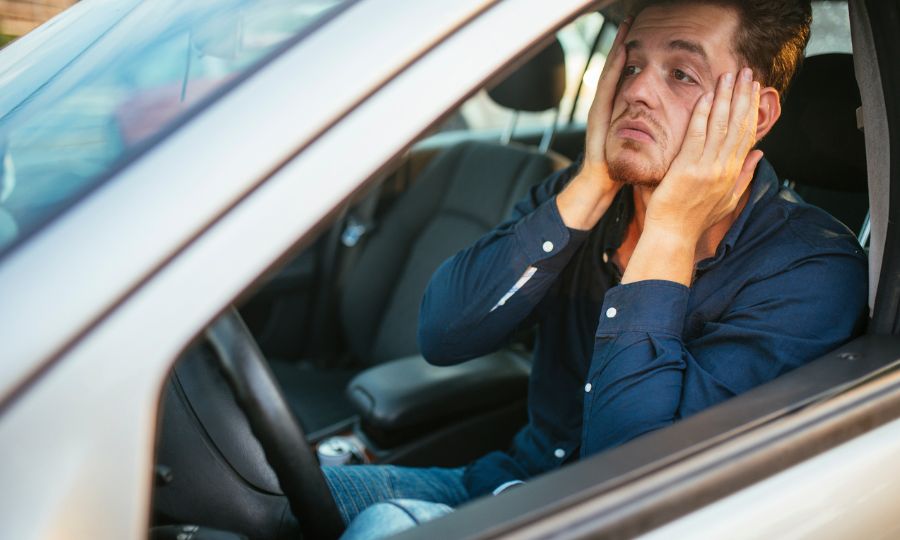 Although it is possible to find a fantastic used car that is perfectly suited to your needs and will last you many years, there are just as many that you should avoid. Some below-average vehicles are either not designed well or have persistent problems that come up over many years. These "lemons" can end up costing you a lot of money. Let's go over the worst used cars to help you avoid them and save yourself money and aggravation in the car-buying process.
2015 Ford Fiesta
The Ford Fiesta emerged in the 2010s as an affordable hatchback that was designed to be as simple and straightforward as possible. One of the issues with this, though, was the fact that making it a small car meant sacrificing space that was needed in the cabin and the passenger seats. Aside from its uninspiring design, it also had some serious mechanical problems that ended up being a problem throughout most of its run on the new car market.
The worst year for the Fiesta was 2015, and this particular model had some problems that made it an incredibly expensive car in the long run. According to RepairPal, this model year had issues with the transmission mounts and the intake manifold gasket, and it regularly needed a strut replacement. All of these repairs can add up to thousands of dollars, so it is best to avoid the Fiesta if possible.
2012 Nissan Versa
In the 2010s, many automakers were trying to create economical hatchbacks that could do a lot of hauling while getting great gas mileage. While the Nissan Versa was a good attempt, it also managed to have a lot of other problems that could heavily outweigh the benefits. Plus, the uninspiring handling and low-powered engine didn't make it very much fun to drive in the first place.
The 2012 Nissan Versa had major problems with its design that resulted in a few expensive common problems. The main issue was the fact that sooner or later, one of the shocks would break and need to be replaced. According to RepairPal, this could cost anywhere between $772 and $834, and if one of the other shocks breaks as well, you would end up having to pay for this twice. Even if you can get a great deal on a Versa, it could cost you a lot more in the long run.
2015 Honda Civic Hybrid
For the most part, the Honda Civic has maintained a reputation as a vehicle that will last for many years and be incredibly affordable along the way. The 2015 hybrid version of this classic economy sedan was another story, though. It featured an incredibly cramped back seat and almost no trunk space, making it less versatile and functional than a coupe or hatchback. This was partially due to the hybrid battery, which took up a lot of room and added a lot of weight to an already unimpressively-performing vehicle.
The biggest issue with the 2015 Honda Civic Hybrid was the fact that it had a faulty ABS control module. This module operates the ABS system, which is responsible for keeping your vehicle from skidding and safe on icy roads. When the ABS module goes bad, it needs to be replaced immediately, and on the 2015 Civic Hybrid, this will cost between $1,422 and $1,434. This large repair can negate any savings you might get from buying used, so avoiding this particular model year could be your best option.
2017 GMC Acadia
If you need an SUV for driving your family around town, buying used is a great way to save some money. While GMC is known for being a reliable American automaker, their midsize SUV, the Acadia, has had some problematic models over the years. 2017 was perhaps the worst of all, with its smaller wheelbase and lack of legroom in the back row. On top of that, there were some common issues that many owners reported that were both pricey and inconvenient.
According to RepairPal, the 2017 Acadia regularly needed an AC evaporator replacement, which, if left unfixed, could potentially destroy the whole AC system. This repair costs between $1,255 and $1,466 to fix, which is more expensive than most people expect for a relatively new vehicle. Plus, the turbocharger assembly also has a tendency to fail and this is another pricey repair costing between $1,275 and $1,369. If you need a used SUV, avoiding the Acadia and going for a different midsize option is probably a good idea.
2016 Jeep Cherokee
The Jeep Cherokee has been walking the line between a rugged SUV and a comfortable family car since it was first introduced. While many people love their Cherokee, the third generation of this Jeep had some problems, and 2016 was an especially poorly-designed year. It had much less cargo space than other crossovers in its category and also suffered from less-than-exciting performance due to an underpowered four-cylinder engine.
The 2016 Cherokee also had some common and expensive repairs, even in the lower mileage bracket. One of the most serious was the failure of the fuel level sending unit, which can cost between $1,181 and $1,214 to replace. Without this unit, you could have serious engine problems that could potentially have a domino effect, so avoiding this model year is a good idea.
2010 Lincoln MKZ
As the luxury arm of Ford, Lincoln has been synonymous with luxurious, sleekly-styled vehicles for many years. The MKZ was designed to be an affordable, entry-level luxury sedan, and while it has the smooth exterior you would expect from the automaker, it also has its share of issues. Many people who have purchased it have felt underwhelmed by the interior and felt that it was too similar to a regular Ford to be considered premium, especially when it comes to the 2010 model year.
The 2010 MKZ suffered from some relatively serious mechanical problems, including a faulty timing chain tensioner, a bad turbocharger assembly, and a catalytic converter that has a tendency to fail well before its expected lifespan. All of these problems will cost well into the thousands, making the 2010 MKZ a bad choice if you are looking for a used car that is reliable and economical.
Extended Warranties for Used Cars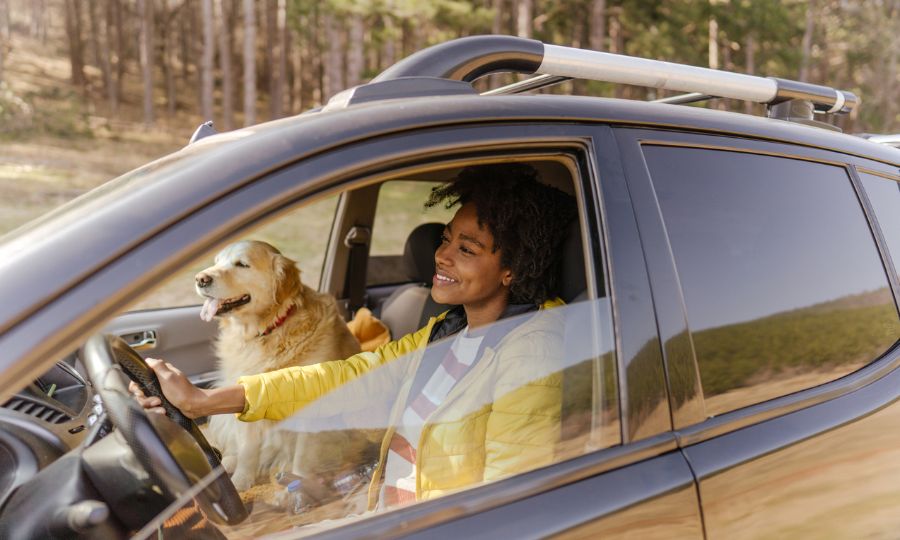 An extended warranty can be a great option if you want to protect your used car after you make the purchase. Depending on the model year of your vehicle, it may still be under the automaker's factory warranty. If this is the case, you could get an extended warranty from the manufacturer since most require you to buy the extended coverage before the original warranty is up. This extended coverage will help protect you from any issues that could arise due to problems at the factory or design mistakes and allow you to get your car repaired at the dealership.
However, when you buy a used car, chances are it will no longer be covered under the original manufacturer's warranty. If this is the case, an extended warranty from a third-party provider (also called an auto protection plan or vehicle service contract) is the next best option. One of the major benefits of getting a third-party auto protection plan is that many of them come with extra perks and benefits alongside the coverage, such as roadside assistance, rental car reimbursement, and more. These additional perks can give you confidence when you're buying a used car, no matter what kind of reputation it has.
Protect Your Used Car With Endurance
It's essential to consider how long a car will last when shopping the used car market. Whether you have opted for one of the best used cars or realized your current vehicle may not be as reliable as you once thought, getting the right auto protection plan can give you peace of mind when you're on the road.
Endurance offers plans for nearly every type of vehicle and driver, starting at just $79 per month. There are even plans for vehicles that other providers won't cover, such as high-end luxury vehicles, high-mileage vehicles, rebuilt or salvage title vehicles, Uber driver and delivery cars, and much more. No matter what plan you decide on, you also get standard benefits like 24/7 roadside assistance, towing, rental car reimbursement, and trip interruption services. Plus, for a small activation fee, every new Endurance customer will get a year's worth of Elite Benefits, which include key fob replacement, complete tire coverage, collision discounts, and even total loss protection.
Protect your used car – request a free, no-obligation quote by calling (800) 253-8203 or shop online today. Also, check out the Endurance blog for other extended warranty comparisons, DIY maintenance tips, vehicle buying guides, answers to your biggest warranty FAQs, and more.
More like this
Make/Model

If you're the owner of a Honda Accord, you certainly aren't alone. The brand has a great reputation for producing some of the most reliable cars on the road, with..

Read More

Make/Model

The last thing any Ram driver wants is to hear an odd noise while driving down the road, followed by a mechanical issue within their vehicle. Unfortunately, mechanical breakdowns are..

Read More

Make/Model

Finding yourself in the position where you are notified of a recall affecting your vehicle is never a fun situation, but it should require immediate action on your part. Depending..

Read More