When buying a new car, especially when faced with higher-than-normal prices for new and used cars, finding ways to save as much money as possible is essential. Plus, with the holidays fast approaching, looking for the best way to buy a vehicle without spending more than you can afford is likely at the top of your car shopping to-do list. 
But, while finding the right deal on a car is also important in getting the best price, it's also important to remember that, more often than not, buying the car is the cheap part of owning a vehicle. In fact, between maintenance, gas, car washes and unexpected repair bills, you may pay more to keep your car running than the cost of the actual vehicle. Luckily, automakers like Nissan often provide a manufacturer's warranty for those buying a brand-new car to help protect against the cost of covered repairs. Even better, most often offer extended protection plans, aka extended warranties, that will continue to give comprehensive breakdown protection once that original limited warranty coverage expires. 
But before you decide to extend your coverage with Nissan, it's important to learn more about what a Nissan extended warranty covers and how it may be able to help you. Learning more about some of their most popular models, like the Altima, can help you decide if a Nissan is worthy of being your next new vehicle and if their coverage is worth it.
What's Included in a Nissan Extended Auto Warranty?
When you purchase any brand-new Nissan model, that vehicle will be covered by the automaker's factory warranty. This warranty is designed to protect you from the cost of repairs that need to happen due to issues with manufacturing, design flaws, or problems that are no fault of your own. If something goes wrong with your new Nissan, you can take it to a Nissan dealer, and they will fix it at no cost to you. 
And per their website, Nissan's factory warranty comes in two forms: a three years/36,000-mile limited warranty (aka a bumper-to-bumper warranty) and a five-year powertrain warranty. But once those coverages are over, you will be responsible for covering any auto repairs your vehicle might need. However, one of the options you have, if you want to keep protecting your Nissan after the factory warranty is up, is to get an extended warranty.
Nissan offers three tiers of extended coverage, all of which will cover different components and give you unique levels of coverage that you can buy that will cover your vehicle. And understanding more about these various Nissan extended warranty plans will help you decide if getting coverage directly from them is the right choice for you. 
In total, the extended warranty plans Nissan offers are good for eight years or 120,000 miles, whichever comes first. You must also purchase your extended warranty before your factory warranty is up. Hence, it is essential to plan and think about what kind of coverage you might need, though they note that there are coverages available for certified pre-owned vehicles. And while Nissan doesn't give out specific prices, they are noted as being comparable to the prices of other extended car warranty plans available from manufacturers and third-party warranty companies. Depending on your needs and driving habits, however, one of these protection plans will be better suited to your specific Nissan model than others, and choosing the right one will help give you the peace of mind you need when you are out on the road. 
Powertrain Preferred
If you are looking for bare-bones coverage for your Nissan and protecting its most important components, the Powertrain Preferred plan is your best option. This plan covers all the components involved in the engine and transmission of the vehicle, which comprises 839 components in total. Additionally, it covers crucial components that make up the steering, suspension, and fuel system, all of which are crucial to the operation of your Nissan vehicle. 
On top of the component coverage that all of Nissan's extended warranty plans include, they also come with 24-hour roadside assistance. This can be a great help if you get stuck on the side of the road with issues like a dead battery or a key locked inside the vehicle. By keeping your vehicle in good condition and protecting you when you are out on the road, you can take your Nissan wherever you want without worrying about mechanical issues or expensive breakdowns. 
Silver Preferred
Silver Preferred is Nissan's second most comprehensive extended warranty plan and covers over 1,500 different components of your Nissan. If you are looking for a high level of protection that will keep you safe on the road, this could be your best option. The Silver Preferred plan covers almost every important component and some extras, including:
Anti-lock braking systems
OEM audio/video/navigation displays
Power steering pump and reservoir tanks
Electric systems
OEM air conditioning parts
The Silver Preferred plan also comes with some extra perks and benefits that make driving safer and more convenient on top of the roadside assistance available with the Powertrain Preferred plan. These include trip interruption benefits, which cover meals, lodging, and rental cars with claims up to $500. It also includes towing reimbursement of up to $100 and rental car reimbursement of up to $35. With this plan, repairs on your vehicle are not only covered but you will also be protected from costs that are associated with a mechanical breakdown while you are on the road. 
Gold Preferred
If you want to protect your Nissan as much as possible after the factory warranty is up, the Gold Preferred plan will be your best bet. This is Nissan's version of exclusionary coverage, meaning it is easier to list the components it doesn't cover than the ones it does. In the case of the Gold Preferred plan, everything on your Nissan will be covered, with the only exclusions being for regular maintenance, which includes parts like wiper blades, tires, and brake pads, as well as any cosmetic damage and physical damage due to an accident. It even comes with roadside assistance, trip interruption coverage, towing services, and rental car reimbursements available on the Silver and Powertrain Preferred tiers.
About the Nissan Altima
While knowing the basics about Nissan's extended warranty coverages can help, knowing more specifics about some of their more popular models can help you determine if it may be the right vehicle for you. For example, the Nissan Altima is a mid-size sedan in production since 1992 and is one of the more popular Nissan models. 
Its popularity can be attributed to the fact that it is a good middle-ground regarding performance, luxury, and price. The current generation of the Nissan Altima features a 2.5-liter four-cylinder engine putting out 188 horsepower through a continuously variable automatic transmission. If you want to upgrade to the turbocharged version, you can increase that power to 248 horsepower. With a starting MSRP of just $26,385, it is an excellent option for people who don't want to spend too much money but still want a powerful, driveable vehicle. 
According to RepairPal, the Nissan Altima ranks 11th out of 24 vehicles in its class regarding reliability. This, combined with its low yearly maintenance cost of just $483, which is well below the average of $652, means that it is a great choice if you want a vehicle you know you can depend on. 
Plus, in addition to the low upkeep cost and higher-than-average reliability in its class, the Altima gets an EPA-estimated fuel economy of 28 mpg city and 39 highway so that you can save money at the gas pump. But, despite great reliability and low maintenance cost, the Altima has some common issues you should expect and prepare for. 
Altima Repairs to Expect
The Altima has been the subject of several recalls over the years, the most recent being an issue with the steering tie rod ball joint not being fastened correctly in 2021. In 2019, the Altima was recalled due to fuel leaking into the high-pressure fuel pump, which had the potential to start a fire if not properly repaired. 
The 2016 Altima also had several recalls, including an airbag not deploying and the rear doors coming unlatched and possibly opening when you lowered a window. 2013 was a particularly bad year for the Altima, with recalls relating to the passenger airbag, latches on the hood, and fuel leaks. 
According to the experts at RepairPal, some potential Nissan Altima repairs and replacements can include: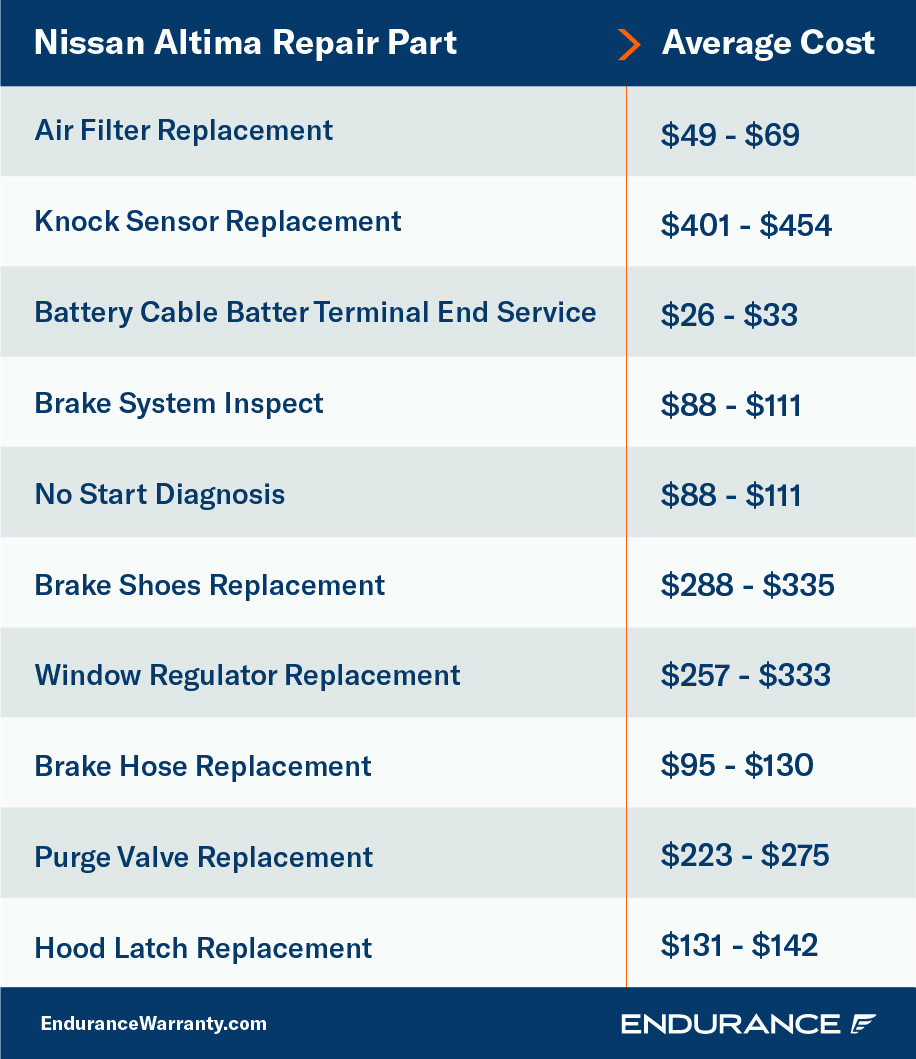 The best way to protect yourself from costly repairs and replacements is to get a quality extended warranty after the factory coverage has ended. 
How Endurance Can Protect Your Nissan
While Nissan offers extended warranty coverage, the limits on where you can get repairs done, the lack of additional benefits or simply the lack of variety in plans may not be the best choice for you. Luckily, while only your automaker can technically "extend" your factory warranty coverage, third-party warranty providers (who offer vehicle service contracts) can give you the same kind of breakdown protection but with some bonuses.
For example, with Endurance, you can get a customized vehicle protection plan that fits your needs and budget. , you can choose from a wider variety of coverage plans available and vehicle protection plans for almost any kind of driver and budget. In fact, whether you're looking for a plan that includes maintenance services that Nissan doesn't offer, one that gives you exclusionary coverage for nearly every part of nearly every kind of vehicle or basic powertrain coverage starting at just $79 per month, Endurance has a plan for you. 
Plus, Endurance allows you to go to your choice of ASE Certified mechanics or repair facilities, unlike an extended warranty from Nissan, which limits you to getting repairs done at a Nissan dealership. You'll even enjoy complimentary benefits no matter the plan you have, including 24/7 emergency roadside assistance and towing services, as well as trip interruption benefits AND rental car reimbursements. Plus, with any Endurance protection plan, you'll be eligible for a year's worth of Endurance Elite Benefits. This includes extra perks like tire repairs and replacements, collision discounts, key fob replacements and total loss protection, which are not at least automatically included in Nissan's extended warranty plans. 
Get Award-Winning Coverage with Endurance
Suppose you're a Nissan owner of an Altima or any other Nissan model, including the Pathfinder, Sentra, Maxima and more. In that case, if your factory warranty is almost up, it is essential to find the right protection plan. Knowing everything you can about the various coverage options available will help you make the right choice and keep your Altima running for years. But while you can get coverage from the automaker or any of the countless third-party warranty providers, only Endurance can give you customized and award-winning coverage to fit your needs and budget without all the restrictions that come with an extended warranty from the automaker. 
For example, regardless of the Endurance auto protection plan you choose, you can enjoy complimentary services like 24/7 roadside assistance and more. You'll even be eligible for a year's worth of Endurance Elite Benefits, including collision discounts, tire replacements or repairs, and more. Plus, every Endurance plan allows you to take your vehicle to any ASE Certified mechanic or repair shop, so no matter where you are, you can be sure Endurance will be there to help take care of your repairs.
Protect your vehicle with Endurance today by requesting a free, no-obligation quote. Or, if you want to learn more about how an Endurance auto protection plan can help you, call the award-winning Endurance customer care team at (800) 253-8203. You can also discover more helpful DIY car maintenance tips and other articles like auto expert buying guides, extended warranty coverage comparisons, road trip planning guides, and more by visiting the Endurance blog.
More like this
Make/Model

As the world gradually transitions to renewable energy sources, the adoption of e-vehicles is on the rise, and Tesla has been leading the charge. Their range of electric cars is..

Read More

Make/Model

Originally formed from the remnants of the Henry Ford company, Cadillac is arguably the most quintessential American car brand in existence. Founded over 100 years ago, they were the first..

Read More

Make/Model

Buying a new car or a used car can be a tricky process. The choice of vehicles is almost endless, and while it can be tempting to go for the..

Read More