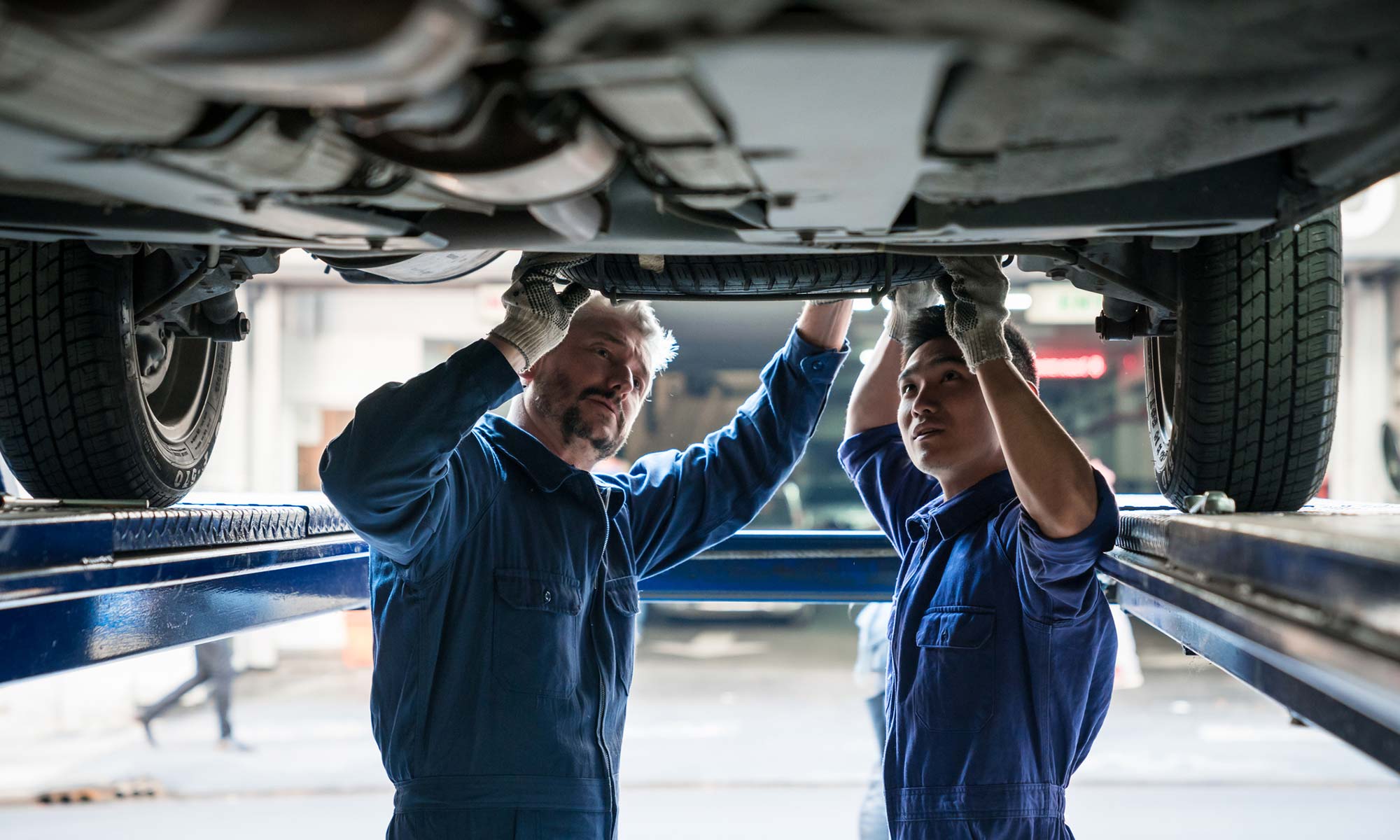 Whether you're purchasing a brand new vehicle or a used car, there is more you need to consider apart from just the overall sticker price. Even the most reliable vehicle brands such as Honda, Ford or Jeep will require necessary maintenance and repairs. In fact, according to the AAA, even a brand new car costs around $0.09 per mile in maintenance and repairs. If you drive 20,000 miles each year, that's an annual bill of almost $2,000!
Your vehicle's factory warranty can provide you with coverage, but even the most comprehensive plans won't last forever. Instead, purchasing a vehicle service contract (VSC), more commonly referred to as an extended car warranty (though not a warranty by definition), can help give you peace of mind when your factory warranty expires.
Understanding the Different Types of Warranties
Whenever you purchase a vehicle from a dealership, it will almost always come with what is known as a factory warranty (or manufacturer's warranty). A factory warranty will help cover the cost of repairs to the various components of your vehicle for a period after purchase — typically either 3-years/36,000 miles or 5-years/60,000 miles. This type of coverage will also differ from any auto insurance policy or mechanical breakdown insurance (MBI) you may have.
Some of the most common types of factory warranties include:
Powertrain – A powertrain warranty may be the best option for those who only want to cover the most expensive components. Put simply, a powertrain warranty protects the various components that make your car move, namely, the engine, driveshaft, and transmission. You may hear a powertrain warranty referred to as a 'stated component' warranty because it only covers the components stated within the terms and nothing else.
Bumper-to-Bumper – Simply put, a bumper-to-bumper factory warranty does just as the name suggests — protecting your vehicle from the front to rear bumper. This type of warranty it's often referred to as an 'exclusionary warranty' as it gives almost every component of your vehicle apart from a select few parts.
Corrosion – A corrosion warranty will protect your vehicle from rust and other similar types of damages. Drivers in areas that receive heavy rain or other severe weather conditions should consider finding this type of coverage. 
Emissions – This type of warranty is designed to cover repairs to your vehicle's engine and will typically begin after 90 days or 3,000 miles, whichever comes first. This type of protection is also vital for vehicles that may be missing a catalytic converter. It is also vital to note that failing the inspection for drivers in states that require emissions tests will result in your emissions warranty being voided. 
Regardless of the warranty coverage your vehicle's manufacturer issues, as long as your warranty is active, you can be confident that you're covered for the cost of any unexpected breakdown or repair. All you need to do is take your vehicle back to the dealership, a certified repair facility or any ASE Certified mechanic, and they'll take care of everything for you.
When your factory warranty expires, however, you will be responsible for paying the out-of-pocket expenses when it comes to repairing your vehicle. Purchasing a VSC can help provide you with the same types of comprehensive coverage once your initial warranty coverage expires.
Looking for a service contract for your vehicle, not only is it essential to choose the right level of cover, but you also need to make sure you're with the right provider. 
The Companies
Endurance
As one of the country's most trusted vehicle protection plan providers, we at Endurance have been helping to empower drivers with confidence for the road ahead since 2006. At Endurance, we offer six comprehensive levels of extended auto coverage that can help fit any need or budget you may have. Endurance customers also have access to several extra perks and savings with 1 year of Endurance Elite Benefits that come with the purchase of any protection plan and a small activation fee. Additionally, unlike other providers, we're also the direct administrator of our services, so we deal with absolutely everything—from quote to claim.
Liberty Bell Auto Protect
Founded in 2010, Liberty Bell Auto Protect states that they offer coverage to drivers across America (except for Florida and California). Their plans cover cars up to 20 years old, with up to 140,000 miles on their odometer. However, as of September 2021, they are believed to have ceased doing business, but their website remains operational. There have been many complaints filed against them with the Better Business Bureau (BBB) as a result.
The Plans
Even if Liberty Bell Auto Protect is no longer active, comparing the offerings of current and former providers can help give you a better understanding of the type of coverage you can find. To help you get an idea of how this type of comparison can help, here's a rundown of Endurance's key plans, alongside those that Liberty Bell Auto Protect provided:
As the most comprehensive breakdown protection plan available on the market today, you can rest easy knowing your vehicle is covered from the cost of unexpected repairs and breakdowns with EnduranceAdvantage. Each EnduranceAdvantage package also comes with up to $3,500 in essential maintenance services, helping you to stay up-to-date on your vehicle's recommended maintenance schedule. This includes services such as up to 3 oil and filter changes, tire rotation, PSI checks, as well as several special, one-time services — at no additional cost to you.
With just a small list of exclusionary components, this comprehensive protection plan is one of the most extensive protection plans available, making it ideal for those who rely heavily on their vehicle.
As the most complete inclusionary coverage plan we provide with the highest level of stated component coverage, the Superior plan will include hundreds of your vehicle's most vital components.
Specifically designed to help drivers with high-mileage vehicles up to 150,000 miles, the Select Premier will provide coverage to certain lubricated internal parts of the powertrain such as your engine, transmission and drive axle assembly. You will also have coverage for various other components, including electrical, cooling, air conditioning, heating, and fuel systems.
A step above in terms of coverage from the Secure plan, the Secure Plus level of coverage will provide you with protection on major components such as your brakes, engine, transmission, A/C, and steering. You can also find coverage for various electrical components and more.
The Secure plan is ideal for daily drivers looking for comprehensive coverage at an affordable price, meaning you can be sure your car, truck or SUV's most vital components will be covered. 
Liberty Bell Auto Protect
Platinum
As Liberty Auto Bell's most basic option, this plan covered gasoline and diesel engines, the standard powertrain components, and select electrical components.
Platinum Plus
Platinum Plus included everything from the Platinum plan but also covered the steering system.
Platinum Prime
Liberty Auto Bell's most extensive service contract, Platinum Prime, covered everything in the Platinum Plus plan, as well as the fuel system, suspension, seals, gaskets, and more. 
Protect Your Vehicle with Endurance
Being able to compare various types of vehicle protection plans, including those that may no longer be available, can help ensure you can find the right coverage you need for your vehicle. With Endurance, you can rest easy knowing no matter the plan you choose that you'll be covered from any out-of-pocket repair bills. You can also help extend the life of your vehicle with the help of EnduranceAdvantage and up to $3,500 in regular maintenance coverage. Additionally, you will also have access to 1 year of Endurance Elite Benefits, including extra perks such as 24/7 roadside assistance, key fob replacement, up to 2 tire repairs or replacement, and more with the purchase of any Endurance protection plan and a small activation fee.
To learn more about how Endurance can help protect you and your vehicle, call us directly at (800) 253-8203 or request a free, no-obligation quote. You can also learn more about how Endurance compares to other extended warranty providers, including Carchex, Carshield, and Protect My Car, by visiting our Learning Center.
More like this
Comparisons

Owning a car is incredibly liberating, but unfortunately, that freedom comes at a significant cost. Not only is it expensive to purchase a vehicle, but the cost of annual repairs..

Read More

Comparisons

Drivers generally know that staying on top of a car's service schedule and needed repairs are essential parts of vehicle ownership. Making repairs as soon as they come up will..

Read More

Comparisons

Buying a used car can have a lot of benefits and is a great way to save money while still getting a quality vehicle. When purchasing a used vehicle, though,..

Read More