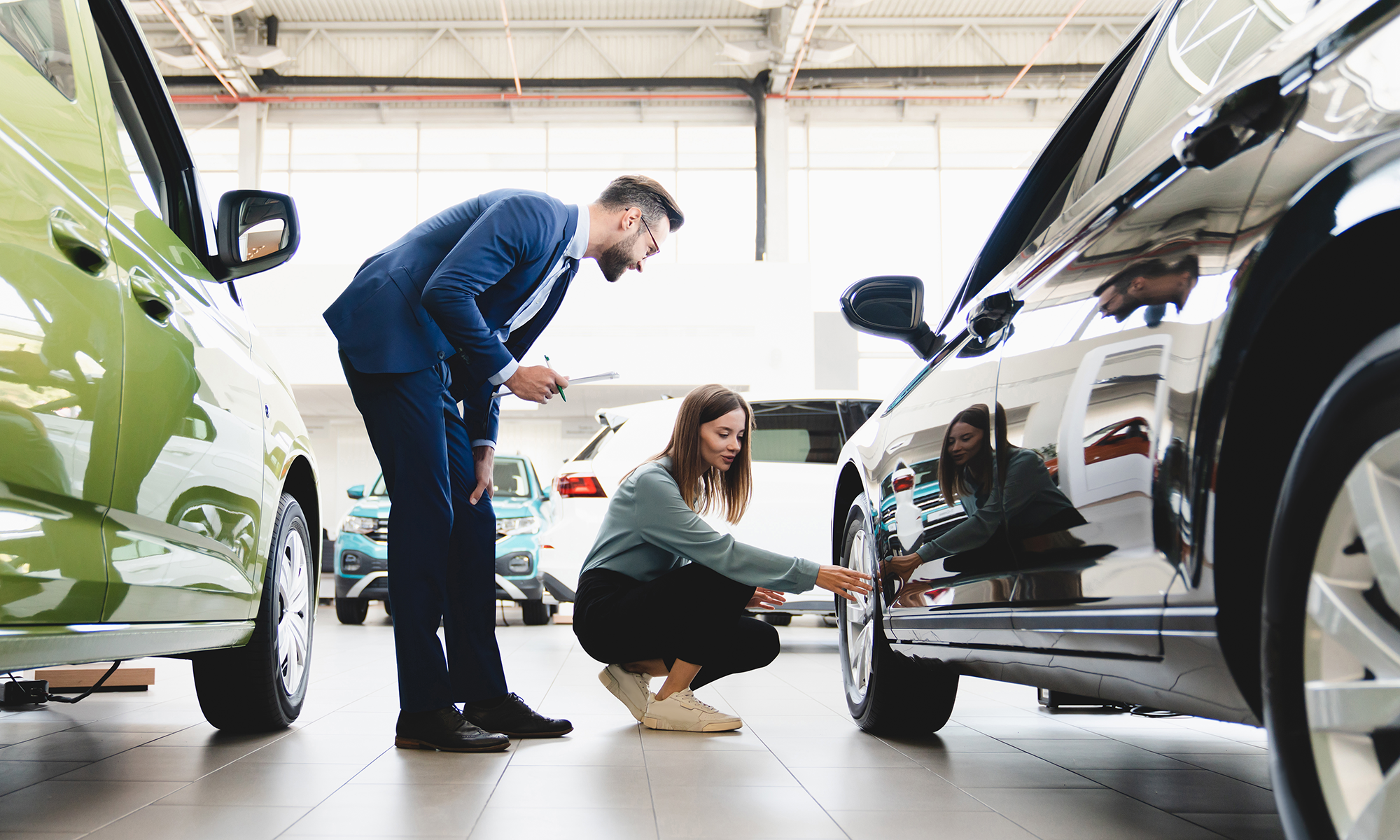 When you buy a new or used car, there are a few things you need to be aware of, such as its initial price, how much maintenance you can expect and whether or not it's an overall reliable vehicle. Another vital thing to consider is the vehicle's condition. After all, you don't want to end up with a "lemon." On top of that, the inherent issues of a lemon can have a domino effect, causing more problems with other components in other areas of the vehicle later down the road.  
Knowing how to avoid buying a lemon car can help you avoid these expensive issues, which is why we'll explore some tips to help you do that, as well as other things you should consider when buying any new or used vehicle. 
What are "Lemons?"
While "lemon" can refer to most physical products that do not function as intended, it is most recognized with vehicles. A lemon vehicle is any car, truck or SUV with any issue or manufacturing defect that the automaker cannot fix after several "reasonable repair attempts." 
When cars are designed and built, automakers do their best to ensure that every component works together and that there are no major flaws. However, now and then, a design or manufacturing issue can sneak through the process and cause problems, which you can often remedy with the manufacturer's warranty. More severe issues will often trigger a recall, allowing you to take the vehicle to the dealership to fix the problem for free. 
If the recall is successful and the automaker can repair the flaw on every car that responds to it, the vehicles are still considered viable. But when significant issues slip by that cannot be fixed at all, the car will be deemed a lemon, and Lemon laws can help you, as the consumer, get the vehicle replaced or refunded. 
However, some car dealerships and third-party sellers sell their lemon cars to unsuspecting buyers instead of dealing with the manufacturer. If you want to avoid buying a lemon, there are several things you can do to protect yourself and make sure you are buying a car that is in tip-top shape. 
Tips to Avoid Buying a "Lemon"
Before you buy any new or used car, doing as much research as possible is the best thing you can do. Knowing everything you can about a particular make or model will ensure that you are informed about known issues, recalls, or common complaints from people who own the car. 
On top of finding out if a vehicle is a lemon, some of these tips can also help you get information on a specific vehicle so you can make an informed buying decision. 
1. Get a Vehicle History Report
You should always get a vehicle history report when you buy a car, especially if that vehicle is used. Using a service like CARFAX or Autocheck, you can look up a car's history, including the title status, any significant work done on the vehicle, and whether or not it has been in any accidents. Better yet, the report will also tell you if that vehicle has been deemed a lemon. 
To run a vehicle history report, you must find the Vehicle Identification Number or VIN. If the seller is reluctant to give you the VIN, this could signify that the car is a lemon. 
2. Check for Recalls
Recalls are standard for almost any car and can happen for various reasons ranging from the odometer not keeping accurate track of miles to more severe issues like failing brakes. Before you purchase the vehicle, check to see if there have been any recalls. These can be found using the year, make, and model on the National Highway Traffic Safety Administration (NHTSA) website or at other sites such as Consumer Reports. 
A car has had one or two recalls doesn't mean it is a lemon. Still, if a vehicle has had several recalls for essential components, it could be more problematic than it is worth. 
3. Get a Pre-Purchase Inspection
One of the best things you can do as a car buyer is to get a professional inspection from a trusted mechanic for any vehicle you consider purchasing. Even if a model isn't a lemon, a pre-purchase inspection can reveal all kinds of potential issues you do not want to deal with, which is especially important when buying a used car. 
4. Check for Window Stickers
The Federal Trade Commission (FTC) requires car dealers to include a window sticker that acts as a "disclaimer" that will tell you information such as previous owners, warranty terms, and more. These stickers are meant to inform you about any issues you can expect with the car and any potential warranty benefits you might be entitled to. These stickers should be in plain sight, and any deception involving them could be against the law. 
If a vehicle doesn't have this sticker, it could mean that the seller is trying to hide something. Always ensure that you have a clear view of this information and any links or QR codes that can take you to online resources, such as the NHTSA and more. These will tell you whether or not a vehicle is considered a lemon or has other serious design problems. 
5. Don't Buy Cars Sold "As-Is"
You might notice that some vehicles have the stipulation that they are being sold "as-is." This means the seller is removing their liability regarding the car's condition. Whenever you see this term, avoid it, as it is a red flag that there may be a severe they do not want you to know about that could make the vehicle a lemon. 
When you buy a car sold "as-is," you are taking on full responsibility for that vehicle, including fixing any issues it may have when you purchase it. For the most part, a seller will only list a car with this stipulation if there is a known issue that they don't want to disclose. Avoiding cars labeled this way is almost always a sound financial decision. 
Other Car Buying Tips
Being smart about the car buying process can help you avoid purchasing a lemon, while following other tips can help ensure you get the best deal and the right vehicle. 
Check the car's maintenance schedule:

When buying a car, keeping the

actual cost of ownership

in mind is crucial, including the cost of

properly maintaining

the vehicle and the cost of ordinary repairs and issues you can expect. Knowing a car's

maintenance schedule

before buying will help you stay one step ahead of potential issues while also giving you a more accurate sense of how much a car will truly cost. 

Take an extended test drive:

 First and foremost, you 

should 

always 

test drive

 any vehicle you consider purchasing. Even better, the longer 

the test drive

, the more likely you will catch any performance, comfort, or safety issues. See if you can take the vehicle overnight and drive it as much as possible to get a feel for how it runs. 

Avoid add-ons:

 Any good salesperson will try to get you to put as many additional add-ons to the vehicle as possible, but that doesn't mean you need to. Most of these add-ons are unnecessary; if you decide you want them later on, they will be much cheaper from a third party. 

Buy at the right time:

 Like any item, piece of clothing, and even food, 

certain times of the year

 will be better for buying both used and new vehicles. The end of the year is almost always a good time to buy because dealerships will be trying to make room for the new models, and there will be plenty of Black Friday and other holiday sales to take advantage of. 

Get a comprehensive extended vehicle warranty: 

 An 

extended warranty

, also known as a 

vehicle service contract

 from anyone other than the automaker, is a great way to 

protect a used vehicle

 past its factory coverage. For example, with an 

Endurance auto protection plan

, you can get 

award-winning breakdown protection

 for all kinds of makes and models of vehicles, including those up to 20 years old, regardless of their mileage. Plus, every Endurance plan comes with complimentary benefits like 24/7 roadside assistance, 

rental car reimbursements

 and trip interruption coverage. You'll also have access to an entire year of 

Elite Benefits

 regardless of your plan, giving you even more perks and savings like complete tire coverage, collision discounts and more. 
Protect Yourself & Your Vehicle with Endurance
Knowing how to avoid buying a lemon vehicle can help you avoid years of hassle and expenses. Other tips, such as taking a test drive, checking maintenance schedules, and knowing when to buy, can also help ensure you're getting the right vehicle. To take it a step further, however, having the right extended warranty, like an Endurance auto protection plan, can help ensure your vehicle is protected from those repairs and breakdowns you can't avoid. 
With Endurance, you don't have to worry about finding coverage for your vehicle that will break your budget because whether you're looking for basic powertrain coverage starting at just $79 per month or near bumper-to-bumper coverage, Endurance has a plan for you. As an Endurance customer, you'll also receive 24/7 roadside assistance and other complimentary benefits. You'll even be eligible for a full year of extra perks and savings with Endurance Elite Benefits, including collision discounts, tire coverage and more.
To learn more about Endurance or for more information about any Endurance protection plan, request a free, no-obligation quote or call us at (800) 253-8203 to speak with one of our representatives. You can also visit the Endurance blog to discover other helpful articles on various informative and fun automotive topics, such as expert maintenance tips, make/model comparisons, road trip guides, answers to FAQs, and more.
More like this
How To

In the event of a breakdown, having an extended warranty or vehicle service contract watching your back can be a total lifesaver. With some major repairs costing thousands of dollars,..

Read More

How To

Keeping a Hyundai Accent running for the foreseeable future is about more than simply being a safe driver on the road. While keeping your eyes peeled and attention on the..

Read More

How To

While reliability is always a factor when choosing a vehicle, many more considerations are involved when kids are in the picture. Safety, space, and comfort must also be part of..

Read More