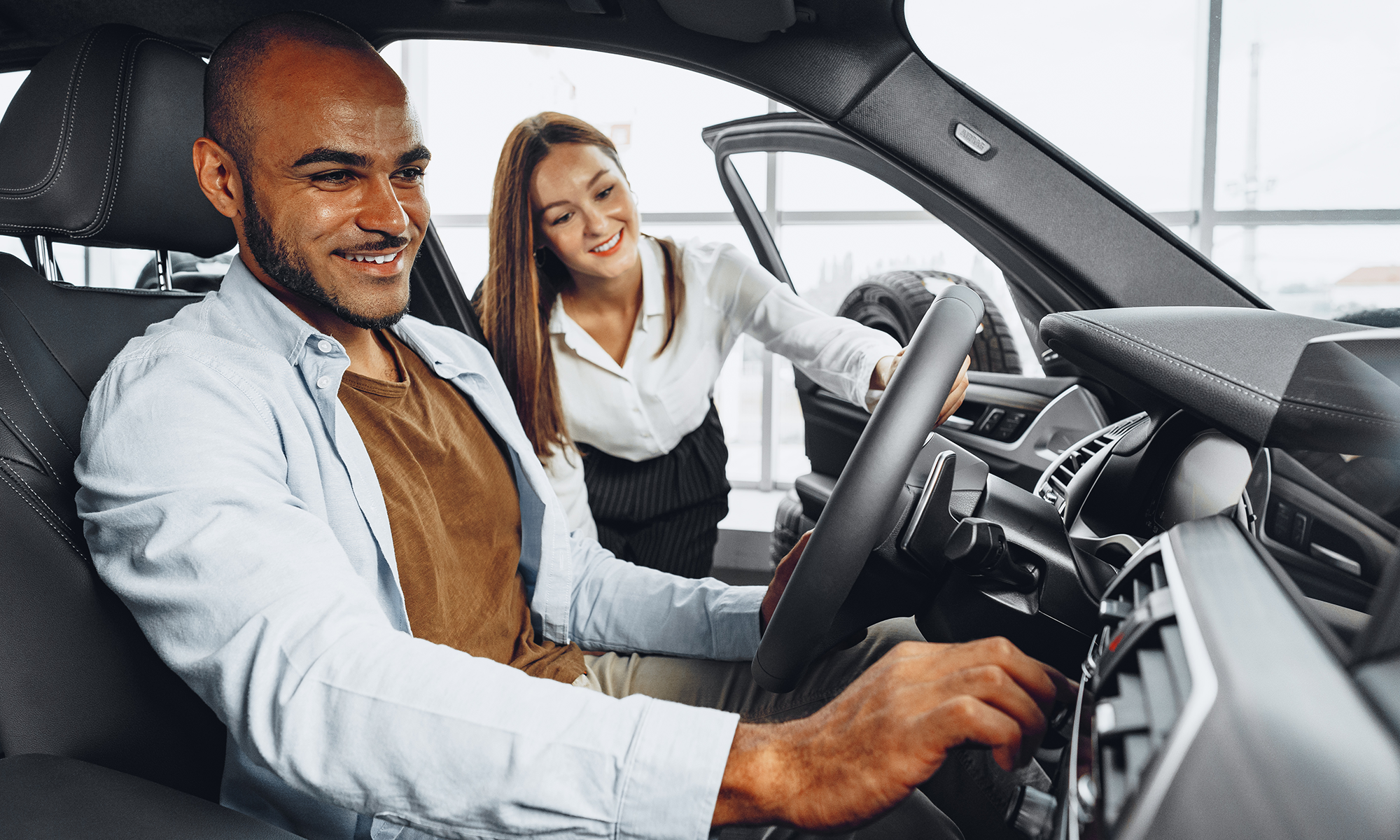 When it comes to the car buying process, you'll come across plenty of tips and tricks to help you, whether they're tips to help you find the right kind of vehicle in terms of cost and reliability or tips on negotiating with a car salesperson. Or others might give you ways to save yourself some money or even help you find a car with a folding set of rear seats or Bluetooth capabilities. But with all the tips and tricks that help you find a car that looks good on paper (or on a screen), there's no real way to know if it's the right fit for you until you try it. And arguably, this approach is even more essential with car shopping because of the money involved. 
Sure, things like a vehicle history report are helpful, but there's no substitute for getting behind the wheel to keep the car buying process smooth and avoid mistakes. That's why ensuring you can hit the road and take a test drive can help ensure any new or used vehicle from a car dealer, or private seller truly is perfect for you. 
Why Test Driving a Car is a Good Idea
Just as you would want to try on a pair of pants or a new pair of shoes before making a purchase, the same goes for a vehicle. After all, no one wants to spend a bunch of money to find out something doesn't quite "fit."
But, while returning a piece of clothing or a pair of shoes can be as simple as visiting a cash register, that's not the case with cars. That's why when buying any vehicle, taking the time to get behind the wheel and see how the car handles and more will help you determine if you should make that purchase or not.
Here are some other reasons to help show you why taking a test drive is a good idea:
Tests a Vehicle's Performance & Handling
No matter how certain you are that the car you've found is "the one," don't make any purchase without a test drive. After all, while it may have everything you're looking for and more, nothing will show you how a car behaves on the street without getting behind the wheel yourself. For example, acceleration can matter if you regularly travel on the highway. Having the right suspension can make the difference between a comfortable ride and a ride that makes you feel like you're on a bucking bronco if you consistently drive on bumpy roads. Even cornering abilities are essential in the hustle and bustle of the city. Getting behind the wheel beforehand can ensure confident driving ahead.
Confirms a Car's Condition
If you're looking to buy a brand-new or used car, chances are you're hoping to get quite a few years out of it before getting another vehicle. So, while you'll want to know if it's comfortable and easy to drive, you'll also want to know its condition, and test driving is the best way to ensure this before signing the paperwork.
Even though a vehicle's condition is something you likely don't have to worry too much about with a new car, it's the main concern with a pre-owned vehicle. So, not only does a test drive allow you to see how well the car handles, but it also gives you an up-close look at the ins and outs of the vehicle. So if there are any troublesome sounds, sights or other possible issues to be cautious about, you can know that before you spend any money.
Ensure a Car's Suitability,
Believe it or not, even a car that checks off all the boxes in terms of space, comfort, reliability and more still might not be THE car for you. After all, what good are things like great gas mileage, lane-keep assistance capabilities, or a roomy back seat if the car can't be easily parked, let alone even fit in your garage or assigned spot in a parking lot? 
How to Test Drive a Car
Trying out a vehicle before buying is best handled through specific steps. Following these actions can be particularly helpful, especially if you're likely to test drive more than one vehicle. Read on for a step-by-step approach.
Understanding Dealer vs. Private Seller Test Drives
Whether you're buying from a dealer or a private seller, you'll want to test out a prospective car for the reasons we covered earlier. But, test drives are handled differently in each setting. And, except for an extremely rare or expensive car, be alert for a seller that doesn't allow a test drive. It could mean they're hiding something, and you may have a "lemon" on your hands.
First, car dealerships will be more organized and may ask you to complete a form and present a driver's license (which will be copied) at the showroom. On the other hand, a private seller may ask to see your license and the details of your car insurance policy. In either case, be sure you have all this information on hand. Note that some sellers may permit a solo test drive, while others will often require a salesperson to ride along.
Remember that some dealers allow extended test drives for several hours, overnight or maybe even a few days. So, be sure to see if this is an option, and if so, take advantage of the time. While a private seller isn't likely to offer an extra-long pre-purchase drive, you'll want to spend at least 30-60 minutes behind the steering wheel, regardless of who is selling the car. However, if you're uncomfortable operating the vehicle or not confident about driving, don't hesitate to cut things short and scratch the car off your list.
Perform a Walk Around
Before getting in the car, walk around it. This action serves two purposes; to inspect the vehicle's condition and exterior equipment (like tires and wheels). Be sure to inform the seller of any problems and take pictures of any trouble areas before hitting the road. If test driving a used car, note any issues like rust spots, fading paint or scratches, as you can potentially use them to negotiate a better price.
Review the Car's Equipment
While a walk around can help you quickly inspect the tires and wheel wells, getting inside the car is the time to review the car's equipment, especially for deal-breaking features (like safety equipment or infotainment gear). If the vehicle is new, inspect the window sticker for what's included with the car. Determining these details can be trickier with a used car, so physically confirm things rather than take a seller at their word. 
Mechanical components, such as engine type or anti-lock brakes, can be harder to spot. In this situation, a mechanic can verify what's under the hood. Also, use this opportunity to ask questions about unfamiliar features (such as keyless entry, automatic emergency braking, or navigation system). You can also check that equipment works, like the air conditioning, seatbelts, and wipers. If you also have young children or are expecting soon, check to see how well things like a child seat and other similar safety devices fit in the vehicle.
Set & Test the Controls
A successful test drive is a safe test drive that begins with properly setting driver controls. The mirrors should be adjusted for a clear view from the rear window and to avoid blind spots (this is especially important if you're stepping up from a sedan or smaller car to a truck or SUV). Driver's seat placement should permit a comfortable driving position that maximizes the outward view and allows for correct pedal usage. 
Also, take a few moments to become familiar with how the turn signals, climate controls, parking brake, gear shift, and infotainment system operate. If any of these things feel "off" when operating the vehicle, consider if these may be things that you can get familiar with over time or if they may potentially be a dealbreaker for you.
Plan a Route
Keep the seller from convincing you that all you need is a quick trip around the block. Instead, consider your driving habits, as the test drive route should be similar to where you already drive. At the same time, it's a good idea to include some driving on the highway, even if your travels are strictly a stop-and-go activity. In addition, adding a rough road or others not usually found in your day-to-day drive can help give you a complete driving experience of the vehicle.
Start the Engine
Sometimes, the car you may be test-driving may be delivered to you with the engine already running. And if so, turn the car off and start over. This process will allow you to listen for unusual start-up noises, look for warning lights, and see if there's a problem with the battery or other essential components that help get a car running.
Pay Attention During the Drive
After taking a walk around the car and starting it up, it's time for the actual "drive" portion of your test drive. Keep an eye out for unusual noises (like rattles and squeals), especially while accelerating, turning, and braking. Try to pay attention if the transmission downshifts or upshifts are smooth or abrupt. When it's safe, stomp on the gas pedal to see how the car responds. Similarly, apply the brakes to check for adequate stopping power. Steering should keep the car straight and not pull left or right. And while you should definitely be testing the sound system, try to take the main portion of your test drive with the sound system off, so you can better listen for any problems. 
Perform a Post-Drive Assessment
With a test drive under your belt, it's time to really assess the overall ride. Ask yourself a few questions to help compile your perceptions. Were you comfortable driving the car? Did it perform to your expectations? Were there any unusual noises, vibrations, or sensations? And while shopping for a new car can be exciting, try to be dispassionate when assessing the vehicle. 
Plan an Inspection
If you're happy with the test drive and everything is settled about the price, then it's time to schedule a pre-purchase vehicle inspection, especially with a used car. You'll want to point out any irregularities noticed during the test drive to the mechanic. Let the inspection results confirm you've made the right choice, or use this information to negotiate the price (or provide a reason to walk away).
Check the Status of any Active Warranty
A brand-new vehicle will include a manufacturer's warranty, but most used ones don't have this coverage. Instead, some may have an extended warranty or a vehicle service contract that can be transferred to you as the car's new owner, like the award-winning coverage from Endurance Warranty. So ask the seller if any coverage may be available for the vehicle, and if so, is it transferable? If not, consider getting coverage as the next step in your car buying process to help ensure your vehicle is covered from any unexpected breakdowns and other car troubles.
Drive Smarter & Save with Endurance
Taking a car for a test drive before buying (or even leasing) is one way to limit unexpected surprises, especially with a pre-owned vehicle. But while being diligent before your purchase and staying up-to-date on your car's maintenance schedule, you can only prevent some breakdowns or repairs. And with a pre-owned car, chances are you won't have an active factory warranty to help. Luckily, one way you can get peace of mind is with an Endurance vehicle protection plan. 
Like factory warranties, every Endurance plan is designed to protect you as the car owner from expensive and unexpected repair bills, but with bonuses. First, Endurance plans are customizable, meaning you can find coverage that fits your needs and budgets, like getting near factory-like coverage with the Supreme plan or basic powertrain coverage starting as low as $79 per month with Secure. There's even coverage available for high-mileage cars, commercially used vehicles (like rideshare and delivery services), select luxury models, and even Canadian Grey Market vehicles AND those with a salvage or rebuilt title. Plus, all plans provide 24/7 roadside assistance, rental car reimbursements, and trip interruption coverage. 
Plus, you'll enjoy convenient payment terms, a 30-day money-back guarantee, and the freedom to select the ASE Certified mechanic or repair facility. You can even transfer your Endurance plan to a new owner if you sell or trade in your car, which can help you get even more back in return. But that's not all, as all new Endurance customers are automatically eligible for an entire year's worth of Elite Benefits, including extra perks and savings like tire repairs and replacements, collision repair discounts, and key fob replacement.  
Start protecting your car today by requesting a free, no-obligation quote, or call (800) 253-8203 to speak with a member of the Endurance customer care team to learn more about how Endurance can help you. And don't forget that you can explore the Endurance blog to find even more expert articles on all things automotive, including DIY car maintenance tips, make and model comparisons, and more.
More like this
How To

In the event of a breakdown, having an extended warranty or vehicle service contract watching your back can be a total lifesaver. With some major repairs costing thousands of dollars,..

Read More

How To

Keeping a Hyundai Accent running for the foreseeable future is about more than simply being a safe driver on the road. While keeping your eyes peeled and attention on the..

Read More

How To

While reliability is always a factor when choosing a vehicle, many more considerations are involved when kids are in the picture. Safety, space, and comfort must also be part of..

Read More