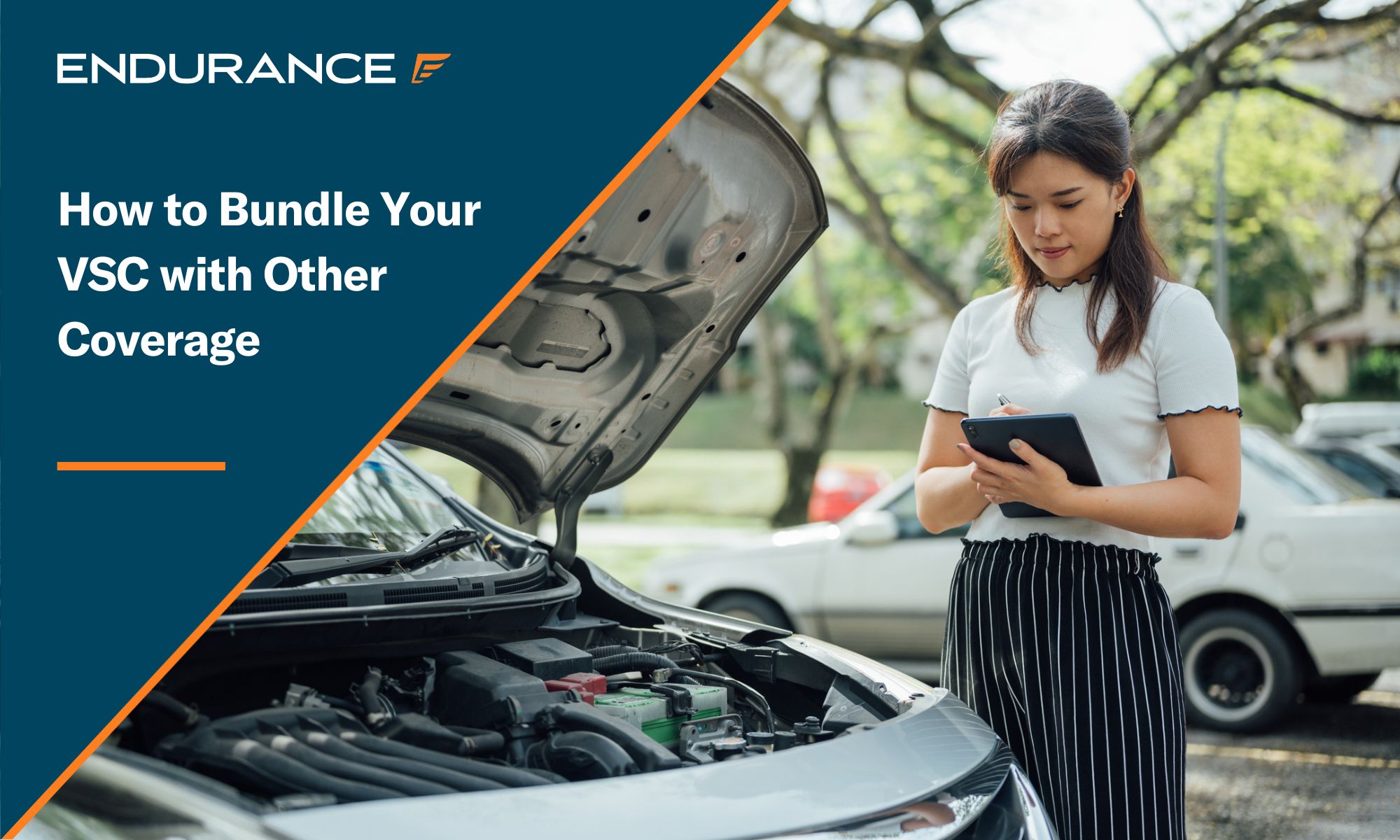 Every time you get in your car, you know how important it is to drive safely and do everything you can to protect yourself and others. On top of driving safely, you also want to ensure your car is covered and protected. Fender benders, poor road conditions, and unexpected repairs are part of car ownership, no matter how conscientious you are. Making sure that your vehicle is protected in the event of an incident can help give you the confidence you need whenever you get behind the wheel.
An extended warranty, more accurately called a vehicle service contract (or VSC), is one of the best ways to protect yourself from high repair costs. There are other things that can cost you money when you are on the road, though, such as accidents and breakdowns, and you want to be certain that you are covered. Bundling a VSC with other types of automobile coverage is a great way to give yourself ultimate protection and feel safe whenever you are on the road.
Bundling is when you combine coverage types to cover yourself for every eventuality. Some providers offer different types of coverage, and putting them together with home insurance or life insurance could cover any gaps in your protection policies. Knowing some of the benefits of bundling and what options are available to you will allow you to drive with certainty that you have a protection plan on your side, no matter what happens.
Types of Coverage to Bundle
On top of a VSC, there are different types of coverage that you can get for your vehicle. When purchasing your VSC, there may be several options to choose from in the form of additional perks and benefits. These include things like collision coverage, rental car assistance, and maintenance plans. In addition to these perks and benefits, adding different coverage can help give you comprehensive protection. Car insurance, GAP insurance, and roadside assistance can all provide coverage for different situations and help you get the repairs or help you need when something goes wrong with your vehicle.
Before you decide which additional plans to include with your overall protection, you should know what each of them has to offer. With a good understanding of how these plans work, you can make the right choice for your particular car and driving needs.
Auto Insurance
Auto insurance, through companies such as Geico or AllState, is a legal requirement for drivers in most states and is essential if you are going to be driving on public roads. There are many different kinds of auto insurance, including liability insurance, uninsured motorist coverage, and personal injury protection.
While many states only require you to have liability insurance in case you are involved in an accident and damage someone else's vehicle, having a more comprehensive policy combined with a VSC ensures that you won't be on the hook for repairs if your vehicle is damaged on the road. In some cases, you can also get insurance that will protect you from things like storms and falling trees, which may be a good idea in certain parts of the country.
GAP Insurance
When you buy a new car with an auto loan, you do not actually own the car. Both you, as the policyholder, and the bank, will be on the title, which means that if something happens to the vehicle while you are still paying it off, you will still owe the bank for the loan. GAP insurance, which stands for "guaranteed asset protection," covers the difference between what the vehicle was worth at the time of an accident and what you still owe on it.
If your new car is totaled or damaged beyond repair, having this coverage in combination with your regular auto insurance will prevent you from having to pay that difference. When you combine this with a VSC, you will be completely covered for any possible eventuality.
Roadside Assistance
No matter how well you care for and maintain your car, problems are bound to come up from time to time. When an issue arises while you are on the road and your car is no longer drivable, it is important to be able to get the help you need. A roadside assistance plan will include things like towing services, battery jumps, fuel delivery, and locksmith services. With roadside assistance, you can have peace of mind if you ever break down on the highway or lock yourself out of your vehicle. Knowing you can get towed to safety and get your vehicle repaired is a great way to make driving less stressful.
Benefits of Different Types of Coverage
Understanding the different types of available coverage is one thing, but knowing how to benefit from them is another. Knowing how each of these coverage types can give you a major advantage in a breakdown or accident situation will help you decide which ones are right for you and which ones you should bundle with your VSC.
Auto Insurance – The biggest benefit of auto insurance products is the fact that they will keep you in compliance with the laws of your state. On top of that, more comprehensive auto insurance policies will help you pay for repairs in all kinds of situations, whether they are for your vehicle or the other party involved in the accident.
GAP Insurance – The most important reason to have GAP insurance is that you never know what could happen to a car when you have it out on the road. Having to pay for a vehicle that is no longer usable can be a major issue, and if you have this type of insurance coverage for that very situation, you can feel more comfortable driving your new car.
Roadside Assistance – A roadside assistance plan is incredibly beneficial for commuters and people who love road trips. Knowing that you can get help with your vehicle no matter where you are can take a big weight off your mind, especially if you have an older car with many miles that is susceptible to breakdowns and mechanical issues.
Benefits of Bundling
While you can get all these different types of coverage from different companies, that may not always be the best option. In some cases, you can bundle your coverage plans by getting them from the same provider and take advantage of different insurance discounts and specials. Having all of your coverage from a small number of providers is a great way to save money while still getting comprehensive protection for your car. One way you can do this is by getting roadside assistance from your VSC provider and getting GAP coverage from your car insurance company. Most of the time, roadside assistance will be included with some of the more premium VSC plans, which brings insurance costs down for your coverage.
When you limit the number of VSC and insurance providers you are working with by bundling policies, you also get the convenience of having everything under the same roof. In today's world, it can be difficult to keep track of the different services you are using, and this can lead to being overcharged and not taking advantage of everything these services have to offer. By bundling insurance and VSC coverage with a small number of providers, you can have easy access to the services you are paying for and get the help you need right away.
When driving, there will always be risks that you have to deal with, such as inattentive drivers and unexpected road hazards. When you bundle your different types of auto coverage, you have protection from a wider variety of these risks. Coverage for everything from mechanical issues that are no fault of your own to accidents to weather damage will help you feel protected no matter what. Many things can happen on the road, and a bundle of coverage can give you a great deal of comfort.
How to Bundle
The best way to find coverage that can be bundled together is to search for providers that have a wide variety of available plans. Most VSC providers have different levels of coverage that may or may not include the specific things you are looking for. Finding a provider for your VSC coverage that has many different options will help you get the complete care you need for your specific car and coverage requirements. In some cases, insurance and VSC providers will even offer deals on different packages if you bundle them all together. For example, you may be able to find an auto insurance bundle with both auto insurance and GAP coverage for new car buyers that can end up saving you a lot of money in the long run.
One of the best things you can do for yourself is to find coverage that is right for you and your particular needs. If you live in an area that has a lot of inclement weather, you may want to find an insurance bundle that includes coverage for things like hail damage or weather-related incidents. If you have an older car that has a history of being temperamental on the road, finding a VSC that includes roadside assistance will be essential. If you know your particular needs, you should be able to find a bundle that suits you best and that you will get the most out of.
Get the Best VSC Coverage With Endurance
A good bundle of auto coverage starts with a VSC that can offer you the protection you need. Knowing that you can get your vehicle repaired as soon as an issue comes up can be a big relief, and Endurance has a wide variety of plans to choose from, as well as extra benefits.
Starting at just $99 per month with varying deductibles, Endurance has a plan for every budget and situation, including vehicles that other VSC providers won't cover, such as high-end luxury cars, cars that have a rebuilt or salvage title, Canadian Gray Market cars, and cars used for commercial purposes like rideshare or delivery. Plus, you can bundle plans for multiple cars for even more potential savings and bundling discounts if you want protection for every member of the family.
Every Endurance plan also comes with standard benefits that are bundled to give you the ultimate protection. These benefits include 24/7 roadside assistance, trip interruption coverage, and rental car coverage. Plus, for a small activation fee, every Endurance customer can get one year of free Elite Benefits, which include even more perks and benefits like tire repair and replacement, total loss protection, and more. Having all of these extra benefits, in addition to some of the most comprehensive full coverage plans on the market, lets you rest easy knowing you are prepared for every situation.
If you'd like to know more about how Endurance can help keep you safe on the road, get in touch with our award-winning customer service team at (800) 253-8203 for a free quote, or shop online today. You can also continue learning about all things automotive, including other provider comparisons for CARCHEX and CarShield, over on the Endurance Warranty blog.
More like this
How To

In the event of a breakdown, having an extended warranty or vehicle service contract watching your back can be a total lifesaver. With some major repairs costing thousands of dollars,..

Read More

How To

Keeping a Hyundai Accent running for the foreseeable future is about more than simply being a safe driver on the road. While keeping your eyes peeled and attention on the..

Read More

How To

While reliability is always a factor when choosing a vehicle, many more considerations are involved when kids are in the picture. Safety, space, and comfort must also be part of..

Read More