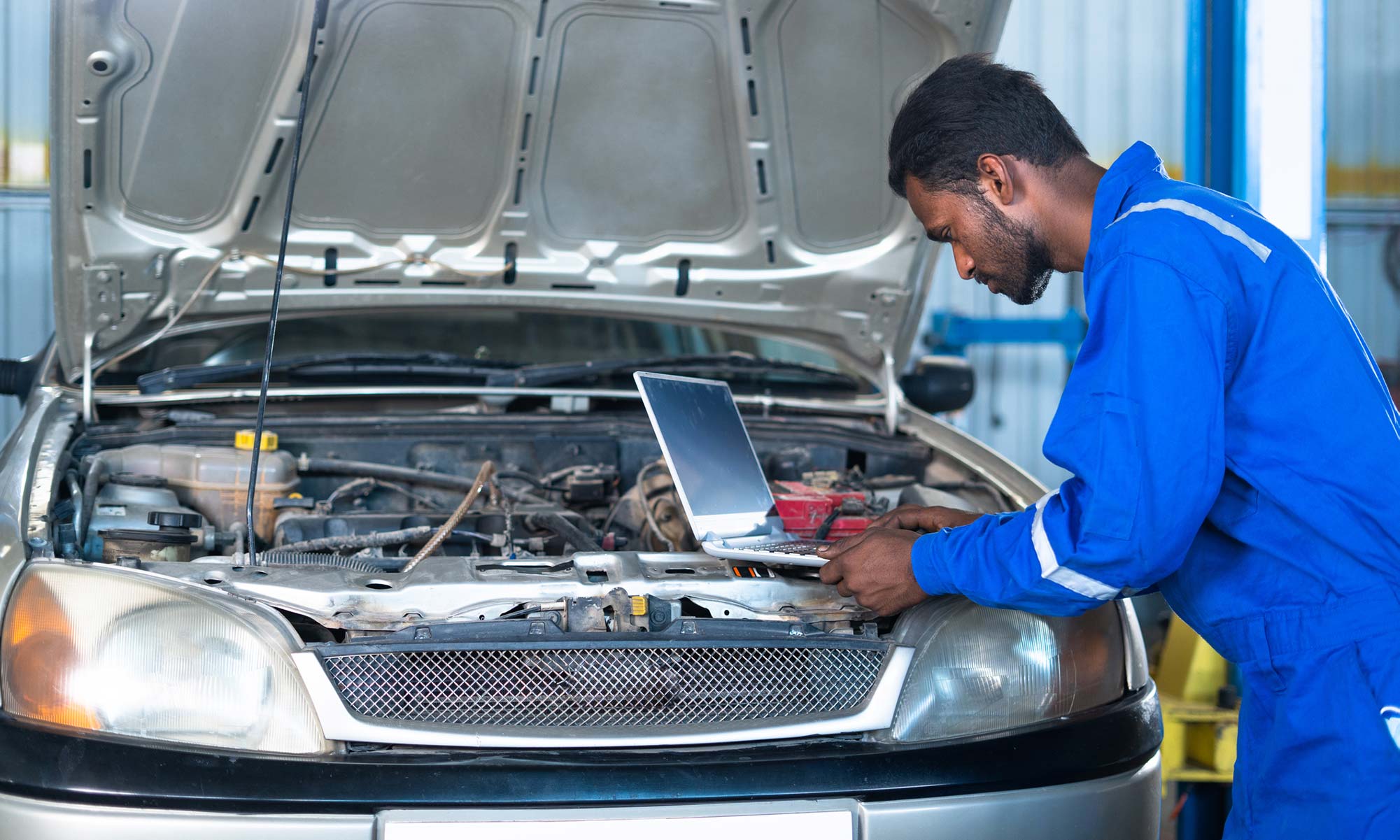 With spring in full swing across the country, now is the perfect time to get out and enjoy the season's warmer weather. But whether you're off on a cross-country road trip or a late-night drive around town, an unexpected breakdown can happen that could cost you hundreds in repair bills, especially if you don't have the help of a factory warranty.
Instead, ensure you and your vehicle are covered from unexpected repairs throughout your ownership with an extended warranty or auto protection plan. 
What Are Extended Warranties?
When purchasing a new car from a dealership, you will receive a factory warranty, also known as the manufacturer's warranty. This warranty coverage protects the vehicle from mechanical breakdowns and repairs for years after your car is purchased. However, the length of time that the warranty is good for and the various coverage options available will differ from manufacturer to manufacturer. Generally, though, most factory warranty plans will offer bumper-to-bumper coverage, powertrain warranty coverage, roadside assistance, zero deductibles, and many more options. They'll also typically last for 3 years/36,000 miles (whichever comes first) or 5 years/60,000 miles, though some automakers may offer factory coverage lasting up to 10 years/100,000 miles. But, regardless of how comprehensive this coverage is or for how long it is active, sooner or later, it will end, meaning you'd be responsible for paying for any necessary repairs on your own unless you have an extended auto warranty.
An extended warranty can be purchased directly from your automaker and can help protect your vehicle after your factory warranty has expired. You can also find coverage from third-party providers, such as us at Endurance, Carshield, CARCHEX, Protect My Car, autopom! and more. However, it's crucial to note that vehicle protection plans from companies like this are known as vehicle service contracts (VSCs), as only your automaker can truly "extend" your coverage. 
Still, these vehicle protection plans can offer you the same kind of coverage as your factory warranty or an extended warranty from your automaker. Additionally, plans from third-party providers can also give you more options when it comes to the repair shops you can take your vehicle to. This is because many warranties from automakers can limit you to going to the dealership or authorized repair shops. But, with a vehicle service contract, such as those from Endurance, you can be certain that you can take your car, truck, or SUV to any certified repair facility of your choice. Most third-party providers will also include services like 24/7 roadside assistance & towing services, trip interruption coverage and rental car reimbursements to help you if your car suffers a breakdown away from home.
It's also critical to remember that any factory warranty, extended warranty or vehicle service contract is different from car insurance. Insurance will only include covered repairs when you are in an accident or have damages caused by inclement weather. Even forms of mechanical breakdown insurance (aka car repair insurance) can't help cover every repair and can have minimal coverage or eligibility, such as only covering vehicles with less than 15,000 miles.
The Companies
Endurance
Since 2006, Endurance has been committed to customer satisfaction while offering some of the industry's most comprehensive vehicle protection plans. With Endurance, you'll find unrivaled eligibility, including coverage for select luxury vehicles and vehicles with salvaged or rebuilt titles, high-mileage vehicles and even those over 20-years old. Endurance is also a direct administrator of the majority of our plans, meaning you will work directly with a member of our award-winning customer service team throughout every step in your claims process, regardless of the level of coverage you have
Each Endurance plan also comes with many other great features and benefits, including allowing you to visit any certified repair facility or ASE Certified mechanic of your choice for repairs. You'll even have the peace of mind of 24/7 roadside assistance & towing, trip interruption coverage, rental car reimbursements and a 30-day money-back guarantee. But that's not all, along with the chance to enjoy a full year of Elite Benefits for just a small activation fee, including extra perks and savings such as tire replacements or repairs, collision discounts and more.
ForeverCar
ForeverCar has a mission to create a better car repair experience for all drivers. To do this, ForeverCar partners with trusted brands and organizations to give customers and members exclusive access to their subscription vehicle repair plan at a discounted rate. Once signed up, you will be assigned a repair concierge to help guide you through your car repair. With four great protection plans to choose from, you will get a wide selection of available coverage. And like Endurance, ForeverCar also notes that customers will be able to enjoy 24-hour roadside assistance, rental car reimbursement and travel expense reimbursements while also allowing you to go to a licensed repair facility of your choosing.
The Plans
Endurance Plans
Advantage
As one of Endurance's most popular protection plans, the Advantage plan will be able to give you comprehensive coverage while also helping you save up to $3,500 in routine maintenance services to stay on top of your vehicles' recommended maintenance schedule. This will include annual services such as engine diagnostic exams, up to three oil and filter changes, alignment checks, state safety inspection services, tire rotations and more. Each Advantage plan will also come with special, one-time services, including a battery replacement, cooling system maintenance and a front or rear wiper blade replacement. And unlike many other vehicle protection plans from other providers, even rideshare and delivery drivers for services such as Uber, Lyft and more can find coverage with Advantage. 
Supreme
As an exclusionary coverage plan, the Supreme plan from Endurance is one of our most comprehensive, offering you maximum breakdown protection while having just a small list of exclusions. Overall, this protection is perfect for those who rely heavily on their car's reliability for day-to-day life while getting as close to factory-warranty-like coverage as possible. This plan can be comparable to various Titanium, Diamond or similar options on the market from other third-party warranty providers.
Supreme for Highline Vehicles
As Endurance's newest level of coverage, the Highline plan is an extension of the exclusionary Supreme plan specifically for a select number of luxury vehicles up to 8 years old and have up to 80,000 miles. A $500 deductible and some exclusions will apply, but this plan is perfect for those looking for protection from some of the most expensive types of repairs you can face as a car owner. Highline can provide coverage for select eligible models from automakers, including Mercedes-Benz, Audi, Land Rover, BMW, Jaguar, Porsche, and more.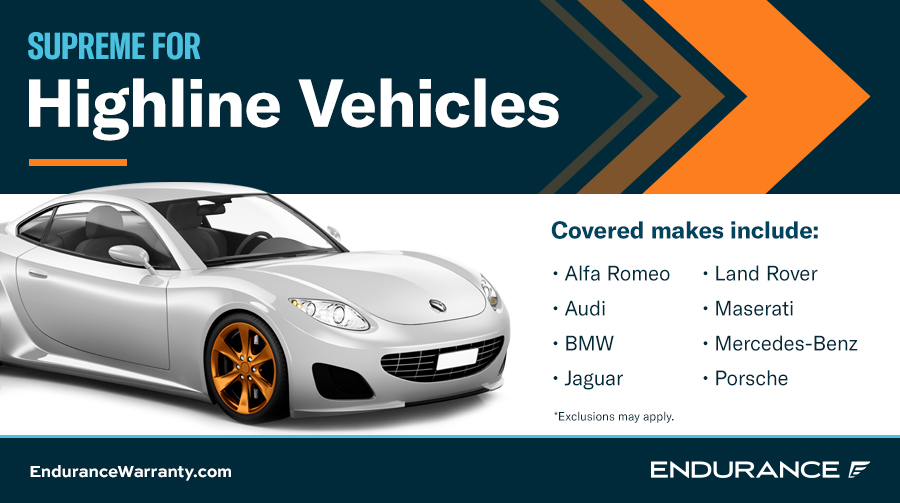 Superior
If you are looking for the most component coverage, Endurance's Superior protection plan is for you. This plan offers the highest level of stated component coverage, covering hundreds of specific components ranging from your rear suspension to the engine.
Select Premier
For those looking for a protection plan for high-mileage vehicles up to 150,000 miles, the Select Premier from Endurance has you covered. This plan protects vital vehicle components, including air conditioning, cooling, heating and fuel systems, and various electrical parts.
Secure Plus
The Secure Plus plan sits just above Secure and is perfect for those looking to cover their vehicle's major components, like the brakes, engine, transmission, air conditioning, steering and more. You'll also find coverage for electrical components and other select parts.
Secure
As the most affordable plan from Endurance, with payments starting as low as $79/month, the Secure plan can help cover your vehicle's most vital components without breaking the bank. This makes Secure the perfect plan for daily drivers looking for budget-friendly powertrain coverage that protects them from the costliest repairs.
ForeverCar Plans
Silver
As ForeverCar's basic coverage, the Silver protection plan offers protection for a specified list of components. This will include expensive components to repair, such as the engine, transmission, steering, front suspension, brakes, electrical and A/C.
Gold
As a step above Silver, ForeverCar's Gold protection plan will offer the same great coverage for components in the Silver plan but with a list of additional components, including seals, gaskets and advanced components.
Platinum
For drivers who want coverage for just about every component of their vehicle, the Platinum plan is for you. This plan offers protection for just about every component on your vehicle minus regular wear items and a list of specific exclusions listed in their sample agreement.
Platinum Plus
FroeverCar's Platinum Plus is their version of an exclusionary plan and will offer everything covered in the Gold and Silver plans. However, some of the most notable exclusions of this coverage plan include batteries, spark plugs, filters, engine coolant, brake pads and tires.
Why Endurance Is the Best Choice for Vehicle Protection
When shopping for the best-extended auto warranty or vehicle service contract for your vehicle, it is important to consider various factors. So while it may be tempting to shop for the lowest-priced company, you will need to look at what you will be getting with your vehicle protection plan. But while it can seem overwhelming searching for the right plan for you and your vehicle, Endurance is here to help.
With an auto protection plan from Endurance, you can rest assured that you are getting the best coverage for your vehicle at prices that can fit your budget, including plans starting as low as $79/month. You can even save up to $3,500 toward some of your vehicle's most important routine maintenance services with the Advantage plan, or you can protect your high-end luxury vehicle with Highline. 
Not only that, but each Endurance plan also automatically comes with 24/7 roadside assistance, trip interruption coverage and rental car reimbursements to go along with a 30-day money-back guarantee so you can ensure you have the right plan for you. You'll even be eligible for a full year of Elite Benefits, including up to two tire replacements or repairs, collision discounts, key fob replacements and more whenever you purchase an Endurance plan. Simply choose the Endurance plan that's right for you, pay a small activation fee and enjoy your year's worth of extra perks and savings. 
Protect your vehicle today by requesting a free, no-obligation quote or give us a call at (800) 253-8203. You can also find even more extended auto warranty comparisons, expert auto tips, DIY maintenance how-tos and more helpful and insightful articles by visiting the Endurance blog.
More like this
Comparisons

While owning a car is incredibly liberating, it doesn't come cheap. In August 2023, AAA announced that the average annual cost of running and maintaining a vehicle had just passed..

Read More

Comparisons

No matter what kind of car you drive, keeping it in good condition should be one of your top priorities. A vehicle that is well taken care of will last..

Read More

Comparisons

Buying a new or used car can be incredibly exciting, especially if you are buying something you have always dreamed of owning. No matter what kind of vehicle you purchase,..

Read More