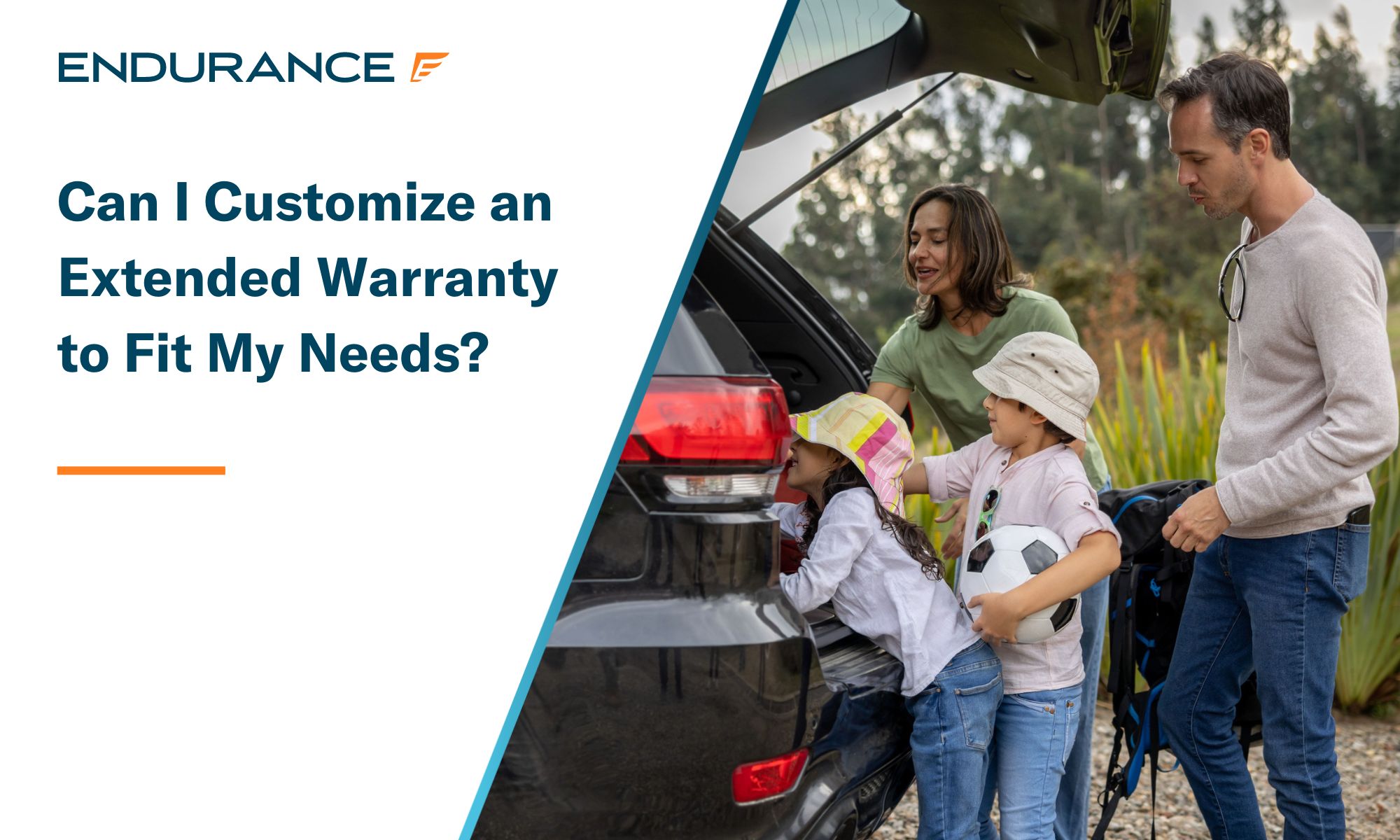 Owning a car can be an absolute joy, especially if you love the vehicle you have and get a lot of use out of it. Car ownership is a big responsibility, though, and there are a lot of things to keep track of and take care of.
Depending on the kind of vehicle you have, there may be certain quirks and special considerations that you have to deal with when getting it serviced and maintained. For example, a high-mileage vehicle is going to need a lot more regular maintenance and care than a brand-new car straight off the lot.
If you want to protect your vehicle, an extended warranty is one of your best options once your factory warranty runs out. While you can get an extended warranty from the automaker, a third-party provider is a great way to get the coverage you need. Many third-party providers allow you to customize your coverage and have a wide range of plans available to suit your vehicle's individual needs. Knowing how to customize your coverage and what options are available to you can help you get the best vehicle protection for you.
Benefits of Customized Extended Warranties
Not all cars have the same needs and requirements for service – as some can be new vehicles and others used cars. That means that a one-size-fits-all car extended warranty is not going to be a good option for every vehicle. Being able to choose from a wide variety of plans from a provider is a great way to get coverage that will be the most beneficial to you. Third-party providers offer vehicle warranties, more accurately called vehicle service contracts, or VSCs, that come in various coverage options. Depending on your vehicle's age and manufacturer, one of them will most likely be better for you than another.
When you purchase a VSC for your car, you should know what components are covered repairs. Some plans will cover nearly every part of the vehicle with only a few exclusions. Others will only cover the powertrain components, such as the engine and transmission. Knowing what parts of your vehicle are most likely to fail in a given period will help you customize your plan to your needs. In some cases, providers will also have special customized plans for luxury cars and vehicles that otherwise wouldn't be covered. This is important to look for if you have a unique vehicle that you want to protect with a VSC.
Being able to get a customized VSC for your car is incredibly beneficial, especially if you want to be covered for every eventuality. The last thing you want is to take your car to the repair facility and find out that the repair isn't going to be covered because your plan doesn't include a specific component. Choosing wisely from a variety of coverage allows you to plan and be prepared for repairs on your used vehicle, no matter how unexpected they might be.
Customization Options
When shopping for a VSC for your vehicle, there will be different plans you can choose from, all of which have their own specific features. Some will be more basic, while others will be more comprehensive and may even be considered a bumper-to-bumper warranty or exclusionary coverage. This means that almost every aspect of the vehicle is protected, with the exception of a few parts. Knowing what to look for within these plan options can help you choose wisely and get the perfect coverage for your vehicle.
Coverage Types
Before you choose a VSC for your vehicle, it is important to look at the different types of coverage different car warranty companies offer. Generally, there will be a basic plan that covers your vehicle's most valuable components and other aspects of the car, like the electrical system, air conditioning, and fuel system. Knowing what components of your vehicle are the most likely to fail can help you figure out what you need to be covered the most.
Sometimes, you can buy coverage in the form of different warranties for different systems of your car. Some extended auto warranty providers offer plans like emissions coverage and corrosion coverage on top of basic powertrain coverage. If you want to protect your vehicle's exterior and its mechanical components, corrosion and powertrain warranties will be your best bet. Depending on where you live and how harsh the weather can be on vehicle exteriors, having this extra protection could be well worth the extra cost of the plan.
Time and Mileage
One of the most important pieces of information to look for in a VSC is the time and mileage that is covered. With your vehicle's factory warranty that it came with, you will probably be covered for anywhere between three years or 36,000 miles all the way up to 10 years or 100,000 miles. Once that time and mileage are up, you will be responsible for any car repairs you have to make to your car. Finding a VSC that will cover your vehicle past a certain point is a great way to keep it in good shape for much longer.
Many VSC providers offer plans that are customized to fit high-mileage vehicles. While you may have to pay monthly payments for coverage or a deductible, it could save you a lot of money in the long run regarding your repair bills. As vehicles age, they are more likely to develop issues, so having a plan that is customized for your high-mileage car can be a lifesaver when things start to wear out over time.
Additional Benefits
The major advantage of getting a VSC from a third-party warranty provider instead of a manufacturer's warranty is the additional perks and benefits you can get with your coverage. Most VSC providers offer a range of extra features that you can use if something goes wrong with your car. When customizing your plan, factoring in these extra benefits can help you make it as useful as possible.
Roadside assistance is one of the most common additional benefits of a VSC. Having roadside assistance allows you to get help if your car breaks down on the side of the road. It usually includes services like towing, fuel delivery, locksmith services, and jumping if your battery dies. Having this feature included with your VSC can give you confidence that you can get help when something goes wrong with your vehicle.
Some warranty companies also offer additional coverage that can be incredibly beneficial. This includes things like rental car coverage, trip interruption assistance, and key fob replacement. Having these extra coverage options will help you get where you are going, even if your car breaks down. This extra peace of mind makes having a customized VSC worth the extra money and can help you feel comfortable whenever you get behind the wheel.
Perhaps the biggest additional benefit you should look for when shopping for a customized VSC is the ability to go to any shop you want. When you purchase an extended warranty from your vehicle manufacturer, you will have to take the car to the dealership if you need to make a repair. Depending on where you live, this may not be the most convenient option. With a third-party VSC, you can take your car to the shop of your choice. Having this feature with your customized plan is a great way to make getting your car repaired as easy as possible.
What to Consider When Customizing Your Coverage
Customizing your VSC coverage is incredibly important if you want your vehicle to be protected. To get the right plan for you and your car, you must know your needs. One of the most important things to consider is the age of your car and the mileage on the odometer. Keeping this in mind will help you narrow down your choices and find the right plan for you. If you have a high-mileage vehicle with more than 100,000 miles on it, a specialized high-mileage VSC is going to be your best bet.
You should also consider your driving habits when choosing coverage for your car. If you regularly commute, having roadside assistance can be an excellent option. If you do a lot of city driving, you should have a plan that covers your steering and braking systems. Knowing what components are most likely to wear out with your driving habits can help you choose the right coverage.
Your budget will also play a big part in the extended warranty plan you choose. If you have a relatively small budget, it is important to protect your vehicle's most basic components, such as the engine and transmission. These are also going to be the most expensive components to repair, so having coverage will help keep your repair costs within a reasonable price range.
Why Work With a Reputable Extended Warranty Provider?
When choosing a VSC, it is crucial that you work with a reputable provider that has a good history with its clients. While companies like CarShield, CARCHEX, Protect My Car, and Select Auto Protect are popular, they may not have the best reputation for customer service, and some of them offer extremely limited coverage plan options. Working with a provider that always has your best interest at heart will help you get the repairs you need without the hassle.
Endurance is one of the leading VSC providers in the nation and offers a huge variety of customizable plans. With an award-winning customer service team and the Endurance mobile app available 24/7, you can access your plan anytime, day or night. With coverage starting at just $79 per month, there is something for every budget and situation. Plus, Endurance has plans for cars that other providers won't cover, such as vehicles with a rebuilt or salvage title, Canadian Gray Market vehicles, and vehicles used for commercial purposes like rideshare or delivery.
Get the Best Customized Coverage With Endurance
Choosing the best coverage for your car can make all the difference the next time you have to take it to the repair shop. With a plan that is customized to your specific needs, you can rest easy knowing that your vehicle will be covered and you can avoid expensive repairs. From near bumper-to-bumper coverage to plans with routine maintenance, Endurance's wide range of customizable options and straightforward fine print can give you peace of mind the next time you're driving down the road.
No matter what kind of plan you get, you get a range of perks and benefits that will help keep you and your car safe. These include 24/7 roadside assistance, towing and lockout services, trip-interruption coverage, and rental car reimbursements. For a small activation fee, you can receive access to a year's worth of Endurance Elite Benefits, including extra perks and savings like key fob replacements, tire repairs or replacements, collision discounts, and total loss protection.
Find out more about our 30-day money-back guarantee and request a free quote! Call our award-winning customer service team at (800) 253-8203 or shop online to customize your auto protection plan.
You can also find more automobile-related resources on the Endurance blog, including articles on topics ranging from extended warranty coverage comparisons to vehicle buying guides, automotive FAQs, aftermarket warranties, mechanical breakdown insurance (MBI), DIY maintenance tips and tricks, and more.
More like this
Expert Auto Tips

Retired professional racecar driver Danica Patrick is a pioneer in the world of motorsports. Her breakthroughs include being the first woman to lead an Indianapolis 500 race (the 89th running..

Read More

Expert Auto Tips

Buying a new car can be incredibly exciting and can open up a whole new world of possibilities. There are so many vehicles on the market, and no matter what..

Read More

Expert Auto Tips

Changing your oil and keeping your tires at the correct PSI are two great ways to keep your car running smoothly and driving safely as the seasons change. Your vehicle's..

Read More