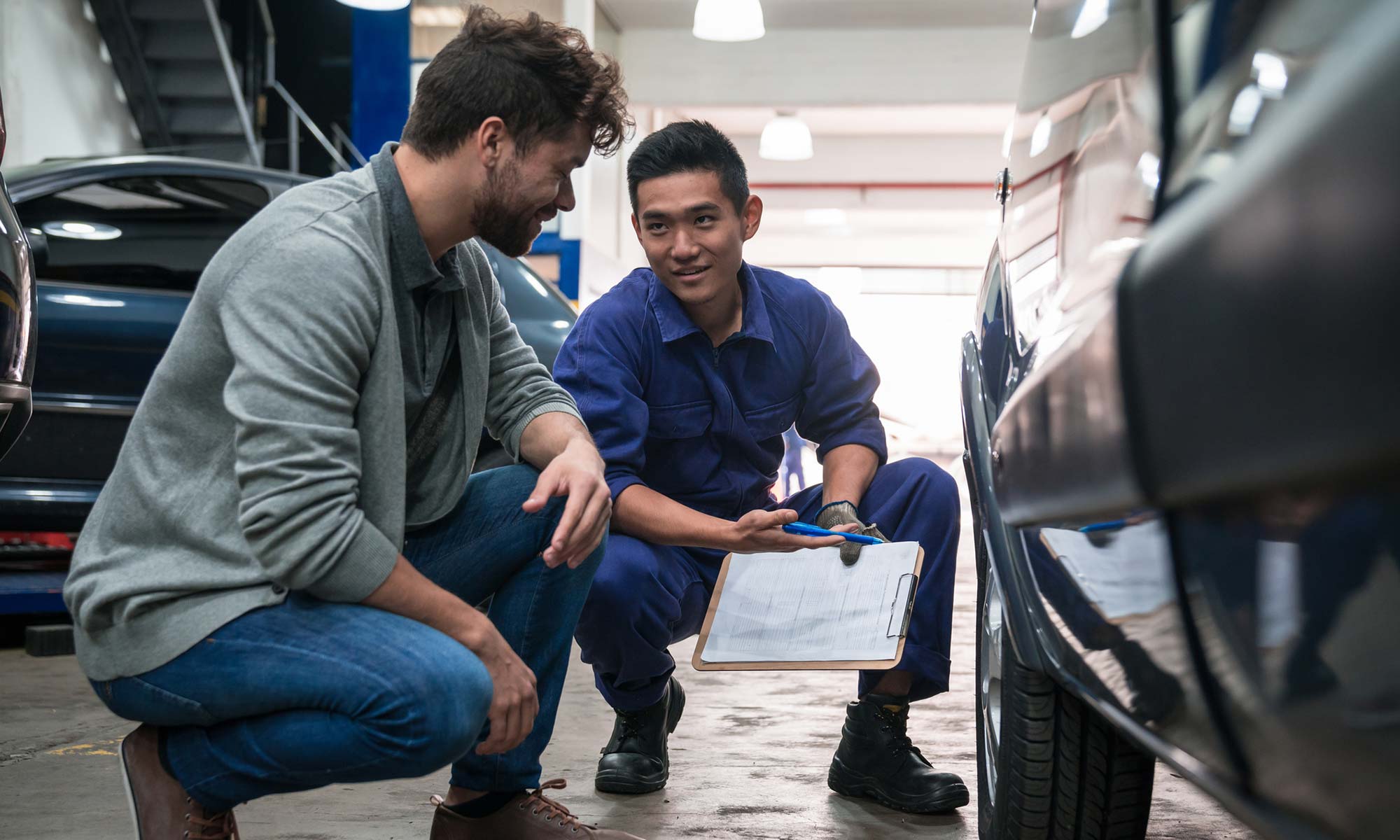 With spring here, you may be getting yourself and your vehicle ready for your next big road trip. But while it's vital to get your car ready by changing the oil, topping off the fluids and rotating the tires, it's just as important to be prepared for the unexpected. Flat tires, overheated engines and sudden breakdowns can all happen on the road, even to the most well-maintained vehicles. If you have also recently purchased a brand-new car, you can find help in the form of your vehicle's factory warranty coverage.
But, while a factory warranty can help with some unexpected breakdowns and repairs, they don't last forever, especially if you have purchased or are considering a used car. Without any factory warranty coverage, you could be left paying for any costly trips you may take to the repair shop. Instead, an extended warranty can help provide breakdown protection while giving you extra peace of mind thanks to added benefits like 24/7 roadside assistance and towing, trip interruption coverage and even rental car reimbursements.
So to help you find the right coverage for you and your vehicle, it's first essential to learn more about extended warranties while also seeing how plans from Endurance Warranty and Select Auto Protect compare.
What Are Extended Warranties?
Before you can understand what an extended warranty is, you first have to learn more about factory warranties. For starters, whether you are purchasing a brand new Toyota, Ford, Honda or any other make or model of vehicle from a dealership, you will receive what is known as a factory or manufacturer's warranty. This warranty coverage is provided directly by the automaker and is designed to help cover the cost of repairs and breakdowns caused by any manufacturing defects.
A few of the most commonly seen types of factory warranties will include:
While the type of factory warranty coverage your new car may have and how long that coverage lasts will vary from automaker to automaker, most will offer coverage that lasts for three years/36,000 miles to five years/60,000 miles, with some brands providing coverage for up to 10 years or more. But, as we said before, while this coverage is great, once it ends, you'll be responsible for any repairs on your own unless you get an extended vehicle warranty.
If you aren't familiar with them, an extended warranty is just as it sounds, an extension of your vehicle's original factory warranty coverage. However, while you may hear the term "extended warranty" used to describe various auto protection plans, these are vehicle service contracts (VSCs), as they are the only ones that can "extend" your coverage. However, while purchasing an extended warranty through your automaker can be a great option, you can also find the same levels of coverage with a third-party provider. You can also receive extra perks and benefits like 24/7 roadside assistance when choosing a third-party provider, such as Endurance, Carshield, Carchex, Select Auto Protect, autopom! and Pelican Administrator.
However, while both are helpful for unexpected trips to a repair shop, it's vital to remember that any factory warranty or extended auto warranty coverage is not the same as an auto insurance policy. Even mechanical breakdown insurance (MBI), aka "car repair insurance," can't help cover everything. An MBI policy is generally only available to brand-new cars less than a year old or less than 15,000 miles.
The Companies
Endurance
Since 2006, Endurance has grown to become the nation's leading provider of vehicle service contracts thanks to our comprehensive and affordable plans, which start as low as $79. We also have unrivaled eligibility, including for select luxury vehicles, vehicles with salvaged or rebuilt titles, high-mileage vehicles and even those over 20 years old. Each Endurance plan also has other standard benefits, including 24/7 roadside assistance, trip interruption coverage, and rental car reimbursements. You'll also have the chance to enjoy an entire year's worth of Endurance Elite Benefits for just a small activation fee, including up to two tire replacements or repairs, collision discounts, key fob replacements and even up to $1,000 in total loss protection. 
Not only that, but as a direct administrator of most of our plans, you can be confident that the award-winning Endurance care team will work with you throughout your entire claims process. Most Endurance plans are also transferable, helping you upsell your vehicle to any potential buyers whenever you look to sell it. And unlike most extended warranties from your automaker, you won't be limited to taking your vehicle to a dealership for repairs. Instead, with Endurance, you can take your vehicle in for repairs and any certified repair facility or ASE Certified mechanic to help you get back on the road faster without worrying about costly out-of-pocket repair bills. You can also enjoy a full 30-day money-back guarantee to help ensure you get the right coverage level for you and your vehicle.
Select Auto Protect
Located in Wilmington, Delaware, Select Auto Protect has over 30 years of experience within the industry. And like Endurance, Select Auto Protect prides itself on award-winning customer service and offering customers the ability to visit any ASE Certified repair facility and provide a 30-day money-back guarantee and 24/7 claims. In addition, their plans come with trip interruption protection, gas refills, roadside assistance and even a rental car if needed. Lockout assistance is also available, though they only offer that to customers of two of their protection plans. 
The Plans
Like other notable vehicle protection plan providers, Endurance and Select Auto Protect provide various levels of coverage. And, as you would before making any major purchase, it's essential to do your homework on all of the available coverage alternatives available to you so you can be confident that you're getting the right plan for you.
We've prepared a quick summary of the various auto protection plans available through Endurance and Select Auto Protect to get you started.
Advantage
Instead of worrying about the cost of regular maintenance AND unexpected breakdowns, you can rest easy with Endurance's Advantage auto protection plan. This protection package is the best you can find on the market today, combining comprehensive breakdown protection with up to $3,500 in regular maintenance services to help keep your vehicle running for longer. 
That includes essential services such as tire rotations, alignment checks, and engine diagnostic exams. It will even help you with your vehicle's next state safety inspection. Each Advantage package also provides customers with several special, one-time services for even more coverage and savings, including a brake pad/shoe replacement, cooling system maintenance, a battery replacement and more. And if that wasn't already enough, Advantage is also unrivaled in terms of eligibility, including providing coverage for salvaged or rebuilt title vehicles, Canadian Grey Market vehicles and commercially used vehicles, such as those used for rideshare and delivery services like Uber and Lyft. You'll even find coverage for seals and gaskets, vehicles with tire height modifications, and lift kits.
Supreme
The Supreme Plan is an exclusionary coverage plan that will cover hundreds of different vehicle components while only having a small list of exclusions, hence the term. This is the policy for you if you want a plan that resembles your manufacturer's warranty or if you rely on your automobile heavily. You can also find coverage quickly with the Supreme plan, as you will only have a 30-day or 1,000-mile waiting period.
Supreme for Highline Vehicles
The Highline protection plan is the newest addition to the already comprehensive levels of coverage provided at Endurance. As an extension of the Supreme plan, Highline provides the same comprehensive breakdown protection for select luxury vehicles up to eight years old with less than 80,000 miles. Eligible vehicles include those from popular automakers such as BMW, Audi, Mercedes-Benz, Porsche, Land Rover and Jaguar. Owners of Alpha Romeo and select Maserati vehicles can also find protection with this plan.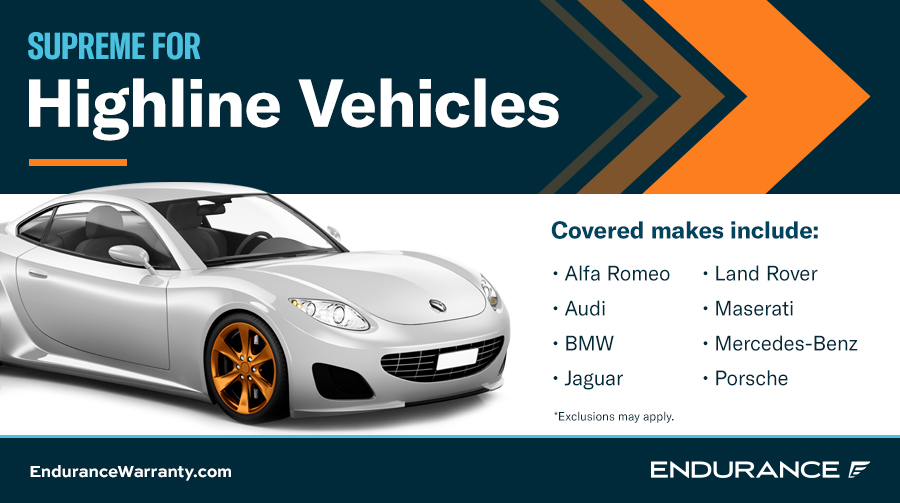 Superior
If you are looking for a plan with the highest level of state component coverage, the Superior plan is the plan for you. Like the Supreme plan, the Superior plan covers hundred of specific components and then some to help give you even more peace of mind when on the road.
Select Premier
The Select Premier plan is the right choice for you if you have a high-mileage vehicle. Helping to cover vehicles up to 150,000 miles, you can be confident that your car's most vital components are covered, including select A/C and electrical parts.
Secure Plus
The Secure Plus plan with Endurance is the right choice to cover vital vehicle components like your brakes, engine, transmission, air conditioning and steering, all at an accessible price point. Electrical components and other parts are also covered under this plan.
Secure
Sitting below Secure Plus, the Secure plan is ideal for daily drivers looking for competitive yet affordable vehicle protection, including coverage for lubricated parts of the engine, transmission and water pump.
Select Auto Protect Plans
Select Platinum
As the top-tier plan from Select Auto Protect, the Select Platinum plan covers the basics like the engine, cooling system, brake system, electrical system, drive axle and transmission. It also protects the A/C system, front and back suspension, AWD 4×4, ABS brakes, fuel system, and heating system. 
Select Gold
Sitting in the middle of Select Auto Protect's levels of coverage, the Select Gold plan doesn't offer anywhere near as much coverage as their Platinum plan. Still, it adds lockout and steering system coverage to the basics.
Select Silver
The base plan provided by Select Auto Protect, the Select Silver plan, provides you with coverage for just the basics, including the engine, transmission, brake system, drive axle and electrical system.
Why Endurance is the Best Choice for Protecting Your Vehicle
When looking for an extended warranty or an auto protection plan, it's vital to know how much coverage you'll receive to help ensure you give your vehicle as much coverage as possible without breaking the bank. When comparing plans from any third-party extended warranty company, such as those provided by Endurance and Select Auto Protect, the choice is clear. With Endurance's varying levels of coverage, including the unrivaled eligibility and $3,500 of yearly maintenance benefits of Advantage or luxury vehicle coverage with Highline, you can rest easy whenever it comes to your next repair bill. Not only that, but regardless of the Endurance plan you choose, you'll also be able to enjoy 24/7 roadside assistance, rental car reimbursements and trip interruption coverage, regardless if you're close to home or traveling on your next road trip or vacation.
And remember, your coverage and savings don't have to stop that. With a small $20 aviation fee, you can enjoy your whole year's worth of Endurance Elite Benefits, including up to two tire replacements or repairs, key fob replacements and more.
To learn more about any Endurance protection plan, call our award-winning team today at (800) 253-8203 or get started by requesting a free quote. If you are looking for even more extended warranty or vehicle service contract breakdowns and comparisons, or articles on other automotive topics like expert auto tips, DIY maintenance how-tos and vehicle buying guides, the Endurance blog can help. 
More like this
Comparisons

Owning a car is incredibly liberating, but unfortunately, that freedom comes at a significant cost. Not only is it expensive to purchase a vehicle, but the cost of annual repairs..

Read More

Comparisons

Drivers generally know that staying on top of a car's service schedule and needed repairs are essential parts of vehicle ownership. Making repairs as soon as they come up will..

Read More

Comparisons

Buying a used car can have a lot of benefits and is a great way to save money while still getting a quality vehicle. When purchasing a used vehicle, though,..

Read More